We may earn income from links in this post. Please read this Disclosure for details.
One of the most fascinating places to visit in Nova Scotia is Tatamagouche, located on the province's Northumberland shore. Rich in historical landscapes, culture and culinary traditions, it's one of Atlantic Canada's most intriguing regions.
It's even home to Canada's only Butter Trail and has its very own Tatamagouche brewery!
I spent a month at a Tatamagouche writer's retreat, so had lots of time to explore the attractions, restaurants, parks and more in the region.
If you're looking for things to do on a weekend in Halifax or adding on a few days to your visit to Digby and the Acadian Shores, here are my top picks for the best food and drink, sights and activities in and around Tatamagouche.
1. Splash in Tidal Pools at Blue Sea Provincial Park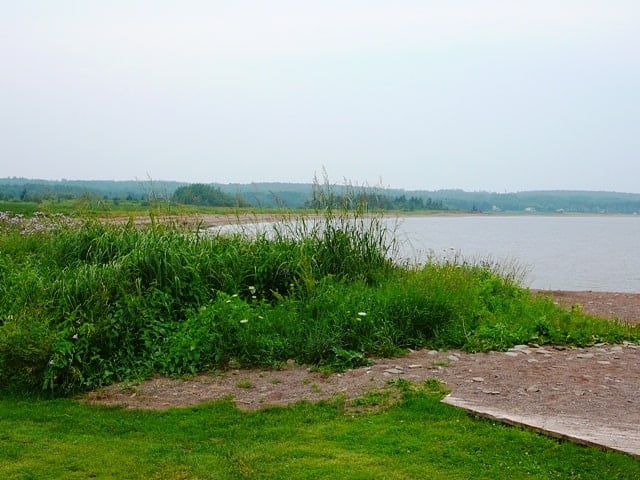 A good place to begin your explorations is at Blue Sea Provincial Park, a one-kilometre stretch of sea, sand dunes and tidal salt marshes facing Prince Edward Island, near Malagash.
Pretend you're a kid again by scouting for seashells and dipping your toes in the warm tidal pools or do some shorebird watching from the wooden boardwalk.
Nova Scotia is located on a major bird migration route, with more than 168 species of resident and migratory birds making their way from the Arctic to South America, so it's prime viewing territory.
2. Go Wine Tasting at Jost Vineyards
A top spot for culinary travellers is Jost Vineyards. This award-winning winery is open-year round and is the largest and longest operating winery in the Atlantic region.
Surrounded by rolling hills, the lush vineyards are as picturesque as they are historic. Take a guided tour of the filtering, bottling and aging in the cellar and then enjoy a wine sampling at the tasting bar.
Try a glass of Tidal Bay, a signature white wine made from 100% Nova Scotia grown grapes or explore the subtle taste nuances of the award-winning 4 Skins Red, a select blend of four grapes. Fall is an extra-special time to visit, when, for a small admission fee, the public is welcome to join in a Grape Stomp.
This tradition of crushing grapes by foot, rather than in a wine press or other mechanical means, dates back to the Roman Empire. But, in modern times it's a fun way to celebrate the harvest and raise money for local charities.
3. Browse Malagash Salt Miner's Museum
More tradition and history abounds nearby. The Malagash Salt Miner's Museum offers a fascinating look at the history of Canada's first rock salt mine, which operated from 1918-1959 and once employed 120 men. Also recognizing the agricultural potential of the tidal salt marshes were the Acadian settlers.
Familiar with dyking methods in France, they built dykes of logs and sod along the outer marsh areas, draining the seawater to create rich farmland. Many French place names and Acadian dykes still remain, reflecting the presence of French and Scottish settlers in 1700s.
Dyked farmland is especially visible around the village of Wallace, north of Malagash. The picturesque village is also home to a small museum holding a very special collection of Mi'kmaq baskets constructed of black ash, sweet grass, quills and natural dyes.
4. Shop and Dine at Sunrise Mercantile
After touring the undulating marshland farms of Malagash and Wallace, it's time to refuel with a stop at Sunrise Mercantile, a cottage-style tearoom. Here you can sample a bowl of Northumberland seafood chowder brimming with shrimp, scallops and haddock, while taking in the peaceful waterfront view.
Formed by mouth of the French and Waugh Rivers, the protected waters of Tatamagouche Bay, (a First Nations Mi'kmaq word meaning "meeting of waters"), is part river, part lake. Its shores have been a popular meeting place since ancient times.
For a one-of-a-kind souvenir or two, be sure to browse Sunrise Mercantile's gift shop featuring gourmet foods and quality crafts such as Sara Bonnyman stoneware pottery. Nova Scotia is the largest processor of wild blueberries in the world, so expect to see many blueberry-themed products with everything from tea to jams.
The annual wild blueberry harvest happens in September so it's an ideal time to stock up on this heart-healthy fruit.
5. Visit the Deportation Site of the French Acadians
Tatamagouche hasn't always been as peaceful as it appears. On August 15, 1755, Tatamagouche was the site of the first expulsion of the French Acadians.
British forces seized the assets of 12 families, burned their homes to the ground and shipped the men into exile, leaving women and children behind.
By the time it was over, 6,000 Acadians had been sent into exile. Many of them headed to New Orleans, Louisiana. They spread out across the state and contributed to creating the region's rich Cajun culture.
6. Walk the Labyrinth at Tatamagouche Centre
Today, the deportation site is occupied by the Tatamagouche Centre, a spiritual retreat focused on peace, tolerance and understanding. Operated by the United Church of Canada, it offers a place of learning, creativity and renewal and is open to lay people of all denominations and faiths.
One of the highlights of the facility, in addition to its 15 acres overlooking Tatamagouche Bay, is a large labyrinth in front of the main building. The labyrinth, a sacred design symbolizing one's walk with God, is carved into the grassy lawn.
Modelled on Chartres Cathedral in France, the Tatamagouche labyrinth has eleven concentric circles around a six-petal centre, called the "Flower of Aphrodite." It is a sacred design used as a tool for meditation and spiritual journey.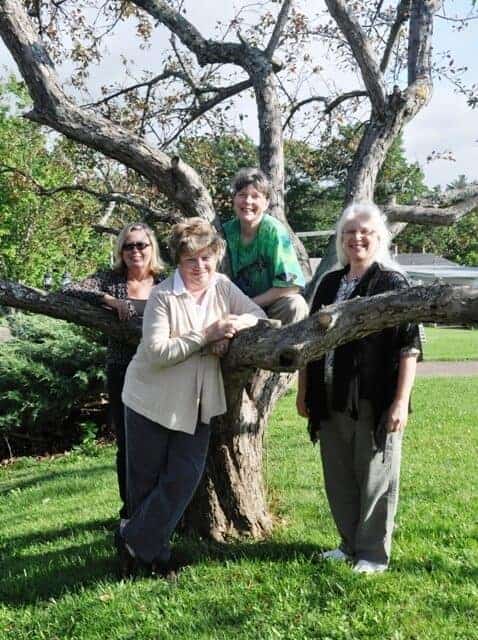 If you have time, step into the bookstore where you'll find Mayan crafts from the Centre's Maritime-Guatemala partnership project, plus jewelry, beeswax candles and other gift items.
Among its many programs, Tatamagoughe offers Breaking the Silence, a Maritime solidarity network supporting the efforts of indigenous Guatemalans struggling for political, social, economic and environmental justice.
They do advocacy and lobbying, organize delegations, send interns and human rights accompaniers and promote fairly-traded products such as Guatemalan fair trade coffee and artisanal crafts.
Learn more about Volunteering in Panajachel, Guatemala.
7. Cycle the Butter Trail
Cycle or walk the Butter Trail where under the shade of graceful willow trees, you'll be strolling alongside the memories of past generations who have walked, hiked and paddled along the waters' edge.
The sweet fragrance from ancient rose bushes is the only remainder of abandoned pioneer farmhouses.
Originally part of the Intercolonial Railway rail bed, this section of the Trans Canada Trail winds its way along the waterfront along Tatamagouche.
You'll cross a wooden train bridge where it's easy to imagine children from centuries past jumping Huck Finn-style into the cool waters at high tide. These days it's a popular spot for canoeing and fly-fishing.
8. Enjoy the Views at Patterson Wharf Park
Up next is Patterson Wharf Park, overlooking Northumberland Strait, in the tiny village of Tatamagouche. Although it may appear as though it's been part of the landscape for decades, this public wharf was actually created during the 2007-2008 season of The Week the Women Went.
The CBC documentary portrayed role-reversing communities across Canada where women spent a week at a luxury resort while the men stayed home, fending for themselves and juggling cooking, cleaning and kids. Unlike other towns where housekeeping fell apart, in Tatamagouche the men triumphantly built an impressive waterfront promenade.
Signs of this community spirit still abound with notices for Fall Suppers, Lobster Dinners, Strawberry Teas, picnics and other events posted throughout Tatamagouche.
9. Soak Up History at Creamery Square Heritage Centre
The reward near the end of your walking journey along the Butter Trail is Creamery Square Heritage Centre. The historic Creamery buildings once housed the production facilities for the famous Tatamagouche Butter.
Butter production ended here in the 1960s and the site is now managed by a preservation society.
You see reenactments such as craftsmen who demonstrate boat-building skills as they construct a chaloupe, an 18th century French harbour wooden boat. It is one of the few nautical reminders of Tatamagouche's once-thriving shipbuilding industry. In the 19th century more than 17 sawmills dotted this shoreline.
These days, the waterfront is home to a public plaza, the quaint artisans' shops of the Tatamagouche Grain Elevator Village and a bustling Farmer's Market.
Take a cue from the locals and tuck into local goodies such as cinnamon buns and shucked-while-you-wait Wallace oysters are on offer. Lobster season is also a prime time to try a lobster roll!
Love lobster? Check out our recipe for Lobster Fettuccine featuring Nova Scotia lobster from Gidney Fisheries.
10. Pay Tribute to N.S. Giantess at the Anna Swan Museum
Be sure to allow enough time to explore the Anna Swan Museum where you'll be transfixed by the inspiring but sad tribute to the Nova Scotia giantess who was born in Tatamagouche in 1846 and rose to worldwide circus fame with the P.T. Barnum American Museum in New York City.
Her life is thoughtfully presented in the museum's exhibits. Also onsite is the Sunrise Trail Museum, portraying life in pioneer times and the Brule Fossils, a rare fossil trackway from a 290 million-year-old coniferous forest.
11. Party at the largest Oktoberfest in Atlantic Canada
Tatamagouche is also home to Atlantic Canada's largest Oktoberfest celebration. Held during the last weekend of September for more than 35+ years, it's been an opportunity to don some leiderhosen or fancy dress, quaff a stein of Bavarian beer and do some oom-pah-pahing to live music by a brass band.
In fall, attending Oktoberfest is one of the top things to do in Nova Scotia for wine fans.
12. Sleep at the Train Station Inn
When the partying is over, retreat to the unique Train Station Inn. if you're looking for memorable accommodation in Tatamagouche, you can't go wrong with this B&B.
Built in 1887 and serving as the Tatamagouche Station for the Intercolonial Railway until the rail line closed, it was slated for demolition but was rescued and reinvented as a unique Bed & Breakfast in 1989.
Since then, seven cabooses have been added so visitors can now dine in a 1928 CNR car and then sleep in a historic caboose, luxuriously appointed with all the modern amenities. For those with ambulatory restrictions that make climbing into the Railway Dining Car a challenge, dining is also available within the atmospheric Train Station café.
All menus feature vegetables sourced from the Train Station Inn's own pesticide-free gardens. Also worth a stop is the gift shop, a blast from the past with memorabilia, souvenirs and old-time toys such as marbles and wooden trains.
Check prices and availability at the Train Station Inn on Booking.com
13. Sip Craft Beer at Tatamagouche Brewery
Inspired by a two-headed calf born on a nearby farm (look for the stuffed two-headed calf on display in the Anna Swan Museum in Creamery Square if you're not squeamish), the Tatamagouche Brewing Co. launched a microbrewery designed to capture the unique flavour of this town.
Their line-up of award-winning organic craft beer is available for purchase from their brewery located on Main Street. Located within a former butcher shop, the brewery now offers seasonal beers along with its popular North Shore Lagered Ale, Deception Bay IPA and the Hippie Dippie Pale Ale.
Their line of unique branded merchandise — with everything from red flannel shirts to fun pom pom toques — are perfect gifts for the folks at home.
If time permits, there is plenty more to explore along the Butter Trail and the Northumberland Shore.
No matter what you choose to do, there's no need to rush. Much like slow-churned butter, there is no better way to appreciate the region's unique atmosphere than to take it slow and easy.
Check prices and availability at the Forest Haven Inn, Tatamagouche on Booking.com
Save to Pinterest!
Travel Guide to Tatamagouche
Sunrise Mercantile: 1631 Route 6, RR 3 Tatamagouche www.sunmerc.com
Tatamagouche Centre: Register for workshops or book an independent retreat in one of the historic farmhouses.
Getting to Tatamagouche: Tatamagouche is just an hour and 45 minutes from Halifax. The Northumberland Shore makes a great weekend getaway if you have just a weekend in Nova Scotia.
Dividing her time between Canada, Guatemala and Mexico (or the nearest tropical beach), Michele Peterson is the founder of A Taste for Travel. Her award-winning travel and food writing has appeared in Lonely Planet's cookbook Mexico: From the Source, National Geographic Traveler, Fodor's and 100+ other publications.
Read more about Michele Peterson.