We may earn income from links in this post. Please read this Disclosure for details.
While best known for its scallop and lobster fishing fleet, there are so many things to do in Digby and the tide-washed Acadian shores of southwest Nova Scotia, it would take a lifetime to experience it all.
But even if you have only a week, you can get a taste of the region's unique blend of hospitality, natural beauty and authenticity.
You might even be tempted to drop everything and move to this beautiful region of Canada. I know I was!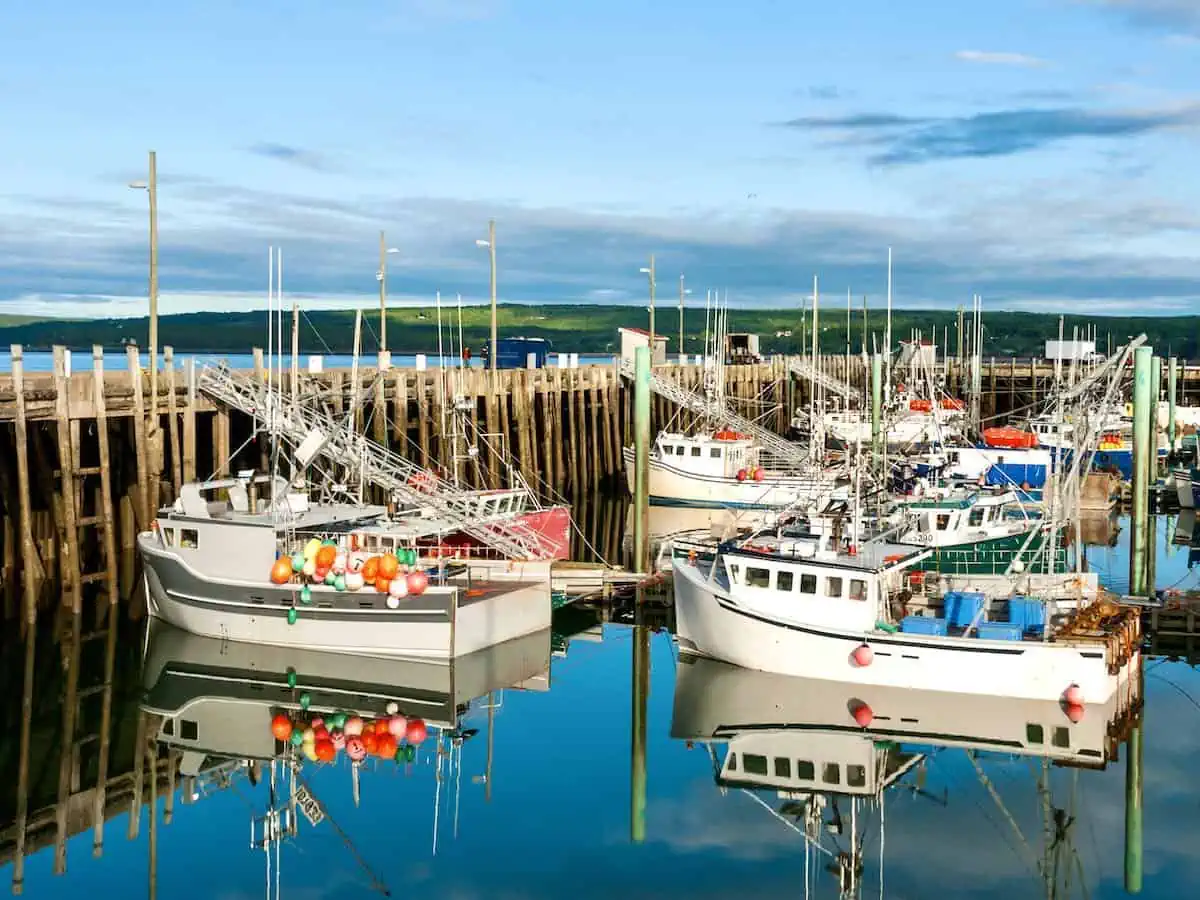 After spending a week in the area as part of the Travel Media Association of Canada conference, I quickly fell in love with the region's Acadian culture, seaside villages and beaches the colour of melted taffy.
In fact, after just a few days I was browsing real estate listings. And I'm not alone!
Many people have fallen for its charms and launched B&Bs, art galleries or other passion projects.
Vacation in Digby, Yarmouth and the Acadian Shores and you'll soon discover why!
Jump to:
Why You'll Love This Region of Canada
It's still under-the-radar. You'll see few crowds.
Abundant fresh air, clear starry skies and natural beauty.
Prices are lower than many other seaside destinations in the US and Canada.
Lots of free things to do.
Fabulous homestyle Acadian cuisine with loads of seafood.
Authentic local cultures — Mi' kmaq, Acadian and Scottish — to experience and learn from.
Tides in the Bay of Fundy are a natural wonder. They're actually the highest tides in the world!
Where is Digby and the Acadian Shores?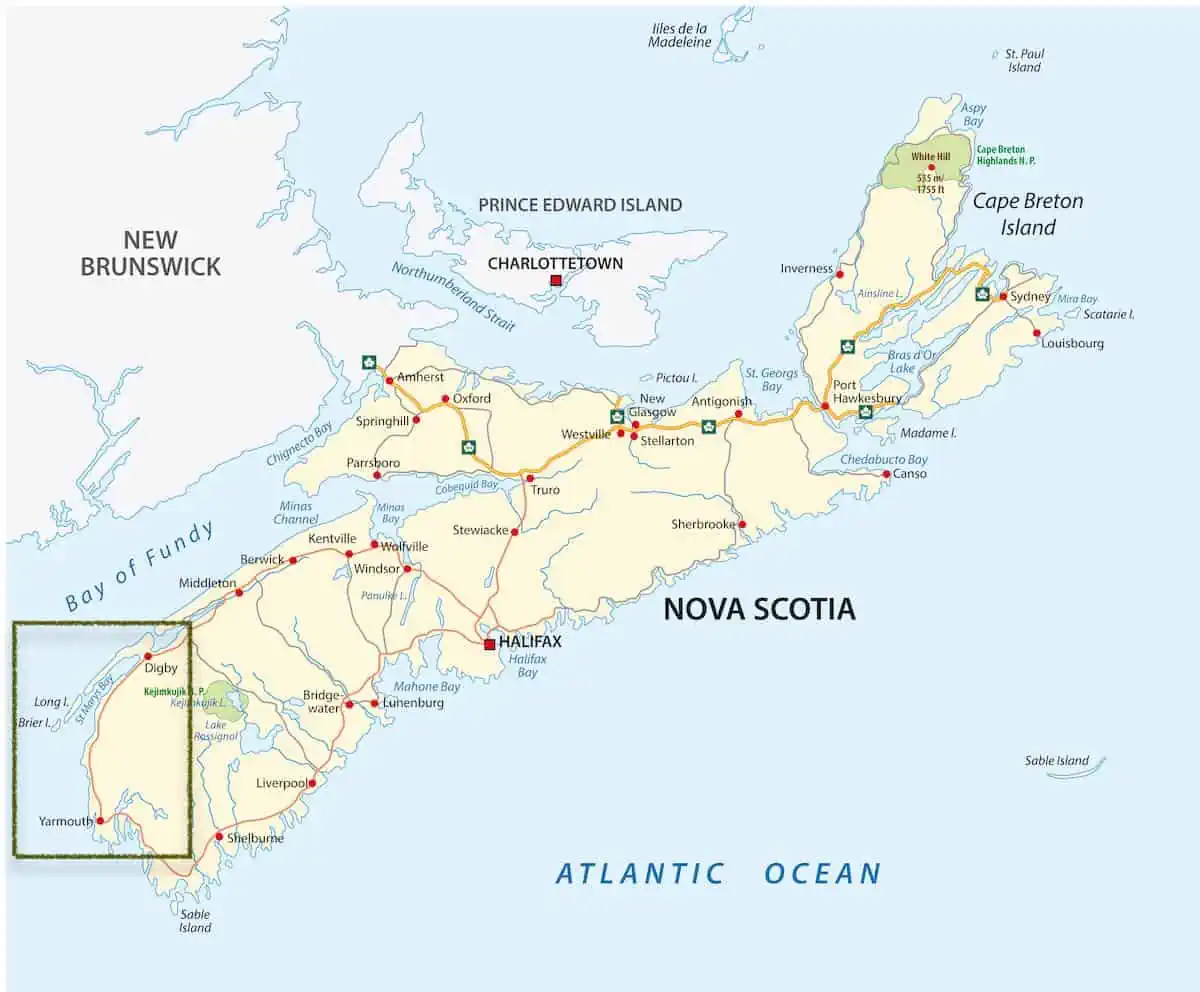 Digby, the gateway to Yarmouth, the Acadian Shores and treasures of Southwest Nova Scotia, is located 2.5 hours from the city of Halifax at the southern end of the Annapolis Valley.
It's located on land facing St. Mary's Bay, the Bay of Fundy and the mainland of Saint John, New Brunswick on the west.
This means it's on the opposite side of the province from Tatamagouche and famous Nova Scotia attractions such as Peggy's Cove Lighthouse and Lunenberg, a UNESCO World Heritage Site, on the Atlantic Coast.
How to Get to Digby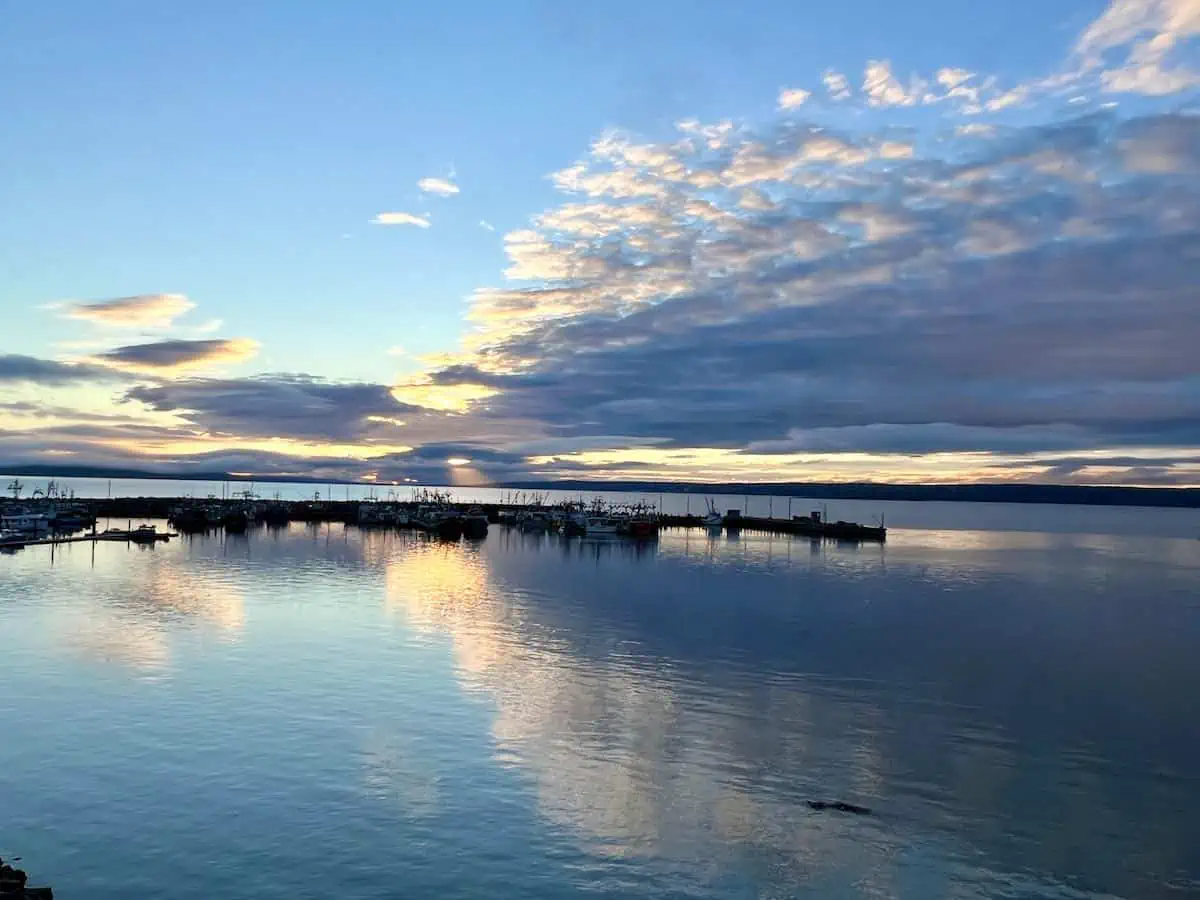 You need a car to get to Digby and the attractions on the southwest shore. But unlike driving in Toronto or Montreal, driving in Nova Scotia in the spring, summer and fall is stress-free.
The weather is fine and there's little traffic.
You can take the Bay Ferry from Saint John NB to Digby or the CAT high-speed ferry from Bar Harbor, Maine to Yarmouth, Nova Scotia.
That makes it easy to combine with a Cape Cod vacation if you're doing a summer road trip along the East Coast.
Many people rent a car at Halifax airport and drop it off at the end of their vacation. I usually book my car rentals at Discovercars.com.
This online portal compares car rental deals from many companies. So Discover Cars often offers the best deal on car rentals from Halifax Airport and Halifax Port.
Check for the best car rental rates at Discovercars.com
15 Bucket List Things to Do in Digby and Southwest Nova Scotia
These are my favourite things to do in Digby, the Acadian Shores and southwest Nova Scotia.
1. Experience the Zen of Clam Digging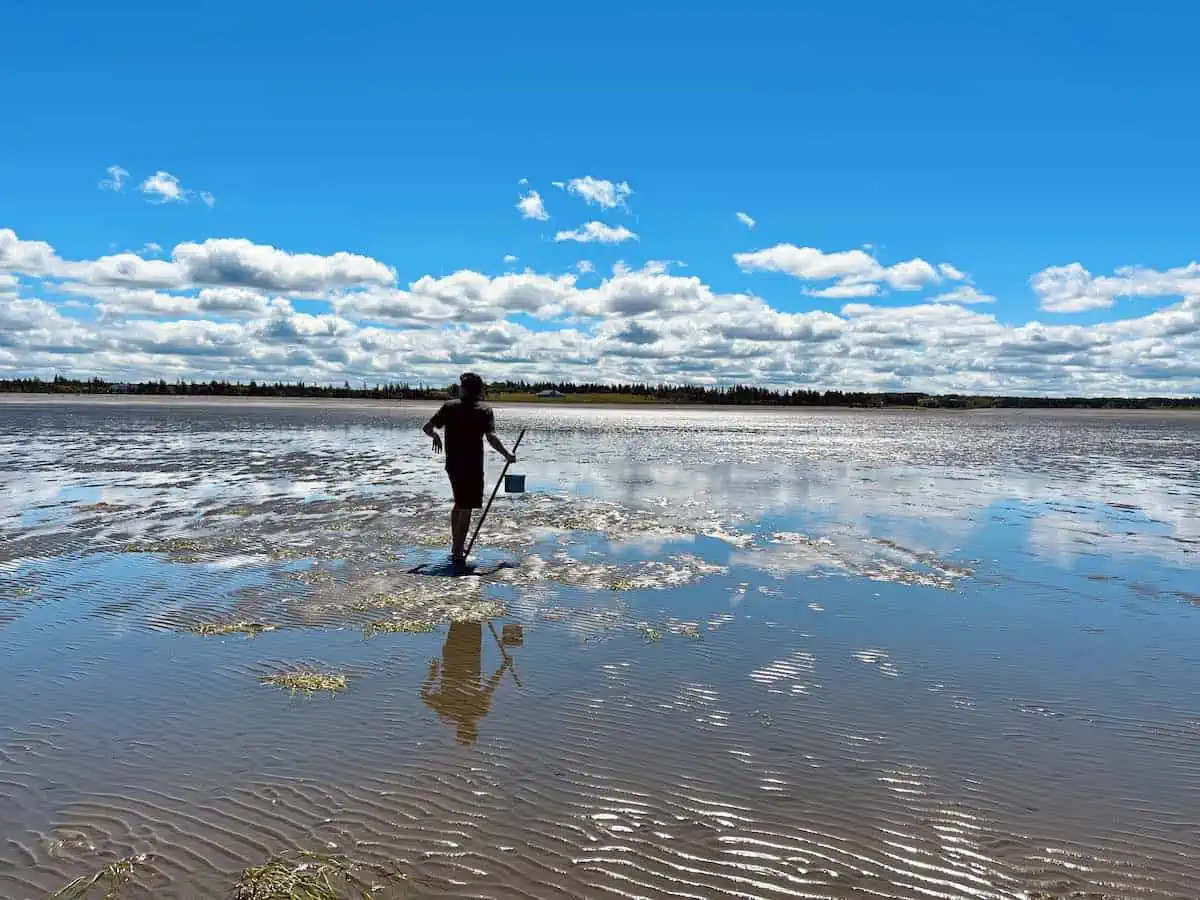 The Acadians and Mi'kmaq have been digging clams during low tide in Saint Mary's Bay for centuries. It's an incredible experience to learn this art from a local expert.
My own clam digging excursion took place at Belliveau Cove. Armed with a pitchfork, I scrambled over a towering dune to land on sun-warmed cinnamon sand.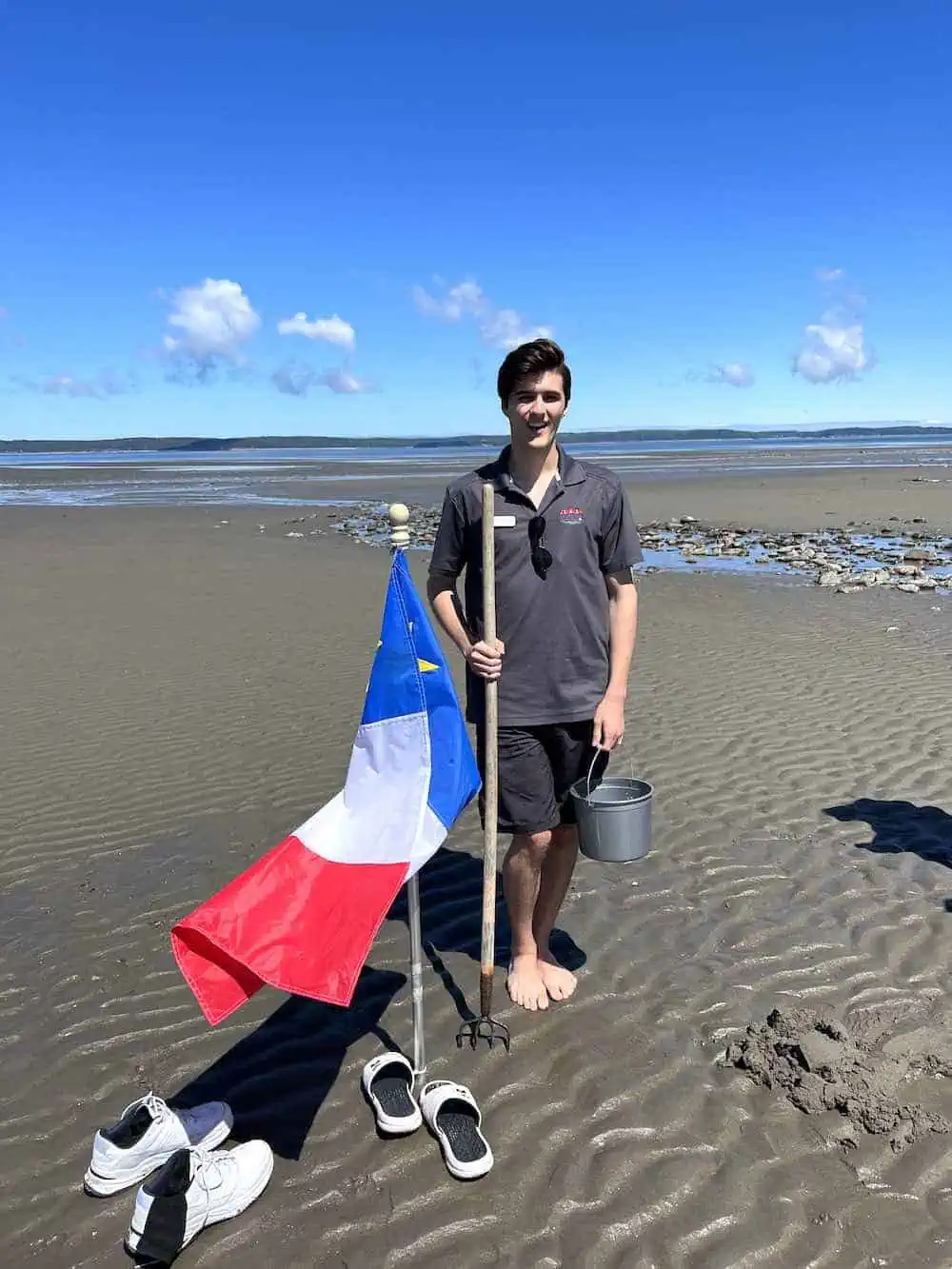 The smooth ripples of sand, formed by the massive Bay of Fundy tides that rise and fall four times daily, felt like massage rollers on my bare feet.
But much like a truffle-hunting dog in Florence, I wasn't distracted by any diversions.
Instead, I was focused on sensing the presence of the clams rather than approaching the dig methodically.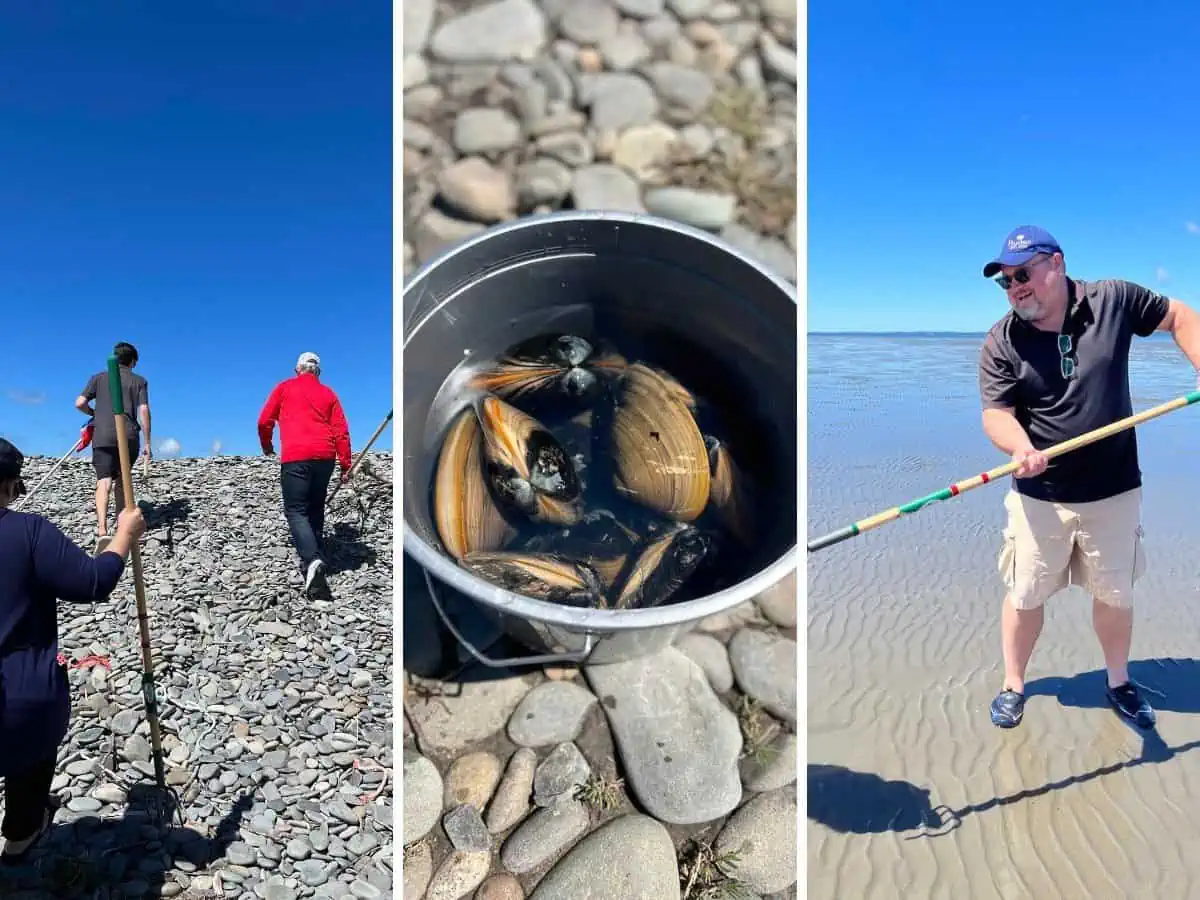 "Watch for a slight vibration in the sand beneath your feet," advised Marcel Saulnier, our group's guide. "When you feel it, start digging."
Sure enough, a few steps later, a depression in the sand yielded slightly, with almost a shiver. It was my signal to begin digging.
A few scoops with the fork and I unearthed a clam. It was measured to be sure it met regulation size and was soon in our bucket headed for the kitchen pot.
But the clams we harvested weren't destined for a spaghetti alle vongole you might find in Naples or even a seafood paella.
Bay of Fundy clams are the size of frisbees. They're canned or stewed, transformed into clam chowder or rappie pie, the traditional Acadian dish.
🌟 Do It: Cost for a clam digging tour is $20 an adult. Reserve at (902) 769-2345
2. Sample Rappie Pie and Other Local Food Specialties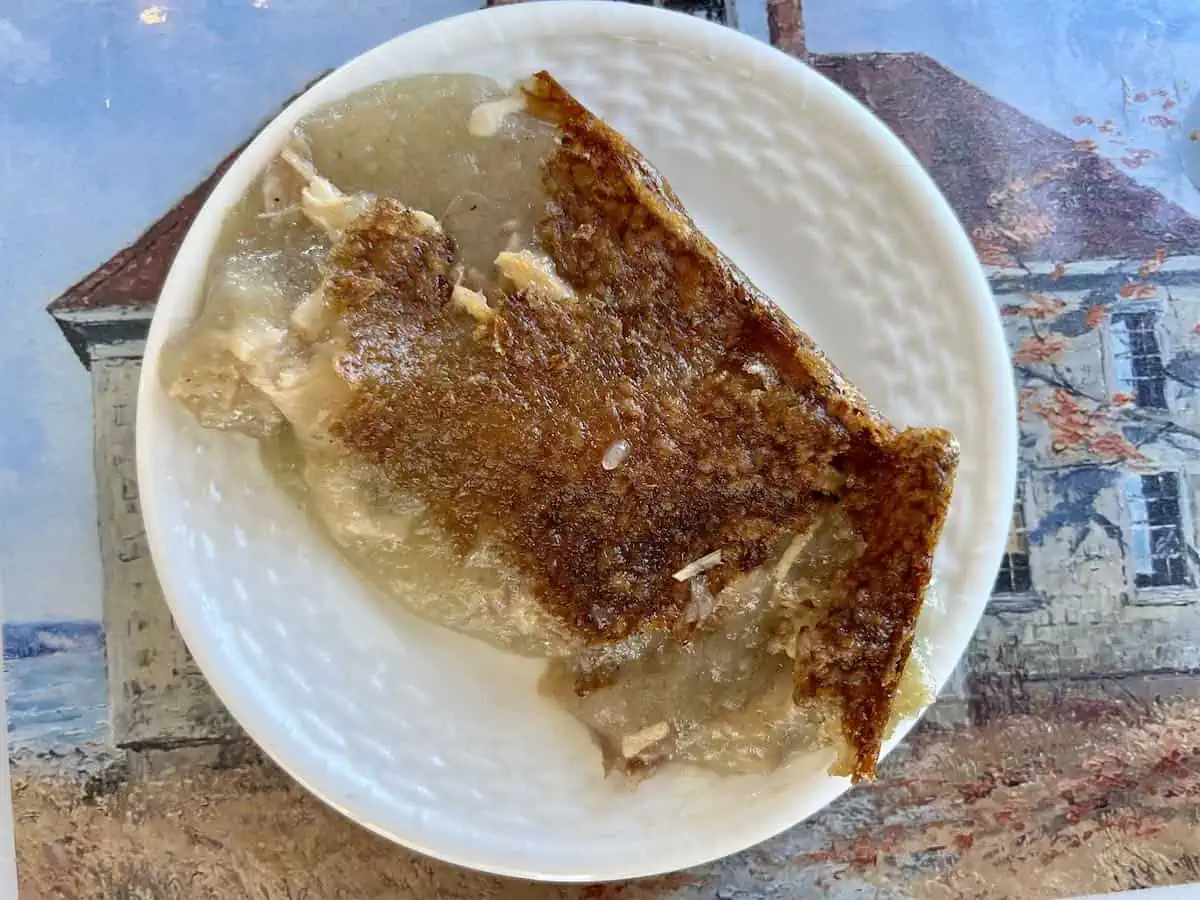 While exploring this region of Nova Scotia, keep a look out for traditional Acadian specialties such as rappie pie.
Also known as râpure, this unique casserole is made of grated potatoes, hot broth and chicken or clams. While the jiggly texture might be a surprise, the taste is delicious.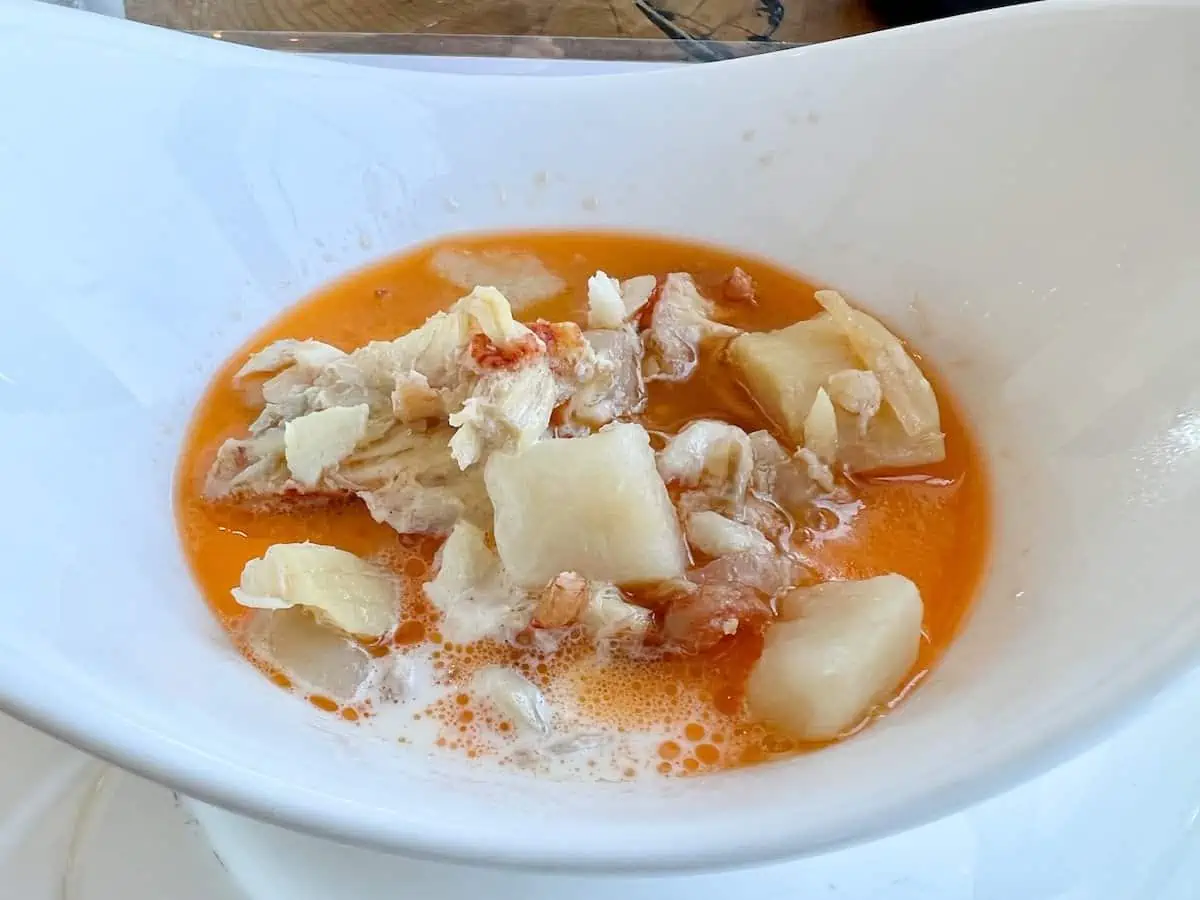 Try rappie pie at Ecole Dans L'Anse Resto Sur La Mer (Google Map) and La Cuisine Robicheau (Google Map), both open seasonally. Check hours before you go. Reservations may be necessary in peak summer season.
The best Acadian dishes to try in Nova Scotia include:
croquettes de poisson (fish cakes) served with chow chow (chutney.,
haddock with creamy lobster sauce.
hot creamed lobster.
seafood chowder, a delicious combination of haddock, scallops, lobster and cream.
fricot, chicken soup with potato dumplings.
fring frangs (a crispy potato pancake).
lobster poutine.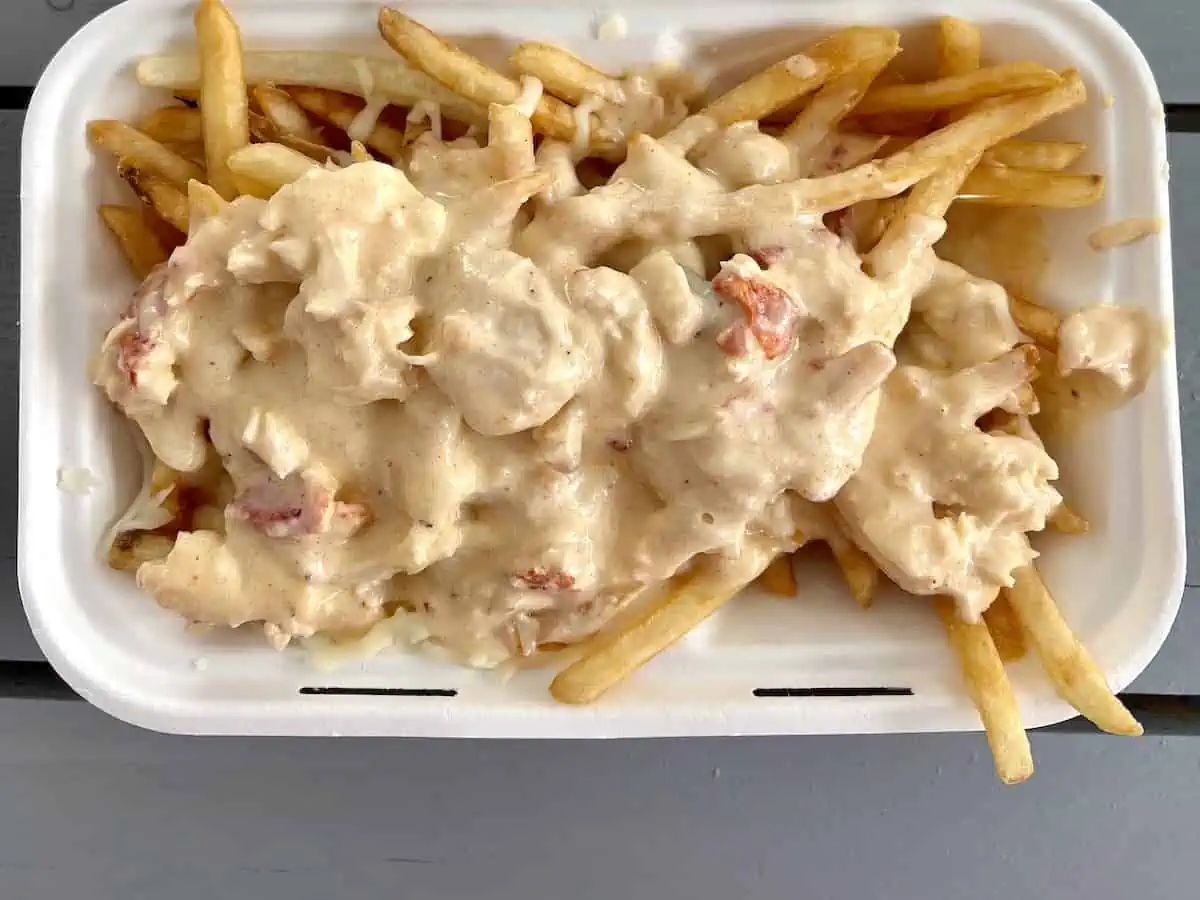 🌟 Insider Tip: To get the full local experience, time your visit to the Acadian Shores to coincide with a "Musique de la Baie" kitchen party.
These fun summer evenings feature local musicians and food. They take place at La Cuisine Robicheau Restaurant on Thursdays or during Les Beaux Vendredis on the wharf at Beliveau Cove (902) 769-8618 on Fridays.
3. Learn about Lobster Fishing on a Bay of Fundy Lobster Tour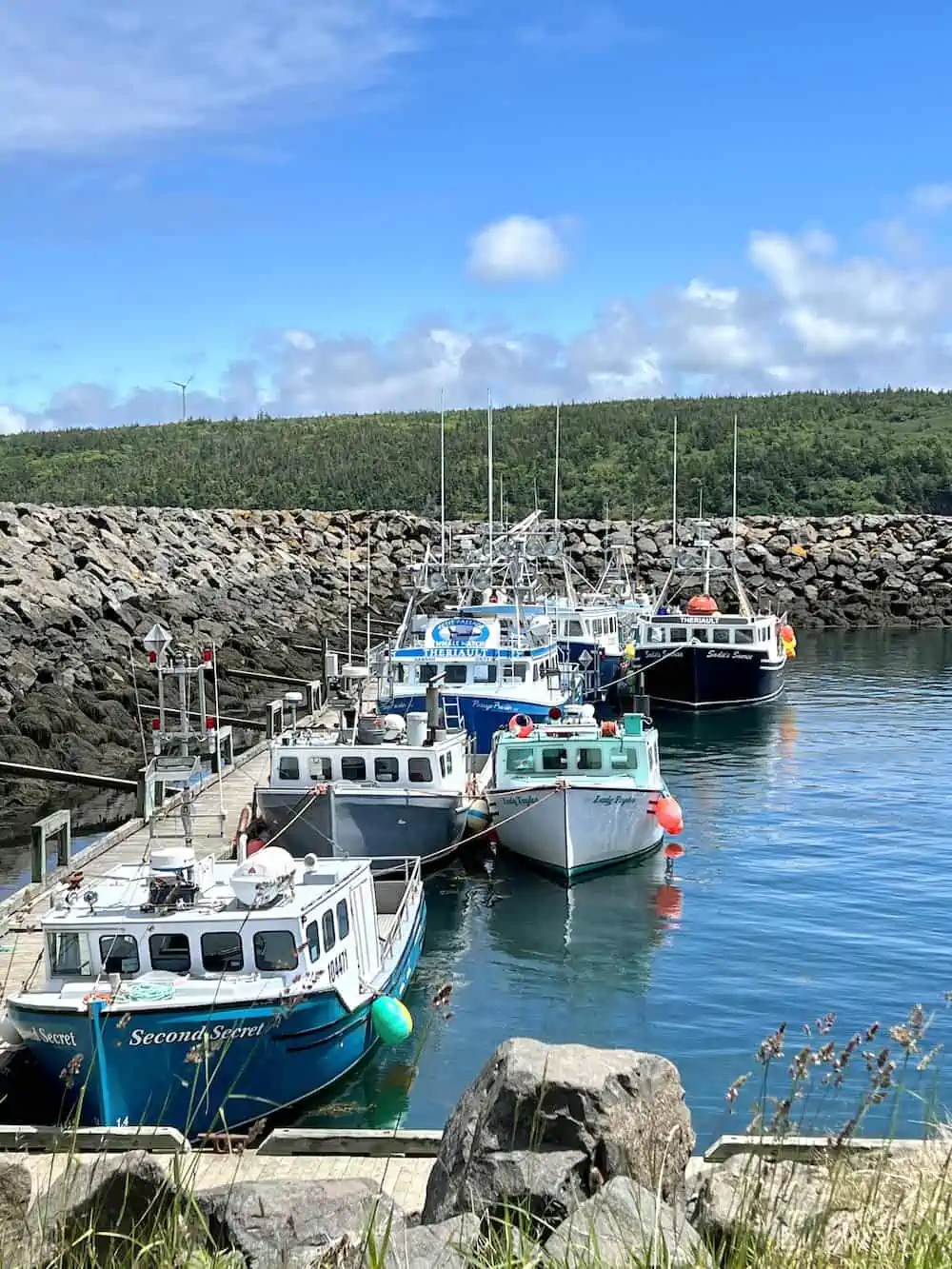 Another fun thing to do in Digby County is to head out on a lobster fishing boat to learn about lobster fishing.
You can even try your hand at banding a live lobster.
If this isn't yet on your bucket list of things to do in your life, it should be. A lobster licence costs a cool $1 million dollars so it's not a pastime you can pick up as a hobby.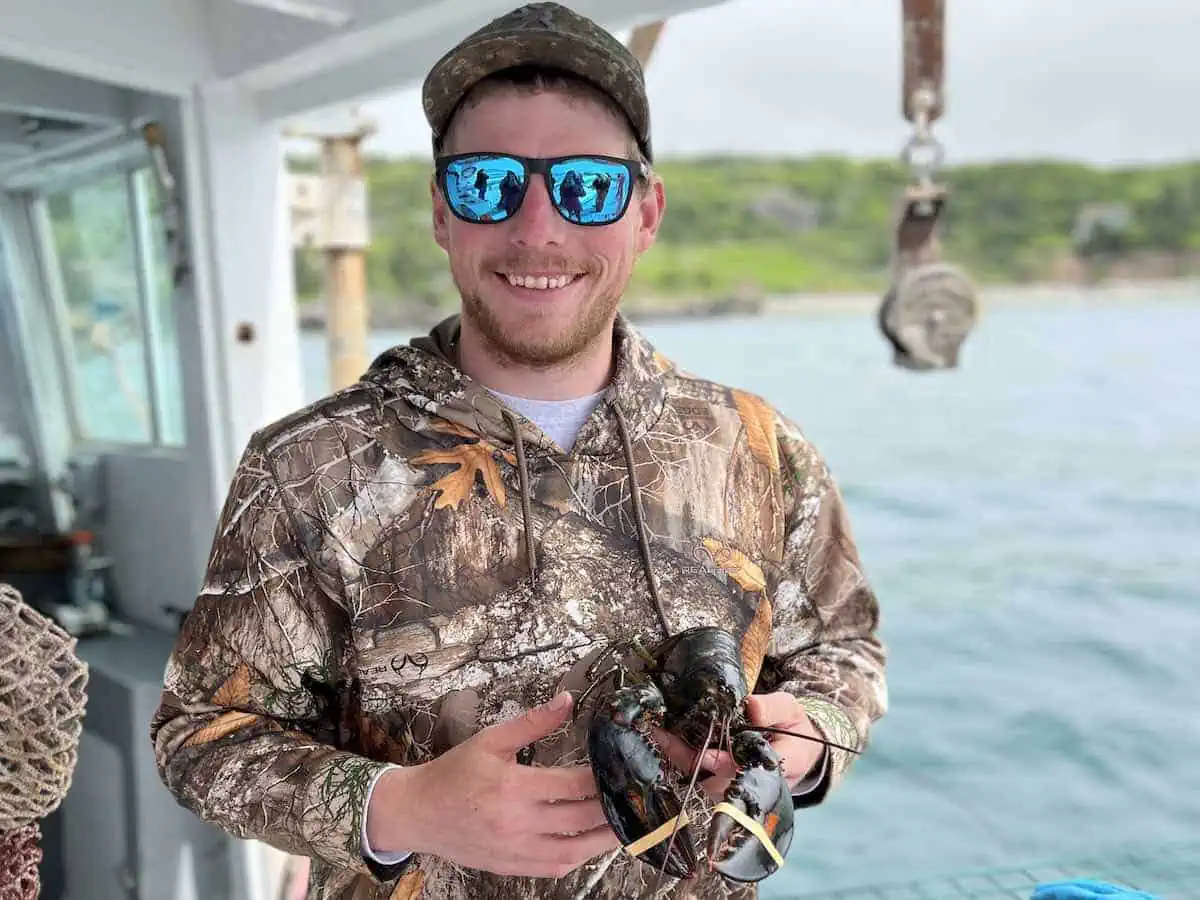 In fact, lobster fishing is so highly regulated that even if a lobster leaped out of the water and onto your lap you'd have to toss it back into the deep! Or face a hefty fine for illegal fishing.
So be sure to book a tour on a working lobster boat with Bay of Fundy Scenic Lobster Tours during your trip to Southwestern Nova Scotia.
You'll do some sightseeing (highlights include the famous Balancing Rock and Boar's Head lighthouse) while learning about the lobster fishing industry along the way.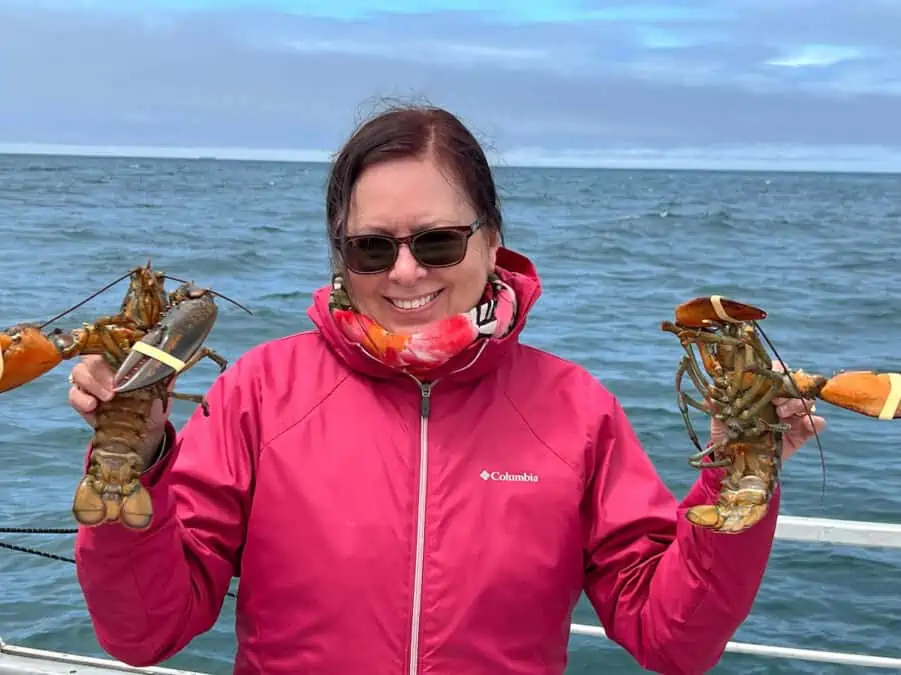 You'll even have the opportunity to band a lobster! And participate in a lobster liberation when the crustacean gets returned to the ocean.
Lobster boat tours take place between June 15th and Sept. 15th.
Bay of Fundy Scenic Lobster Tours operates out of Tiverton Port on Long Island, a micro-ride on a car ferry connecting Highway 217.
🌟 Foodie Tip: While you wait for the ferry on your way back, pick up a scallop roll, a bowl of chowder or a Moon Mist ice-cream at the Petit Passage Cafe.
4. Go Whale Watching in Canada's Natural Aquarium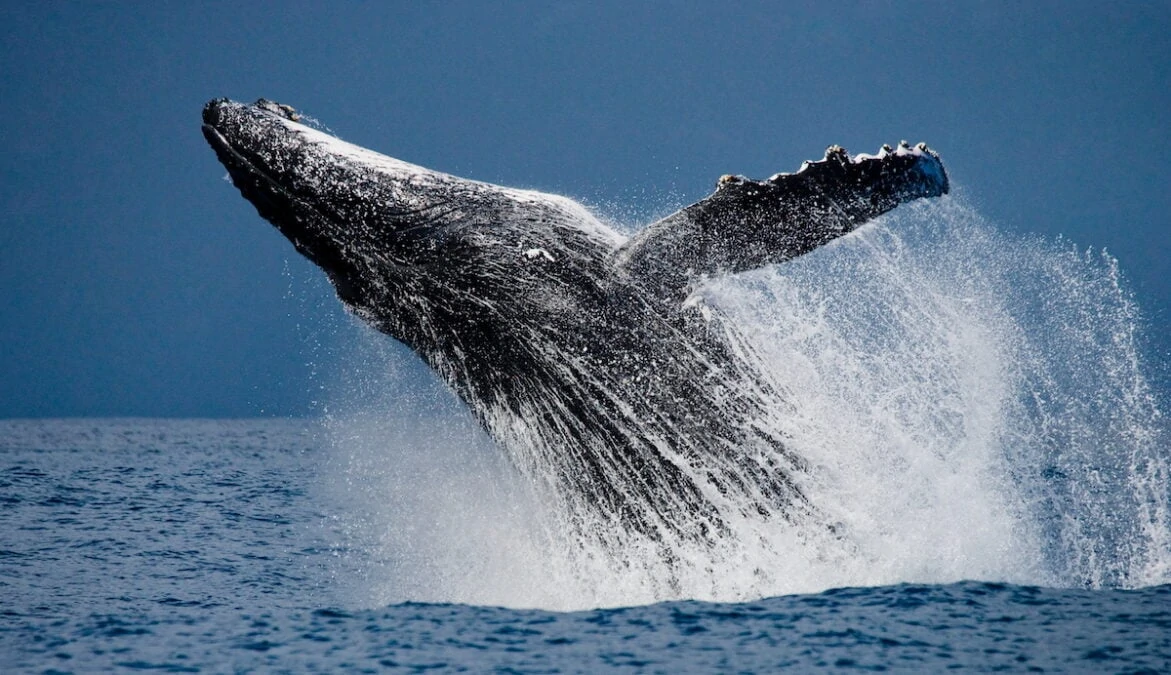 Fin whales, humpbacks, Northern Right whales – these mighty mammals all ply the waters of the Bay of Fundy, Saint Mary's Bay and Annapolis Basin.
Although I didn't see whales during my visit, I've gone whale-watching in Churchill, Manitoba as well as in Puerto Escondido, Bahías de Huatulco and Puerto Vallarta, Mexico.
Seeing whales up close is an incredible, life-affirming experience. For an unforgettable ocean excursion in the Digby area, check out these local tour companies:
5. Enjoy a Photo-op (and a cuppa tea) at Gilbert's Cove Lighthouse
Gilbert's Cove lighthouse, a Provincial Heritage Site west of Digby along St. Mary's Bay (Google Map), is a must-see Nova Scotia attraction says travel photographer Gary Crallé.
The squat cute-as-a-wink 2-story lighthouse has been lovingly restored by members of the local historical society.
The former lightkeeper's living quarters have been converted into a first floor tea room gift shop and second floor gallery museum.
Crafts and quilts adorn the walls around small tables where tea is served in proper china cups and saucers.
🌟 Insider Tip: Don't leave without winding up the manual foghorn; it's a hoot.
The lighthouse is free and open daily from mid-June to late September.
6. Sample Scallops at the "Scallop Capital of the World"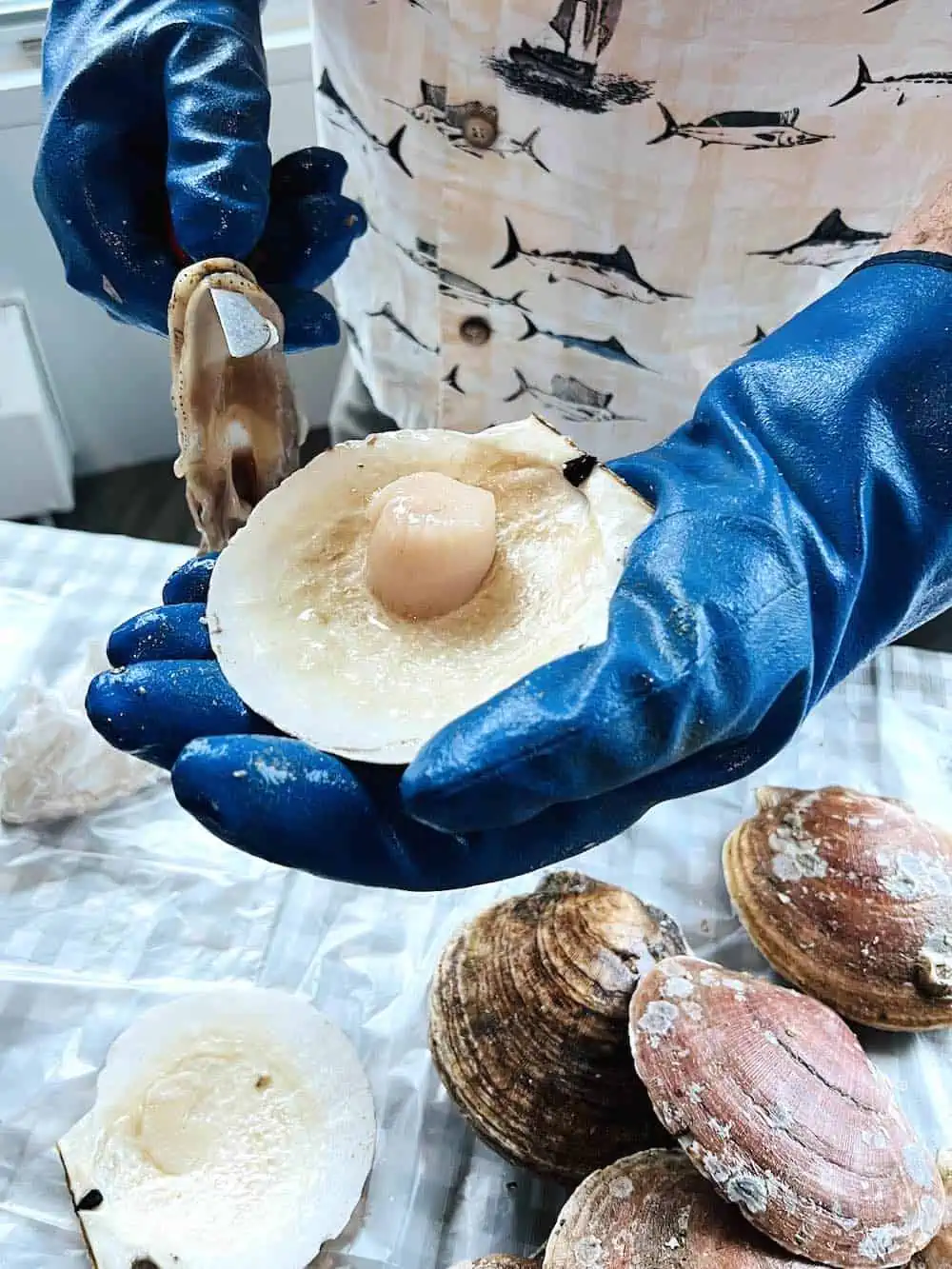 The town of Digby, Nova Scotia is world famous for its scallops. The scallop boats go out after lobster season and harvest sea scallops from scallop beds on the ocean floor.
Our group was lucky enough to get a hands-on lesson in scallop shucking from the Digby Area Tourism Association's Board of Directors. Getting the scallop out of its shell isn't as easy as it looks!
Sea scallops are three times larger and have a firmer texture than bay scallops. So they're well-suited for grilling and serving pan-seared.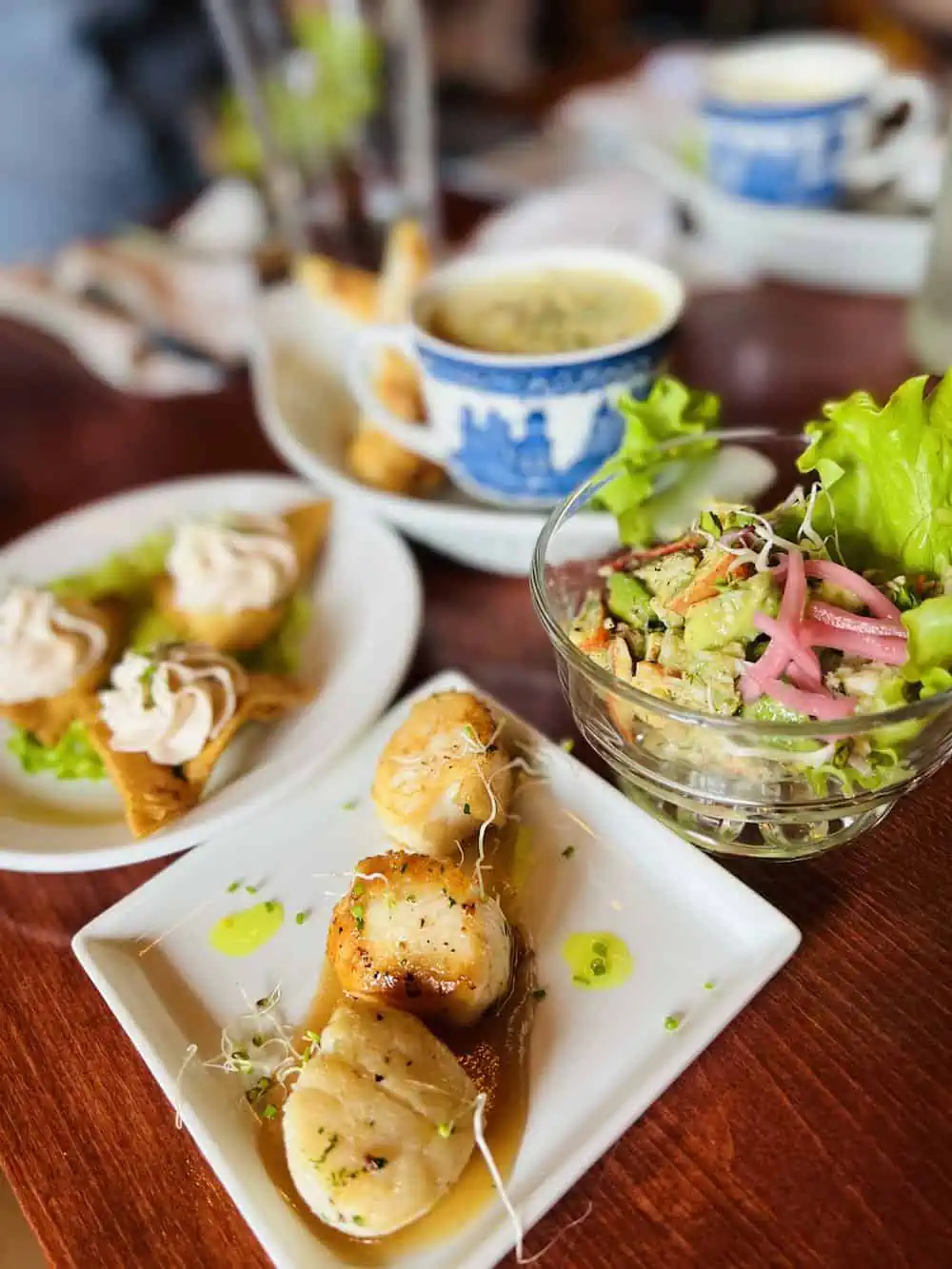 One of the best restaurants in Digby for scallops is the Sydney Street Pub and Cafe at 14 Sydney St.
Located within a former church (Google Map), it's the place to eat your fill of expertly prepared sweet and succulent Digby scallops.
🌟 Fun Fact: Wondering how to pronounce scallops like a local? It sounds like "sko·luhps" with an "o" sound rather than an "a" in the first syllable.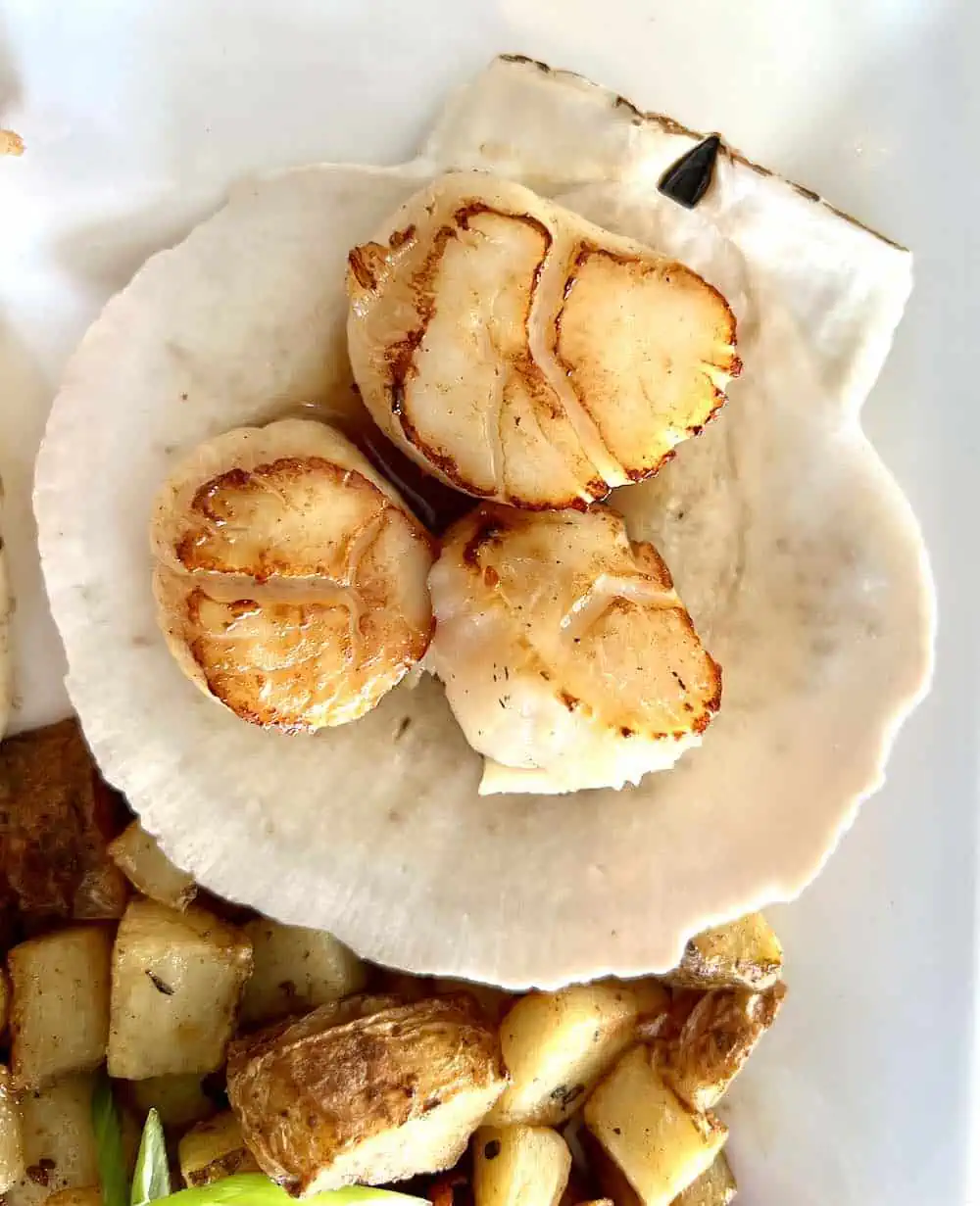 At Fundy Restaurant on the waterfront boardwalk, scallop fans can begin their day with a Digby Breakfast featuring a trio of scallops served on a half shell alongside hash browns, toast and jam.
🌟 Make It: We love Digby scallops in this recipe for Salpicon de Mariscos, a refreshing Spanish seafood appetizer.
7. Sip Delicious Nova Scotia Wine, Craft Beer and Cider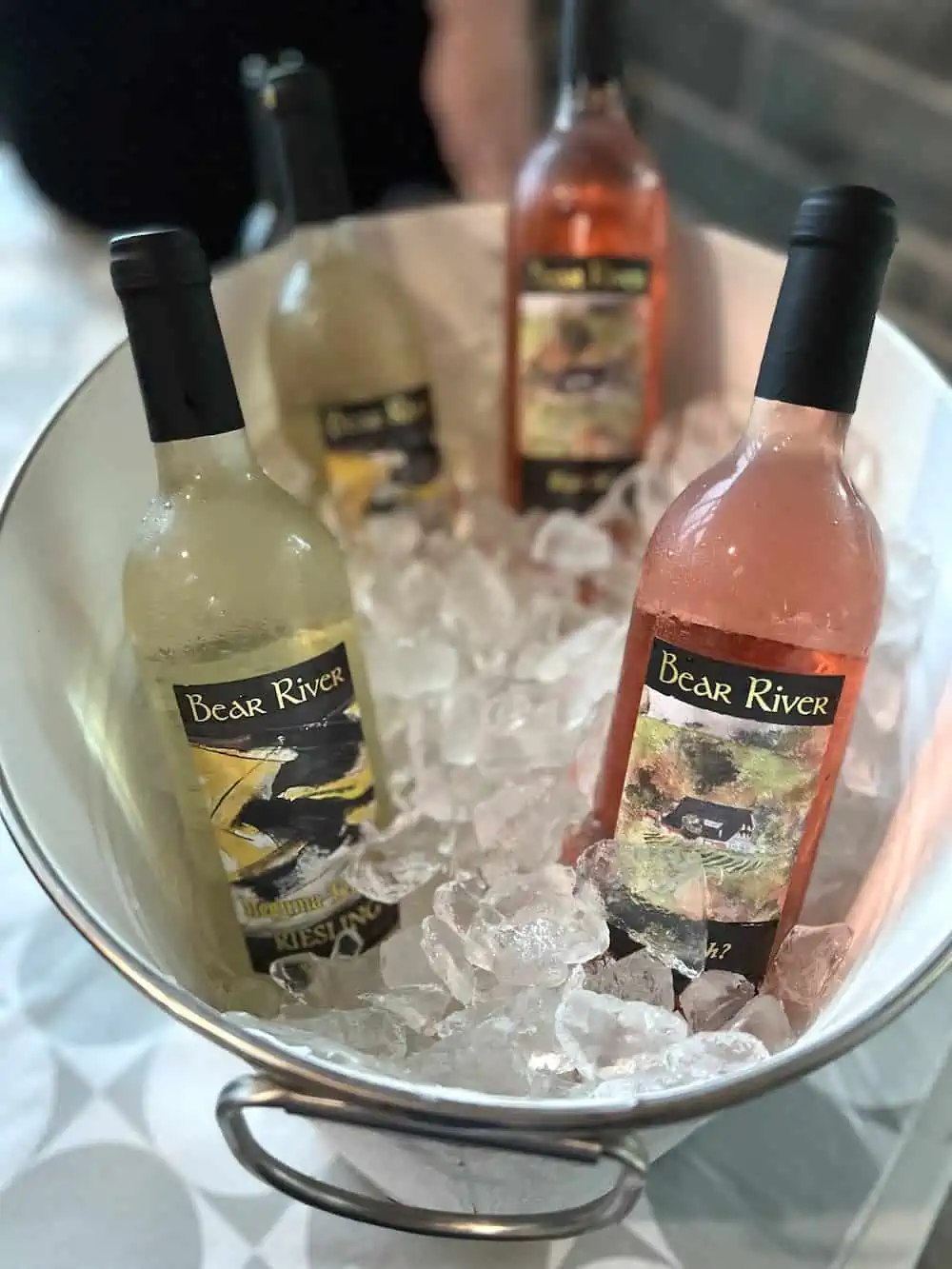 Another big draw in Yarmouth and the Acadian Shores is the opportunity to sip and taste your way through a wide range of wines, ciders and craft beers.
The Annapolis Valley is home to several wineries with unique terroirs. Look for sips from Grand Pré Wines, L'Acadie Vineyards, Bear River and the Annapolis Cider Company.
Other fun culinary activities include taking a guided Wine Tour of the Annapolis Valley, meeting local winemakers, sample craft beer or simply enjoying the pleasures of pairing a locally-produced wine with your meal.
Check prices and availability of a Wine Tour and Lunch in the Annapolis Valley on Viator.com.
8. Eat Your Weight in Fresh Lobster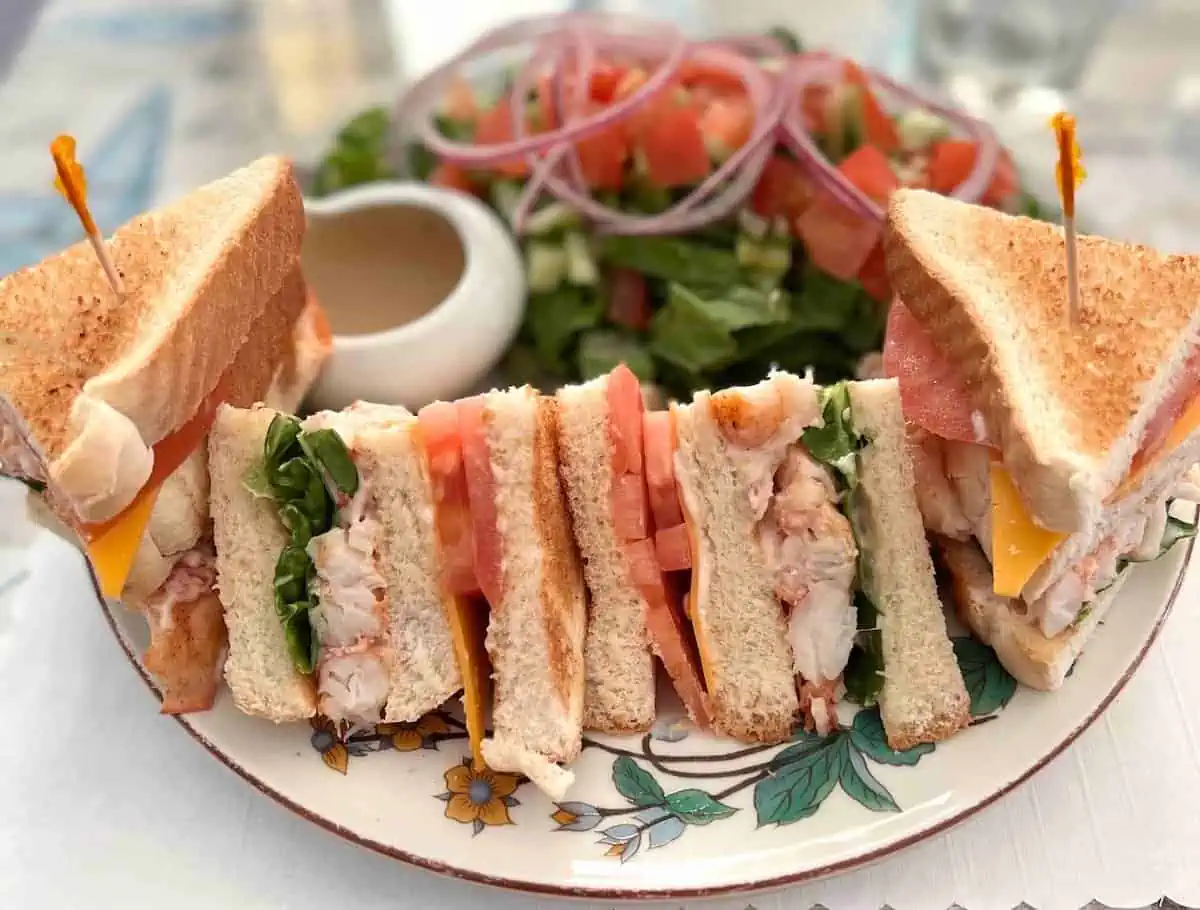 Over the years, I've travelled around Atlantic Canada (and Maine) scouting out the best lobster.
I'm ready to make the unscientific declaration that you won't find anywhere with as much lobster on the menu as Southwest Nova Scotia.
Lobster is on the menu at restaurants, at seafood suppers, at lobster festivals, at cooking classes and at takeout windows.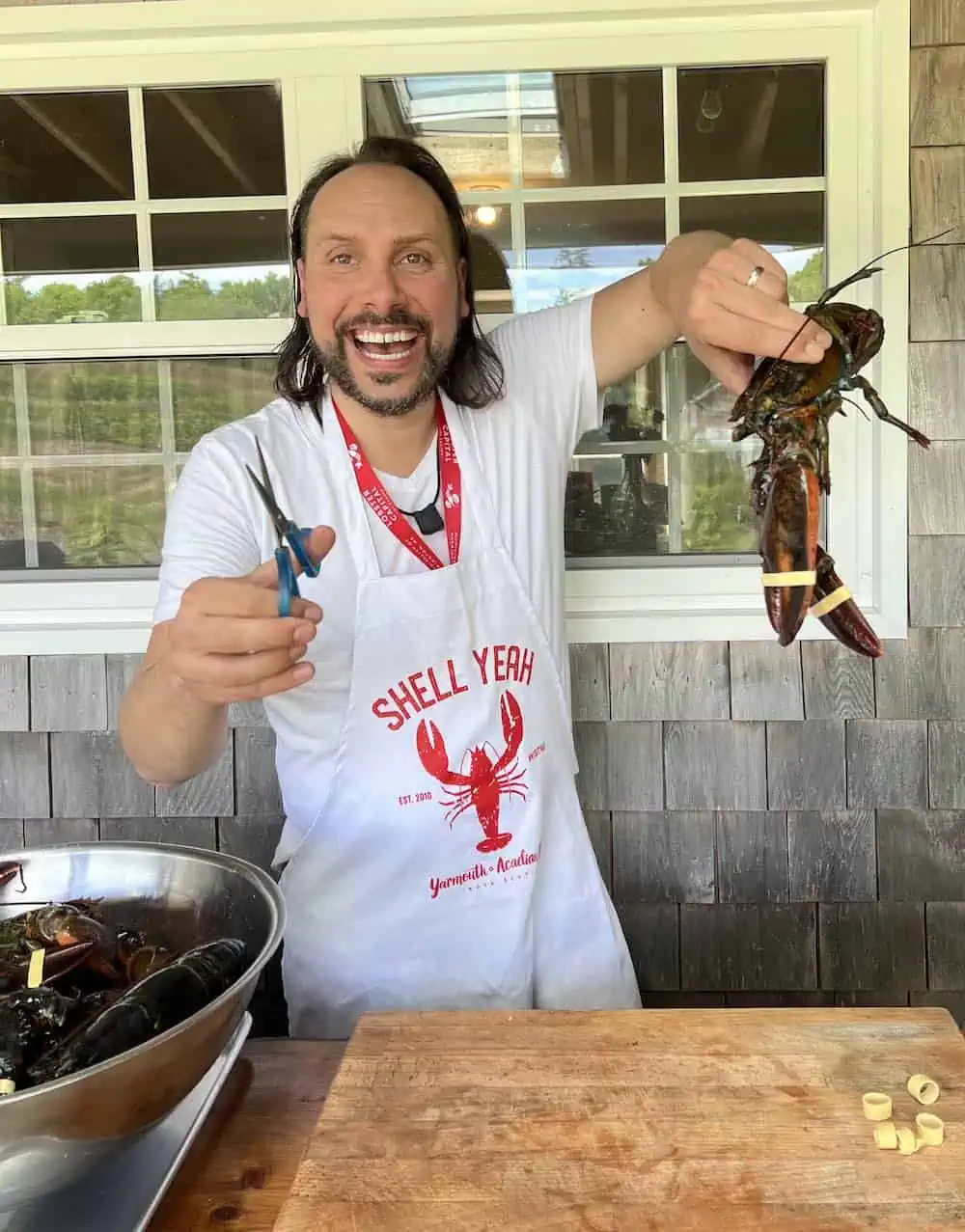 You can even buy lobster at seafood processing plants such as the BMC Seafood Market in Meteghan.
This family-owned facility has been in operation since 1948 and has capacity to hold 600,000 pounds of live lobster in its holding tanks filled with continuously circulating water from St. Mary's Bay.
This means that while lobster harvesting season runs between November and May, fresh lobster is available year-round.
It might be hard to believe but half way down the Acadian Shores coast a few in our group opted to order a burger from the menu rather than lobster! Say what?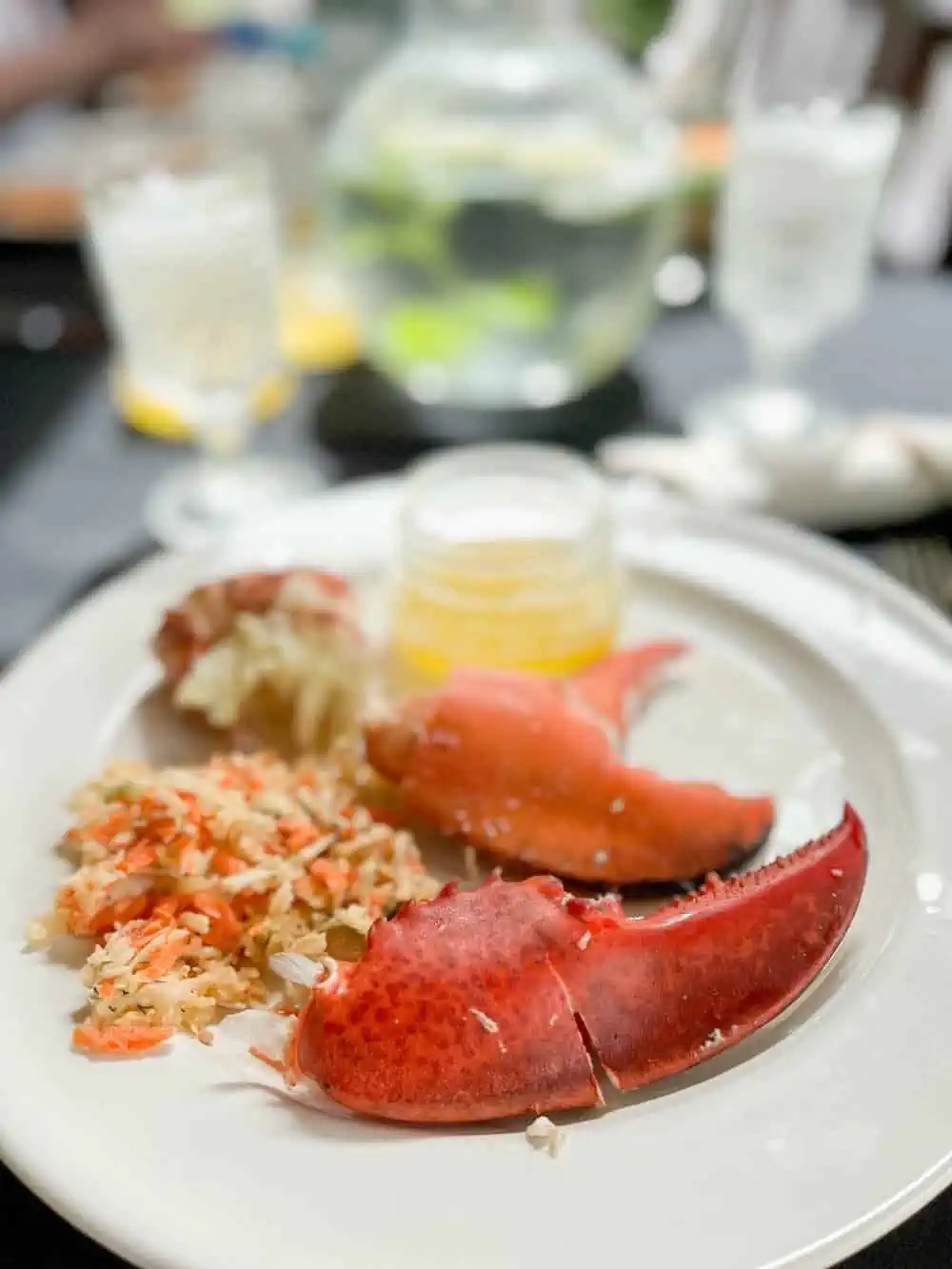 Who'd ever do that?
Truth is, after several days of lobster — from lobster poutine, creamed lobster, lobster bisque, lobster platters, lobster rolls and even a lobster club sandwich — it was time to switch it up.
But our lobster fatigue was short-lived. By the time we reached Yarmouth later that day, we were ready for a lobster feast and a gourmet lobster cooking class at Inner Oaks Holistic Approach!
🌟 Pro Tip: Craving lobster? Try our recipe for lobster fettuccine with herbed cream sauce featuring Nova Scotia lobster!
9. Play a Few Rounds at Digby Pines Golf Resort and Spa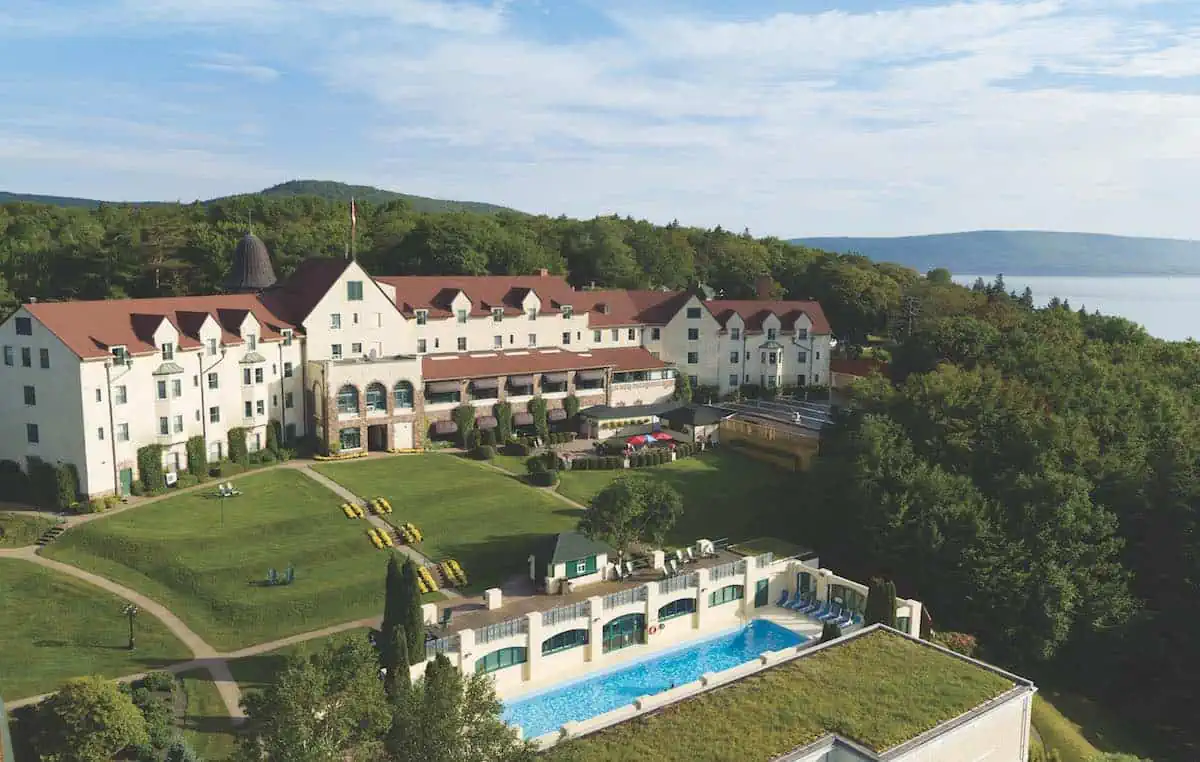 Set overlooking the Annapolis Basin, the Digby Pines Golf Resort & Spa is one of the best places to stay in eastern Canada. The current hotel dates to 1929 and was once a Canadian Pacific Hotel.
It was one of several grand hotels, along the Empress Hotel in Victoria, the Royal York in Toronto, Château Frontenac in Quebec City, intended to inspired passengers to travel in style across Canada.
Today, it offers comfortable guest rooms, luxury suites and cottages, many with fireplaces and verandahs.
A highlight of Digby Pine is its picturesque 18-hole golf course, designed by the famous Canadian golf course architect Stanley Thompson.
He also designed other legendary courses such as Banff Springs, Jasper Park and Highland Links in Cape Breton Highlands National Park.
Check rates and availability of Digby Pines Golf Resort & Spa on Booking.com.
10. Marvel at Majestic Eglise Saint-Bernard Church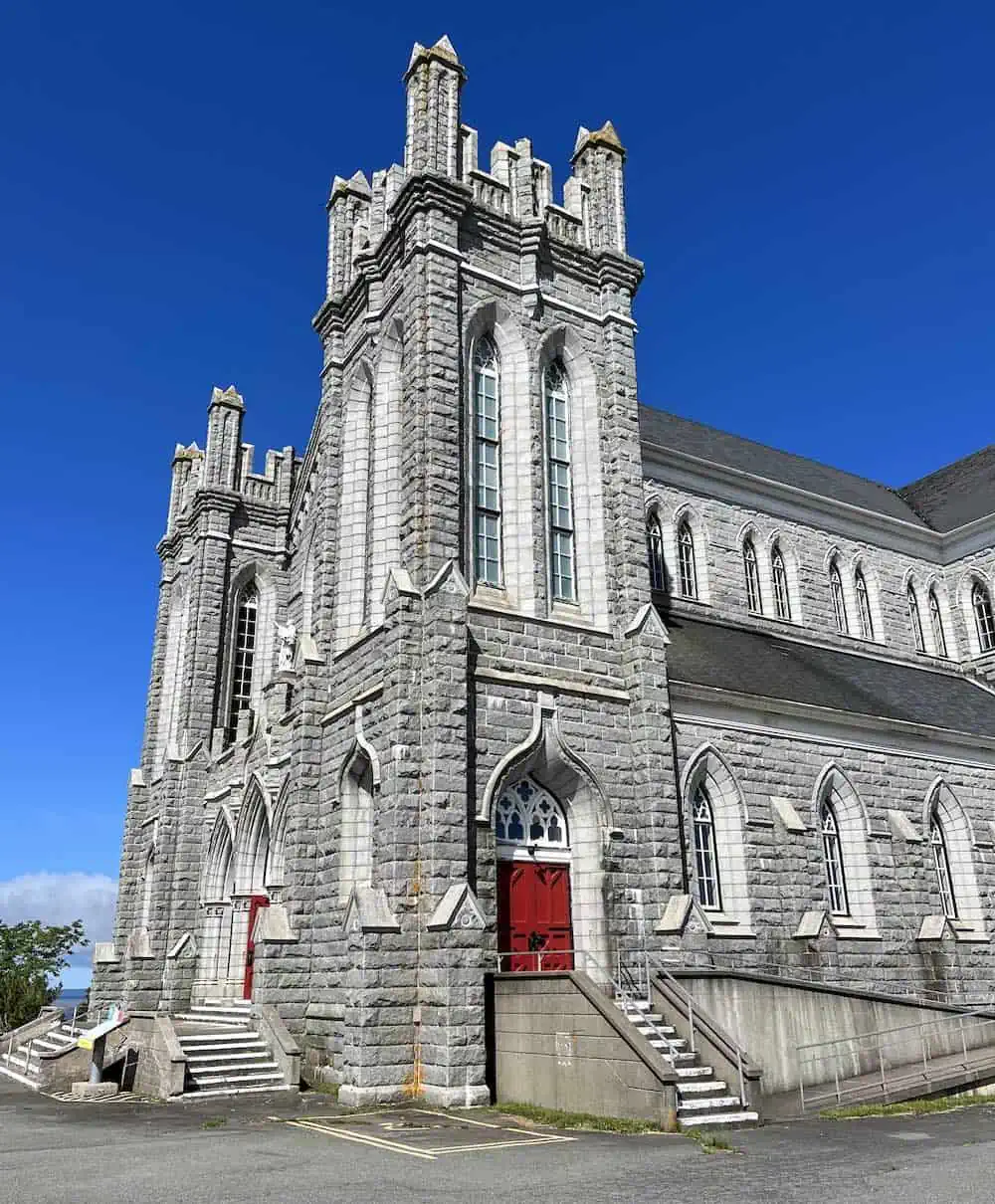 If Eglise Saint-Bernard Church (Google Map) was located in Europe or a major North American city there would be line-ups to see its jaw-dropping interior.
Not only is it an impressive example of Gothic architecture but its incredible acoustics are said to rival those of many famous concert halls.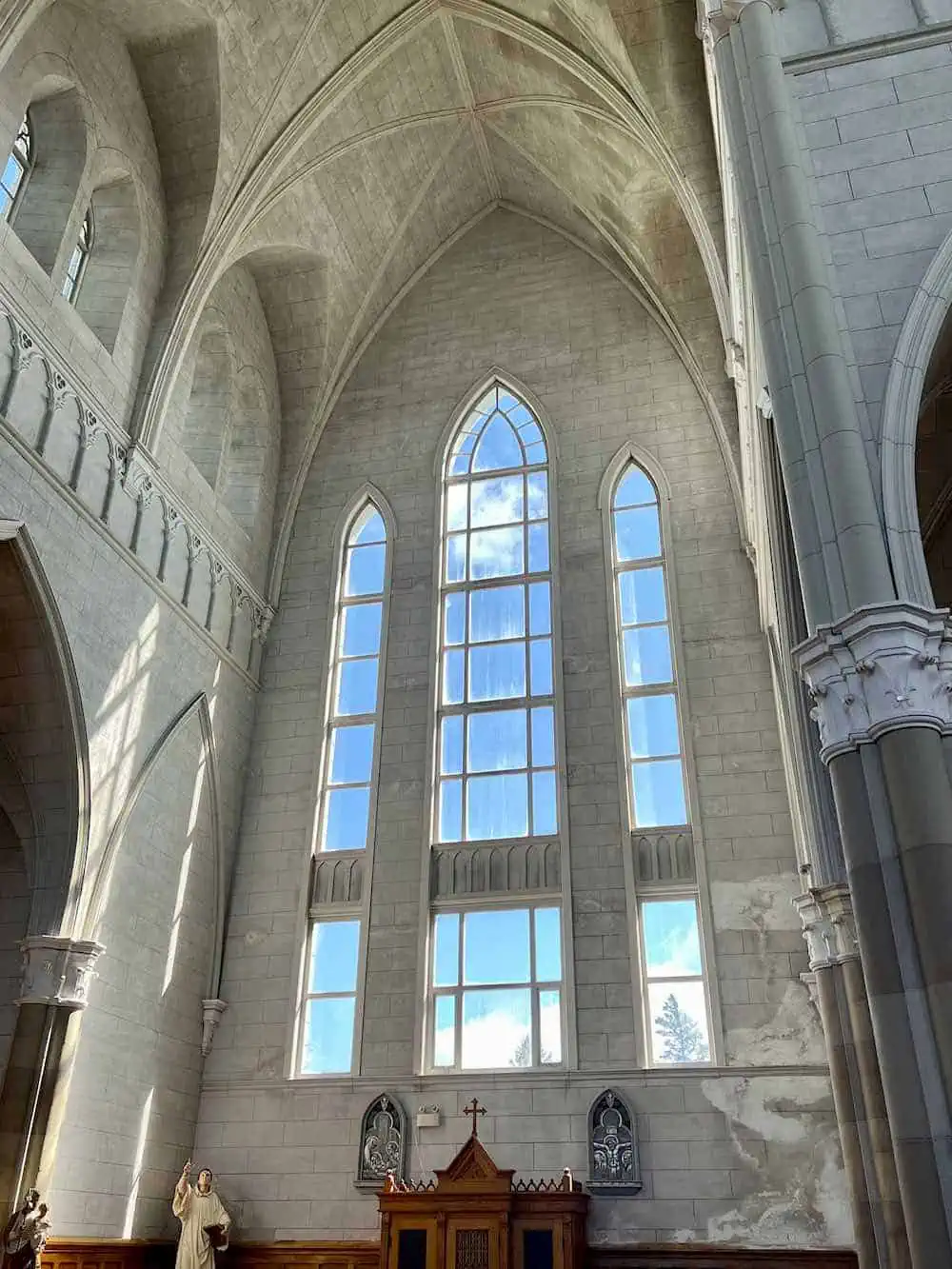 Constructed of more than 8,000 blocks of stone granite, individually laid by hand, it's both graceful and inspiring in size and craftsmanship.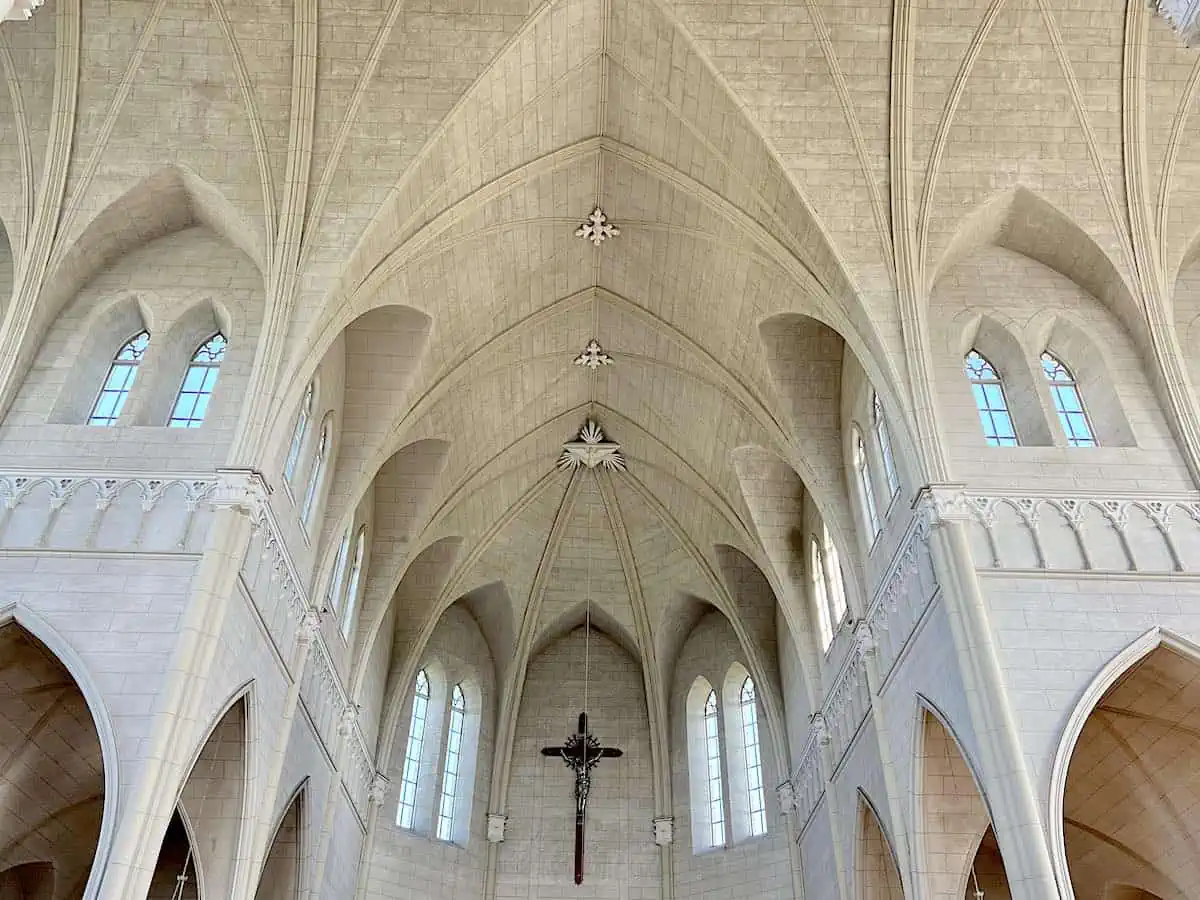 Instead of being a landmark sightseeing attraction, Eglise Saint-Bernard sees few visitors. It's been deconsecrated as a Catholic church and its holy relic removed.
It requires significant funding for repairs so could even be at risk of demolition by neglect despite best efforts by passionate local, national and international parties such as Heritage Saint-Bernard determined to save it.
🌟 Stay up to date with activities at La Société Héritage Saint Bernard and support efforts to preserve this beautiful architectural landmark for future generations.
11. Shop Until You Drop at Frenchys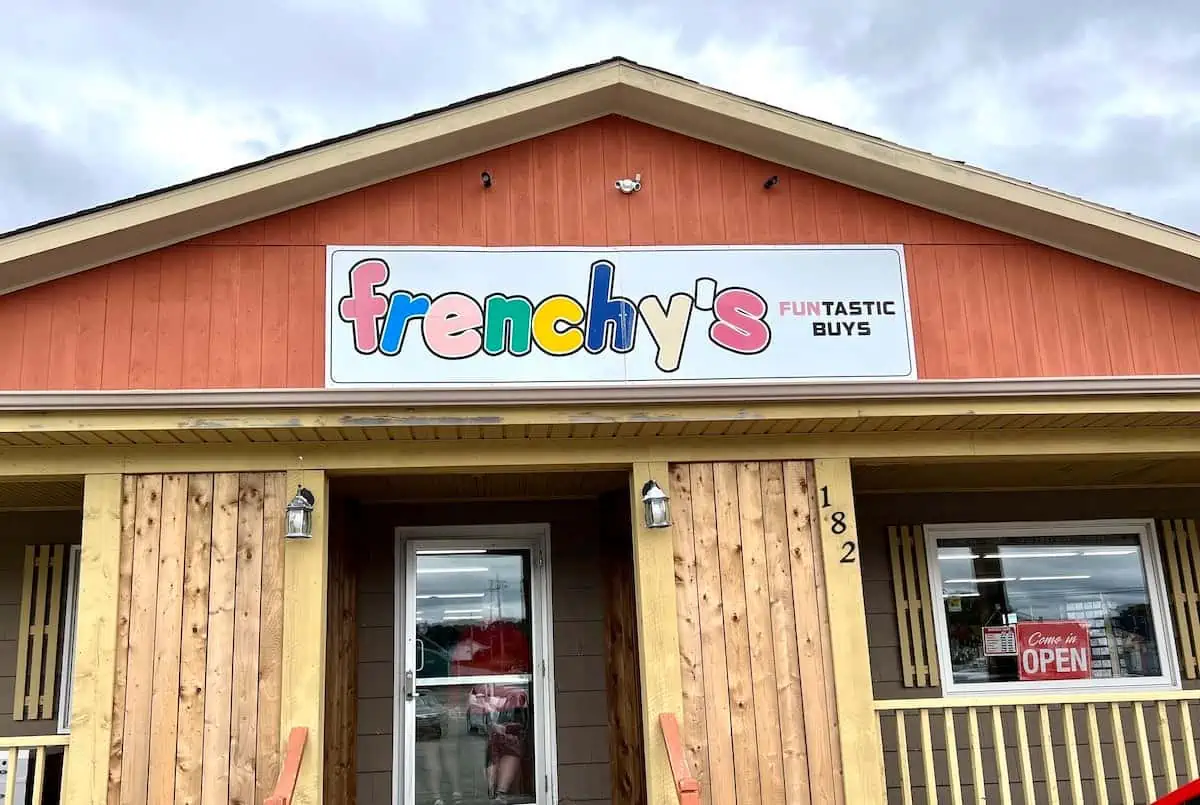 My only regret from my explorations through Southwest Nova Scotia is I wish I'd spent more time shopping!
Not only did several beautiful handmade quilts catch my eye in the village boutiques and shops, but Nova Scotia is home to Guy's French's and Frenchys!
What is Guy's Frenchys you might ask? It's a combination outlet store and thrift shop that's full of unique treasures. From bins of clothing to designer purses, there are lots of finds waiting to be discovered. Prices are rock bottom.
Check the locations of Guy's Frenchys before you go. There are locations in Digby, Meteghan and Yarmouth.
12. Celebrate Small is Beautiful at the Replica Maud Lewis House and Tiny Drawbridge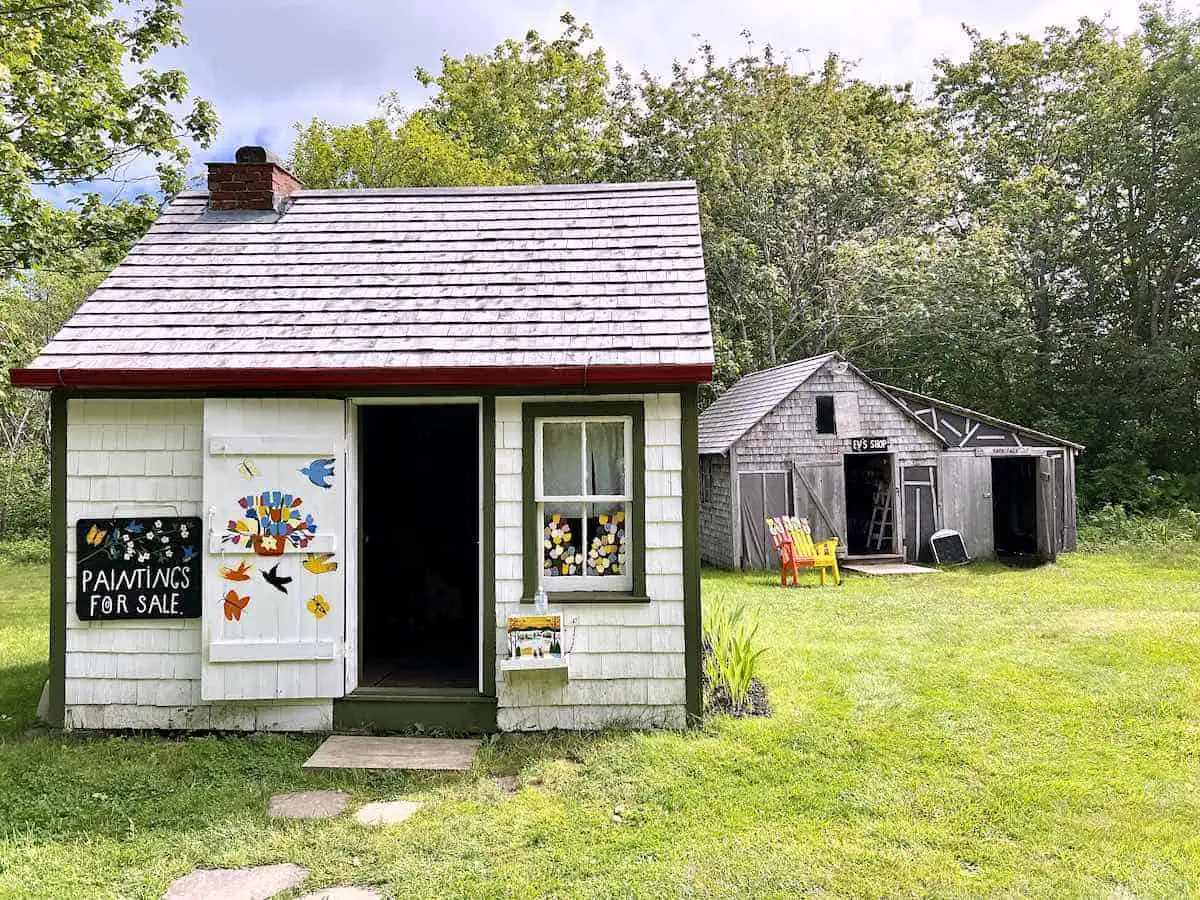 No Canadian road trip is complete without making a stop for a photo-op of a quirky attraction or two.
Your first stop should be the replica of Maud Lewis House just outside Digby (Google Map). This attraction is a charming recreation of the home of the famous folk artist.
Next up is the smallest working drawbridge in the world. Located in Sandford (Google Map), it was originally constructed to save time crossing the wharf but is now a popular landmark for fun photos.
13. Soak Up Acadian Culture at Rendez-Vous de la Baie Visitor Centre
In the 18th century thousands of Acadians, a distinct community who had lived in Nova Scotia since the 1600s but were seen as sympathizers to the French, were expelled from their homes by the British.
While thousands died in what became known as the Acadian Expulsion, those who survived made their way to Georgia, South Carolina, New Orleans in Louisiana, Pennsylvania, Quebec and beyond. They retained their distinct culture, customs and language after deportation.
Today, the Acadian museum located within the Visitors Centre at Université Sainte-Anne (Google Map) offers visitors an opportunity to learn about Acadian culture through exhibits, interpretive trails, art works, traditional food and guided walks.
🌟 Foodie Tip: This is a prime place to pick up food souvenirs such as haddock flakes or dulse, a tasty seaweed that's hand-harvested and enjoyed in soup and stir-fries.
14. Marvel at Saint-Marie Church, the Largest Wooden Church in North America
Another remarkable attraction you're sure to see on your travels along the Acadian Shores is Saint-Marie Church, the largest wooden church in North America.
Located next to the Université Sainte-Anne (Google Map) it's well worth including this in your Nova Scotia itinerary just to see its soaring steeple. It's so tall, its interior is filled with stone ballast to prevent it from toppling over.
Completed in 1905, the church's elegant design was inspired by the castles of France's Loire Valley.
15. Chill Out with a Famous Ice Cream Cone at Honey Bees Restaurant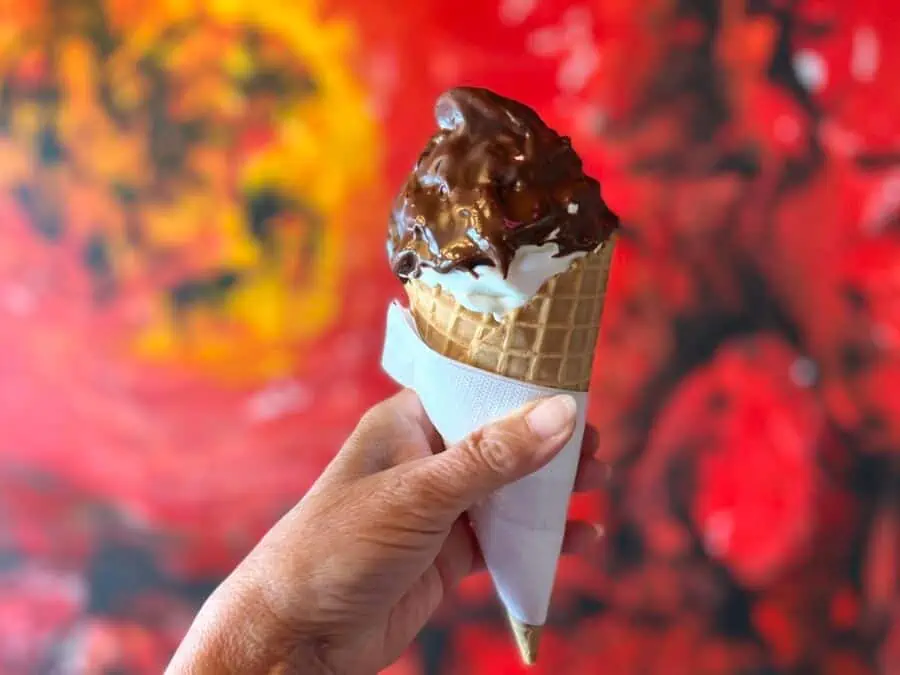 Wrap up your romp along the Acadian Shores and Southwest Nova Scotia with a stop at Honey Bees Restaurant (Google Map) just outside Yarmouth.
This local favourite is an ice-cream parlour, sushi restaurant and Asian specialty shop wrapped into one delicious destination.
Choose from a dizzying array of dips like green tea, hot fudge, gold digger, sea salt caramel, birthday cake and more.
Not into sweets? Perhaps a steaming bowl of udon soup will do the trick. There's a wide array of Japanese and Korean specialities to choose from at Honey Bees, thanks to the culinary and entrepreneurial skills of owners Sonia Park (born in Korea) and Tony Lawrence (a Yarmouth local).
🌟 Foodie Tip: Pick up artisanal food products (we love the honey and royal jelly) by Montreal Celebrity Chef Antonio Park at Honey Bees. He's Sonia Park's brother, proof that culinary prowess run in the family!
Events and Best Time to Visit
Acadian World Congress
The Acadian World Congress, a festival of Acadian and Cajun culture recognized by UNESCO, is held every five years. In 2024 it will take place in Argyle and Clare in southwestern Nova Scotia.
Lobster Bash
If you're craving lobster rolls or just wondering about the best time and place to find lobster in Nova Scotia, mark your calendar for the first week of July.
Celebrating its 10th anniversary in 2023, Digby's annual Lobster Bash features 3 days of lobster-themed fun including fireworks, touch tanks, live music, parades and, of course, lots of lobster on the menu.
Did you know that lobsters come in a range of colours? There are yellow, red, brown and even blue lobsters. Blue lobsters are so rare there's a one in two million chance to catch one. The most famous blue lobster is Lord Stanley the Lobster, one of several offbeat attractions in St. Louis, Missouri.
Digby Scallop Days
Another fun thing to do in Digby in summer is to attend Digby Scallop Days, a 3-day festival celebrating the region's famous mollusk as well as the scallop fishing industry and its people. Don't miss the scallop shucking competition where the pros will amaze you with their speed and prowess.
Hotels and Where to Stay
Dockside Suites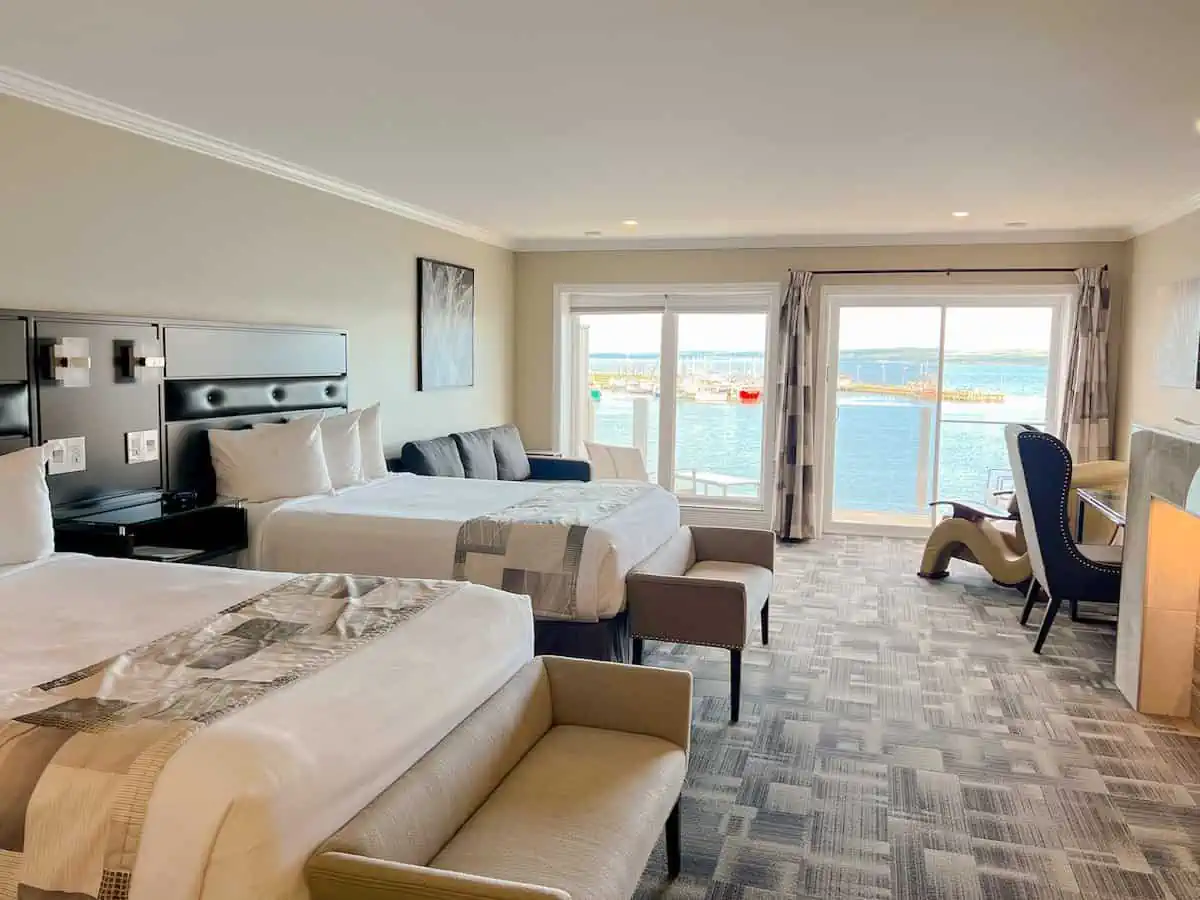 Want to wake up to the sound of seabirds and the sight of bobbing fishing boats? Dockside Suites Hotel.is the best accommodation on the Digby waterfront.
Not only will you be steps to Digby's quaint shops and village square but the modern guest rooms have fantastic views, coffee makers and plenty of space.
There's an added bonus at this Digby hotel. Fundy's, the onsite restaurant, is the place for a traditional breakfast of Digby scallops.
Check rates and availability at the Dockside Suites in Digby, Nova Scotia on Booking.com.
Hillside Landing Bed & Breakfast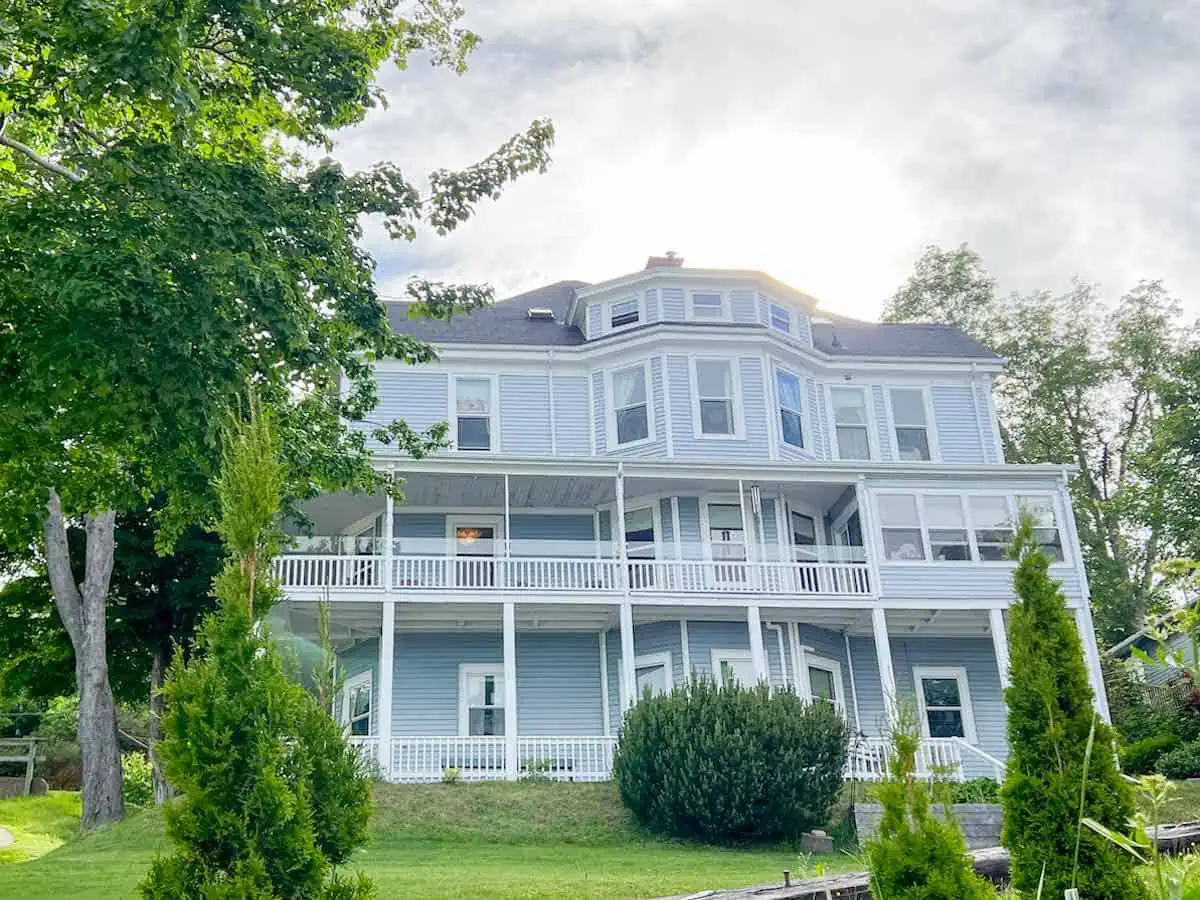 Open year-round this gracious Victorian-era home is ideally situated steps to local restaurants, shops and Digby attractions.
Hillside Landing Bed & Breakfast (Google Map) features three lovely guest rooms (two with harbour views) and all with ensuite baths. The hot breakfast often features Scallops Benedict.
Check rates and availability of Hillside Landing Bed & Breakfast on Booking.com.
Digby Pines Golf Resort & Spa
Enjoy resort amenities including a large outdoor swimming pool, golf and lush landscaped gardens at this historic hotel overlooking the Annapolis Basin.
Check rates and availability of Digby Pines Golf Resort & Spa on Booking.com.
Rod Grand Yarmouth
Check rates and availability of the Rod Grand Yarmouth on Booking.com
Official Tourism Websites
Tourism Nova Scotia: The official website for the province offers a one-stop resource for planning a trip to Nova Scotia.
Yarmouth & Acadian Shores: Go off the beaten path in Nova Scotia and discover culture, cuisine and loads of outdoor adventure along the southwest shores of Nova Scotia.
More Summer Travel Ideas in Canada
FAQs
What is Digby Nova Scotia known for?
Digby, Nova Scotia is best known for its scallop and lobster fishing fleet and its famous Digby scallops. But it's also known as one of the best locations for whale-watching as the Bay of Fundy is home to humpback whales, right whales and other marine life.
How much does lobster cost in Nova Scotia?
In mid-June 2022, the cost for fresh lobster at a seafood market in southwest Nova Scotia was $18.99 a pound. A lobster roll sandwich was $12.00 CAD.
What are some things to do in Digby on a rainy day?
A rainy day in Digby, Nova Scotia is a good time to explore the history of Digby County at the Admiral Digby Museum (95 Montague Row), shop for bargains at Guy's Frenchys, browse the works by local artisans at Off the Wall Gallery or visit the Replica of Maud Lewis House.
Save to Pinterest!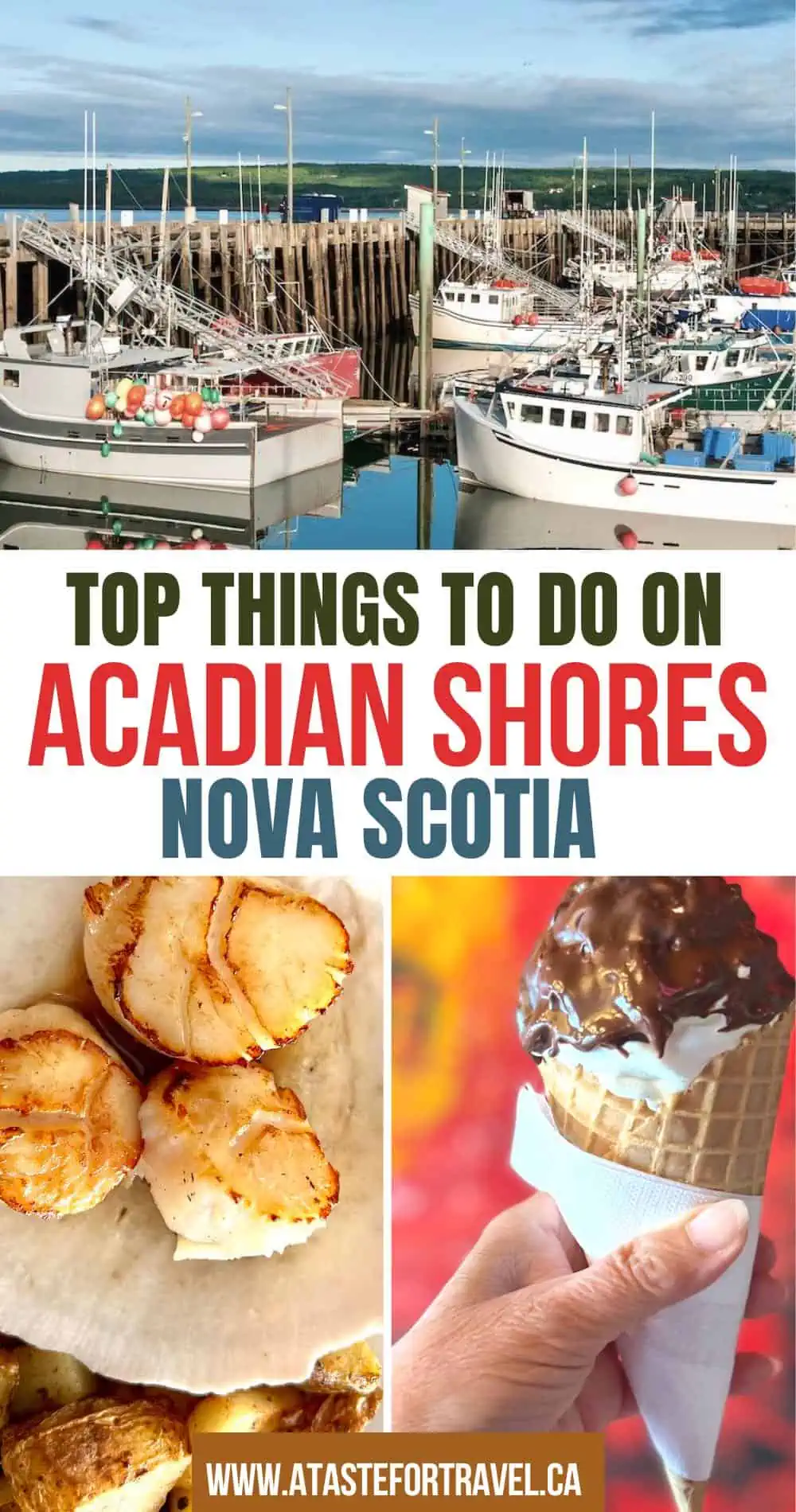 Dividing her time between Canada, Guatemala and Mexico (or the nearest tropical beach), Michele Peterson is the founder of A Taste for Travel. Her award-winning travel and food writing has appeared in Lonely Planet's cookbook Mexico: From the Source, National Geographic Traveler, Fodor's and 100+ other publications.
Read more about Michele Peterson.