We may earn income from links in this post. Please read this Disclosure for details.
Summer is an ideal time for dining on one of the many leafy patios tucked throughout Toronto's fascinating neighbourhoods. The outdoor patio at One Restaurant at the Hazelton Hotel is a posh choice in the heart of town. It's definitely the best place to eat in the Yorkville neighbourhood when it comes to atmosphere and cuisine.
A prime time to visit One Restaurant is during Summerlicious and Winterlicious, Toronto's popular restaurant celebrations featuring discounted rates on set menus and culinary events.
Related: Read more about Toronto's best neighbourhoods and top things to do in our Insider's Guide to Toronto.
Summerlicious
If you're not familiar with this popular food festival, Summerlicious is the 17-day event promoted by the City of Toronto featuring more than 200 of Toronto's top restaurants offering three-course prix fixe menus at one of three price categories.
The dates for Summerlicious 2019 are July 5 – 21, 2019.
*Prices are: Lunch: $23 | $28 | $33 or Dinner: $33 | $43 | $53
*Prices are subject to change without notice and beverages, taxes and gratuities are not included.
Aeroplan Members and Summerlicious
For food fans, the biggest challenge with getting the restaurant reservations you want for Summerlicious is that popular restaurants — like One Restaurant — get fully booked quickly.

Here's an insider tip:
Aeroplan members get special benefits during Summerlicious and Winterlicious. Aeroplan is a premiere sponsor of Summerlicious and Aeroplan members enjoy the perk of making advance reservations at participating restaurants a day before the general public.
Not yet a member of the Aeroplan Loyalty Program? It's easy and free to enroll here.
But there's another little-known benefit Aeroplan members get. In addition to advance reservations, Aeroplan members also get special privileges (such as a complimentary glass of champagne, bubbly wine or amuse bouche) at participating restaurants when they show the server their Aeroplan card or an Aeroplan-affiliated credit card upon arrival.
Check out the list of bonus extras on the Aeroplan Moments to Savour website.
When Aeroplan invited us to check out the advance reservation system with dinner at ONE Restaurant, we quickly made space on our summer calendar, donned our summer fashion apparel ( while ONE restaurant doesn't have an official dress code it's a chic, fancy restaurant so you don't want to show up wearing flip flops and spandex cycling shorts) and headed to Yorkville to enjoy dinner at a prime-time slot of Sunday night at 7:30 pm.
The Aeroplan advantage is super handy for scoring prime-time reservations at a top restaurants (like ONE Restaurant) during Summerlicious.
Dining at ONE Restaurant Hazelton Hotel
Dining at ONE Restaurant is a real treat. It's one of Toronto's top restaurants for lunch or dinner so Summerlicious is an opportunity to to sample its fine cuisine at a very appealing rate. ONE Restaurant is helmed by acclaimed chef and restauranteur Mark McEwan and Executive Chef Andrew Ellerby.
Chef McEwan has a stellar reputation built through a vast repertoire of culinary projects that includes top upscale restaurants such as Bymark, Diwan (within the stunning Aga Khan Museum), North 44 and ONE Restaurant as well as a cookware line by Fresco and role as head judge on "Top Chef Canada ".
Located within easy walking distance of Yonge and Bloor, One Restaurant is also a prime spot on Toronto's patio scene. ONE Restaurant is located within the Hazelton Hotel, a boutique luxury hideaway situated in the heart of fashionable Yorkville and close to the Royal Ontario Museum, one of the top places to visit in Toronto.
Best known for its celebrity clientele during the Toronto International Film Festival each September, it's also a summer dining favourite due to ONE's expertly prepared contemporary cuisine, locally-sourced ingredients and inviting outdoor patio.
With our Aeroplan advance reservations in place, we arrived at ONE Restaurant and were greeted by the hostess and seated on their bustling wraparound patio. Situated in a perfectly shaded spot our table offered a great view of the people-watching on Yorkville while Ferraris and exotic vehicles glided by.
One Restaurant Menu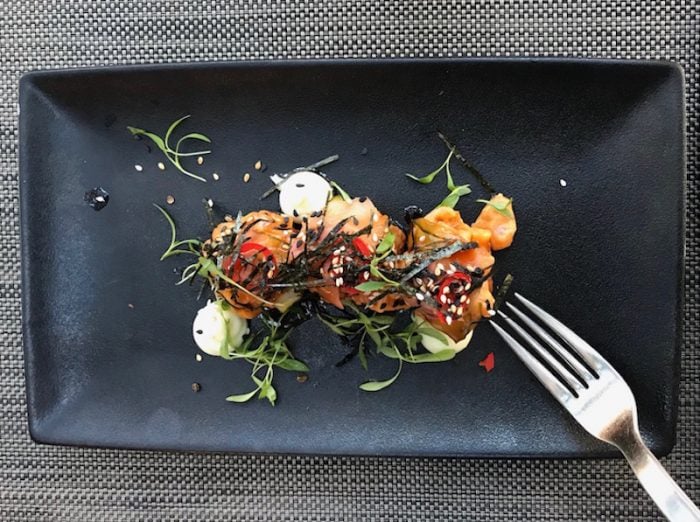 Once at our table, we were greeted by our server and provided with our complimentary chilled glass of champagne (exclusive to Aeroplan members – see above!).
We began our Summerlicious meal with a choice of appetizer – Spicy Salmon Tartare, Shrimp Tostada, or Heirloom Tomato Salad. We opted for the tomato salad which featured watermelon, fresh ricotta, focaccia and balsamic reduction, which was absolutely bursting with fresh summery flavours.
The balsamic reduction added the perfect pop of acidity to the fluffy, fresh ricotta. My date opted for the Spicy Salmon Tartare featuring crispy rice, cucumber-ginger salad, nori,and tare sauce (a thicker and sweeter soy sauce), the medley of Asian flavours really came together in a clever synergy of crispy and soft textures with just the right about of kick thanks to the ginger.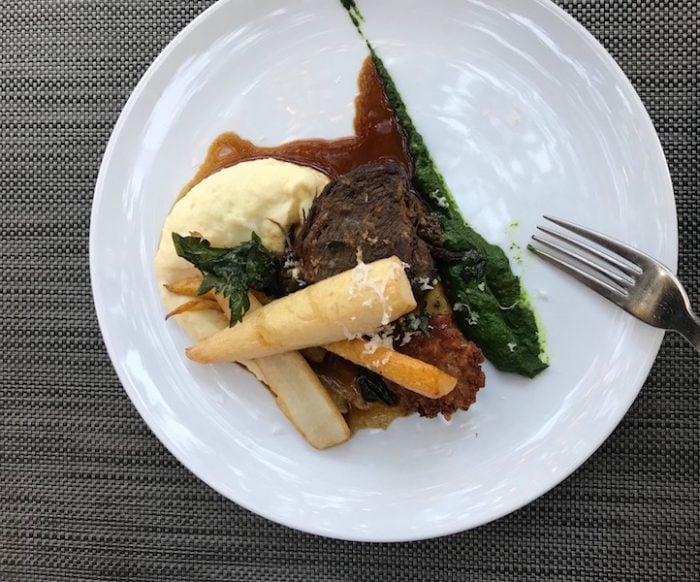 For mains – we were given a choice of Scallop & Pork Belly, Gnocchi Carbonara or Beef Shortrib. I really enjoyed the freshly made gnocchi which featured parmesan fondue, truffle shavings and a perfectly cooked soft poached egg.
My date chose the Beef Shortrib (horseradish pomme puree, heirloom carrot, and pearl onions on a bed of creamed spinach. Elegantly plated, the dish was tender, filling and exploded with rich savory flavor.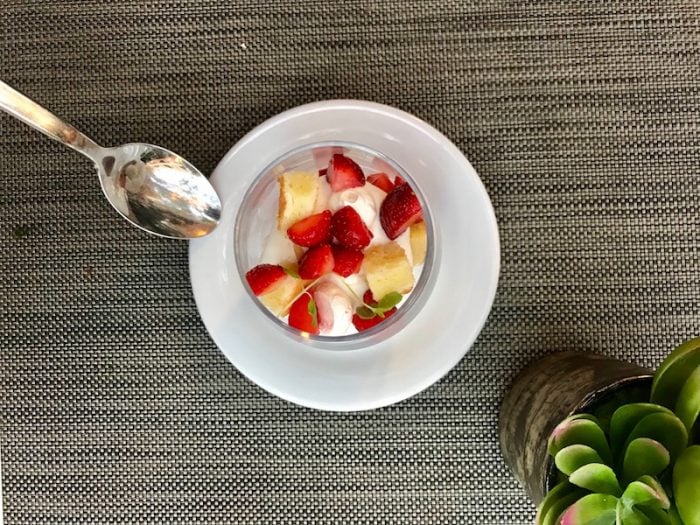 Our dessert choices were Strawberry Trifle, Valrhona Chocolate Brownie, or Fruit & Sorbet. We have a long standing family trifle recipe in my family – I was curious to see how ONE's stacked up. Comprised of layers of lemon chiffon cake, vanilla Chantilly and locally grown Ontario strawberries topped with a crisp meringue this was the perfect high note to my meal.
My date chose the Chocolate Brownie which featured artisanal Valrhona chocolate (from the small village of Tain L'Hermitage, France they have been making chocolate since 1922). He loved how the rich chocolate melded with the whipped coffee ganache and Maldon salt.
We capped off our meal by ordering one of the Summerlicious cocktails (mocktails are also available). The Apricot Margarita (tequila, Apricot Liqueur, and lime juice was a delightfully unexpected twist to a summer classic.
We loved our Summerlicious experience – it made a perfect and balmy date night out on the town where we got to experience a top Toronto culinary destination at a prime time slot thanks to Aeroplan.
This post contains affiliate links and is sponsored by Aeroplan. Please check our Disclosure page for more information.
Details on Aeroplan and Yorkville, Toronto
Aeroplan: There are many benefits to being a member of the Aeroplan Loyalty Program. For example, in addition to the special perks for food events such as Summerlicious, there's the Aeroplan Member Donation Program which allows members to donate reward miles to Canadian-based charities.
Aeroplan members can also redeem Reward Miles to shop for Activities and Merchandise from luggage to sporting events. Plus, there are many more benefits waiting to be explored. It's free to join the Aeroplan program.
Visit Toronto and Ontario Travel Tourism: Pick up free maps, tourist booklets packed with information and get advice at the Tourism Toronto and visitor information centres at Ontario Travel
Click here to check prices on rooms at the Hazleton Hotel Toronto on Hotelscombined.com, a free search engine that looks for the lowest prices on hotel booking sites such as Expedia and Booking.com, finding you the best deal and saving you time searching.
YOU MIGHT ALSO LIKE
Mariposa Cruises: Toronto's Best Brunch with a View
Why Hockley Valley Resort Should be Your Next Weekend Foodie Escape
A Food-Lover's Guide to Muskoka
21 Amazing Things to Do in the Kawarthas This Summer
Save to Pinterest!
Heather Koroluk is a Toronto-based freelance travel writer and photographer who enjoys exploring and showcasing the world of luxury travel, gastronomy, outdoor adventure, wellness and high-end fashion. Her print work has appeared in Canadian World Traveller and Taste & Travel International magazines.
Learn more about Heather Koroluk.