We may earn income from links in this post. Please read this Disclosure for details.
It's impossible to imagine the British tradition of Afternoon Tea without fine chinaware. If you've taken a food tour of London or been exploring the food scene in Britain, you won't want to miss learning more about its famed pottery and fine china.
And there's no more famous line of fine china, porcelain and accessories than Wedgwood, founded in 1759.
You can learn all about the company's history, enjoy afternoon tea, shop for china in the factory shop and even try making your own pottery at the fascinating Wedgwood Museum and Wedgwood Visitor Centre in Barlaston, Stoke-on-Trent.
Visiting World of Wedgwood in Stoke-on-Trent
There's no better place to learn about fine china than the Stoke-on-Trent area in the heart of England. if you're planning a trip to the UK or the Cotswolds Villages, it's well worth adding to your itinerary.
The World of Wedgwood attraction is made up of the V&A Wedgwood Collection (Museum), the Wedgwood Factory, the Tea Room and the Creative Studios.
History of The Potteries
Just 2 hours from London by train and known as "the potteries", this collection of small towns north of London developed as a centre for pot making in the mid 1700's.
It began when enterprising locals began digging clay from the side of the road to make their primitive wares. The resulting potholes filled with water and were a travel hazard for horse carriages, but a fledgling pottery industry was born.
With plenty of local clay and coal to fire it with, Stoke's industry grew to produce stoneware and bone china by some of the world's finest craftsmen. It was also home to Wedgwood, a leading luxury ceramics company.
The World of Wedgwood makes an ideal place to visit if the weather is poor or in the off-season as it's entirely indoors.
Check here for more ideas for the best UK winter breaks.
Wedgwood Museum and Factory Tour
The Wedgwood Museum and Factory Visitors Centre was the centre of the company's 250th anniversary celebrations. Full of history, British culture and interactive exhibits, the museum proves you don't have to know a thing about pottery to enjoy a visit to Stoke-on-Trent.
I learned a lot during my visit to the Wedgwood museum. Notably that the correct spelling is "Wedgwood" not "Wedgewood" as I'd originally thought!
Your education begins as you pass through the pastoral Staffordshire countryside enroute to the Wedgwood estate. The picturesque canals, now populated by ducks, swans and bright barges, were originally constructed to transport raw materials and finished product from the potteries.
Pro tip: For a scenic stay, we recommend the historic 14th century Moat House Hotel in the village of Acton Trussell, south of Stafford. It has a beautiful canal side location and is 45 minutes from the Wedgwood Museum. Check rates and availability for
The Moat House in Stafford
on Booking.com.
They reduced breakage by allowing the delicate china to travel by water instead of packhorses to faraway ports and overseas.
Once the railway was built, commercial use of the canals declined but they remain a scenic legacy of the industrial era.
Wedgwood History and Story of Josiah Wedgwood
Built by an independent non-profit museum trust and art fund, the Wedgwood Museum's contemporary design and unique interactive exhibits house 6,000 artifacts from three centuries of design and production innovation.
Displays from years of British ceramic production are organized chronologically from 1730 to modern times.
Visiting the V&A Wedgwood Collection's museum begins with an introduction to Wedgwood history and its founder.
One of the world's first tycoons, entrepreneur Josiah Wedgwood had humble beginnings.
Born to a family that manufactured primitive pottery, by six years old he was an apprentice in his family's struggling business.
By 14, he had suffered a bout of smallpox that weakened his right knee. It was a disastrous circumstance in an industry where economic survival depended on a potter's strength to use a treadle wheel.
This disability forced Josiah to concentrate on innovation in technology, design and marketing.
Continuous experimentation with firing techniques and clay resulted in new earthenware called creamware. In 1765, Queen Charlotte granted permission for it to be called "Queen's Ware."
With this marketing coup, Wedgwood's business boomed and he was able to build Etruria Works, one of the most progressive new factories in the United Kingdom.
Famous Jasperware
For an immersive experience, today's visitors can take a virtual "magic carpet ride" and experience a bird's eye view of that original factory.
They can also explore the secrets behind the development of the iconic blue and white Jasperware, the first significant innovation in ceramics since the discovery of porcelain by the Chinese nearly 1,000 years earlier.
The neoclassical themes, drawn from ancient Roman, Greek and Egyptian mythologies, reflected his contemporaries' fascination with archaeology.
Josiah Wedgwood's innovations didn't stop at science. He also introduced new marketing concepts such as money-back guarantees, travelling salesmen and showrooms.
A fair employer, he instituted employee health insurance and pension plans which heralded in a new era of workers' rights.
Wedgwood's crowning achievement is the Portland vase, a copy of the original from Alexandria c. 27 BC.
The black basalt porcelain work of art is part of the vast collection of prestigious Wedgwood in the Victoria & Albert Museum in London.
After his death, the company went on to produce buttons, black basalt vases, medallions and cameos.
What is the colour of Wedgwood? While the best known of the iconic Jasperware is blue, it was also produced in white, grey and a unique and beautiful pink. The rarest colour is red.
Fun Things to Do in the Wedgwood Museum
Ever wondered what you might have looked like on a Wedgwood blue cameo? Find out at a unique display where you select the background, a computer takes your snapshot and transforms your silhouette into a cameo-like image.
Download a computer file online the next day and email your Wedgwood "cameo" to those back home. In addition to being a unique experience it's a fun souvenir of your visit.
The Wedgwood eye for style has been key to the company's success. The museum showcases a range of lucrative lines such as the fantastical Art Deco Fairy Lustreware.
It was designed by British potter Daisy Makeig-Jones from 1915-1931 and can fetch up to $57,000 per piece at auction.
In the swinging 1960's, Wedgwood remained in the vanguard of modern design. One of the most notable designs was by Susie Cooper, a modernist known for her flamboyant colors.
Newer pieces, such as those produced for London's Fashion Week, are as hip as it gets. You'll also see creations from top designers in modern collections such as those by Vera Wang.
Hands-on at Wedgwood World and Factory
If you find your fingers itching for some hands-on pottery time, head next door to the Wedgwood Factory Visitors Centre in Wedgwood World.
There you can talk with artisans, many of whom can trace their family connections with Wedgwood back to the 18th century, and watch their painstaking work. For an extra charge, you can even make your own pottery.
Throw a Jasperware pot on the wheel, paint a piece of pottery or decorate a vase (extra cost)– you'll find it challenging, but skilled and patient demonstrators are on hand to help.
Once you've created your own unique souvenir, Wedgwood will even ship your work of art home for you (in the UK). And before you leave don't miss visiting the Wedgwood shop where you can pick up some bargains on fine bone china tableware and other unique souvenirs.
Wedgwood Afternoon Tea
Round off your visit with lunch featuring locally-sourced fare or an indulgent afternoon tea. It features a delectable selection of sweet and savoury sandwiches and pastries.
One of the highlights of this elegant experience is the Wedgwood tea and fine Wedgwood chinaware used for the tiered cake stands, teapots, cups and saucers.
Other Things to Do in Stoke-on-Trent
While in the Stoke-on-Trent area, it's well worth stopping at some of the other nearby museums and unique historic sites.
Soak up Some History at the Gladstone Pottery Museum
Although the giant bottle kilns are long gone from the Wedgwood factory, a few still remain at the nearby Gladstone Pottery Museum. History and architecture lovers will appreciate the atmospheric setting of this open air museum, which was the site of the Gladstone China Works.
It is now preserved as the last complete Victorian Pottery factory in Britain. Amid the red brick kilns blackened with soot, it's easy to imagine the hardships endured by workers toiling in the industrial age.
Learn more about things to do in Stoke-on-Trent, also known as the World Capital of Ceramics.
Enjoy a Ploughman's Lunch
While in Stoke-on-Trent, be sure to make time to stop for a lunch in one of the many small cafes and restaurants.
Dishes to watch for include a Ploughman's Lunch, the best cheese, charcuterie, chutney and pickle platter you'll ever try.
Also look for Welsh Rarebit, perfectly toasted bread topped with a heavenly mix of grilled melted cheese, beer and English mustard.
Marvel at the Ironbridge Gorge World Heritage Site
Travellers interested in learning more about Britain's industrial past should also stop at the Ironbridge Gorge, a UNESCO World Heritage Site in nearby Shropshire.
The world's first bridge constructed of iron, this symbol of the Industrial Revolution was the hub for 300th anniversary celebrations of the birth of the Industrial Revolution.
Set amid an area of stunning natural beauty, the site holds 10 fascinating museums.
There's a recreated Victorian village, the Jackfield tile museum and the historic Coalport potteries with their towering brick kilns.
Get a Wellness Boost at Great Malvern Spa Town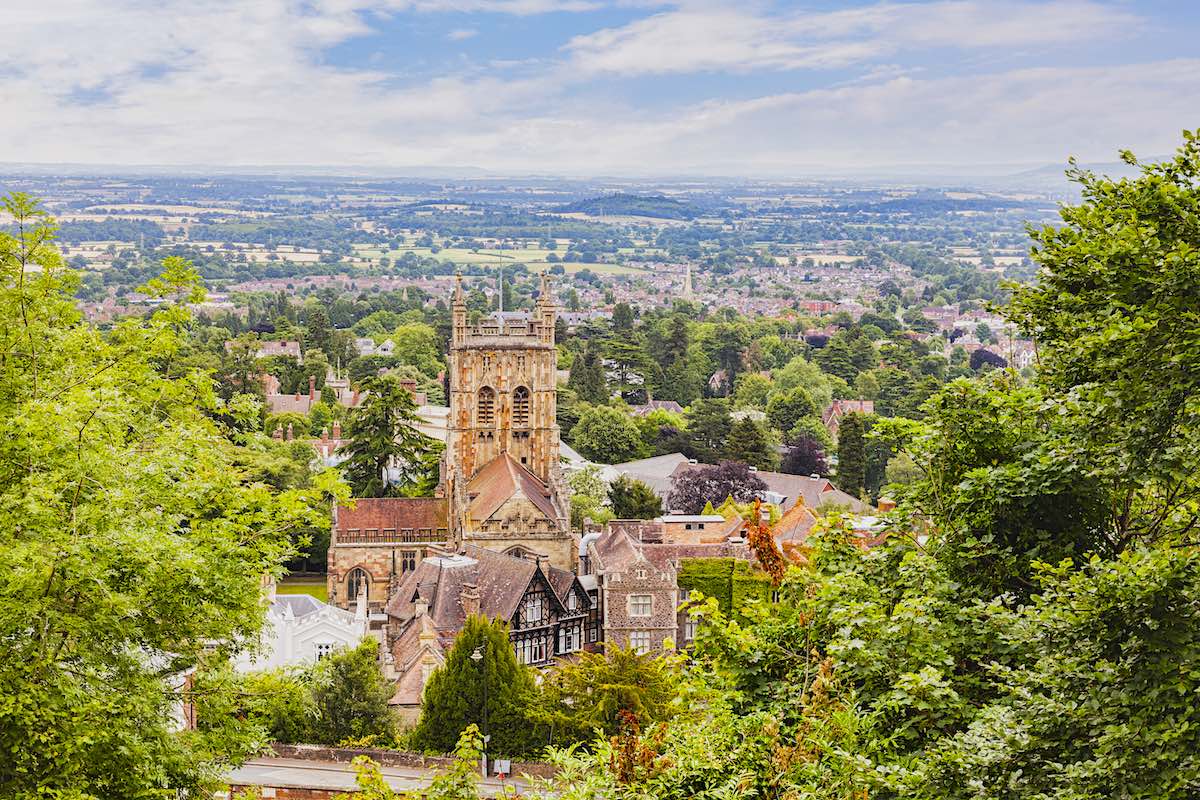 While in the Potteries, it's also worthwhile exploring Great Malvern, a hillside spa town that reached its heyday in Victorian times.
It was a popular destination for those seeking refuge from the polluted skies during industrial times. Florence Nightingale, Charles Darwin (the grandson of Josiah Wedgwood) and Queen Victoria were all fans of visiting the spas in Malvern.
They believed the "Water Cure" — which consisted of hiking and sipping water drawn from the 100 ancient wellsprings that dot the Malvern Hills — could treat persistent illness such as arthritis, tuberculosis and other ailments.
Today, although all of the original water cure establishments have long disappeared there are lots of things to do.
It's possible to hike the Malvern hills, sip the waters and experience spa treatments at the Malvern Spa Hotel.
This stylish facility offers a natural hydrotherapy pool, a salt grotto, herbal steam rooms and cold treatments at the base of the hills.
If you're interested in experiencing more healing springs, don't miss visiting the Glastonbury Chalice Well. It's one of the top things to do in Glastonbury.
Summary
Whether you choose to visit the Wedgwood factory, the Wedgwood museum or other potteries, visitors to Stoke-on-Trent will discover that Wedgwood's history is much more than just the story of a pottery company and the inspiring man who founded it.
Rather, it is an integral part of the history of the Industrial Revolution and of many aspects of British culture and society.
Travel Guide to Wedgwood Museum and Stoke-on-Trent
Getting to Wedgwood Museum
Overnight in London before heading to Stoke-on-Trent. For convenience, choose a hotel that offers easy connections to the airport and/or train station.
The luxurious Athenaeum Hotel on the Piccadilly line, is in Mayfair within easy walking distance of parks, shopping and Kensington Palace. It also offers an elegant afternoon tea.
The Radisson Blu Edwardian Berkshire offers stylish accommodation at reasonable rates as well as proximity to the bustling shops of Oxford Street.
Independent Travel
By rail to Stoke-on-Trent, the journey is less than 2 hours from London's Euston Station. Visit www.BritRail.com or call 1 866 BRITRAIL.
It's a 15 minute taxi ride from Stoke railway station to the Wedgwood Museum and Wedgwood Visitor Centre.
By Car
For the most flexibility you can rent a car and drive to the World of Wedgwood. You'll then have time to explore the many things to do in and around Stoke on Trent. It's a 50 minute drive from Manchester Airport to World of Wedgwood.
We rent our cars on Discovercars.com. It's an online car rental booking site that compares rates from several companies to find the best deal.
Check for the best car rental rates at Discovercars.com
Private Transfer
A convenient option is to get a private transfer from Manchester Airport (MAN) to Stoke-on-Trent.
Check prices and availability of a Private Transfer from Manchester Airport to Stoke-on-Trent on Viator.com.
The World of Wedgwood Cost
Part of the V&A museum collection and charitable organization, the Wedgwood Museum in Barlaston in Stoke-on-Trent offers free admission.
If you'd like a guided tour of the Factory, the cost is £ 12.50 per adult.
Check their website for special events and times for guided tours.
Gladstone Pottery Museum: Allow at least two hours to explore this remarkable historical site. www.stoke.gov.uk/museums
Where to Stay
The Moat House: The historic 14th century Moat House Hotel has a scenic canal side location in the village of Acton Trussell, south of Stafford. Allow 45 minutes travel time to the Wedgwood Museum. The Moat House is our top choice for food-lovers.
The luxury Afternoon Tea (including a Gentlemen's version with ale, cheeses and black pudding) is a culinary highlight.
There's also a pub and the acclaimed fine-dining restaurant with a fixed price menu. It's also got one of the most expansive vegetarian and vegan menus in the UK.
Check rates and availability for The Moat House in Stafford on Booking.com.
Best Western Stoke-on-Trent Moat House: This economical Best Western Hotel is a 15 minute drive to the Wedgwood Museum.
Check rates and availability at the Best Western Stoke-on-Trent on Booking.com
The Malvern Spa Hotel: This contemporary 32-room hotel includes access to the hydrotherapy pool, hot and cold spa facilities, gowns, slippers and towels.
Check rates and availability at The Malvern Spa Hotel on Booking.com.
General Tourist Information
Visit Stoke-on-Trent: Official Visit Stoke Tourism website
Visit Britain: www.visitbritain.com
FAQs
Can you visit the Wedgwood factory?
Yes, the public is welcome to visit the Wedgwood factory. It's part of the World of Wedgwood attraction in Stoke-on-Trent, UK. There's a cost for the 45 minute guided tour.
What is the difference between Wedgewood and Wedgwood?
The difference between Wedgewood and Wedgwood is authenticity. Authentic Wedgwood porcelain and Jasperware products are spelled Wedgwood while fakes are spelled Wedgewood.
Are Waterford and Wedgwood the same?
Waterford Crystal, Wedgwood, Royal Doulton and Royal Albert are part of the Finnish Fiskars portfolio of brands. You can purchase many of the products at the gift shop in the World of Wedgwood attraction in Stoke on Trent.
Other Amazing Experiences in the UK
10 Dreamy Castle Hotels in Ireland
Best Food Tour in London (and get a discount too!)
Must-Try Traditional Food in Dublin
Save to Pinterest!
Dividing her time between Canada, Guatemala and Mexico (or the nearest tropical beach), Michele Peterson is the founder of A Taste for Travel. Her award-winning travel and food writing has appeared in Lonely Planet's cookbook Mexico: From the Source, National Geographic Traveler, Fodor's and 100+ other publications.
Read more about Michele Peterson.