We may earn income from links in this post. Please read this Disclosure for details.
With art galleries, fascinating architecture and incredible cuisine, there's no shortage to things to experience in Mexico City's Historic Centre. But for something completely different, head 20 kilometres outside the downtown core to the floating gardens of Xochimilco Mexico City.
This network of canals dates back to the time of the Aztecs, when the ancient peoples produced food on chinampas, pockets of arable land floating on the shallow lakes beds of the Valley of Mexico. It's definitely worth visiting if you're in Mexico City for three days or longer.
Floating Gardens of Xochimilco Mexico City
Today, you can glide through these canals in a trajinera, a brightly painted Mexican gondola, while enjoying food, drinks and entertainment along the way. It's one of the top things to do in Mexico City for visitors and a very popular activity for locals celebrating birthdays, engagements or family special occasions, so if you can go during the week when the crowds aren't as large. It's also the kind of activity best enjoyed in a group or as a couple, so if you can gather a group of friends you'll have more fun.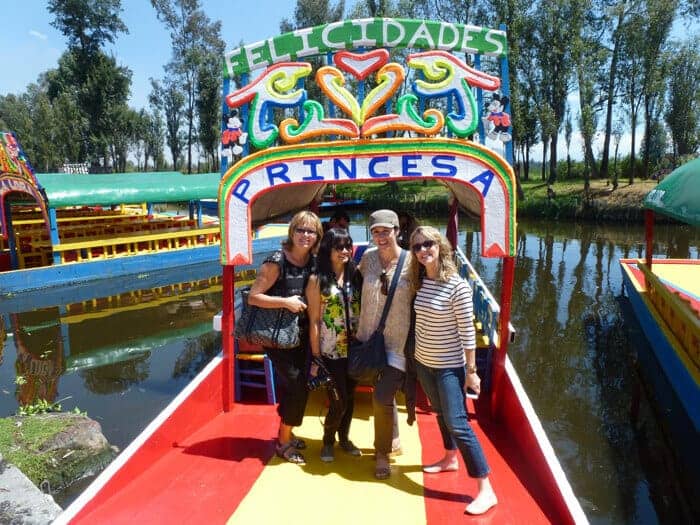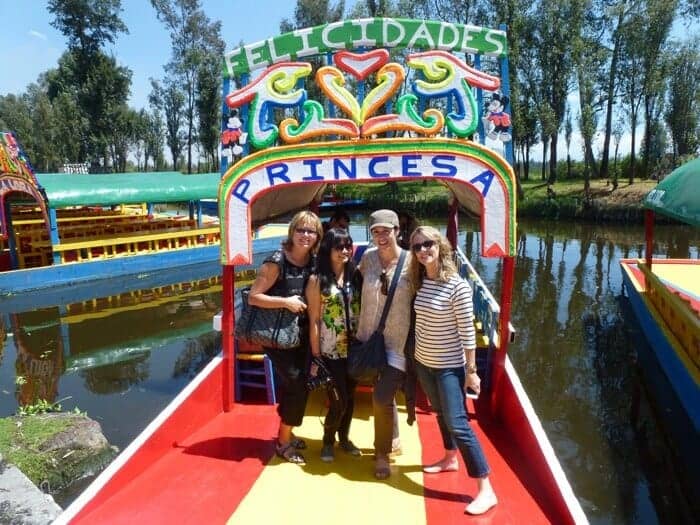 Book one of the boats and you'll float through the peaceful canals learning about ancient traditions and enjoying food, drink and even mariachi music. Prices are posted at the Embarcadero ( dock).
Weird Island of Dolls at Xochimilco Mexico City
One of the strangest sights I saw along the way was a display of dismembered dolls affixed to trees. It was an eerie rather creepy sight and is a top spot during Day of the Dead when performances of the legend of la llorona take place in the neighbourhood. La Llorona ( The Weeping Woman) is a woman who killed her children to be with her lover and after he deserted her, she roams the streets –from Guatemala to Mexico– lamenting the loss of her children for eternity.

But the Island of the Dolls or Isla de las Munecas was actually created by a local who found the body of a young girl floating in the canal. Unable to save her from drowning, he collected dolls and attached them to trees on an island as a form of memorial. Legend has it that her spirit now lives through the dolls and witnesses have reported seeing dolls' limbs move, eyes open and other strange happenings. I wasn't keen to find out for myself so focused on sipping tequila and eating grilled corn that miraculously appeared from floating vendors.
Things to Do Near Xochimilco Mexico City
Xochimilco also happens to be located near the fascinating Olmedo Patino Museum, a historic hacienda that's home to an important collection of art by Diego Rivera and Frida Kahlo plus vast botanical gardens and folk art. If you're looking for high quality souvenirs, the gift shop is one of Mexico City's best. Dog lovers will enjoy learning about the museum foundation's efforts to bring back the ancient Mexican dog breed, the Xoloitzcuintle or Xolo, a hairless canine once considered a holy animal by the Aztecs.
Check out this handy itinerary for 3 Days in Mexico City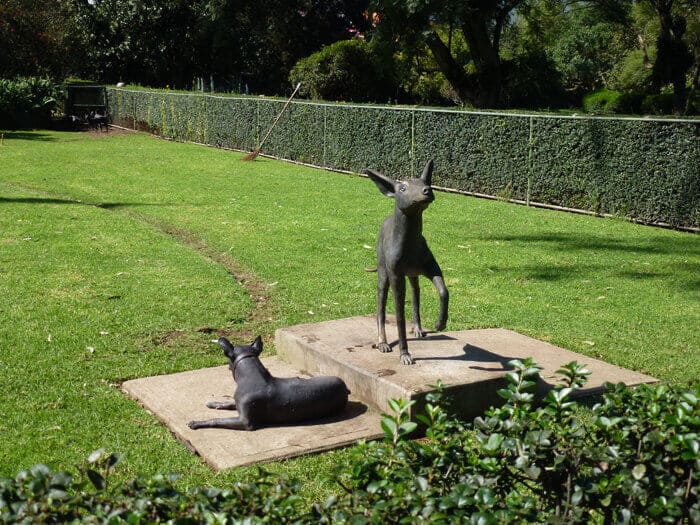 Travel Planner
Getting to Xochimilco Mexico City: Expect it to take 90 minutes by public transit. First, take Metro Line 2 to station Taxqueña. From there exit and take Tren Ligero (light rail) and pay an extra fare. Ride the light rail to station Xochimilco, the very last station. Walk or take a bicycle taxi through the market and village to the canals. Or, if you're in a group it can be cheaper and more convenient to take a taxi from your hotel.
Tours at Xochimilco Mexico City: Prices are fixed ( posted on a billboard at the dock) depending on the size of the boat but you can try to negotiate for more time. Vendors and roving mariachis float up to your boat to serenade you, offer drinks and tasty grilled corn with chile, lime and mayo for an extra fee.

There's so much to explore in Mexico City, it's easy to become overwhelmed by choices. To help you organize your time in Mexico City, we've collaborated with GPSMyCity, to offer A Taste for Travel subscribers a FREE full version of the Mexico City Map and Walks app for iPhone, iPod Touch and iPad. You can read all about the handy Mexico City app on the iTunes page.
GPSMyCity offers two city walks apps for each city, a free version and a paid one. In the free version, users can view all the walk content, but WITHOUT any navigation assistance. For example, NO detailed walk route maps are included in the free version. The paid (FULL) version available to A Taste for Travel subscribers comes with everything. You can even create your own customized itinerary.
A FULL version of the app means that a detailed walking route map and turn-by-turn walking directions are provided in each walk, so you can confidently "lose yourself" on your trip, but not get lost along the way. What's also great about this, is that once you've downloaded the app it will work offline without internet connection. This means you don't need to purchase mobile data plans or worry about paying roaming charges while in Mexico.
We have a limited number of FREE promo codes available for the FULL version of the GPSMyCity Mexico City app so if you're interested in trying the Mexico City Map and Walks app, subscribe to the A Taste for Travel newsletter and email us at info@atastefortravel.ca to request the promo code.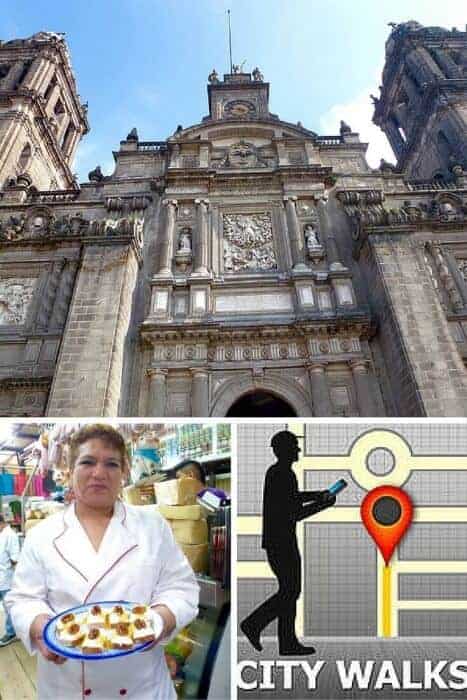 If you're travelling with a family and looking for more ideas of things to do in Mexico City check out this post Mexico City: The Most Overlooked City
Dividing her time between Canada, Guatemala and Mexico (or the nearest tropical beach), Michele Peterson is the founder of A Taste for Travel. Her award-winning travel and food writing has appeared in Lonely Planet's cookbook Mexico: From the Source, National Geographic Traveler, Fodor's and 100+ other publications.
View more posts by Michele Peterson Read more