We may earn income from links in this post. Please read this Disclosure for details.
Looking for a cool place to stay in Mexico City? Then head to the Roma Norte neighbourhood, the city's bohemian hub of style and creative energy.
There are so many things to do in Roma Norte, it's impossible to squeeze it all into one day. So we've created a 3-day weekend itinerary that covers the very best of this hip and happening area.
Why Stay in Roma Norte?
Designated a barrio mágico (magical neighbourhood) in 2011, this district is located in the Cuauhtémoc borough just west of Mexico City's historic centre.
While edgier than trendy, nearby Condesa, it's got a similar European feel.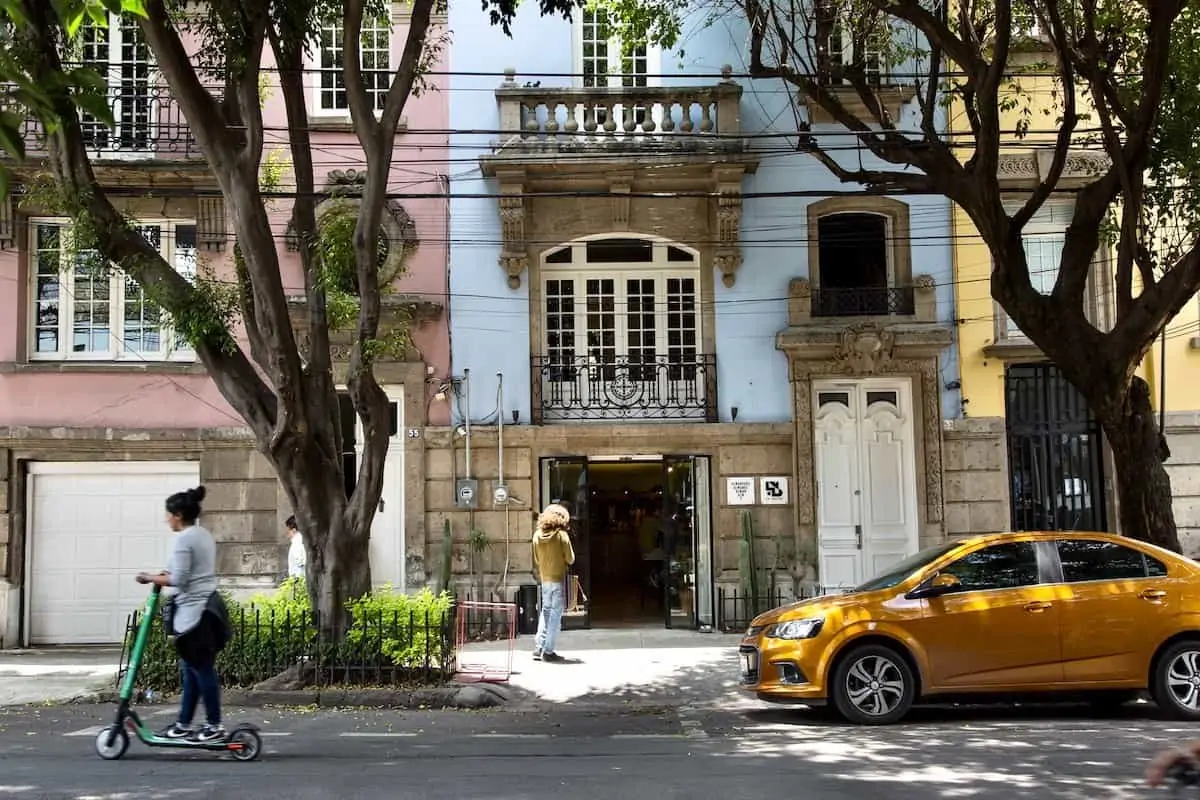 Gracious neoclassical mansions converted into museums, boutique hotels, upscale restaurants, wine bars, coffee shops, bookstores and vintage stores dot its picturesque streets.
Its leafy plazas feature elegant fountains juxtaposed with pop-up art installations and street art.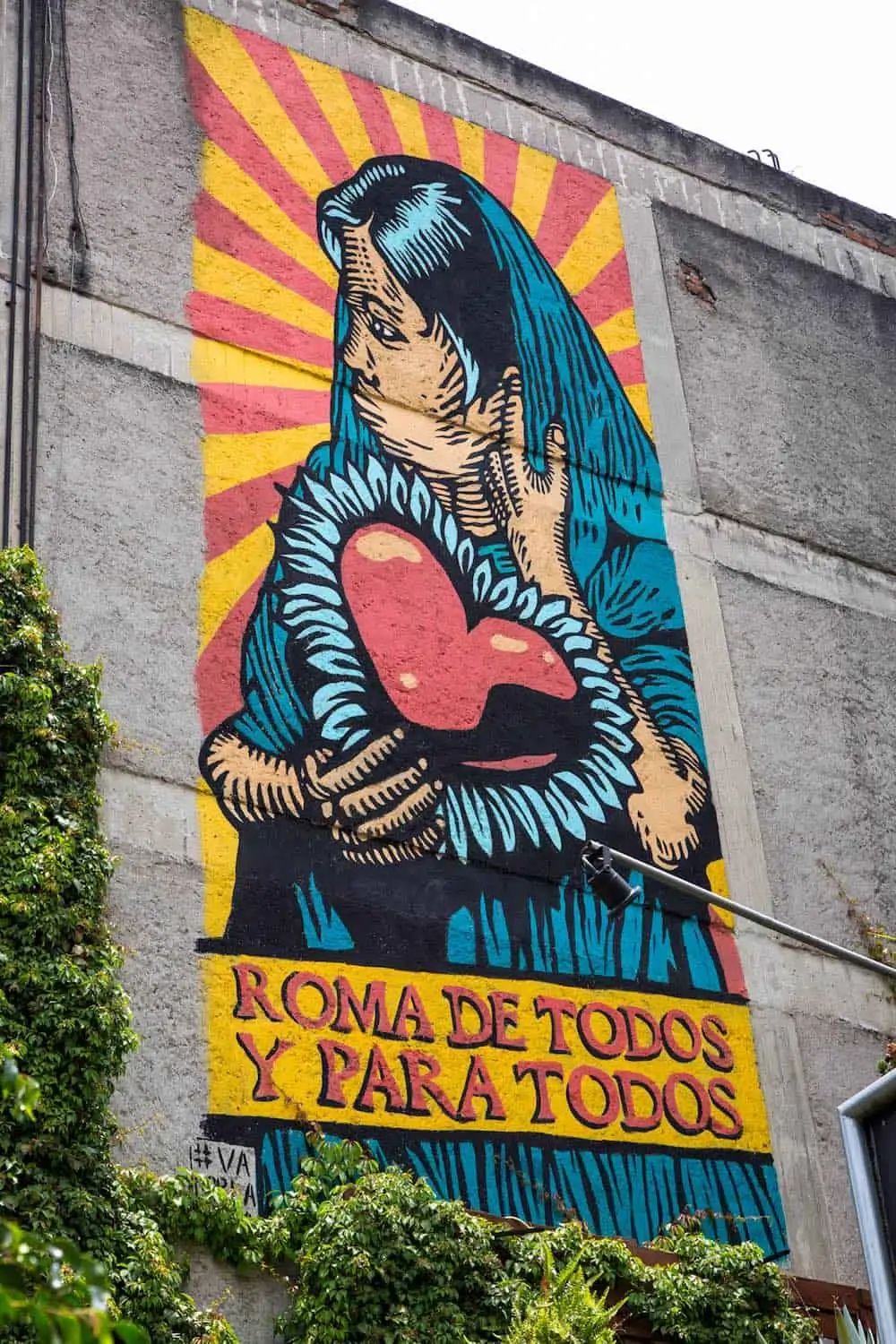 You'll spot hipsters and well-to-do Mexicans alongside a smattering of expats and tourists walking the maze of the six by ten block of streets, often with well-groomed pups in tow.
While it's easy to spend your entire weekend in Colonia Roma, it also happens to be a convenient base for exploring the historic sights and attractions of Mexico City.
All of which makes it perfect for first-time visitors and repeat visitors like me. With friends who live in the neighbourhood, I visit regularly and even plan to move here part-time myself.
Quick History of La Roma
First, a bit of background. Roma Norte and Roma Sur used to be one colonia. Today, Roma Norte is considered to be north of Coahuila street.
Roma Sur is the barrio featured in Director Alfonso Cuarón's award-winning film Roma. His childhood home is in Roma Sur at 21 Tepeji.
The area was originally planned as an upscale Porfirian-style neighbourhood in 1902 by an investment group that included British circus owner Edward Walter Orrin, along with famous clown Ricardo Bell, American engineer Cassius Clay Lamm and sons, and Mexican politician Pedro Lascuráin.
Their plan was to create a residential subdivision, designed with Parisian tree-filled boulevards, for upper-class Mexicans to escape the centre of the city.
After the Second World War La Roma slid into decline. Beat Generation writers William S. Burroughs, Allen Ginsberg and Jack Kerouac lived here in the 50s.
Rocked by the 1985 Mexico City earthquake, it was rebuilt and restored. And today, although it's being gentrified, Roma Norte has held onto its avant-garde spirit.
Here are some of my favourite restaurants, bars, nightlife, sights, museums and other things to do in Roma Norte on a weekend in Mexico City:
Friday Evening
Cocktails
Begin your weekend with cocktails at Bottega, an Italian inspired wine bar situated down the street from Cathedral Parroquia de la Sagrada Familia and lush Plaza Rio de Janeiro.
Lively music and a stylish wooden street patio beckons passersby until 8 p.m. An extensive wine cellar featuring reds, whites, sparkling and orange wines pairs well with the pre-dinner tapas menu.
Delicious pasta and jars of antipasto and other tasty treats are available for sale inside as well. Open 10 am to 8 pm.
Dinner at Filigrana Restaurant Roma Norte
For dining on your first night, you can't go wrong with Filigrana, one of the best new restaurants in Roma Norte. It's helmed by the incredibly talented Chef Martha Ortiz whose first restaurant Dulce Patria in Condesa is known for its artistic and beautifully presented dishes.
At Filigrana you can enjoy an array of creative twists on Mexican classics such as pescado zarandeado, res de olla as well as several enticing wines from Baja California, France and Spain.
Every dish tells a story. You'll love the decor, service and flaming marshmallows de limon to finish. To avoid disappointment, be sure to book in advance on Open Table or on the Filigrana website.
It's located at #62 Veracruz.
Fun fact: Streets are named after the states and cities in which the Orrin Circus performed.
Another fine-dining restaurant in Roma is celebrated Chef Elena Reygada's famed bistro, Rosetta. One of Latin America's top restaurants, it's a must go-to for foodies in Roma Norte. You can make a reservation online or at Open Table.
Set within a beautifully-restored mansion, it's easily one of the most romantic restaurants in Mexico City. Highlights of the fusion Mexican Italian menu include the daily house-made pastas of pappardelle, tortellini and ravioli.
Saturday Itinerary – Things to Do in Roma Norte
Breakfast
If you're wondering what to do in Roma Mexico City in the morning, then begin with a hearty breakfast. Cafe Toscano is one of four restaurants situated facing the Plaza Rio de Janeiro, a tranquil park with a statue featuring a replica of Michelangelo's David statue.
It offers a similar menu to its sister location in upscale Polanco. Delicious desayunos (breakfasts) are available daily until 1:30 pm, followed by a traditional Italian menu into the evening.
Breakfast options include a selection of fresh pressed juices (by pitcher or glass), omelettes and classic egg dishes, as well as traditional Mexican dishes such as chilaquiles and light fare.
Inside, fresh baked goods line an antique wooden table. A lively barista prepares strong cafes behind a high marble top.
Quick service and tasty meals are reasonably priced for the neighbourhood. The view is unbeatable.
After breakfast, cross into the Plaza Rio de Janeiro and take in the weekend market run by an all-women collective.
A mini skateboard park lies hidden in between manicured hedges. Score some great deals on vintage clothes, books and small wares on available Saturdays and Sundays.
Further south is Plaza Luis Cabrera, a park known for its street art — much of it political — painted on buses and cars.
Lunch
Another stop for food lovers, Italian restaurant, Nonsolo serves up delicious polenta bruschetta, pizzas, pasta and fish dishes The provoleta and the fungi pesto polenta are must-trys.
Non Solo is spread over two floors and features a covered patio. We enjoyed a sunny lunch there complete with a refreshing Aperol spritz, homemade pasta and a seared tuna Nicoise salad as our mains. Sadly no room for dessert!
Insider tip: When out and about, try to squeeze in a stop at Krika's for drinks or specials like chiles en nogada. The building was formerly home to the Bounty Bar, a favourite beat hangout in the 1950s.
Tragically, it's also where William S. Burroughs fatally shot his second wife, Joan Vollmer, allegedly while reenacting a William Tell test of marksmanship.
Afternoon Sightseeing in Colonia Roma
Once you're done browsing the eclectic shops and vintage markets throughout Roma Norte, head to The MODO Museo del Objeto to take in one of their always-interesting unique exhibitions.
Located on the corner of Cordoba and Colima, this four-storey Art Nouveau building houses a vast collection of everyday objects that form an important part of the identity of Mexico.
Check the MODO Museo del Objeto del Objeto website for details on rotating exhibits. You never know what you'll discover.
It might be the pairing of everyday objects with literature, a retrospective history of Mexican drinks or a curated collection of objects associated with the popular sport of lucha libre.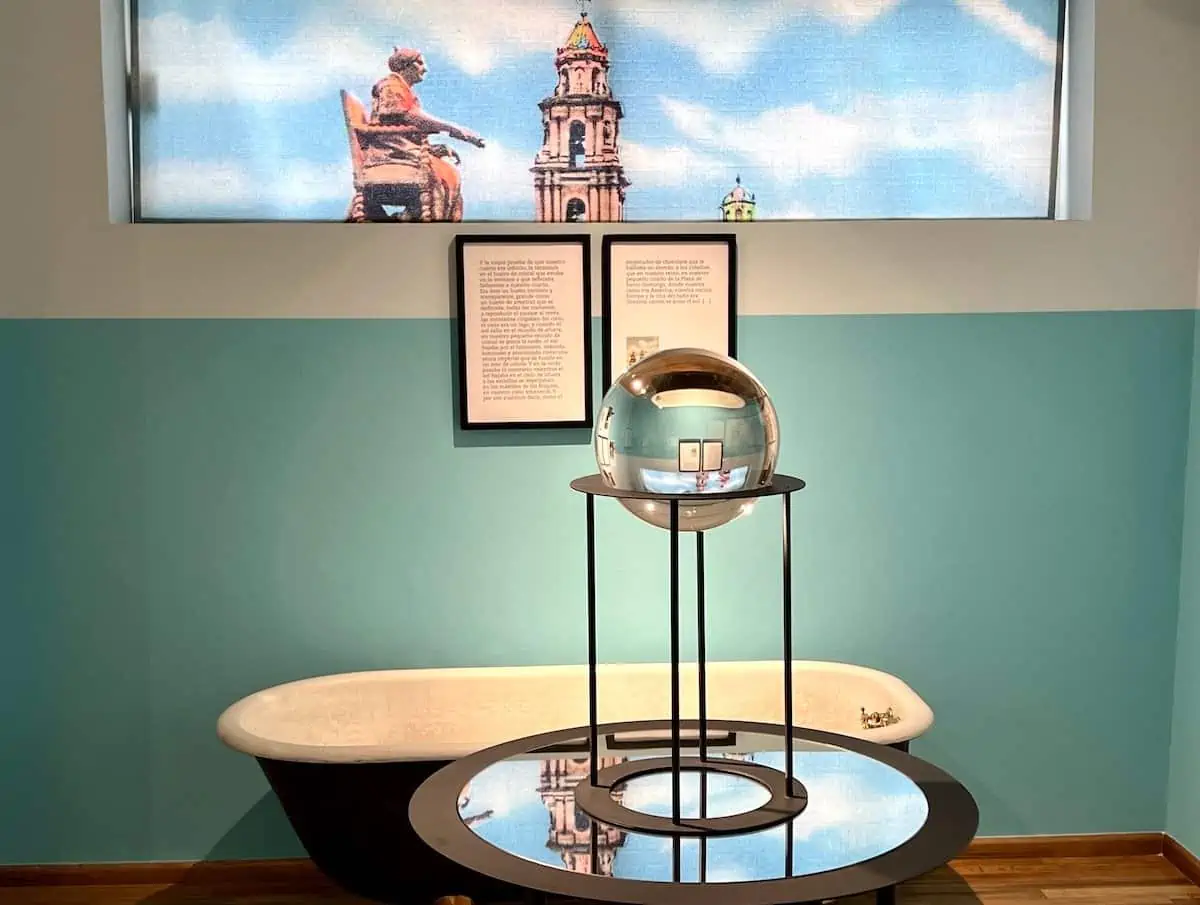 Further south, make a stop at Galería OMR, one of Mexico City's most important galleries. Housed in a soaring skylit industrial space, it has represented celebrated contemporary artists such as Pia Camil, Candida Höfer, Rubén Ortiz Torres and others.
Insider tip: For an art-fuelled trip to Mexico City, mark your calendar for Gallery Weekend Mexico City in November. It's a celebration of avant-garde art.
Dinner – Roma Norte Restaurants
For meat lovers, Argentine-inspired parrilla, Diez, has a corner location on Avendia Álvaro Obregón if you are craving a good steak. Known for its attentive service, this popular CDMX chain features an extensive menu, good house wine and decent prices.
For more upscale fancy fare, trendy spots include Artemisia, Madre Café (try the rooftop) and Marmota. They are places to be see and be seen these days. You'll need a reservation so be sure to plan ahead.
For pricey farm-to-table fare featuring Mexican ingredients (much of it sourced from the chinampas of Xochimilco), try Máximo Bistro. It was featured on the Taco episode in Season 1 of David Chang's Ugly Delicious on Netflix and is very popular among Mexico City locals so be sure to book well in advance. Or get food to go.
Otherwise, you can grab a drink and some smaller dishes at the small, modern aesthetic sidewalk bar of Marmota.
Also reserve in advance to dine at Lardo restaurant. It's another buzzing spot that's perfect for people-watching, cocktails and Mediterranean/Mexican fare.
Must-try dishes include the mango ceviche, the arroz frito with mariscos (it's a cross between Chinese fried rice and Spanish paella) and the sublime squash blossoms stuffed with ricotta cheese.
For jazz aficionados, Casa Franca or Jazzatalán are top options. We enjoyed a delicious Spanish torta and bottle of wine at Franca Bistro around the corner.
The red-walled interior offers a brief escape to a Parisian bistro with a cozy atmosphere not often found in bustling Roma Norte.
Insider tip: To wrap up your evening, head to Mama Rhumba, a Cuban nightclub and bar that features live Latin music, DJs and drinks. Arrive early (8:45 to 9:30 p.m.) for a free salsa dance class included in the cover charge.
Sunday in Roma Norte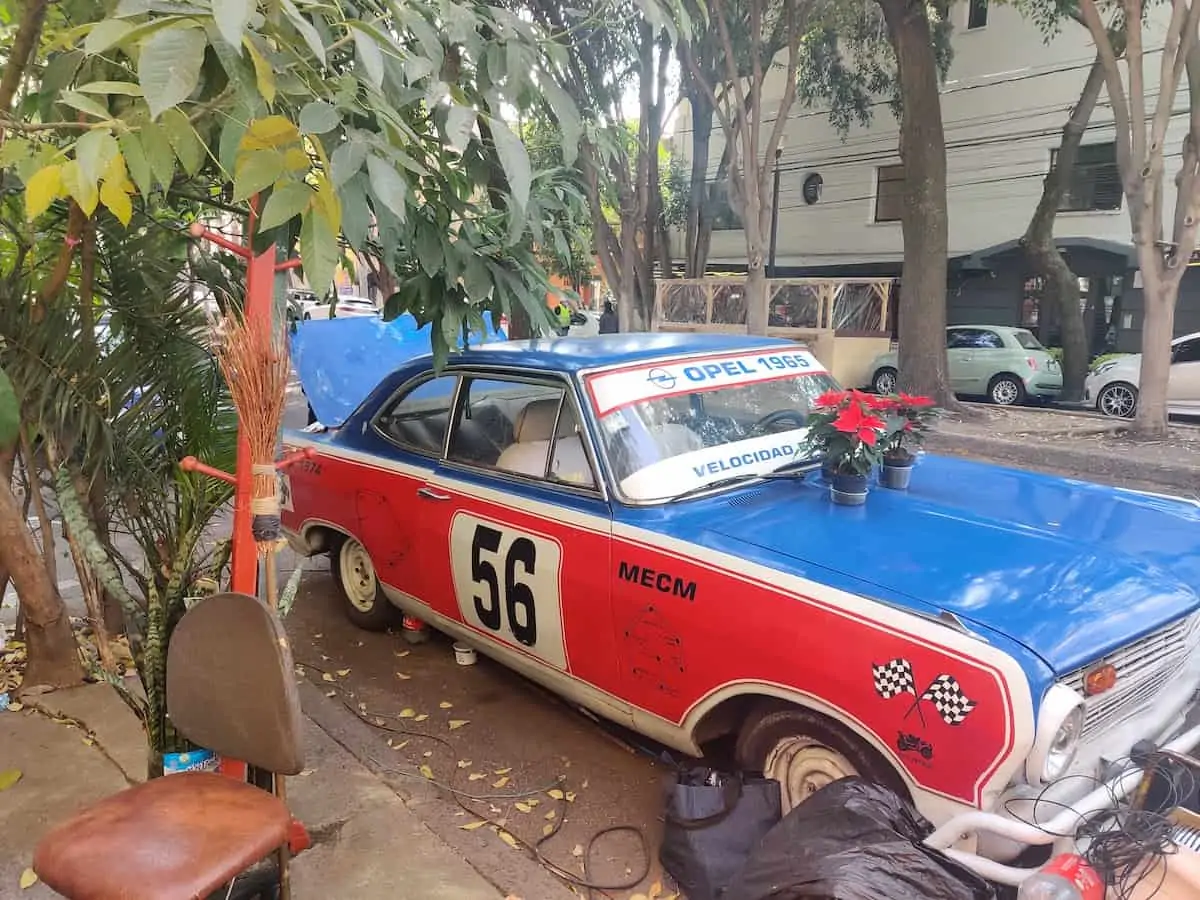 El Pendulum
Try El Pendulum for a quiet escape for breakfast, lunch or dinner. Housed inside a two-storey bookstore, their breakfast package is a great deal. It's just $10 and features fresh fruit or juice, tea or coffee, and chilaquiles or other egg dish choice.
The toast, served in a paper bag to stay warm, comes with a fresh pear marmalade – a scrumptious surprise.
Rosetta Bistro
Another prime spot for breakfast is Panaderia Rosetta. Be prepared to queue. The word is out about their oh-so-flaky French croissants, guava pastries, and fresh-pressed espresso and coffee.
But it's worth the wait!
Afterward, browse El Pendulum's literary offerings and gift options. They also have a beautiful rooftop terrace with live music every night starting around 6 or 7 p.m.
Across the street, El Petre also offers a filling, well-priced breakfast. It's cafeteria-style service but the servings of french toast and pancakes are worth the effort.
If you're in search of fast Wi-Fi and a strong espresso in a minimalist aesthetic, Cafe Cometa is a great spot to get lost in a book or do some people watching. It's located at the corner of Calle Alvaro Obregon and Monterrey.
Every Sunday, Mexico City closes its main thoroughfares for cyclists and exercise enthusiasts. You can rent bikes at ECOBICI the city-owned public bike-sharing system or ask your hotel for a referral for a better quality ride.
Those interested in a good ride can cycle to the Zocalo. Or pedal to the leafy Chapultepec park to visit the towering Museo Nacional de Antropología in Polanco, the set of Museo, starring Gael Garcia Bernal.
If you prefer to stay in the neighbourhood and get your Zen on, head to the nearby Centro Buddhisto centre of Mexico City.
For those interested in the area's Jewish heritage, there is a Jewish museum, archives, synagogue, and kosher deli at Acapulco Street #70. You'll find several more small Orthodox synagogues hidden inside houses on Amsterdam Avenue. There's another synagogue at the corner of Montes de Oca and Parral streets.
Whatever brings you to Mexico City, Roma Norte is a welcome break from the hustle and bustle of Centro and the Zocalo. It should be on your list for a one day itinerary of walking, shopping, noshing at food stalls, gallery hopping and eating.
Where to Stay in Roma Norte
Hotel Villa Condesa: This boutique hotel set within a gorgeous historic mansion at 428 Colima has been updated to the latest modern standards featuring in-room safes, double windows to block out any street noise and luxurious amenities. Opt for suite #7 and you'll enjoy a spacious sitting area and pretty balcony.
Hotel Villa Condesa is also just steps to several excellent restaurants including Lardo and Filigrana. A full breakfast including homemade guava jams and breads is included in the reasonable rates.
Breakfast, lunch and dinner are served in the pretty courtyard garden graced by bamboo, flowers and artwork.
Check rates and availability at Hotel Villa Condesa on Booking.com.
La Valise: This luxury Art Deco boutique hotel is small but features three gorgeous suites that fill up quickly. Soak in the tub, sip an artisanal tea in their zen courtyard or roll out your bed to sleep under the stars (rooftop suite only)! They offer room service from Rosetta restaurant and attentive concierge service.
Check rates and availability at La Valise Mexico City on Booking.com
Ignacia Guest House: This elegant three storey boutique hotel sits inside one of Roma Sur's beautiful historic buildings near Paseo de la Reforma and the Diana Huntress fountain.
Its five rooms feature award-winning retro design, a hearty traditional breakfast and daily Happy Hour. They share space with Casa Jacaranda, an excellent cooking school featuring cozy cooking classes with Beto and Jorge, who share secrets of their abuela's favourite recipes. Check rates at Ignacia Guest House
Frequently Asked Questions
Is Roma Norte safe?
Yes. There are a lot of street hustlers but you can avoid them if you sit off-patio.
Is it worth visiting?
For the food scene and quiet, leafy streets, absolutely! It is also offers pop-up markets, museums and galleries within the gracious restored mansions.
Do they speak English?
Most waiters and shopkeepers speak a bit of English. Google translate is a handy app to use with the neighbourhood's free (in-and-out) Wi-Fi.
For more reliable service, you can buy a SIM card at any OXXO convenient store for $5-30 depending on your needs.
Getting Around
Download the rideshare app, Didi, for cheap rides to and from CDMX MEX airport and for getting around town.
Uber is also available in Mexico City but charges a steep fare coming and going from Benito Juarez International Airport.
Check out our guide to the best hotels at Mexico City Airport if you're staying at the airport and planning on visiting Roma Norte for only one day.
Save to Pinterest!
TALIA is a healthy foodie, music aficionado and designer. When not writing and globe-trotting, she runs non-profit, Music Can Heal, and works as an Archive Producer in film and television. Her writing has appeared in THIS Magazine, The Globe and Mail, Toronto Star, USA Today's Go Escape, Canadian Traveler and many other leading publications.