We may earn income from links in this post. Please read this Disclosure for details.
Trying to narrow down the best honeymoon destinations in the Caribbean? The Caribbean is one of the most popular honeymoon destinations among newlyweds for good reason.
With its endless white beaches, palm-dotted coastlines, diverse activities and romantic resorts, it's got a wealth of dreamy honeymoon spots to suit every couple, budget and interest.
But with so much to choose from, it can be tough to decide where to celebrate your first blissful days of married life!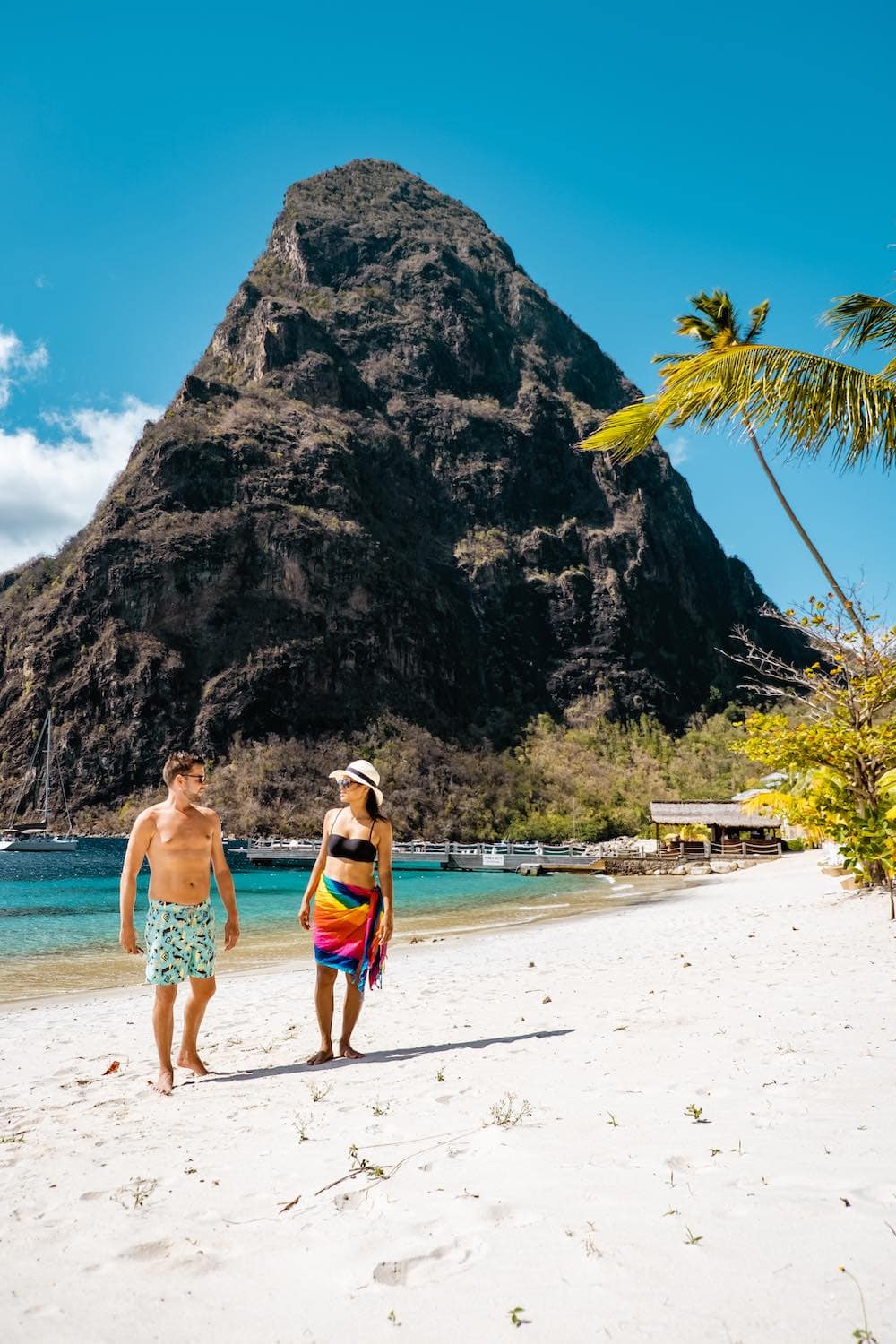 Since 2009, I've travelled to over 50 countries and spent time in the world's most beautiful locations throughout the Caribbean and beyond.
So if you're undecided on which country to pick for your trip of a lifetime, I've narrowed down the options and selected my absolute fave honeymoon destinations in the Caribbean for you to choose from.
They're also great choices for a vow renewal, romantic getaway for two or destination wedding.
I've also included some handy tips to help you save money!
Saint Lucia: A Luxury Honeymoon with Views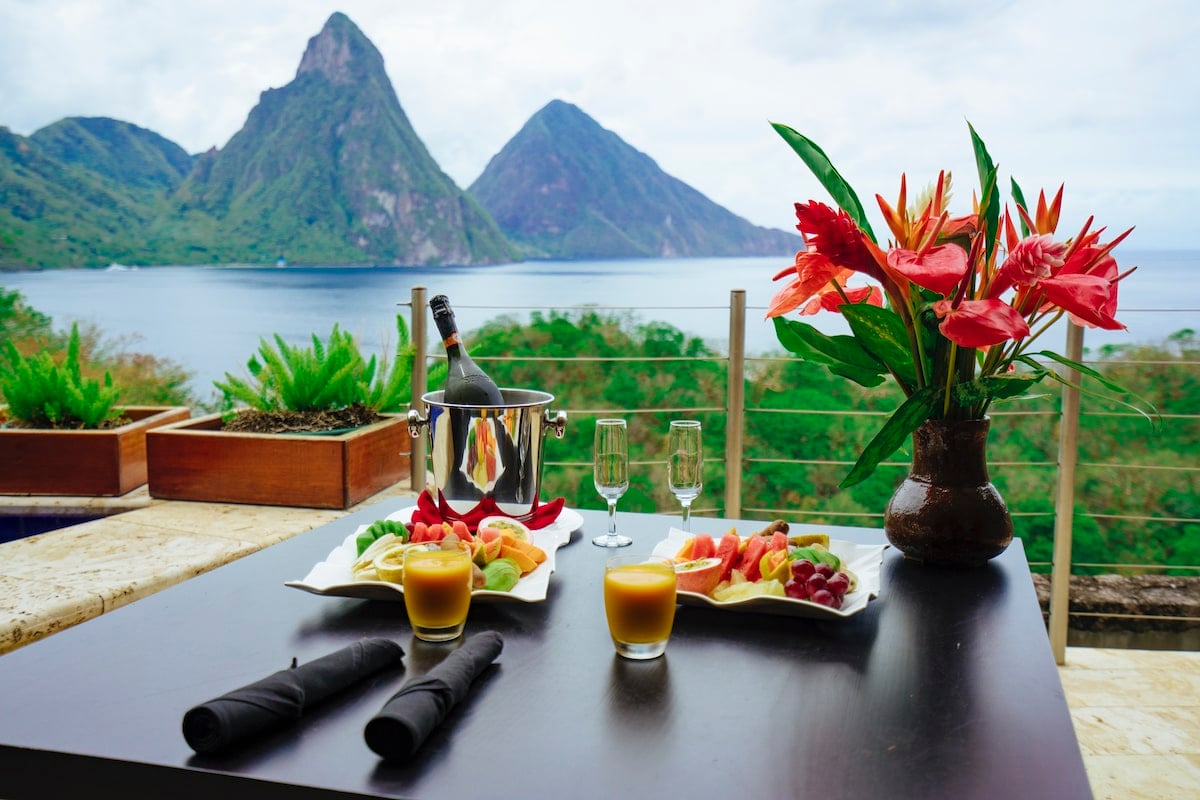 Regarded by many as the most beautiful island in the Caribbean, St. Lucia is one of the most popular destinations for couples.
Its lush, mountainous landscape offers stunning views from many vantage points and it's got several picture-perfect boutique and all-inclusive resorts to choose from including the iconic Jade Mountain (and the less pricey alternative the Stonefield Estate Resort).
When it comes to things to do, St. Lucia is the ideal honeymoon getaway for nature lovers. From a walk along Soufriere village to a trek up the Piton mountains, St. Lucia has lots to satisfy adventurous couples.
But its appeal means St. Lucia also has a reputation for being expensive. Just like anywhere, in highly touristed zones, vendors often jack up prices for unsuspecting travellers.
The key to creating an affordable honeymoon on St. Lucia is to avoid eating and shopping in the tourist traps of Rodney Bay. Instead, check out less touristy places in Gros Islet.
Another savvy approach is to choose a St. Lucia all inclusive resort where you can establish your budget in advance. One of my fave honeymoon resorts is Sandals Grande St. Lucian set on a white sand beach and home to enticing dining options.
Or opt for a stunning view with room service from your own private infinity pool at Sandals Regency Le Toc – everything is included so there are so surprises. Just effortless indulgence for two.
Check rates and availability at Jade Mountain on Booking.com
Check rates and availability for Stonefield Estate Villa Resort on Booking.com
Punta Cana, Dominican Republic: All-inclusive Beach Escapes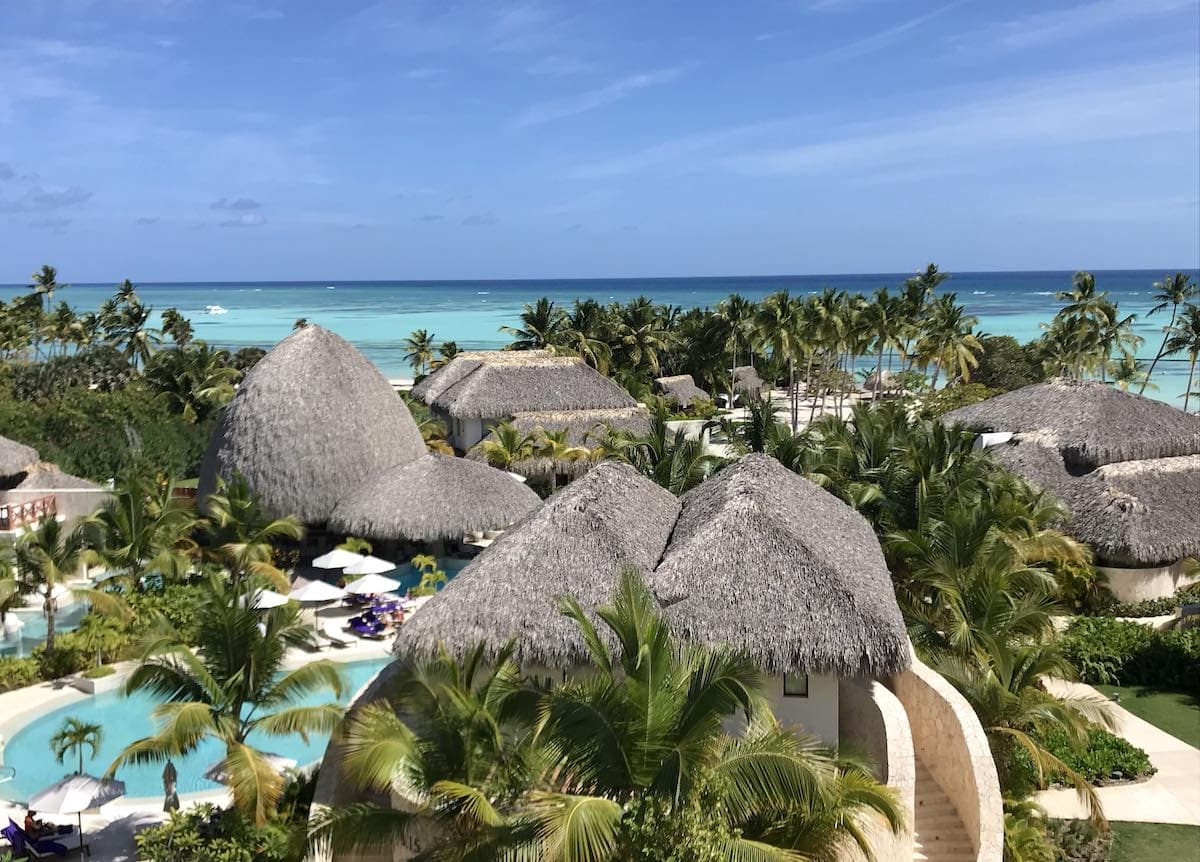 Also at the top of the list of Caribbean honeymoon destinations is the Dominican Republic. And while there are lots of great places for couples to visit — from the historic capital of Santo Domingo to laid back Cabarete — the best choice for beautiful white sand beaches, luxury all-inclusive resorts and romance is Punta Cana.
Situated on the island's north coast, the beaches of Punta Cana feature the quintessential swaying palm trees, turquoise blue water, fabulous cuisine and long stretches of powder-soft sand.
It also has the newest resorts. That means you'll have the widest choice of room and resort amenities from swim-out suites, private cabanas, plunge pools, butler service and other honeymoon must-haves. Many of them are adults-only – which ramps up the romance factor.
Some of our favourite all-inclusive resorts for couples in Punta Cana include Secrets Cap Cana Resort & Spa, The Reserve at Paradisus Punta Cana Bavaro Beach and Secrets Royal Beach.
Check rates and availability at Secrets Cap Cana Resort & Spa Punta Cana on Booking.com
Check rates and availability at Secrets Royal Beach Resort & Spa Punta Cana on Booking.com
Cayman Islands: Natural Beauty, Posh Dining and Diving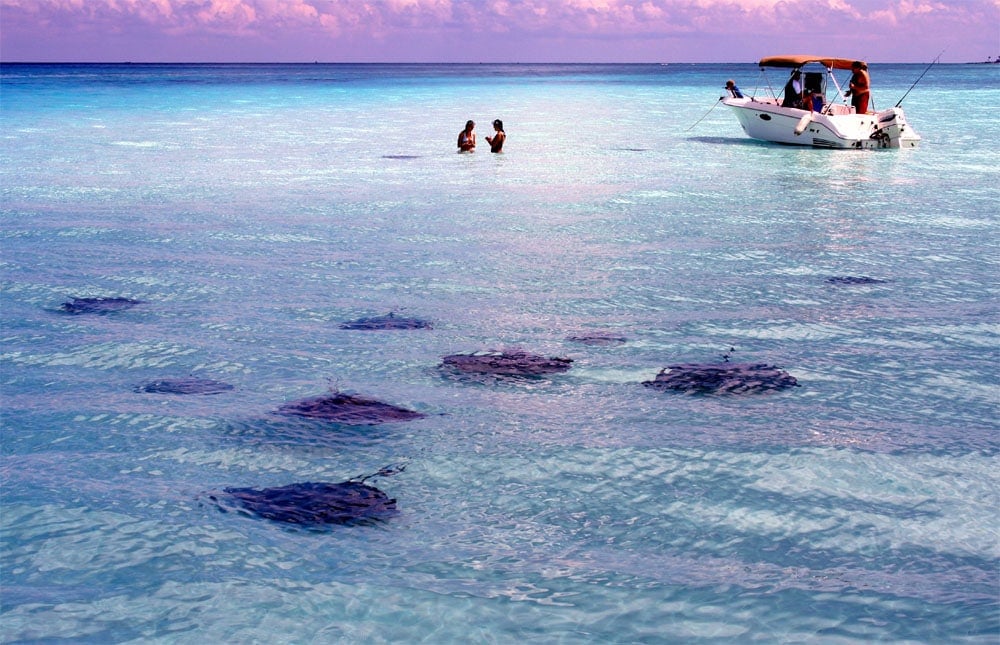 One of the best best honeymoon destinations in the Caribbean, the Cayman Islands are home to palm-tree dotted white sand beaches — such as swoon worthy Seven Mile Beach — that don't seem to end.
Known as a tax haven for the world's elite, it's also a popular honeymoon destination for celebrities and the ultra wealthy.
This island territory offers much more than beaches and tax breaks though. It is also famous for its diving and amazing marine wildlife.
Stingray City is a group of shallow sandbars where couples can enjoy an unforgettable experience snorkeling with stingrays. Another popular spot is Bloody Bay Marine Park, one of the best diving destinations in the Caribbean.
And if you and your partner are both foodies and want to indulge, you're in luck on the Cayman Islands. It's a gastronomic hub for fine-dining.
Celebrity chefs include James Beard award-winning Miami chef Michael Schwartz, who offers farm to table cuisine at his restaurant Michael's in Grand Cayman. And Eric Ripert, the French-born chef, author, and television personality helms Blue, a seafood restaurant in Ritz Carlton.
Although the Caymans are a playground for the elite, you don't need to spend a lot of money. There are also budget options in Cayman for those who don't have a bottomless bank account.
For an unforgettable honeymoon, couples who enjoy diving should head to Cayman Brac Beach Resort where all-inclusive packages bundle meals with diving.
Another affordable option is Little Cayman Beach Resort, a one-of a kind boutique resort where you can enjoy as much quiet time or excitement as you wish.
Check rates and availability at Ritz Carlton Grand Cayman on Booking.com.
Jamaica: Laid Back Elegance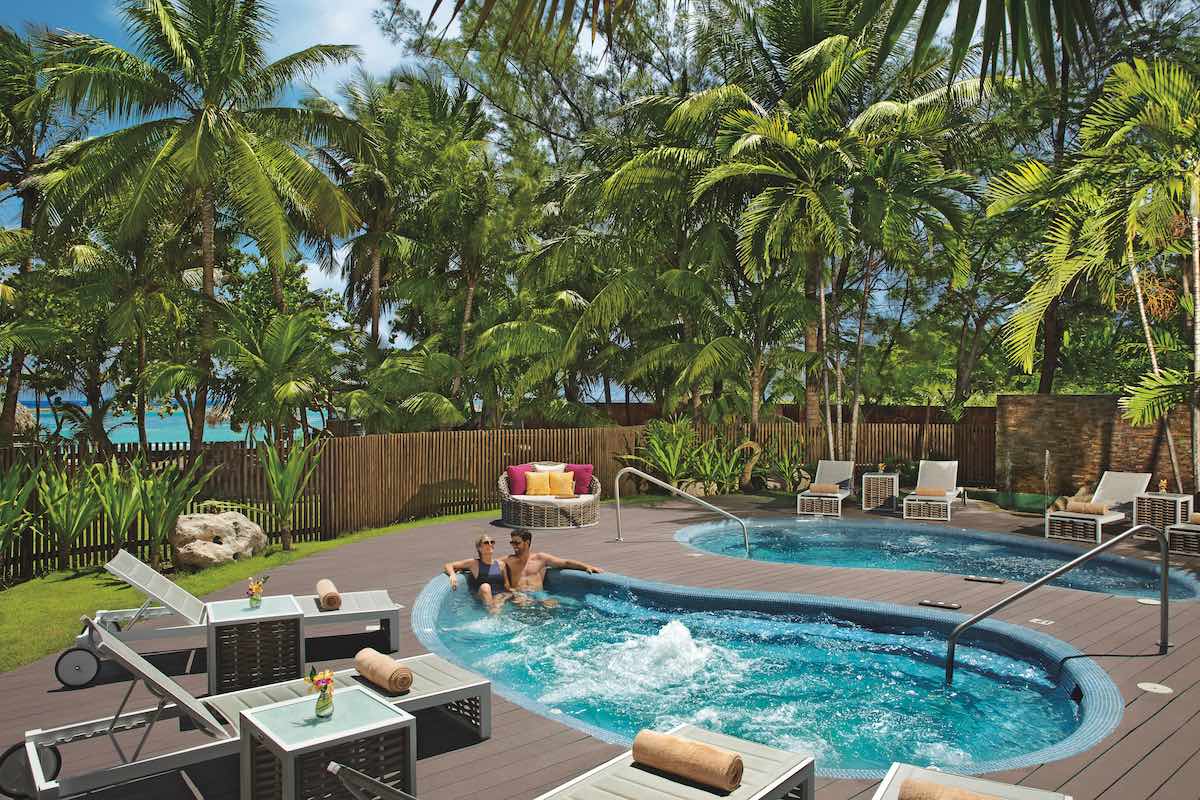 Often considered the best Caribbean island for couples, Jamaica has long been a classic choice for honeymooners due to its unique combination of warm hospitality, lush landscapes and five-star amenities.
A time-honoured choice is Round Hill Hotel and Villas. Built in 1953 and situated west of Montego Bay amid rolling green hills, Round Hill Hotel and Villas has long drawn A-listers and celebrities.
Today's honeymooners also enjoy lounging around the villa's private swimming pools draped by cascading bougainvillea.
Another romantic option is Half Moon Resort estate set in a grove of graceful palm trees, white sand beaches (man-made), tennis and squash courts, the Fern Tree Spa, an equestrian centre and a championship golf course.
Montego Bay also happens to be one of the best places to go scuba diving in Jamaica. Its protected offshore waters are home to a wealth of underwater structures, arches and caverns.
For romantic dining, Sugar Mill restaurant set in the Rum House of the 17th century Sugar Mill estate is one of Jamaica's finest and most atmospheric restaurants.
For those looking for a wellness-themed all-inclusive resort experience, Zoetry Montego Bay Jamaica offers a secluded beach, upscale suites and easy access to Montego Bay attractions, shopping, dining and golf.
Laid-back lovers should head for Seven Mile Beach, Negril's beach of choice offering a relaxed, reggae-infused vibe. There's also a wealth of things to do in Negril, Jamaica.
At Couples Swept Away you can dine by torchlight at sunset, stroll the white sand beach or float with starfish in its clear, blue waters.
It's an adventure for the senses.
It's one of the best Caribbean beaches for a honeymoon in June, July or August as it's generally unaffected by sargassum seaweed.
Check rates and availability at Zoetry Montego Bay on Booking.com
Check rates and availability at Couples Swept Away on Booking.com
Mexico: Budget-Friendly Adventure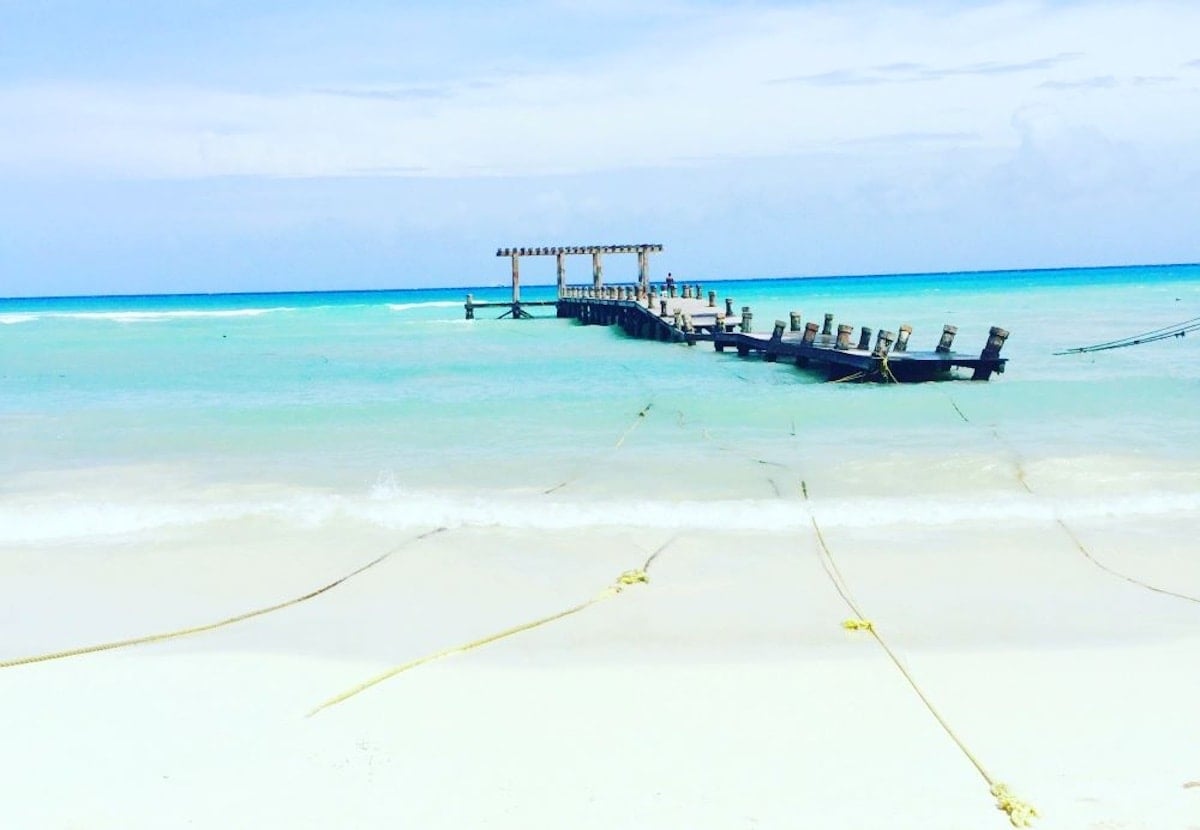 While not as exotic as far flung destinations like Bora Bora, Mexico's Yucatan peninsula is one of the most practical options for a Caribbean honeymoon destination.
In addition to the advantage of its proximity to North America and Europe, Mexico is also one of the most affordable Caribbean destinations. It's even cheaper than South East Asia!
Also appealing is the wide choice of adult-only and all-inclusive resorts in Cancun and Riviera Maya. Tulum is fast becoming a top Mexican vacation spot for couples given its beautiful beaches, boho-vibe and selection of luxury all-inclusive resorts and boutique hotels.
There also happens to be a wide selection of luxury glamping accommodations in Tulum. They're perfect for creating an unforgettable honeymoon experience. Choose from treehouse villas set in the jungle, romantic tents set on the beach, cabanas with plunge pools and more.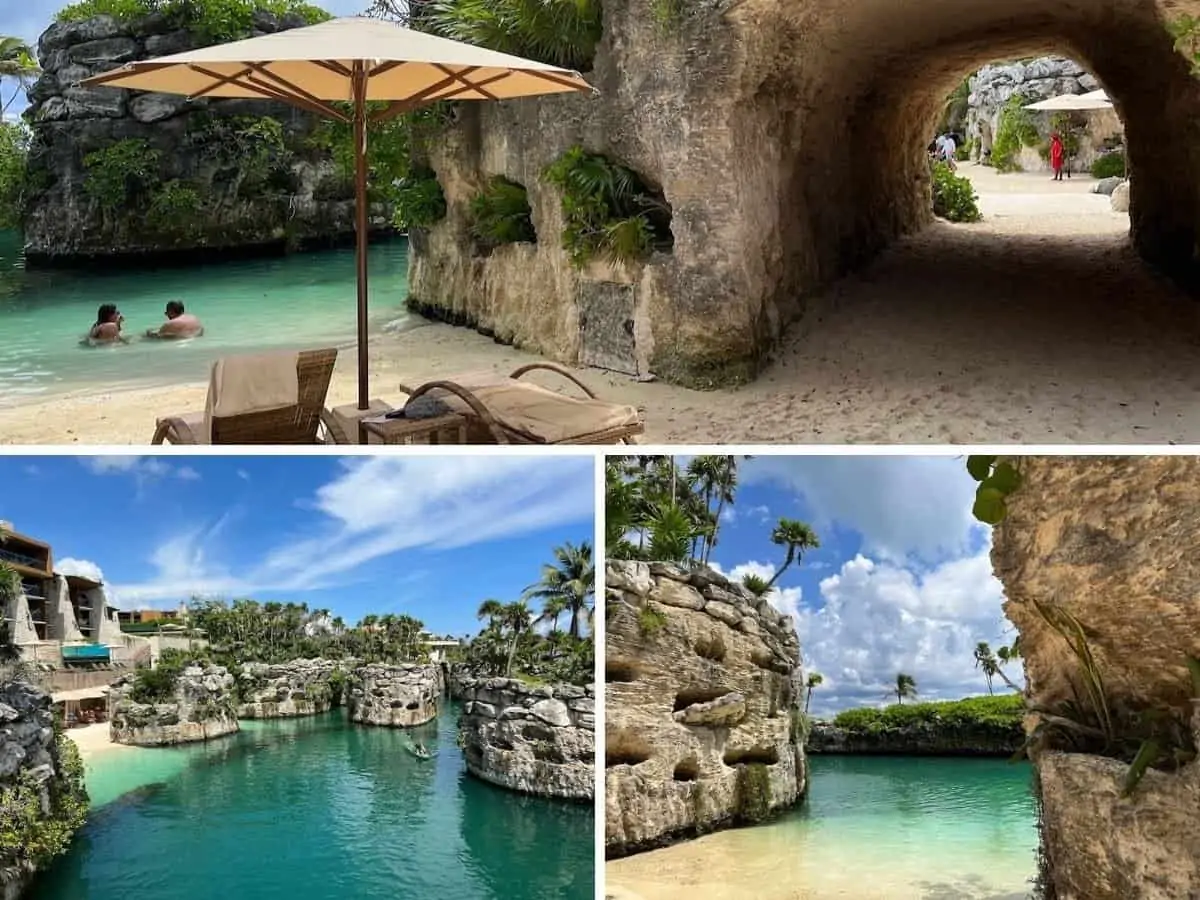 Despite its popularity, there are still many hidden spots to discover. My personal favourites are Xpu-Ha, Puerto Morelos, and Mahahual as they offer Caribbean white-sand beaches minus the hordes of tourists. They're proof that a quiet honeymoon is still possible in Mexico!
Aside from the beautiful beaches and world-class diving in Mexico, there are also ancient Mayan ruins and amazing cenotes scattered around the Yucatan. You can even stay in an adults-only resort set on its own cenote.
At Hotel Xcaret Arte you can swim from your honeymoon suite right into a meandering river complete with waterfalls, underground passageways and hidden coves.
There are so many romantic things to do for couples!
Traveling between cities along the Yucatan peninsula is very easy. From Cancun, it is an easy bus trip to other beautiful coastal towns so you can actually combine several romantic destinations and hotels into one honeymoon trip.
And if those aren't enough reason to choose Mexico's Caribbean coast for a honeymoon, I bet tacos, margarita, and tequila will persuade you. You can never go wrong with Mexican food and drink!
Check rates and availability at Secrets Akumal Resort & Spa on Booking.com
Honeymoon in Belize: Under-the Radar Caribbean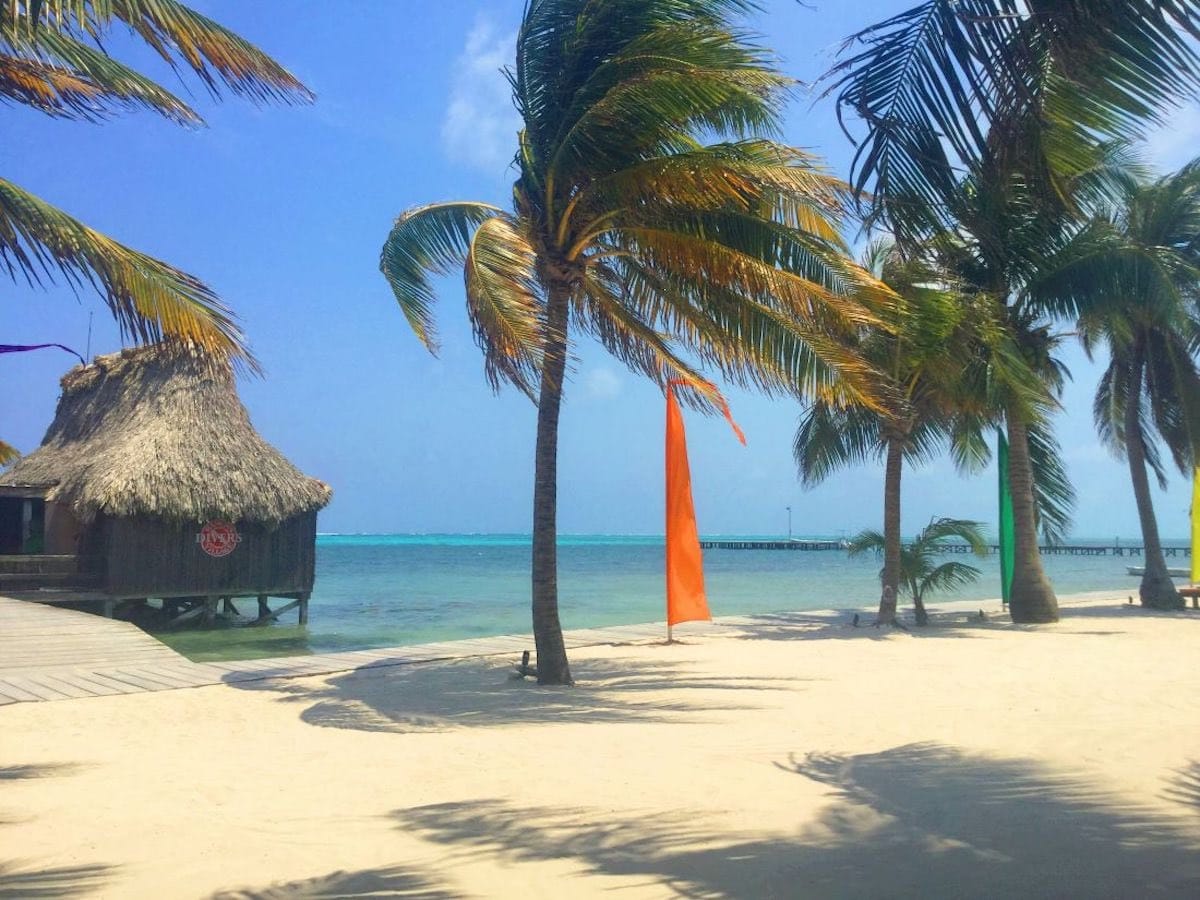 One of the most underrated honeymoon destinations in the Caribbean, Belize offers more than white-sand beaches. It's also rich in culture, history and outdoor attractions.
The best known attraction in Belize is the Blue Hole, a marine sinkhole that's one of the largest natural formations of its kind. It's part of the Belize Barrier Reef, itself a third of the Mesoamerican Barrier Reef, the second largest in the world after the Great Barrier Reef in Australia.
From the capital city, it's two hours north to Mexico, three hours west to Guatemala, and about four hours south to Honduras. It's so compact it's easy to reach popular honeymoon destinations from different parts of the country.
Most visitors include the Cayes like Ambergris Caye and Caye Caulker on their Belize honeymoon itinerary. If you want to spend your honeymoon diving and socializing, these two islands are ideal starting points.
But if you want to opt for relaxation, Placencia is a good alternative. I actually prefer the beaches in Placencia! Plus it's a short jaunt to San Ignacio, a fantastic honeymoon option for adventure-seeking couples who want to be immersed in the soothing sights and sounds of a rainforest setting.
One top choice, San Ignacio Resort Hotel features resort-class amenities combined with adventure tours to archaeological parks, caves and nature reserves. There's even a Honeymoon Suite with butler service!
Another appealing jungle resort is The Lodge at Chaa Creek where environmental sustainability is part of every aspect of the operation and guest experience. Set on a 400 acre nature reserve, attractions include Mayan ruins, cave tubing, jungle waterfalls and wildlife sanctuaries. Their all-inclusive honeymoon packages make this a low-stress way to reconnect with nature and each other.
Budget wise, Belize is the most expensive country in Central America but is one of the most affordable Caribbean destinations. Yet it has as beautiful beaches as you'd find in St. Kitts and Nevis.
Check rates and availability at San Ignacio Resort Hotel on Booking.com
Check rates and availability at The Lodge at Chaa Creek on Booking.com
Check rates and availability at the Radisson Fort George Hotel & Marina on Booking.com.
Aruba: Luxe Fun in the Sun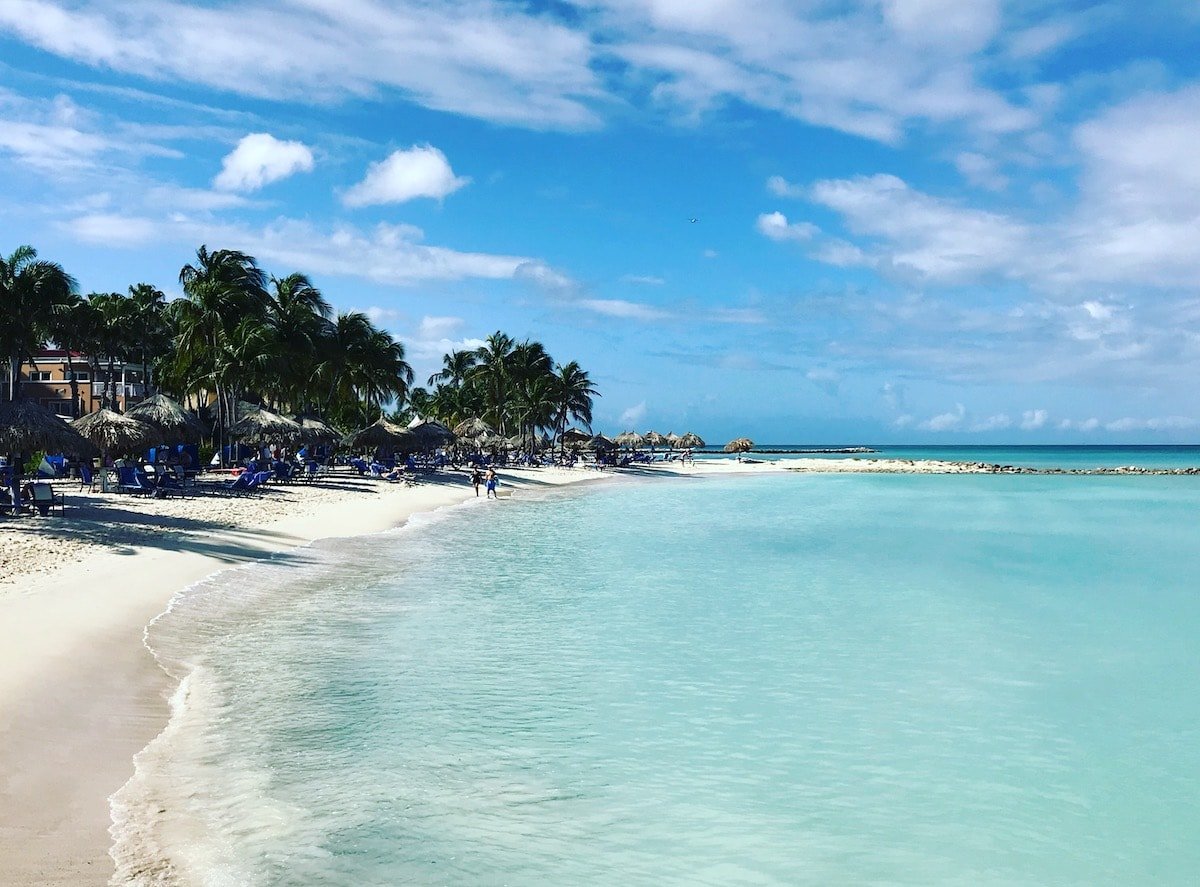 If budget is not an issue, there's nothing better than spending your honeymoon in Aruba. One of the best honeymoon destinations in the Caribbean, it's known for pristine beaches such as Palm and Eagle Beach, stunning desert landscapes and fantastic weather.
For beach lovers, Aruba is also one of the best Caribbean islands without seaweed. That's important if you're planning a honeymoon during sargassum seaweed season.
But Aruba sometimes has a reputation of being an option only for honeymooners with a large budget. While it's true that even budget hotels can go from $120 USD night, the cost for dining is about the same as eating out in any major city in North America. And you do get the added advantage of amazing ocean views available at many of the most romantic restaurants in Aruba.
If you've got your heart set on Aruba but need to watch your budget, it's also possible to book a boutique cottage or adult-only luxury apartment with a kitchen. That way you can save money by eating some meals at home.
Plus, there are lots of free things to do in Aruba beyond the beach to help you manage your budget! Ride the free trolley around the colourful capital of Oranjestad. Or explore the dramatic street art in San Nicolas. Honeymooners will never run out of things to do in Aruba.
If you want to save even more money, I recommend travelling between April and August. Prices often decrease during this season and it can be less crowded. Aruba is located outside the hurricane belt so you can usually count on excellent weather.
Also check out our honeymoon hideaways on the Dutch Caribbean island of Bonaire!
Check rates and availability at all-inclusive, adult-only Riu Palace Antillas on Booking.com
Check rates and availability at adult-only Bucuti & Tara Boutique Resort on Booking.com.
Check rates and availability at adult-only luxury Bubali Apartments on Booking.com.
About the Author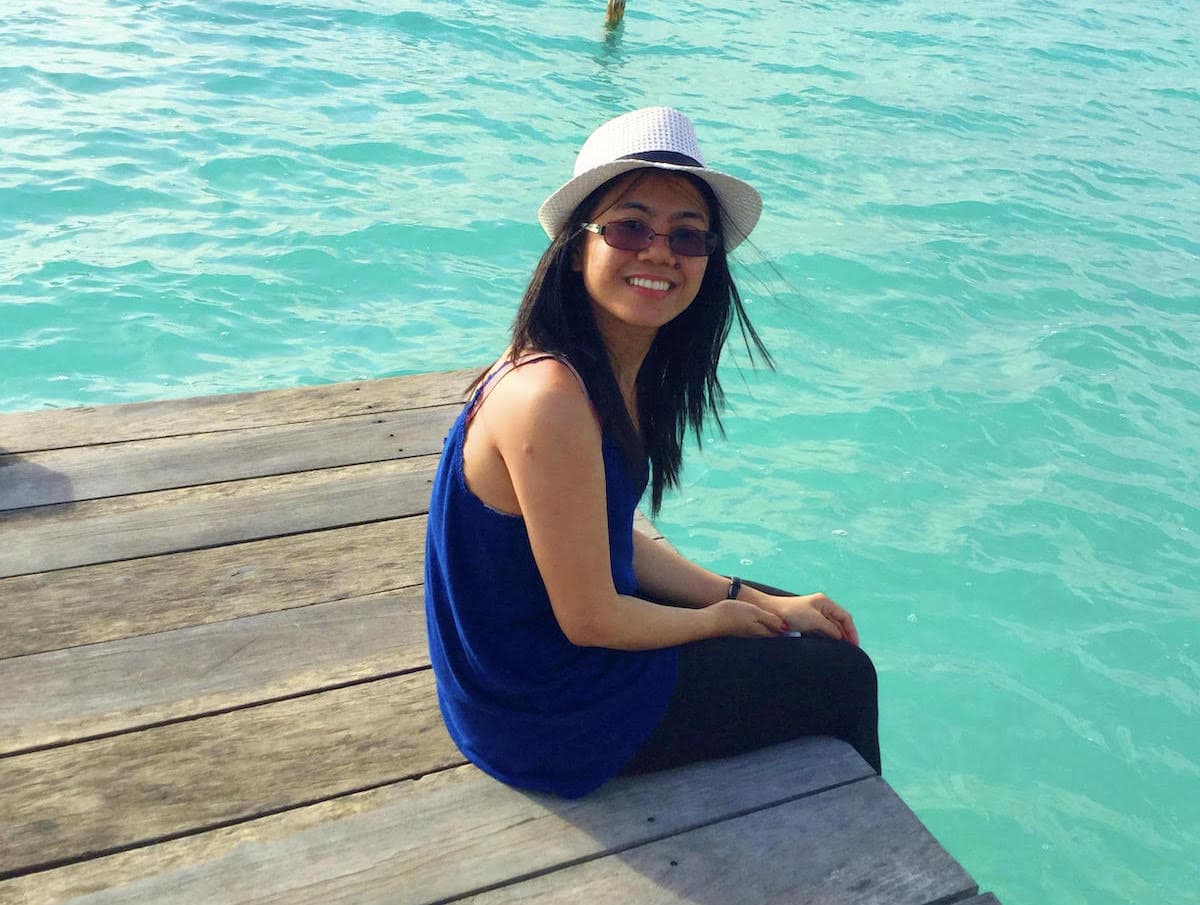 Christine is a full-time traveler and a travel writer managing several travel websites. She loves chocolates, ice cream, and photography. Traveling since 2009, she has been to over 50 countries and lived in 4 continents. Follow her adventures at Exploring Caribbean.
Christine is a full-time traveler and a travel writer managing several travel websites. She loves chocolates, ice cream, and photography. Traveling since 2009, she has been to over 50 countries and lived in 4 continents.