We may earn income from links in this post. Please read this Disclosure for details.
Relax at a beach resort, experience Mayan culture, dive among coral reefs, or delve deep into rainforest jungles–there's an incredible range of unforgettable things to do on a honeymoon in Belize.
Here's our handcrafted itinerary of what to do and the best places to stay on a 7-day couples getaway or Belize honeymoon.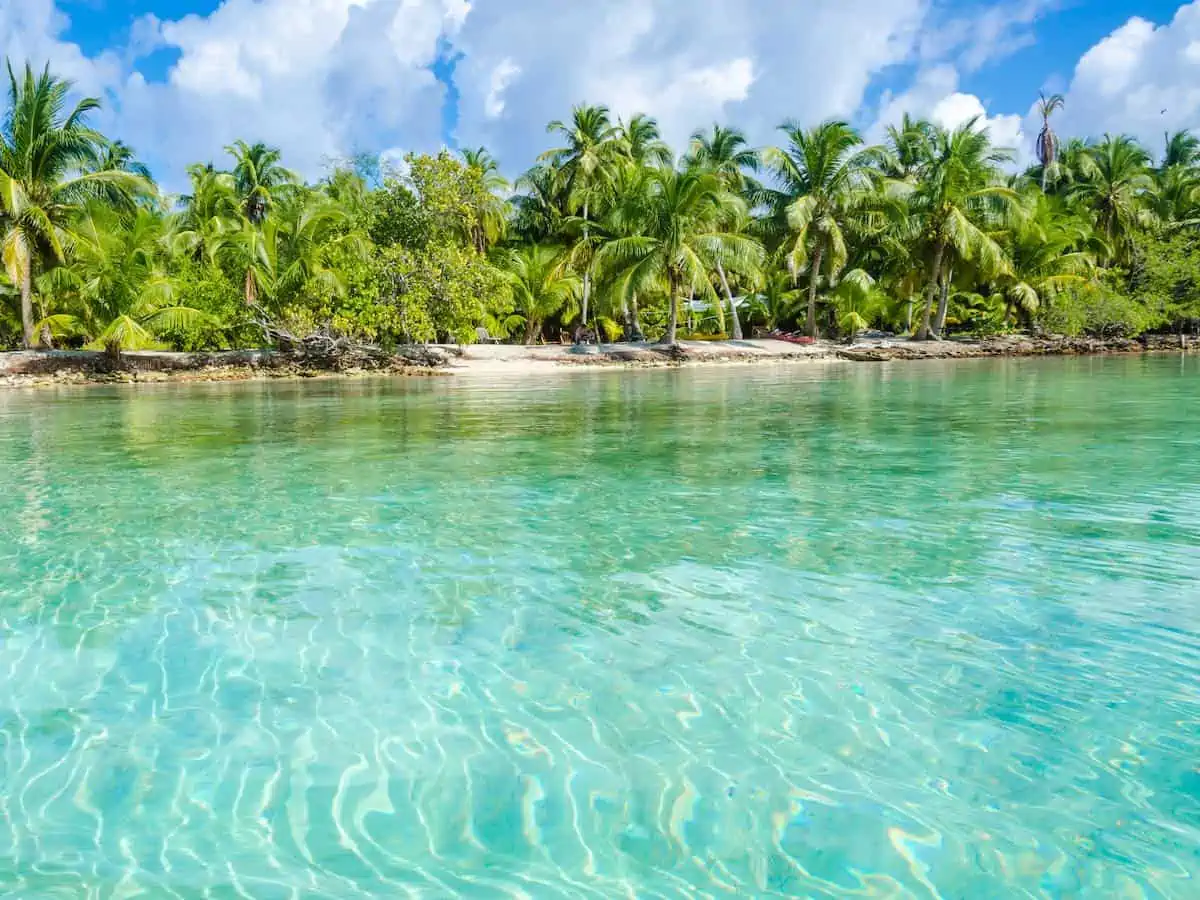 Why Choose Belize for Your Honeymoon or Couples Getaway
Belize is a small, independent country located in Central America, bordering Guatemala and Mexico, on the Caribbean Sea.
Nature is the star attraction in Belize as it features a wealth of protected marine and nature reserves. The temperate subtropical climate and warm seas support a diverse range of flora and fauna, on land and sea.
With its warm tropical climate, range of natural attractions and easy flights from Canada (Toronto and Montreal) and the United States, Belize is one of the top honeymoon destinations in the Caribbean.
More compact than Costa Rica, it offers the perfect mix of adventure and relaxation.
Belize will also appeal to foodie couples. While English is the country's official language, its cultural diversity — Lebanese, Spanish, Chinese, Caribbean, African, Mayan and more — has influenced its cuisine.
Its enticing flavours are based on a bounty of fresh fish, local vegetables, herbs and tropical fruit.
How to Plan a Belize Honeymoon Itinerary
Although I've travelled extensively throughout Mexico and the Caribbean, this was our first trip to Belize. So I wanted to experience as much of the country as possible on our couples' getaway in Belize.
To begin, I turned to an expert for advice. Ashley Leman, Sales and Marketing Manager of Las Terrazas Resort, says most honeymooners visit Belize for the four R's: rainforests, reefs, ruins and rivers.
To make it easy to travel from jungle to coast, we counted on Tropic Air, the largest airline in Belize.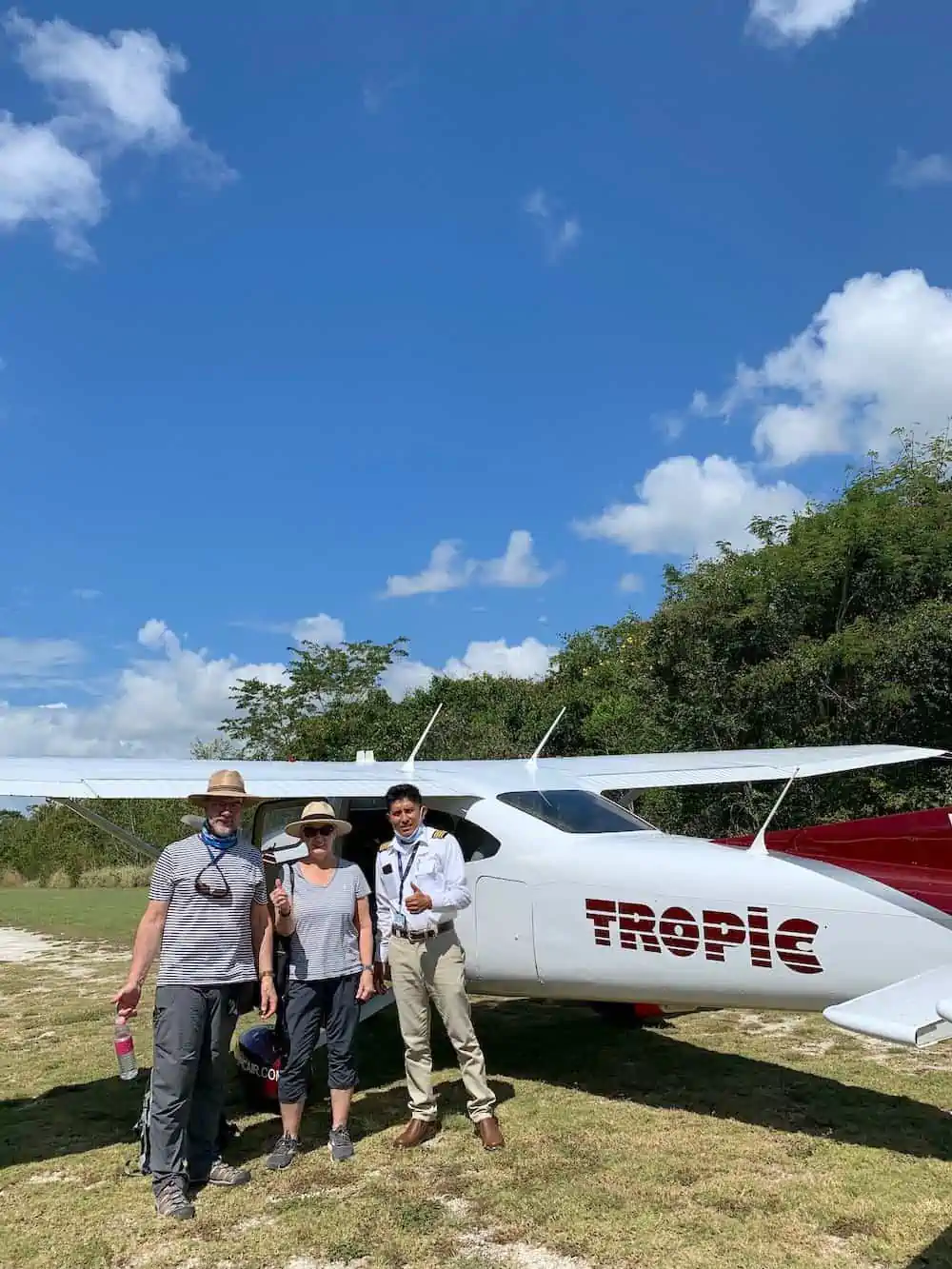 Their fleet of modern Cessna aircraft, configured to hold three to 14 passengers, provide over 200 daily scheduled flights to a range of domestic and international destinations.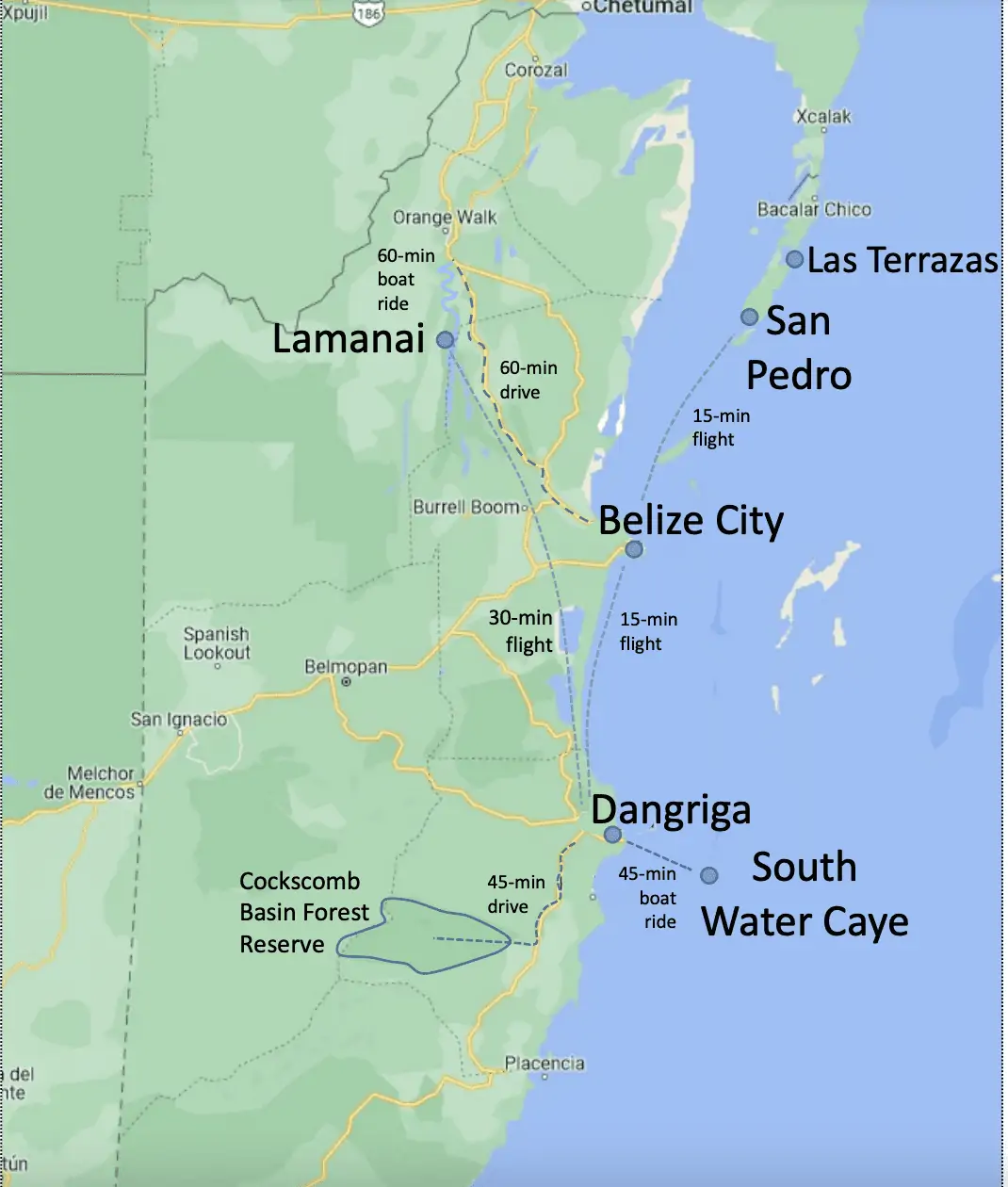 Our 7-day Belize itinerary included the following destinations and resorts:
2-nights in the rainforest at Lamani Outpost Lodge in the Orange Walk District of Belize.
2-nights at Pelican Beach Resort on the Caribbean Sea south of Belize City.
1-night at Pelican Beach Resort's sister resort on South Water Caye.
2-nights at Las Terrazas Resort on Ambergris Caye, 150 km north of Dangriga.
Combining the best of Belize's beach and jungle, it's the ultimate couples getaway. It offers thrills for adrenaline-seekers as well as plenty of time for beach lounging and togetherness.
Below, I've shared details on the best things to do at each of the resorts, points of interest as well as insider tips to help you plan your own honeymoon or romantic getaway in Belize.
Day 1: Rainforest at Lamanai Outpost Lodge
If you're a couple who loves history and nature, then the Orange Walk Town area is definitely one of the best places to stay in Belize.
Begin your couples getaway as we did by heading inland to the rain forest to be immediately enveloped in Belize's natural surroundings. It's a magical world of tropical birds, howler monkeys, colourful flowers and dense jungle.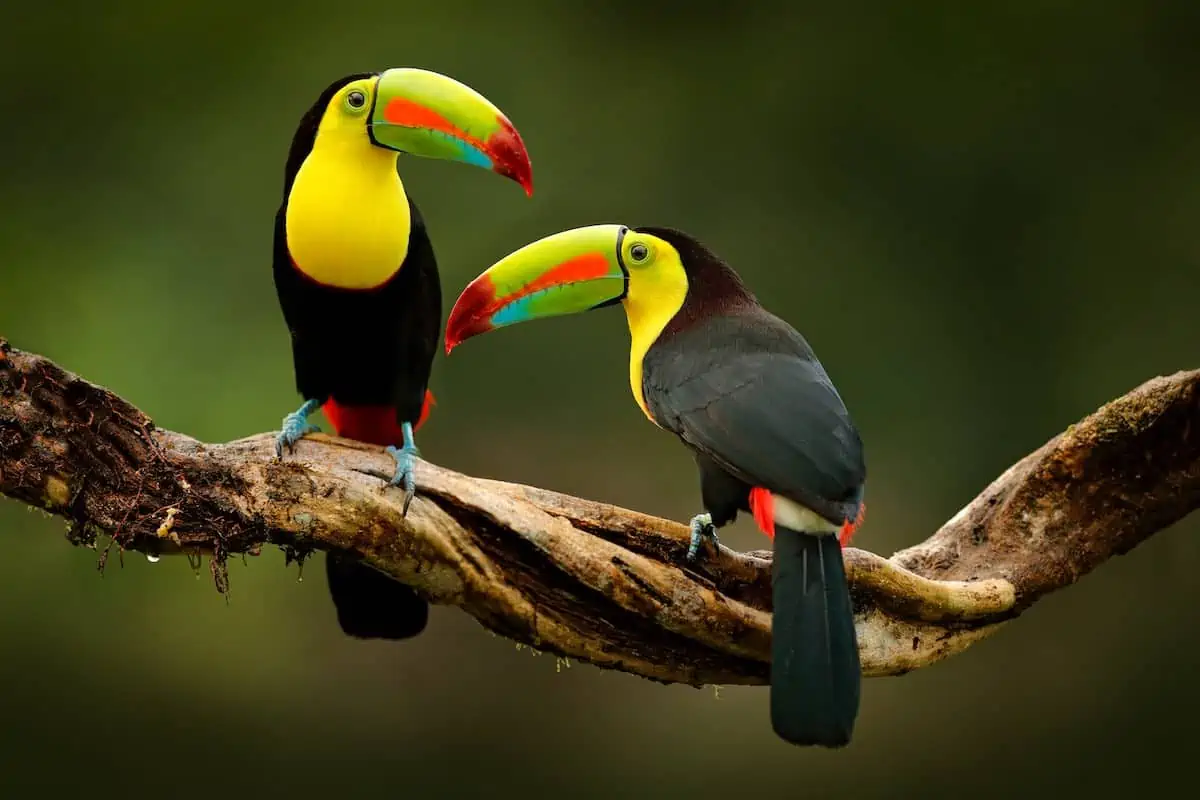 If you arrive in early evening, a riverboat takes you up the winding New River to Lamanai Outpost Lodge, with the setting sun silhouetting trees and glinting off the water.
Surrounded by calls of kingfishers, egrets, and herons, it's a peaceful and romantic way to arrive. Indian Church village is nearby but the lodge itself feels secluded.
Check into one of the thatched roof cabanas for your stay. Set in the heart of the jungle, these intimate cottages have a rustic vibe.
But they also feature honeymoon-friendly amenities such as air-conditioning (optional and extra cost), private baths, hot water and verandahs.
Importantly, the windows are fully screened. So you won't have to worry about mosquito bites disrupting your zen.
Lamanai Outpost Lodge is one of the best all-inclusive resorts for couples in Belize. The Honeymoon Cabana even has a double shower.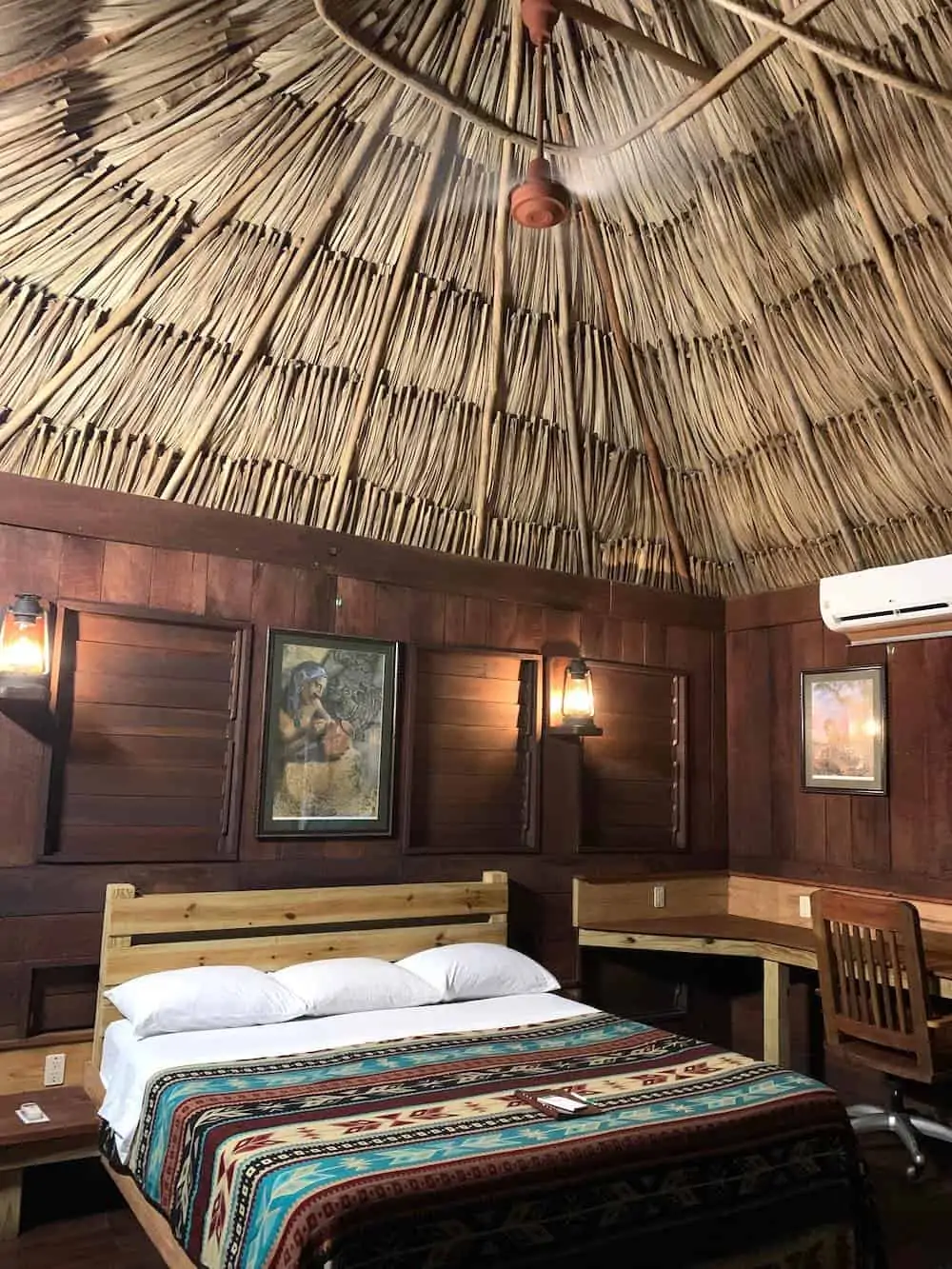 Once settled in, head to the open-air dining room for dinner and a cocktail to shake off the long travel day.
The all-inclusive meal plan makes decisions easy as there is a set menu at every meal. Special dietary needs are accommodated with advance notice.
Feast on fresh-caught local fish and sip a coconut mojito, then make your way down the dark pathways to your retreat for the night.
Insider Tip: Don't miss trying the local hot sauce. You'll find Marie Sharp's hot sauce (both hot and mild) on every restaurant table in Belize. It's made with all-natural ingredients and includes fiery habanero peppers sweetened with grated carrot and a hint of lime.
Day 2: Orange Walk Points of Interest
Although we opted to explore archeological ruins and take a night tour, there are many fun things to do on a couples getaway in the Orange Walk District.
You can experience local culture and tradition on an an excursion to a Mennonite farm (which includes lunch with the family), go tubing on a lake, take a sunset air boat safari or go fishing including night spear fishing.
It's one of the best places to vacation in Belize.
Morning and Afternoon: Lamanai Archeological Ruins
A short boat ride on the New River takes you to the renowned Lamanai Archeological Ruins.
One of the oldest Mayan sites in Belize, Lamanai (which means place of the crocodile) dates to the early Pre-Classic Period where it thrived as a ceremonial and trade centre until 1600 BC.
Lamanai was an important site due to its strategic position on trade routes transporting cacao, copper, salt and other valuable goods between Tikal in Guatemala, Copan in Honduras and Mayan cities in the Yucatan of Mexico.
The worn remnants of eight-foot tall masks and the reconstruction of royal faces on the High Temple and the Temple of the Masks take you back to a time when the site was flourishing.
The carved stelae, restored ceremonial platforms and stone buildings draped in jungle foliage instil a sacred feeling even today.
Evening: Night Tour on the River
After dinner at Lamanai Outpost Lodge, the concierge will give you head lamps to help guide your way down dark pathways to the nearby dock.
Once on the water, the guide turns off the boat lights and says gently. "Look up."
Holding hands under the immense, star-filled darkness of the night sky is one of the most romantic things you'll ever do.
After an hour, you'll be guided back to the dock by the North Star and the green reflection of the running lights in a crocodile's eyes.
Back in your rainforest cottage, you'll fall asleep to the sounds of the jungle at night.
Day 3: Dangriga
No honeymoon in Belize would be complete without a trip to the Caribbean Coast.
So, next up on our couples itinerary was a trip to the town of Dangriga, situated at the mouth of the North Stann Creek River, 100 kilometres south of Belize City.
It was a short flight to Dangriga in a 4-seater plane direct from the runway at Lamanai Outpost Lodge.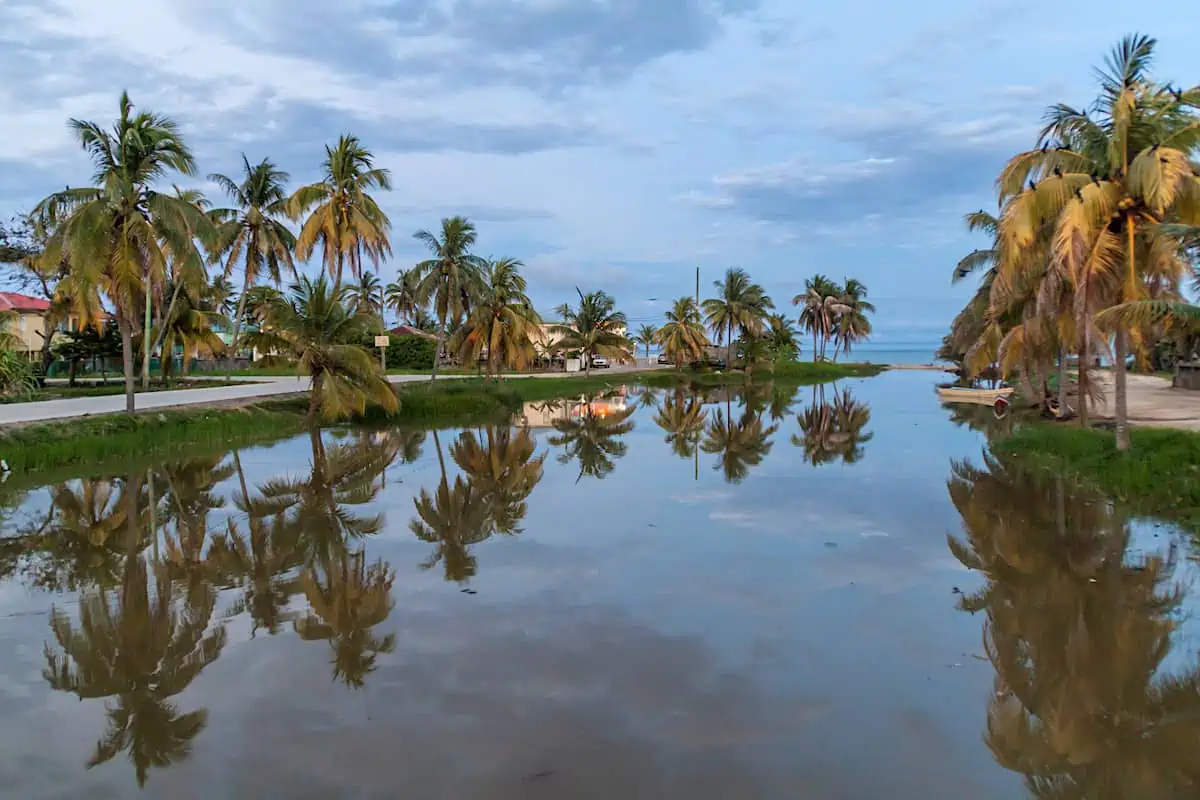 Pelican Beach Resort, next to Dangriga Airport, is a great base for several local activities including ziplining, fishing, and hiking.
Often considered the cultural capital of Belize, Dangriga is the heart of Garifuna culture, a distinct community descended from enslaved people, who settled along the Caribbean coasts of Honduras, Guatemala and Belize.
Insider Tip: Learn about Garifuna music, food, art and festivals at the Gulisi Garifuna Museum in Dangriga Town.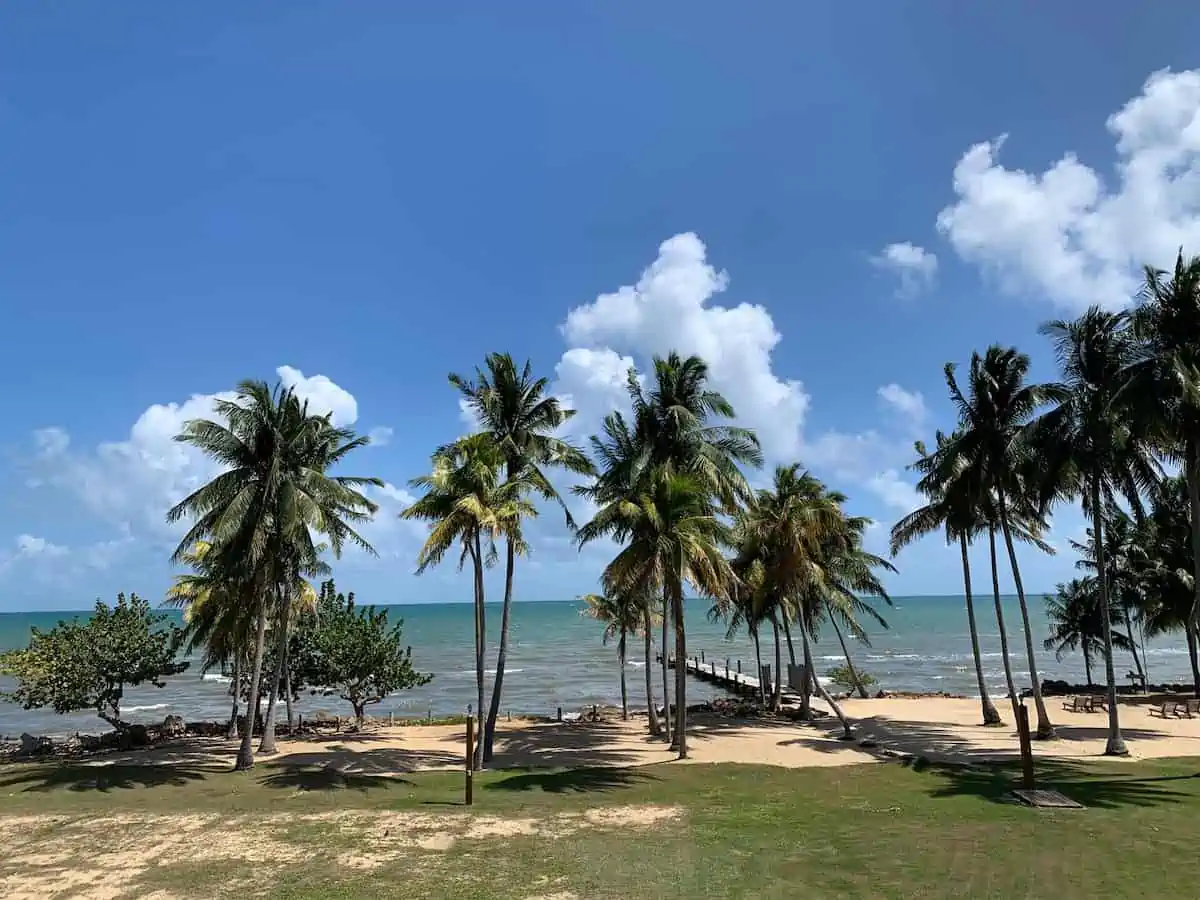 The ocean-front restaurant at Pelican Beach Resort also happens to be perfect for romantic dinners.
Tables sit on the beach surrounded by twinkling lights with a beautiful ocean view punctuated by the sounds of small planes from the airport.
The locally-inspired menu features dishes such as grilled fresh grouper, callaloo (a leafy green similar to spinach) and regional dishes such as hudut – a traditional Garifuna fish and coconut stew served with a velvety mash of green and ripe plantain called fu-fu.
While in Dangriga, also be sure to try tapado, another famous Garifuna dish featuring fresh seafood such as lobster, red snapper and shrimp in coconut milk. Or, coconut rice and red beans.
Related: Callaloo (also known as dasheen) is popular throughout the Caribbean. Try it in our recipe for Antigua Chop-up, a popular vegetable dish enjoyed for breakfast in Antigua and Barbuda.
Explore the World's Only Jaguar Preserve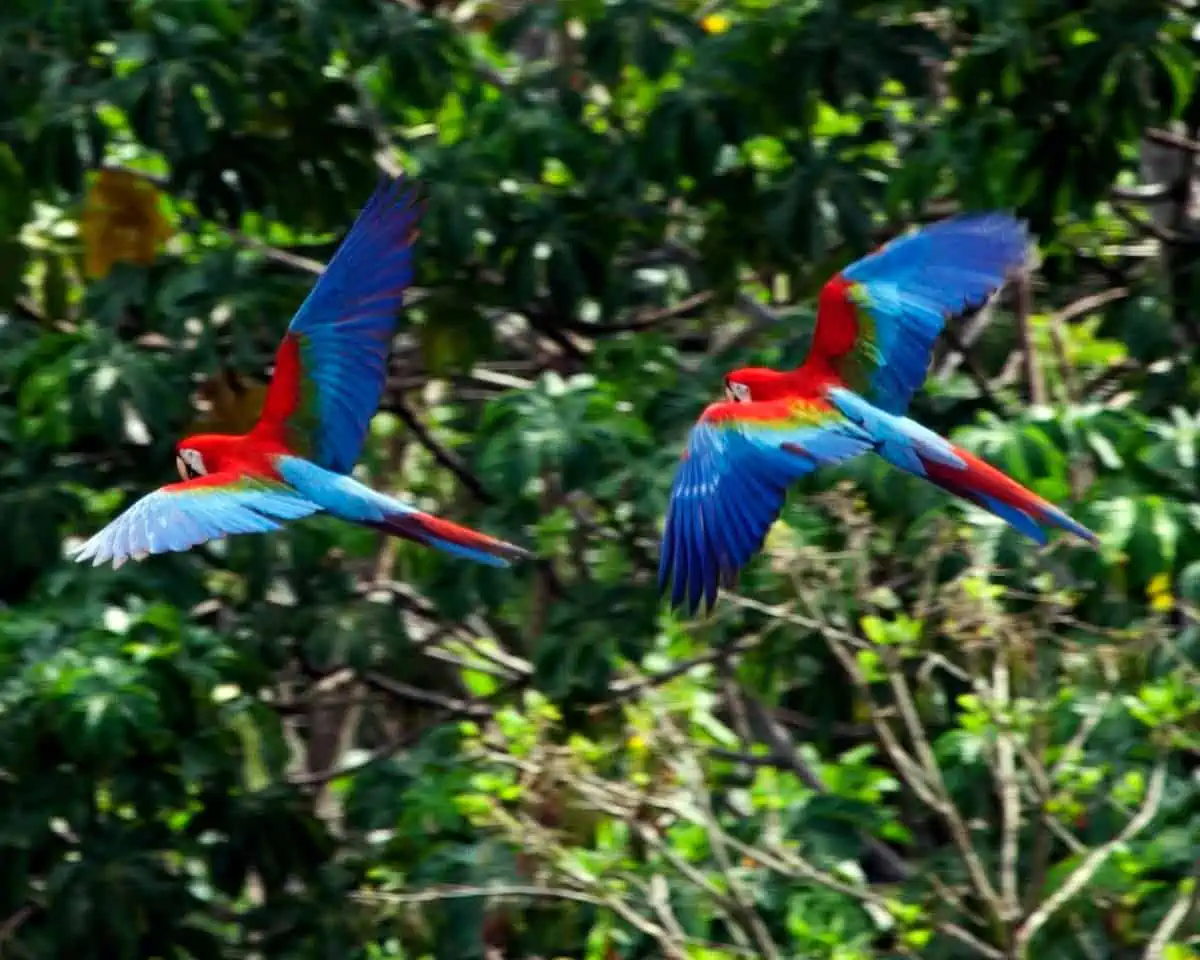 One of the top things to do in the Stann Creek area is explore the pristine Cockscomb Basin Wildlife Sanctuary, home to the world's only jaguar preserve.
We opted to take a private tour with professional guide, Ian Avilez from Uncharted Jewel Belize, local travel specialists offering excursions to Mayan caves, the archeological sites of Tikal in Guatemala and Caracol in Belize as well as tubing, hiking and ziplining vacation spots.
During the day at Cockscomb Basin, you are unlikely to see a jaguar or other reclusive cats.
But this vast rainforest preserve is also home to other beautiful and reclusive cats–ocelots, pumas, margays and jaguarundi–as well as tapirs, anteaters and armadillos, the jaguar's favourite food.
You'll definitely see several of the 600 exotic species of birds in Belize: scarlet macaws, toucans and egrets while experiencing the beauty of the rainforest on foot or riding down the river in a flotilla of parrot-yellow inner tubes.
If the rain forest is true to its name, do as the locals do and use palm leaves for an umbrella. At the end of your visit, the guide will offer you fresh papaya and pineapple, and plantain chips. That sweet and salt combination is a winner.
Insider Tip: Did someone say chocolate? Be sure to visit the nearby Che'il Mayan Chocolate store. Take a tour to learn how chocolate is made and sample this rich and delicious hand-made product.
Traditional Lunch at a Roadside Café
On the way back to Dangriga, stop at Ophelia Pop's iconic roadside café.
Enjoy fresh salbutes—crisp handheld corn tortillas topped with shredded roasted chicken and vegetables—and exchange stories of your rainforest adventures with other travelers.
Afternoon – Zipline Through the Rainforest
For another memorable experience, tour the rainforest from above on the nine ziplines at Mayflower Bocawina Nature Park.
Just a 30-minute drive from Pelican Beach Resort, they're the longest and highest ziplines in Central America. Nervous about heights? A guide will tandem with you if you are hesitant.
Another great way to see the flora, trees and birds of the rainforest is on a nature hike. One of the most popular hikes is the challenging trail to the top of Antelope Falls.
It's definitely one of the best places to visit in Belize for nature lovers.
An easier option is the hiking trail to Bocawina Falls where you can also take a refreshing swim in the waterfall pools below.
Check rates and availability at Pelican Beach Resort on Booking.com.
Day 4: Dangriga to South Water Caye
One of the best resorts in Belize, Pelican Beach Resort actually has two locations.
This means you can combine your rainforest experiences with relaxation time on a secluded offshore island known as a caye.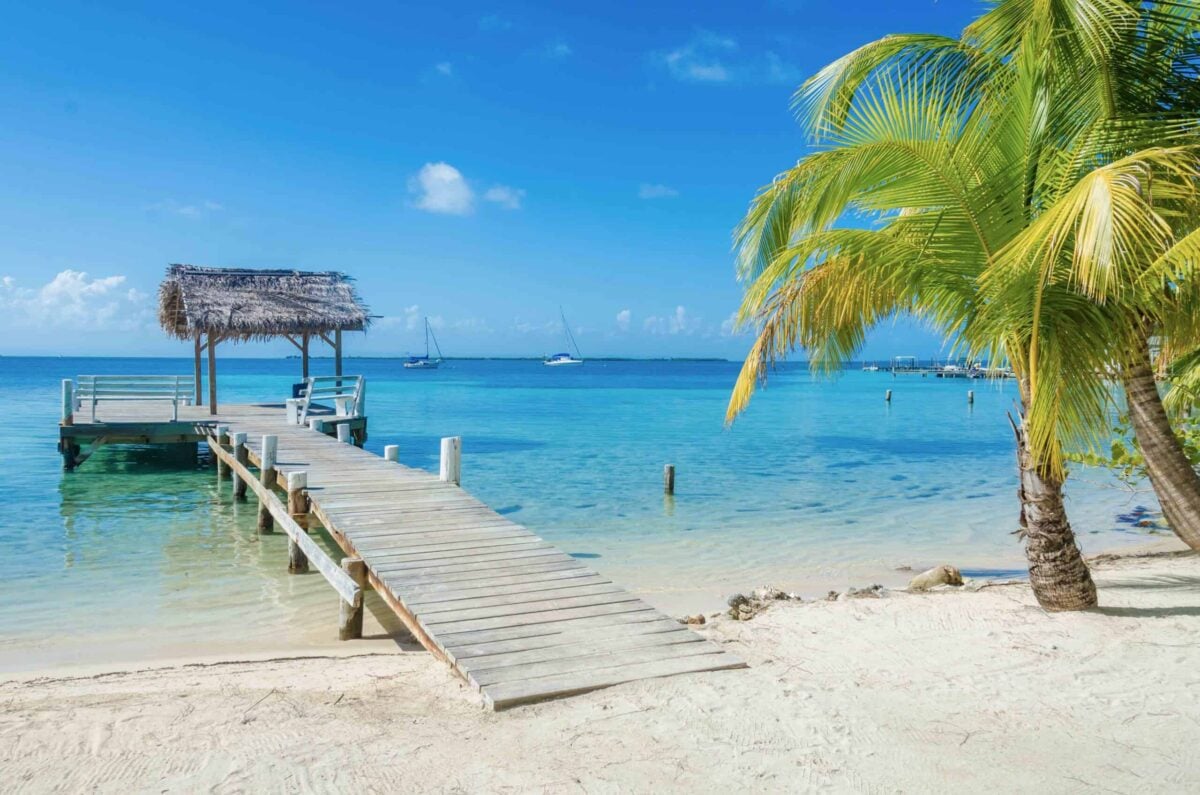 It's a real adrenaline rush being whisked across the Caribbean Sea in a high-powered boat to this sister resort to Pelican Beach Resort.
South Water Caye sits within the vast Belize's Barrier Reef, a marine protected zone teeming with underwater wonders.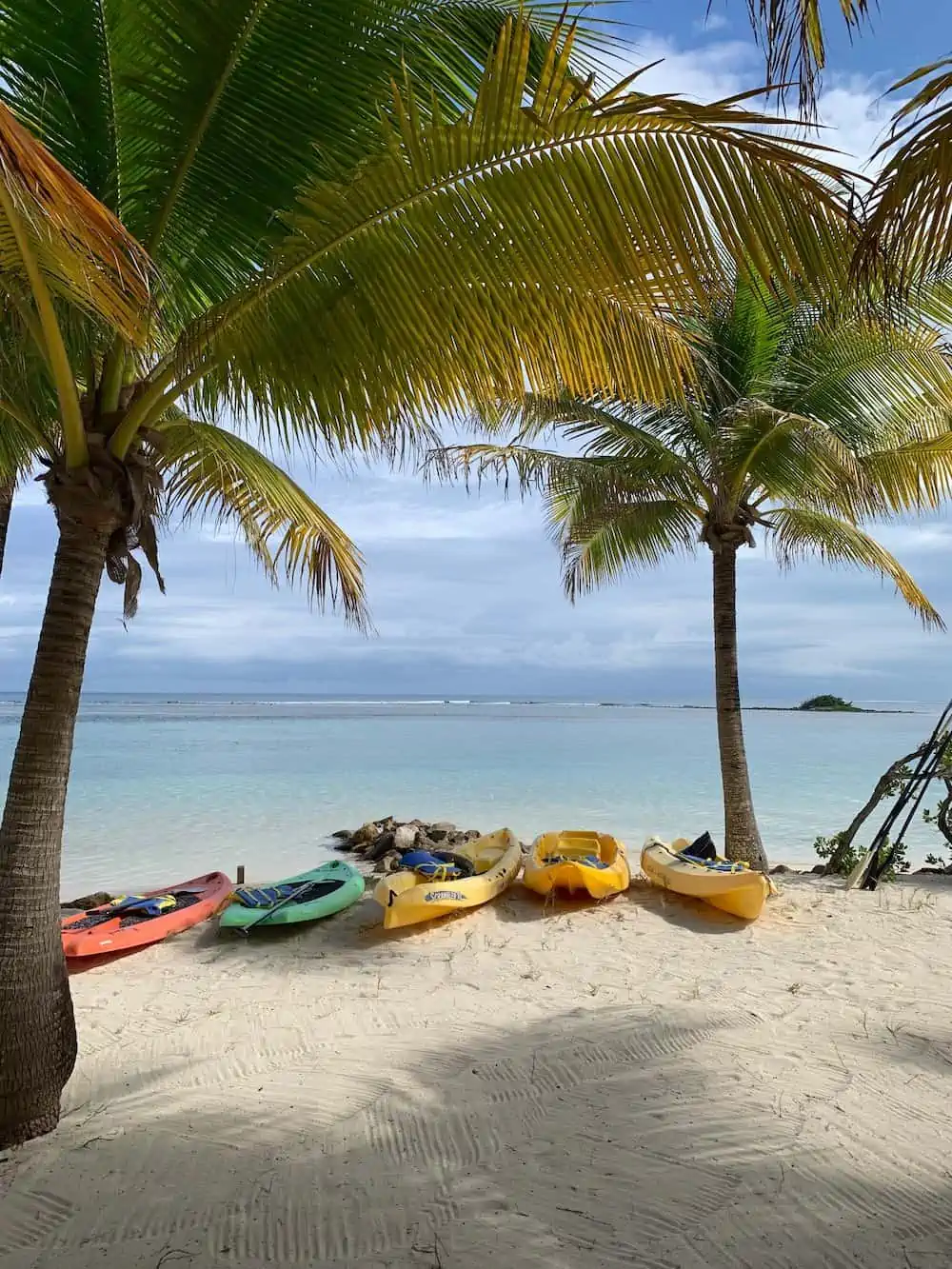 One of the best places to stay in Belize if you're craving seclusion, its isolated cottages overlook the sea.
The quiet beaches, with waves crashing on the barrier reef, give honeymooners the feeling of being on a deserted island.
But there's also plenty to do. Snorkel equipment, kayaks and paddleboards are all complimentary.
Day 5: Beach Time at Ambergris Caye
After a delicious traditional breakfast tostada—crispy corn tortilla refried beans, pico de gallo, fried eggs and melted sharp cheddar—it's time to head back to the mainland.
Two short flights and a pick up by the resort's shuttle boat will take you to your final stop, at the Las Terrazas Resort on Ambergris Caye, 10 kilometres north of San Pedro.
One of the best beach destinations in Belize, Ambergris Caye is surrounded by the second largest barrier reef in the world. There's inviting world class snorkeling, diving, fly fishing and beach lounging.
This beautiful destination offers a taste of laid back island life with a beach vibe.
Honeymooners looking for luxury will find it in a penthouse suite with a private plunge pool, full kitchen and washer/dryer.
Check rates and availability of Las Terrazas Resort on Booking.com.
Day 6: Las Terrazas on Ambergris Caye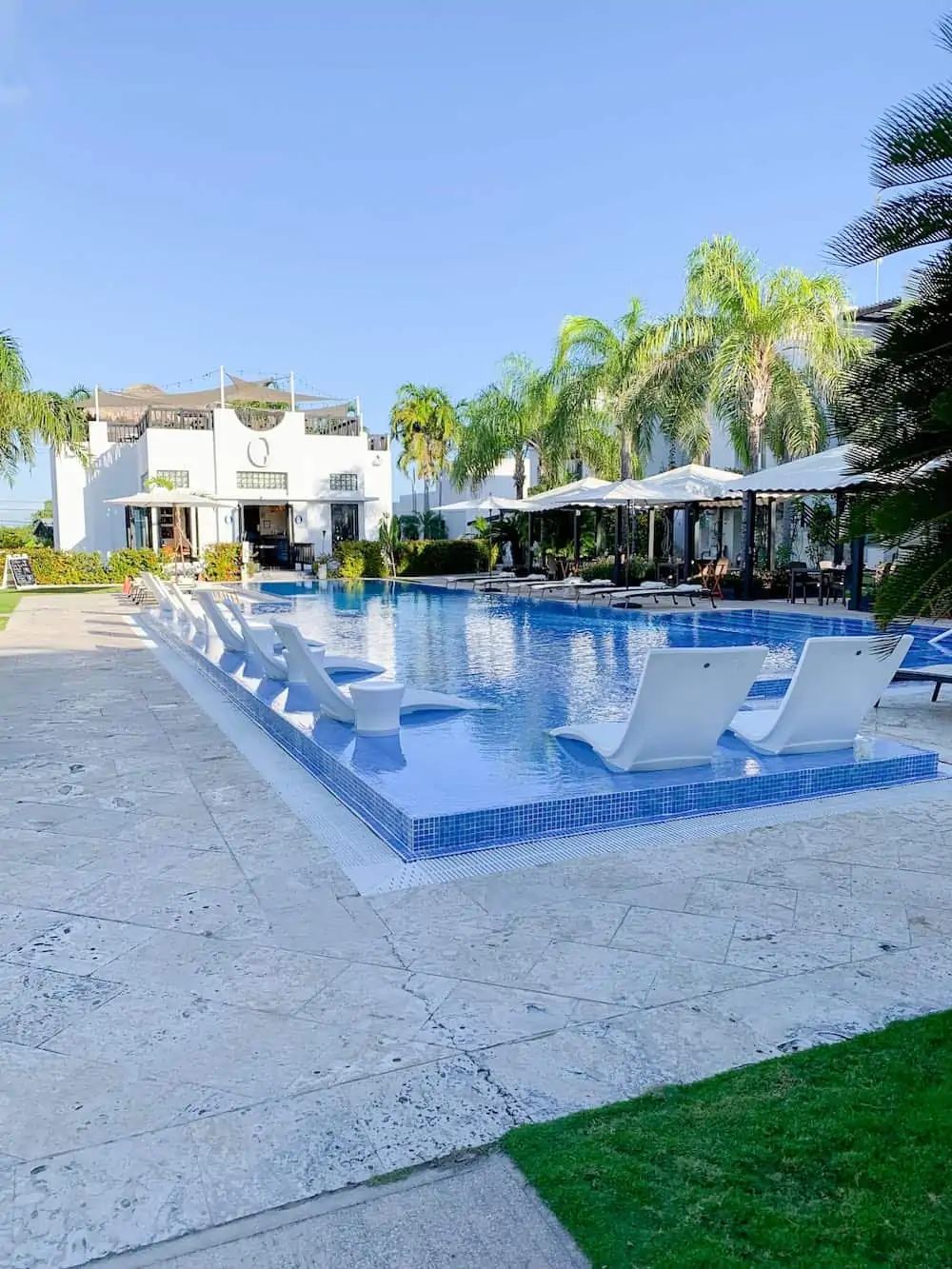 Upon arrival at Las Terrazas, relax poolside with service for drinks or snacks such as fresh guacamole and tortilla chips, tropical fruit trays and fish tacos.
If you're looking for a Belize couples resort with a pool, you won't be disappointed with this 21 metre long infinity pool.
Craving adventure? Book a memorable honeymoon excursion at the resort's front desk. Complimentary kayaks, paddleboards and Hobie cats are fun too.
Assuming you can tear yourself away from the beachfront hammocks.
Morning: Take a Manatee Tour or Fishing Excursion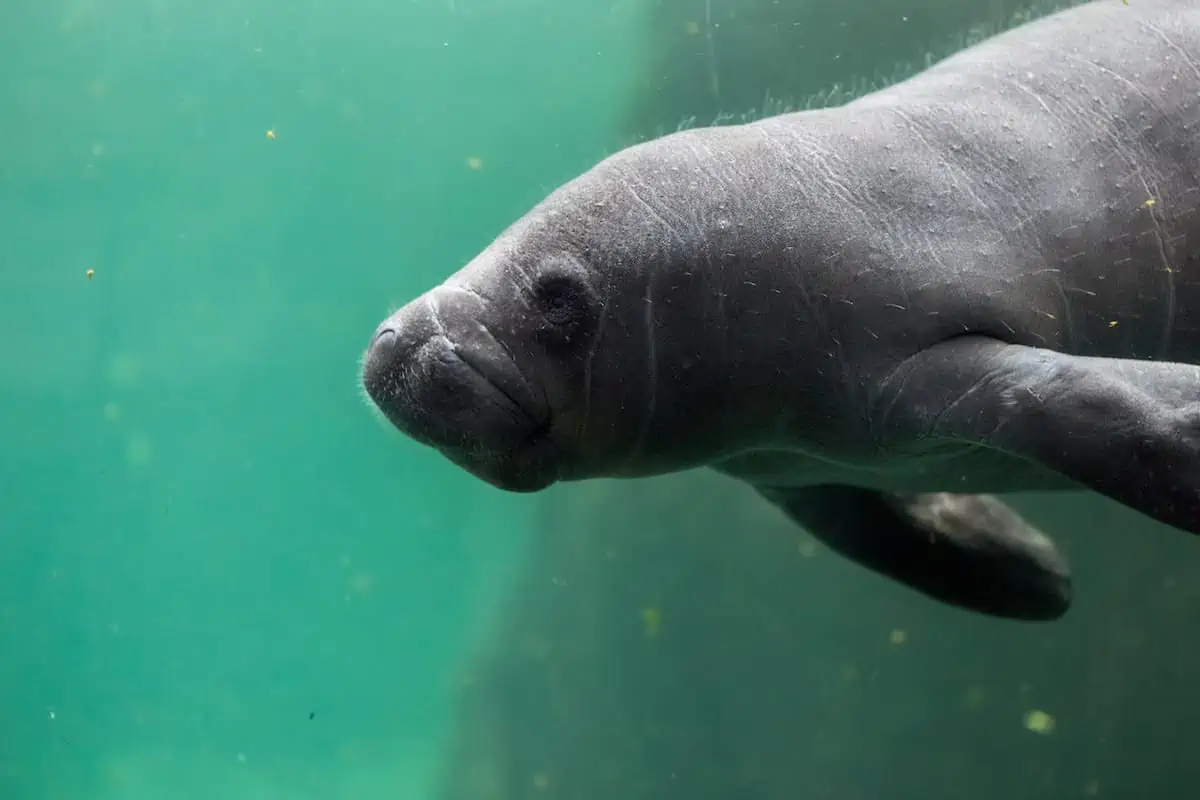 Belize is a top place to explore the underwater wonders of the sea. Taking a manatee watching excursion is one of the top things to do in Caye Caulker and Ambergis Caye.
These gentle giants can be seen grazing in the shallow coastal waters year round but the best time to take a manatee tour is between September and February.
This island archipelago is also a popular fishing destination in the Caribbean.
As your guide pushes the boat gently alongside the mangroves, it's a peaceful way to soak up sunshine together, punctuated by the excitement of catching bonefish, jacks or snapper.
Afternoon: Go Exploring in a Golf Cart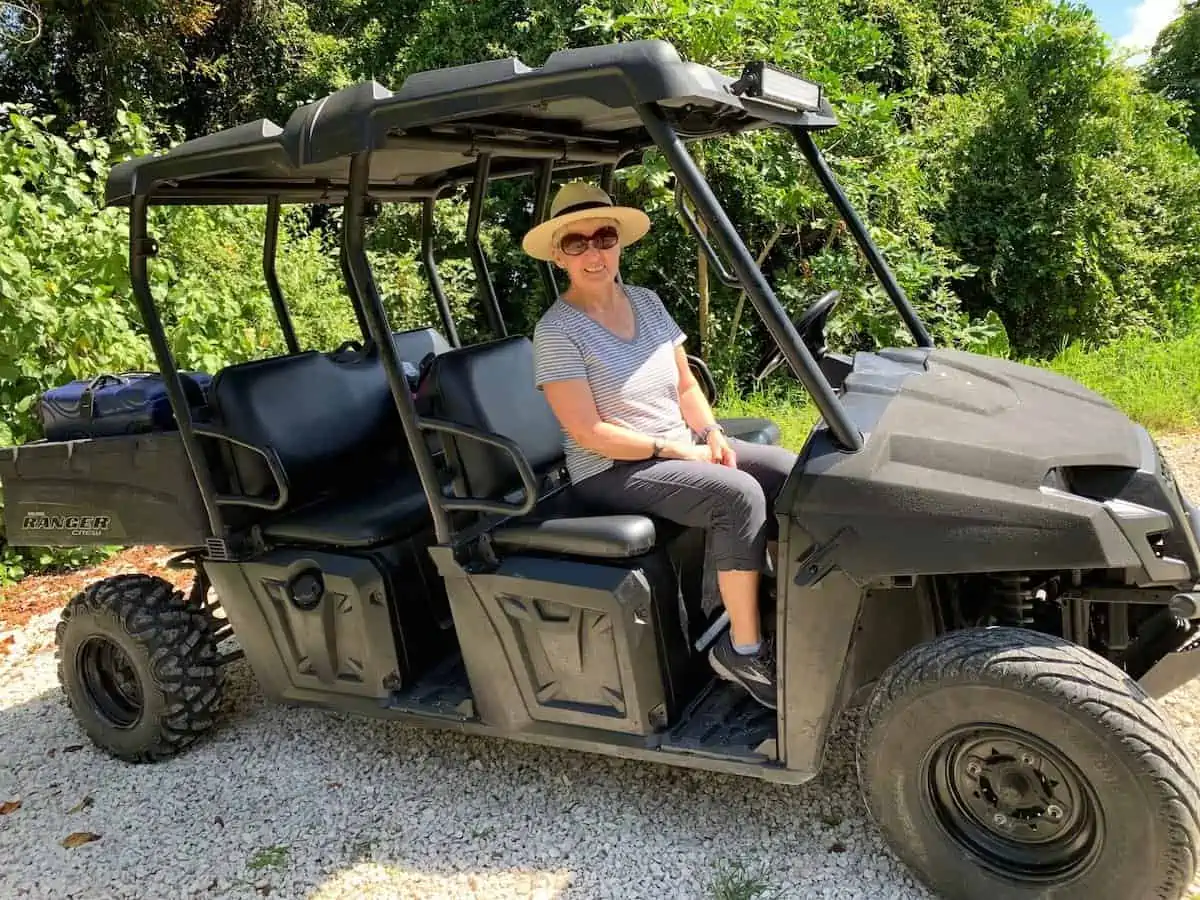 Available to rent from the concierge, they're fun to take to nearby shops, other beaches, restaurants and cafes or simply to explore the island.
It takes a while to get used to no stop signs or traffic lights. But as the carts don't reach over 15 mph, accidents are few.
Evening: Enjoy a Romantic Dinner at Las Terrazas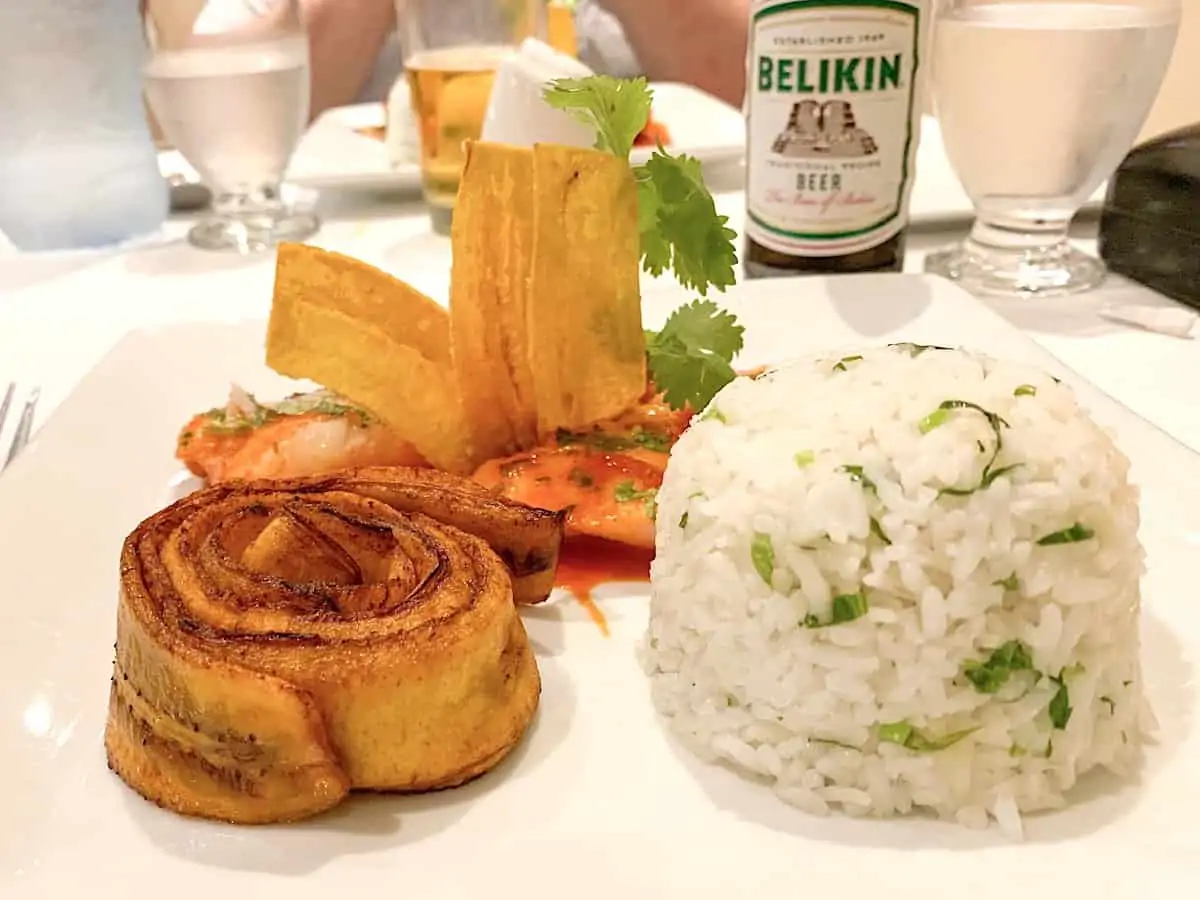 Dining at Las Terrazas is the perfect day to wind up the day. We enjoyed the cuisine created by Chef Nolvin. Our meal began with an appetizer of crisp patty of mashed plantain topped with avocado and roasted chicken.
It was followed by delicious mains of red snapper and grilled local lobster both served with coconut rice and caramelized plantain.
Day 7: Adventure at Las Terrazas, Ambergris Caye
Morning: Snorkel the Barrier Reef and Swim with Sharks
One of the top things to do on a Belize honeymoon is to go snorkelling. At Las Terrazas, you can explore the barrier reef a 15-minute guided boat ride from San Pedro.
Snorkel or dive on the reef, part of which is protected as the Hol Chan Marine Reserve, Belize's first marine park.
Angel fish, parrotfish, puffers, snappers, barracuda, eels and enormous green turtles glide past you in the clear water.
Then, for the ultimate adventure let the guide take you to Shark Ray Alley to swim with sharks, if you dare!
We swam around the sharks, relieved they ignored us completely. My husband held my hand and didn't let go the entire time we were snorkeling.
The romance wasn't lost on me.
Check prices and availability of a Hol Chan Marine Reserve and Shark Ray Alley Snorkel Tour on Viator.com
Related: Adventurous travellers will want to visit Grand Bahama where you can feed sharks right off a pier. It's one of the top things to do in Freeport, Bahamas.
Afternoon: Swim at Secret Beach
A visit to not-so-secret Secret Beach is also a must-do on this Belize honeymoon itinerary. It's a 15 minute golf cart drive away from Las Terrazas.
Parking is free and you can relax in a beach lounger at one of the many beach bars. Servers will deliver food and tropical drinks as you soak up sun, or swim in the clear turquoise water.
Later, opt for a soothing couples massages in the spa, in your room, or on the beach in a cabana.
They also offer romantic beachfront dinners complete with tiki torches.
Evening: Enjoy a Spectacular Sunset over Dinner
For another romantic evening under the stars, head to Stella's Sunset Wine bar and restaurant, a short ride from Las Terrazas.
You can lounge on comfortable cushioned rattan chairs and enjoy a fabulous sunset view overlooking a lagoon ringed by mangroves. Be sure to try a mojito in a hollowed out coconut shell with a ceviche starter.
Then wrap up your evening with Belizean chocolate s'mores by the bonfire.
It's the perfect conclusion to a memorable couples getaway in Belize.
Belize Honeymoon Planning – Frequently Asked Questions
Are There Resorts with Wedding Packages in Belize?
Las Terrazas hosts some of the largest weddings on Ambergris Caye, anywhere from 20-100+ guests. Curl Bell at the Front Desk is the onsite coordinator for weddings.
Most of the receptions are held on the beach but other options are available. The resort can also help plan surprise engagements complete with a photographer to capture the moment.
Beachfront dinners, chartered catamaran cruises, bonfires on the beach and other unique island experiences are available for groups of any size.
Is Belize Safe to Visit?
On our trip to Belize I felt very safe, but I spoke to a local policeman on the island of Ambergris Caye who said that petty crime was an issue.
So travellers should use common sense and watch their personal property. Check our tips for safe travel in Guatemala for advice about travel safety in Central America.
He recommended using an accredited guide, their certifications hang proudly in their vehicles. When leaving our golf cart rental outside a restaurant, we were advised to take our grocery bags with us and leave nothing in the cart or it would disappear.
Is Belize Expensive?
Transportation: At Lamanai Outpost Lodge and Dangrigia we depended on tour guides. On Ambergris Caye we rented golf carts at the resort to explore locally at a cost of $29 USD for two hours minimum rental time and used a taxi through the resort several times.
Budget: The costs in Belize is similar to other tropical destinations but because of the location, food was expensive so work that into your plan.
Las Terrazas has full kitchens in every unit, so cooking some meals for yourself can save some money and gives you an excuse to try the delicious tropical fruit, vegetables, herbs, fish and locally raised chicken.
Each suite also has a washer and dryer so you can throw wet bathing suits in the dryer. Or do all your laundry so you can simply unpack when you get home.
Eat: Dinner for two people at a mid-range restaurant is approximately $45 USD excluding drinks.
Stay: Cost per night for double occupancy is between $250 to $300 USD. Accommodations vary widely. Jungle lodges and simple seaside cottages feature natural surroundings as their main attraction.
Larger resorts offer simple, budget-friendly units while 5-star resorts with gourmet food and a range of excursions to enjoy.
Mosquitos and other insects can be an issue, so make sure to use insect spray and carry an after bite ointment with you.
Is There Sargassum Seaweed in Belize?
Much as in many other countries in the Caribbean and along the coasts of Mexico and Florida, Belize can be affected by influxes of sargassum seaweed. According to the San Pedro Sun, the island newspaper, the first waves of sargassum are starting to beach along the Belizean Caribbean coastline and cayes in 2022.
The brown algae is mostly concentrated in Hopkins, Placencia, Caye Caulker and San Pedro Town expecting less. Windy days and ocean currents can affect the amount of sargassum seaweed landing on shores. Hotels and residents do work to keep the beaches free of the algae.
Read our in-depth guide on how to plan a vacation in sargassum seaweed season.
For more information on how to plan a Belize honeymoon or vacation, see the Belize Tourism Board website.
More Romantic Travel Ideas for Couples
Save to Pinterest!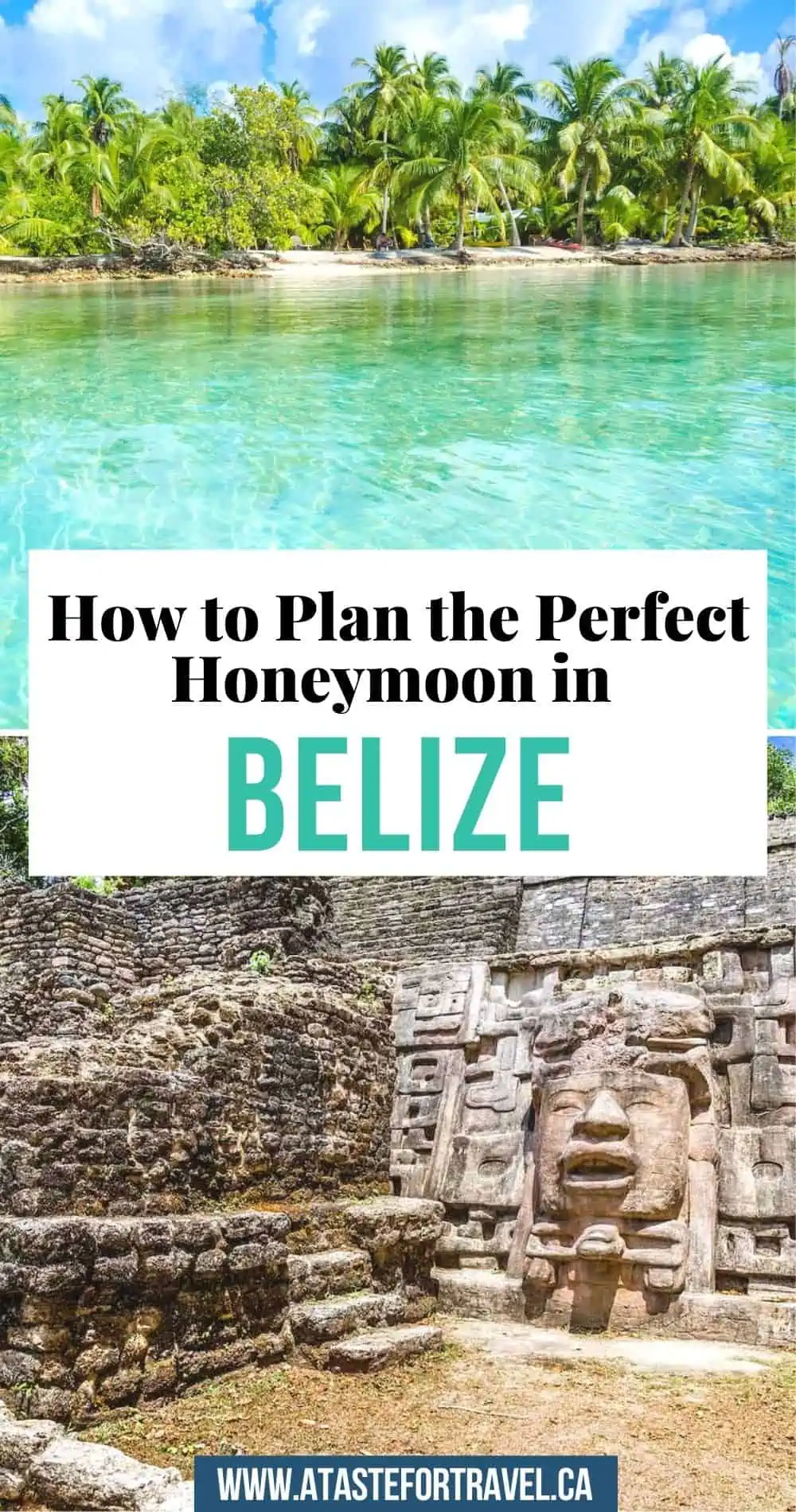 Melody Wren is a travel journalist based in Canada. She has traveled extensively and is always ready for another adventure. She considers her age (over 50) a gift in her travels. She brings wisdom and experience and a major 'if not now, when' attitude with heavy lashings of humor, which is required in any kind of travel. Visit her website www.melodywren.com or follow her on Instagram @melodywrentravels