We may earn income from links in this post. Please read this Disclosure for details.
While food fans might be tempted to visit Valladolid Mexico solely to sample its deservedly famous longaniza (sausage), this colonial city near Cancun, Playa del Carmen and Tulum also happens to be home to Cenote Zaci, one of the biggest and most incredible cenotes on the Yucatan peninsula.
Valladolid is also rich in history, natural attractions and incredible Yucatecan cuisine, so here are the five reasons I think this small city might be one of Mexico's best cities to visit.
If you add it to your Yucatan itinerary as we did, you too might fall in love with its many charms.
1. Stunning Architecture in Valladolid Mexico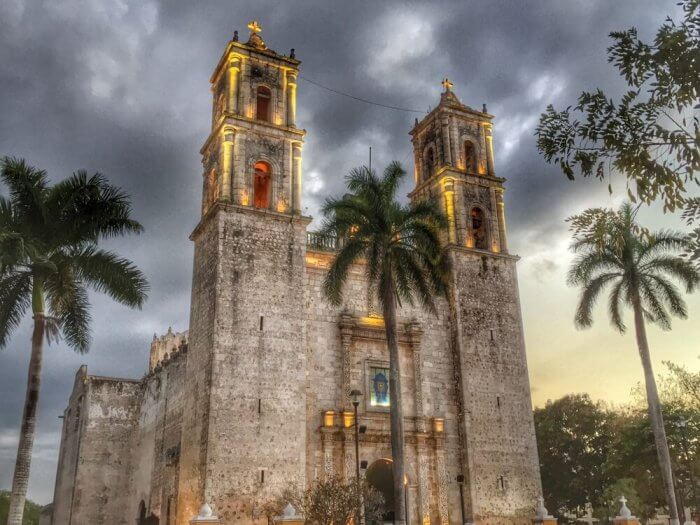 Built on a built atop the original Maya town called Zaci, the city of Valladolid was founded by Don Francisco de Montejo in 1543 and as with many other colonial-era cities in Mexico, where the heart of the city centers around the zocolo or central park, Valladolid's tidy Parque Francisco Canton Rosado is a beauty. Filled with leafy trees, towering palms and a gurgling fountain, it's surrounded by gracious colonial style buildings.
On the south side of the square is the Cathedral of San Gervasio, a beautiful church that seems to change colours from morning to dusk with the movement of the sun. Known as the Mayan Pearl of the East, Valladolid is one of 111 Pueblos Magicos de Mexico, a designation recognizing towns of exceptional beauty, culture and character. Today's population of around 50,000 people includes many indigenous Maya.
Read blog posts on other Pueblo Magicos at 7 Reasons to Love Mazunte and Inspired by Colour in San Miguel de Allende
2. Beautiful Cenote Zaci Valladolid Mexico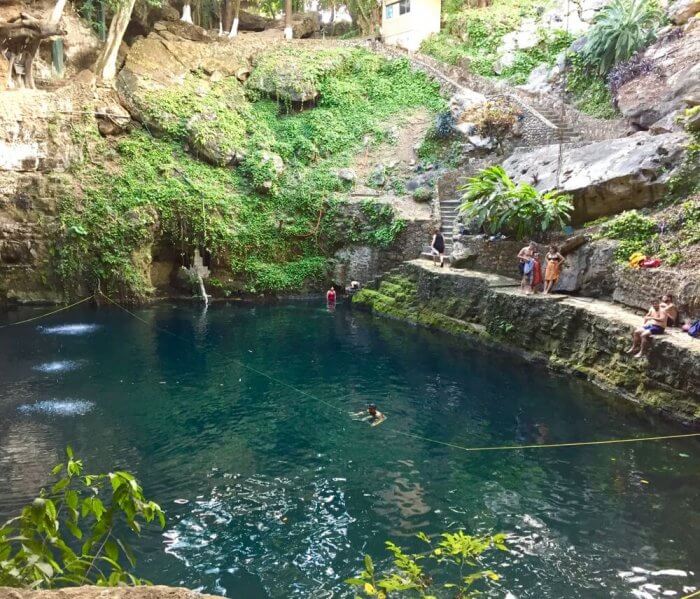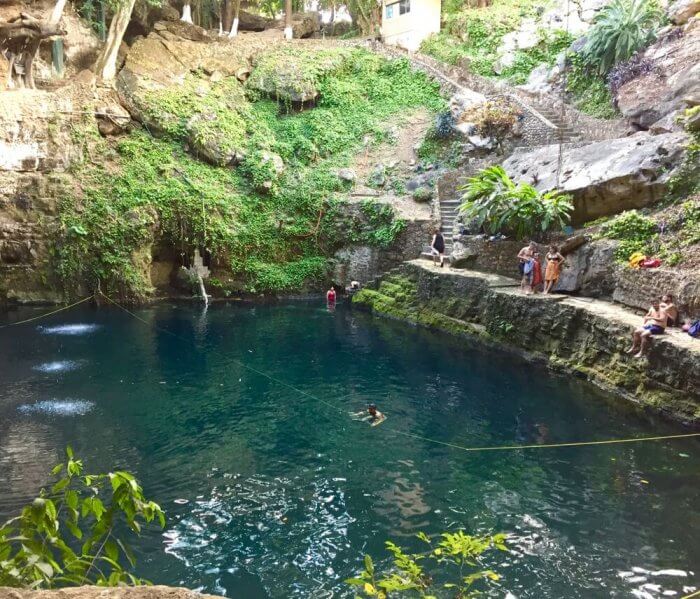 I can't think of many cities that come with their own swimming holes. Although San Miguel de Allende offers thermal waters to bathe in (Read about them in the post Inspired by Colour in San Miguel de Allende), Valladolid offers something extra special when it comes to natural attractions.
Not only is Valladolid surrounded by cenotes, still-wild jungle and historic ruins but just steps from the plaza is the jaw-dropping Cenote Zaci, one of the most beautiful natural wonders I've ever seen.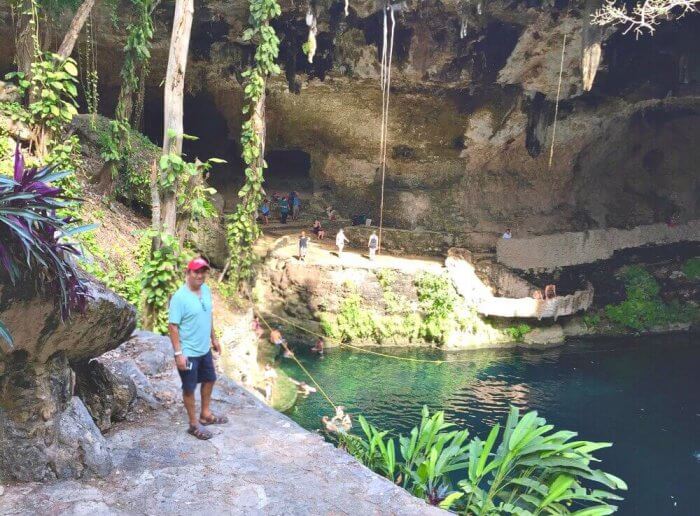 This natural, water-filled sinkhole is reached via a slightly slippery path that passes under the gnarled roots of ficus trees, stalactites and vine tendrils, which makes it feel as though you are entering a mystic cavern.
The entrance fee to Cenote Zaci costs 30 pesos per person but admission is free if you eat at Zaci Restaurant ( see below). So be sure to bring your bathing suit as you're definitely going to want to take a swim in those turquoise waters.
What is the depth of cenote zaci? While there is a sign that says no diving, the person on duty told me that the depth is unlimited. It is connected to other underground rivers and caverns so stretches across the entire Yucatan peninsula through a network of porous limestone rocks. That alone is incredible!
Note that the water conditions at Cenote Zaci can change daily. It's a natural swimming hole so it's subject to bird droppings, potential contamination from human pollution and dust. Unlike some cenotes that are completely closed, it's open to the air. I enjoyed the openness as it didn't have the claustrophobic feeling enclosed cenotes sometimes have.
If you're keen on exploring more cenotes, it's also worth snorkelling these cenotes in Tulum
3. Fabulous Restaurants in Valladolid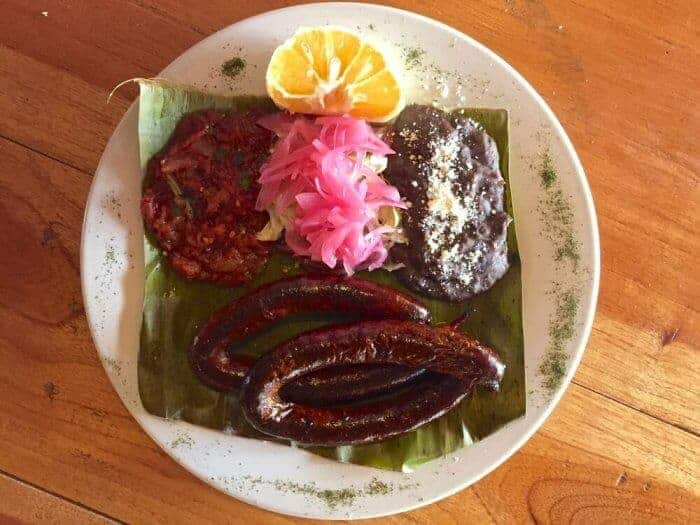 There's plenty to choose from when it comes to restaurants in Valldolid. It's one of Mexico's best cities to visit for authentic Yucatan cuisine. The fact that Zaci, a breezy open-air restaurant next to Cenote Zaci, is popular with tour groups shouldn't dissuade you from eating there.
The menu has lots of authentic local dishes. Be sure to try Lomitos de Valladolid, pork tenderloin in tomato sauce served with black beans, as well as Cochinita Pibil, a delicious Yucatan specialty featuring pork marinated in achiote, naranja agria (bitter orange) and spices, wrapped in banana leaves and then slow-cooked in an underground pit known as a "pib".
If you want something lighter, then opt for sopa de lima (lime soup) a delicious soup of shredded chicken garnished with lime and tortilla strips. There's also the famous longaniza de Valladolid, a long, slim sausage similar to Spanish chorizo that's most often served grilled accompanied by fresh handmade corn tortillas.
Although the local cuisine sounds very meat-heavy, vegans and vegetarians will enjoy polcanes, an appetizer made of maize stuffed with chives, pumpkin seeds and white beans. There's also Sikil P'ak, a nutty hummus-style dip made of pumpkin seeds, tomato and cilantro eaten with tortilla chips.
The local squash also makes an appearance in delicious dips and side dishes. You'll also swoon for chaya, a leafy vegetable similar to spinach that's delicious in soup.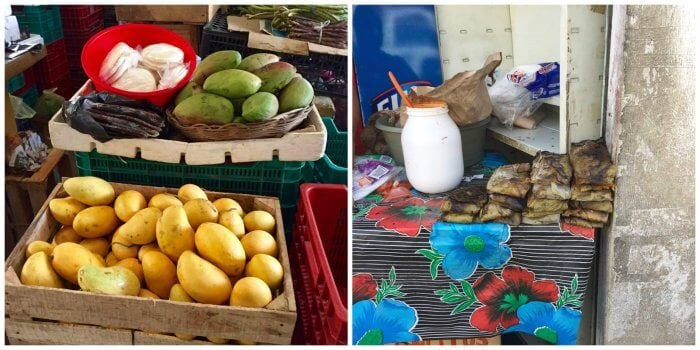 As well, throughout Valladolid there's also the opportunity to sample local spirits such as xtabentun (a delicious golden liqueur made of honey and anise), liquor de nance ( a small yellow fruit) and liquor de yerba buena (mint) as well as Mayapan, a spirit made of blue agave similar to tequila (it can't officially be tequila as it's not from Jalisco and the other specific regions), created at the distillery on the outskirts of Valladolid.
For me, the world's great cities also have great food markets. One of the things I love about Puerto Escondido, Oaxaca is the fantastic Benito Juarez Market with its towers of fresh fruit and vegetables, local cheeses and lively atmosphere especially on the weekends.
That's when the farmers bring their wares from their farms in the foothills and Puerto's market sprawls out beyond its borders and onto the neighbouring streets. Valladolid's Mercado Municipal is bursting with local fruit such as mangos, mandarins, sapotes and more.
For more on restaurants, read Where to Eat Now in Playa del Carmen, Mexico
4. Stroll its Historic Centre and Enjoy People-friendly Streets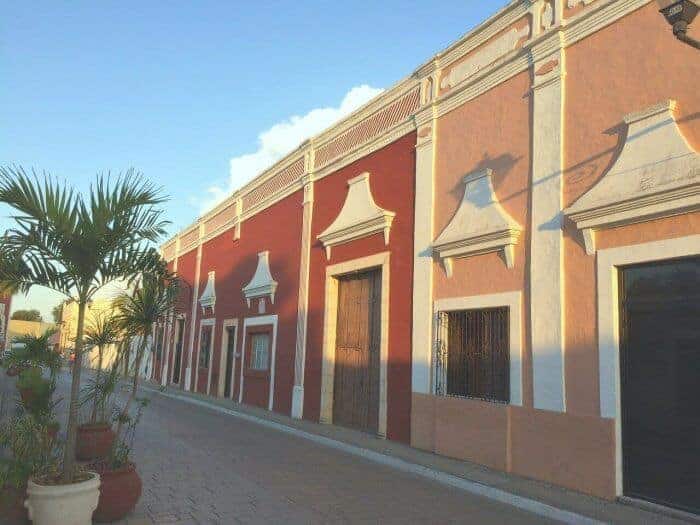 Any city that makes an effort to welcome pedestrians and cyclists deserves recognition in my books. Valladolid has made an effort to enhance the livability of its historic quarter by preserving the architecture of streets such as the Road of the Friars or Calzada de los Frailes (Calle 41A) lined with colonial homes with almost Moorish architecture.
This atmospheric street, offering a fine collection of cafes, bars and shops selling artisanal crafts, begins at Calle 46 and Calle 41 and ends at the park in front of the ex-convent San Bernardino de Sienais located within the Sisal neighbourhood.
Even if you're in Valladolid for just 36 hours, plan to spend at least a those precious hours at this 15th century former convent and church.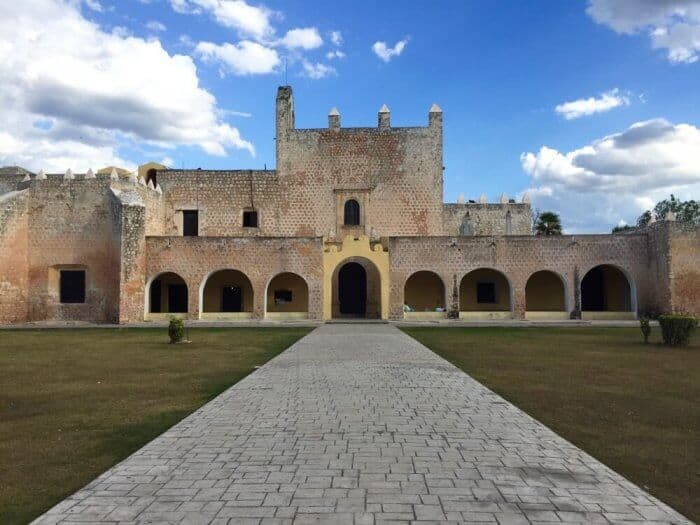 Built in 1542 and completed in 1560, the Sisal monastery was the only Franciscan structure in the Yucatan to have served as a Mayan mission at the same time.
Its expansive grounds make for an interesting afternoon of explorations. Highlights include the Waterwheel ( dating to 1613) of Cenote Sis-Ha where muskets, spears and other weapons from the Caste War were discovered within its depths.
Valladolid Mexico was the site of two significant events, the Caste War of 1847 and the beginning of the Mexican Revolution in 1847. During the high season, a video spectacle titled the Nights of the Heroic Valladolid — a representation of the Caste War and the seeds of the Mexican Revolution — is projected on the building's historic walls at 9 p.m. each evening.
Later, be sure to stop and eat at the Taberna de los Frailes.
5. Lots of Budget Hotels in Valladolid Mexico

Unlike other cities in Mexico where prices have risen due to an influx of foreigners, still under-the-radar Valladolid offers great value. For example, a quick search unearths a beautiful room at boutique-sized El Meson Del Marques (complete with a rooftop terrace and bicycles for guests) on Calle 39 for under $75 USD per night.
If you're more interested in renting, I spotted homes from as low as $600 a month.
The only downside? Be forewarned that Valladolid can get very warm. The Average High Temperature ranges from 29 C to 34 C ( 84 F to 93 F) annually and although I did notice it cooled off considerably in the early evening, the climate is hot and humid. For us, when the sun reached its peak at midday, we'd hop in a taxi rather than walk and never paid more than 30 pesos (around 1.50 USD) for a ride.
Travel Guide to Cenote Zaci and Valladolid
Getting There: Valladolid is located midway between Merida and Cancun, about two hours from each. It's an easy day trip from Cancun or a stop on your way to visit ruins such as Chichen Itza in the Yucatan.
You can easily catch the ADO bus to Valladolid Mexico from Merida, Playa del Carmen, Cancun or Tulum. In Playa del Carmen, the buses depart from the Terminal de Autobuses ADO Playa del Carmen Alterna located on 20 Avenida Norte near Walmart and the Municipal Plaza. If you purchase your ticket several weeks in advance you can save up 40% off the price of your ticket and avoid getting a seat at the back of the bus near the washroom.
Tourist Office of Valladolid: The official tourist office is located on the east side of main plaza
Yucatan Tourism: You can also get information for planning a trip on official Yucatan Travel and Mundo Maya Yucatan travel websites.
Valladolid Restaurants: Dining highlights include a wealth of regional specialties at Taberna de los Frailes, Zaci restaurant at the cenote as well as Las Campanas.
Entrance Fee for Cenote Zaci: Entrance to Cenote Zaci costs 30 pesos but is free if you order food or drink at Zaci restaurant. When you arrive at the site instead of going right directly to the cenote, veer left and enter the restaurant. Inside the restaurant there is a gate to enter the cenote.
Don't wear sunscreen when swimming in Cenote Zaci as the chemicals can be harmful to the environment. When you're finished swimming, you may need insect repellant if you're planning to spend time sitting in the restaurant.
Renting a Car: If you're planning on doing a Yucatan road trip, Valladolid is a natural place to stop between Chichen Itza and Cancun. Check out our tips on renting a car in Mexico before you go.
Valladolid Hotels: Check out boutique-sized El Meson Del Marques (complete with a rooftop terrace and bicycles for guests) on Calle 39 or the just-opened Hotel Casa Margarita, which comes with an outdoor swimming pool and is centrally located on Calle 38.
---
Looking for more ideas on Mexico's best cities to visit? Or looking for places to consider for retirees, expats, artists and digital nomads in Mexico and the Caribbean? Check out these popular posts:
5 Best All-inclusive Resorts in Cancun-Riviera Maya
Where to Eat Now in Playa del Carmen, Mexico
12 Reasons I'm Tempted to Drop Everything and Move to Grenada
Beginner's Guide to Puerto Escondido Beaches
Ultimate Survival Guide to a Month in Panajachel, Guatemala
---
Save to Pinterest!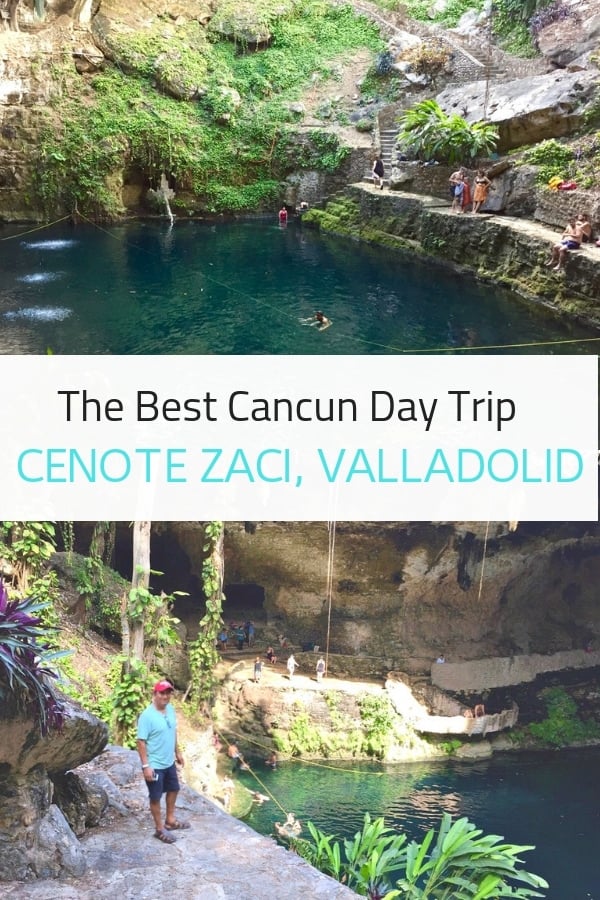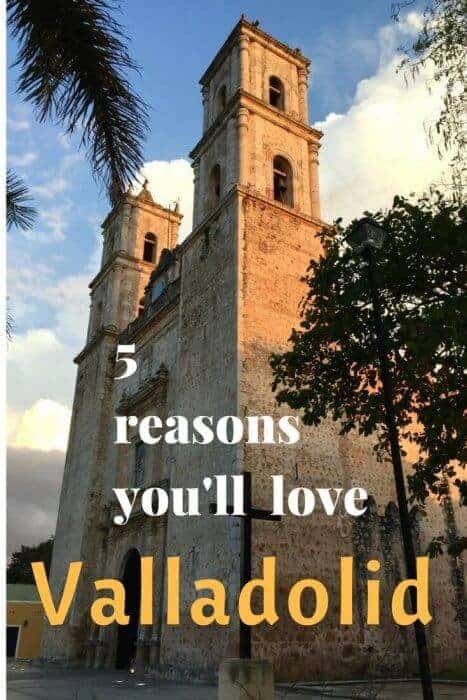 Dividing her time between Canada, Guatemala and Mexico (or the nearest tropical beach), Michele Peterson is the founder of A Taste for Travel. Her award-winning travel and food writing has appeared in Lonely Planet's cookbook Mexico: From the Source, National Geographic Traveler, Fodor's and 100+ other publications.
Read more about Michele Peterson.