We may earn income from links in this post. Please read this Disclosure for details.
Enjoy the sultry flavours of ancient Mexico with a Xtabentún cocktail, made with the Mayan honey liquor that's legendary throughout the Yucatan Peninsula from Cancun to Merida.
Discover everything you need to know about this irresistible Yucatan and Riviera Maya drink as well as details on taking a free tour of the D'Aristi distillery in Merida.
There's even a D'Aristi Xtabentun cocktail recipe to try!
Visiting D'Aristi Distillery is a Top Thing to Do in Merida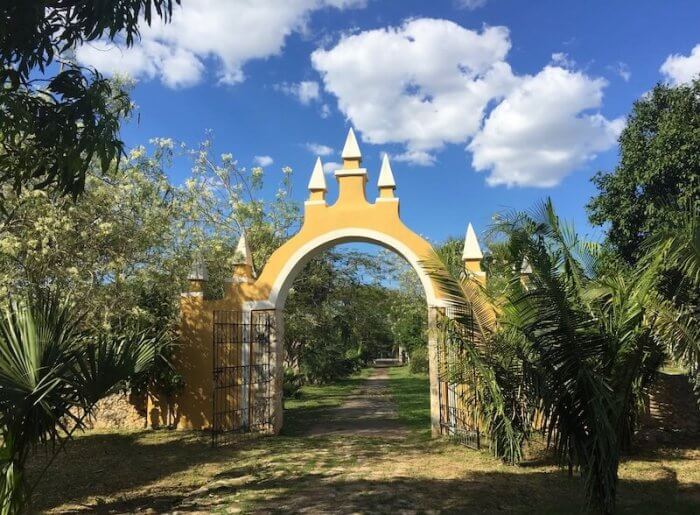 Watching honeybees might seem an unusual pre-cocktail ritual but I'm in Merida exploring its drink scene and there's no better place to begin than at Casa D'Aristi, the largest producer of Xtabentún, the unique Mexican honey liqueur.
Taking a tour of the Casa D'Aristi distillery and enjoying a tutored tasting of Xtabentun is one of the top things to do in Merida. It's the ideal place to learn about this historic Mexican honey liqueur.
Located on the outskirts of Merida on a vast estate graced with tamarindo and mango trees, Casa D'Aristi was a working hacienda during the heyday of the henequen boom years of 1880 to 1915.
Today, the burnished gold hue of the original archway evokes the era when the Yucatan was the wealthiest state in Mexico.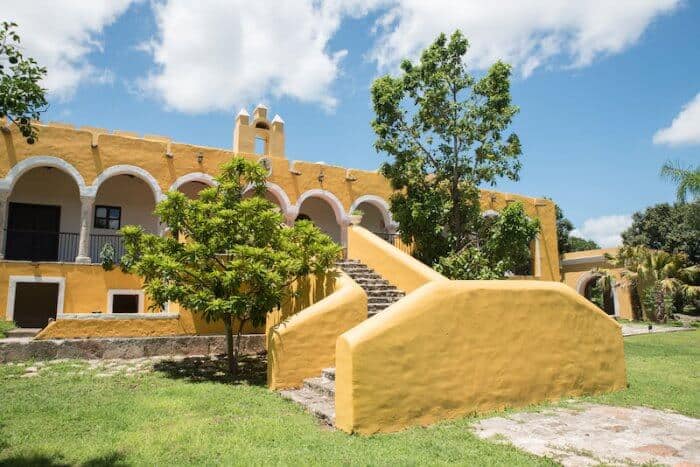 Founded in 1935, the distillery produces rum, nance and coconut liqueurs but its most beloved product is the golden elixir featuring melipona honey drawn from the nectar of the Xtabentun flower.
During a tour of the gardens, you can see the delicate Xtabentun vines growing outside of the hacienda. Their tiny white flowers are named after Xtabey, who according to Mayan legend was a courtesan with a good heart who cared for the needy.
Inspired by balche, a fermented drink used in religious rituals by local Maya, the Casa D'Aristi recipe for Xtabentun has remained true to its origins and is an authentic xtabentun licor maya.
Within the distillation room–a modern facility filled with gleaming stainless steel vats–we sampled the thick unprocessed honey and inhaled the sweet aroma of anise seeds.
After careful fermentation of the pure honey and anisette from Mexico, the ingredients are macerated and infused in rum to produce xtabentun.
Xtabentun Pronunciation and Taste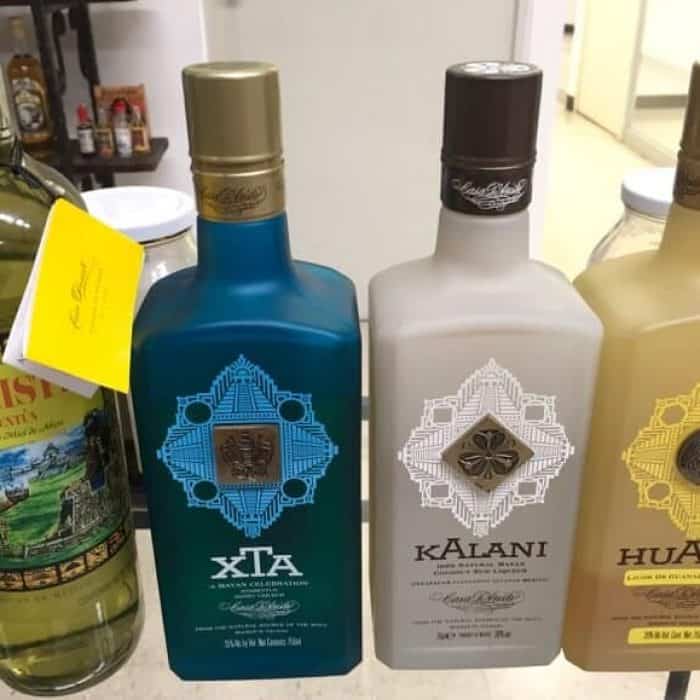 The first thing you need to know about Xtabentun is how to pronounce it. It's not as difficult as it looks!
You just need to remember that in Mayan dialects, an "x" always sounds like a "ish" with a slight lilt at the beginning.
So the pronunciation of xtabentun is "ish-ta-ben-toon" with an accent on the final syllable.
After mastering the pronunciation and learning about Casa D'Aristi's Special Reserve rum aged within Jim Beam bourbon barrels, our walking tour of the Casa D'Aristi Distillery wrapped up with a tutored tasting of the liqueur and a selection of cocktails within the hacienda's main building.
How to Drink Xtabentún Cocktail and Drinks
In appearance, Xtabentun's golden colour reminds me of Galliano, the classic Italian herbal liqueur that was popular in the 1970s and a key ingredient in the retro Harvey Wallbanger cocktail (Galliano, fresh orange juice and vodka).
When it comes to taste, although similar to other anise liqueurs such as Sambuca and Pernod, Xtabentun has a much lighter intensity.
It's sweet but not syrupy and features a honey-anise flavour with subtle herbal undernotes.
Highlights of the 10 hand-crafted cocktails (the menu is ever-evolving) during our tasting included a Mezcalito de Jamaica featuring the sweetness of Xtabentun, a dash of smoky mezcal and the tartness of jamaica (dried hibiscus flower) in refreshing perfection.
Scroll down for the recipe. Other ideas for xtabentun drinks include adding it your coffee to make a Mayan Coffee or enjoy a Xtabentun Margarita.
But after trying all the cocktails ( yes, a sip of all 10!), my favourite way to enjoy Xtabentun is with a splash of water. The simple presentation really allows the delicate flavours to shine.
D'Aristi Xtabentún Recipe for a Perfect Serve:
1.5 oz D'Aristi Xtabentún
Juice of half a lemon
Dash of water, and garnish with lemon wheel
Cooking with D'Aristi's Anise liquor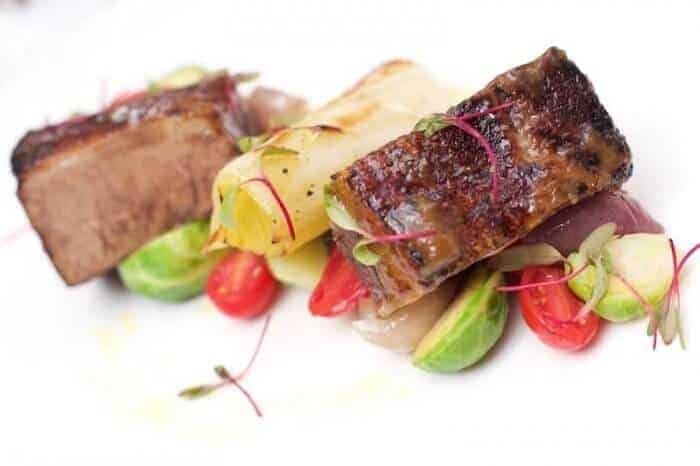 At Rosas & Xocolate, a luxury boutique hotel, restaurant and spa on Merida's Paseo de Montejo, Xtabentun isn't just for drinking but is also perfect for cooking with.
There are many ways to use Xtabentun in recipes for main dishes and desserts.
"Everything we do has a local component and that includes our cuisine," explained Rosas & Xocolate owner and visionary Carol Kolozs, who created the hotel by merging two historic mansions into one gorgeous space that has garnered awards for its ultra-stylish decor.
The cuisine by Executive Chef David Segovia is equally inspired. Here, Xtabentun makes an appearance in a main dish, its sweetness adding a layer of depth to slow-baked beef brisket.
When it comes to cooking, you can easily substitute Xtabentun for whisky in your favourite grill glaze as its perfect with grilled steak, ribs, chicken or pork. Or swap it for marmalade when making a glaze for ham.
Pox, Cocktails and Beer to Try in Merida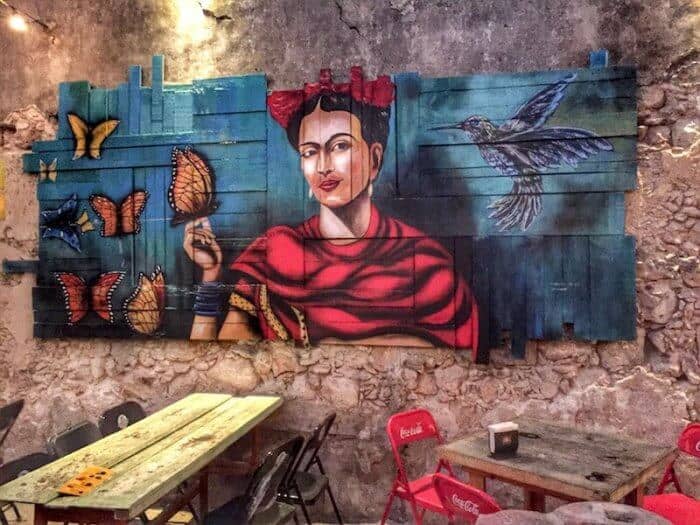 No Yucatan itinerary would be complete without a stop at a cantina in Merida. Traditionally, these bastions of male machismo are frequented by working men at day's end and are beloved for their loud music, free botanas and simple drinks, usually a shot of tequila swigged standing up.
Yet, even these cantinas are evolving. Many have shuttered permanently, others have opened their doors to families.
Our first stop is La Negrita, a watering hole that celebrated its 100th anniversary in 2017 and is just a short stroll from Casa Azul.
We heard it before we saw it, salsa music spilling out of the swinging doors. Squeezing past dancing couples, we scored a tiny table tucked in the back courtyard. Our xtabentun cocktail sparkled with flavour and was as vibrant as the live band.
Our cantina crawl continued at El Pipiripau, named after a classic cumbia song. Here the crowd was smaller so we sprawled out at a large picnic table.
Our drink of choice here was pox (the pronunciation of pox is "posh"), a distilled aguardiente made of corn, sugar cane and wheat that's traditional among Tzotzil Maya.
Best described as moonshine, here the potent spirit was transformed into a sophisticated cocktail the hue of strawberries and the setting sun.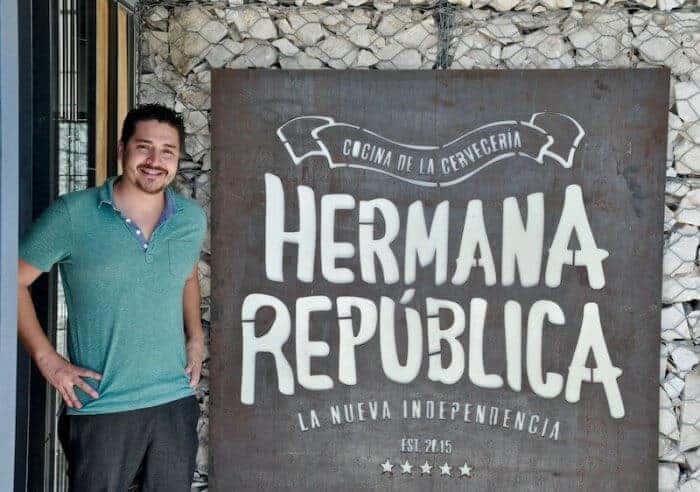 Next, we took a detour to sample some beer-inspired cuisine. Blazing new beer trails in Merida is Chef Alex Mendez at Hermana Republica, home to Cocina de la Cerveceria, independent brewers of craft beer. To sample his modern interpretation of Yucatan food and craft beer, we headed to his brewhouse-restaurant in nearby Xcanatún.
I began with a beer sampler featuring Patito Pilsner, Helles, Weizenbier and American Pale Ale. They paired perfectly with botanas (snacks) of sikil pak, tostadas of octopus and pork braised in vanilla porter. Unlike traditional bar food, it was light, fresh and beautifully presented.
"Our intent is to do more than just produce great-tasting craft beer, we hope to promote beer culture," says Mendez as he showed us their new beer garden with space for local food trucks.
D'Aristi Xtabentún Cocktail Recipe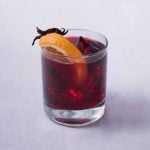 Print
Jamaica Mezcalito Xtabentun Cocktail
A refreshing cocktail featuring Xtabentun, mezcal and hibiscus flower
Ingredients
.75

oz

D'Aristi Xtabentún

1

oz

mezcal

1.75

oz

natural Jamaica concéntrate

.25

oz

lime juice

1

orange slice and Jamaica (Hibiscus) flower

garnish
Instructions
Mix ingredients in a shaker with ice, strain into an old-fashioned glass.


Garnish with a twist of orange slice and Jamaica flower
Nutrition
Calories:
195
kcal
|
Carbohydrates:
19
g
|
Protein:
1
g
|
Sodium:
2
mg
|
Potassium:
334
mg
|
Sugar:
18
g
|
Vitamin A:
190
IU
|
Vitamin C:
70.5
mg
|
Calcium:
16
mg
How to Tour the D'Aristi Xtabentun Facility in Merida
To arrange a tour of the Casa D'Aristi distillery and facility, visitors should email gregorio.pena@casadaristi.com at least two days in advance. There is no charge for the tour, nor a minimum of persons. Tour times are between 10:00 am – 2 pm
The tour includes visiting the facilities where the liqueurs are made, a tasting of the liqueurs at the end and some great xtabentun recipes. You can also purchase bottles of Xtabentun and other products there as well.
A visit to the D'Aristi Facility in Merida is a memorable opportunity to experience the golden age of the Yucatan's hacienda era and taste the sunny flavour of its beloved Mayan liqueur, a popular Rivera Maya drink.
You can also purchase Xtabentun and other D'Aristi products. Hours are Monday to Friday 8:30 am to 5:00 pm but tours are only available between 10:00 am and 2:00 pm. www.casadaristi.com
Location of Casa D'Aristi: https://her.is/2H4joqR
Travel Guide to Xtabentun in Merida
Merida is located 3.5 hours drive from Cancun and is accessible by car, bus and even private helicopter.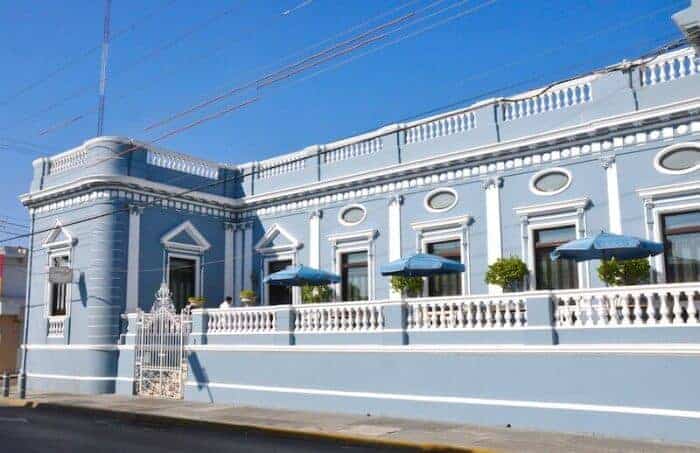 Casa Azul Boutique Hotel: We stayed at Casa Azul Hotel Monumento Historico, a quiet oasis in the heart of Merida. Built in the French-style of the Porfirian era, this designated Historic Monument has been carefully converted to a luxury boutique inn and offers a jewel-sized swimming pool, a fine-dining restaurant and spacious suites (ask for the suite with its own terrace at the rear of the property).
Rosas & Xocolate Boutique Hotel and Spa: This upscale property is just a short walk from Casa Azul and is a brilliant hot pink colour so you can't miss it. It features a rooftop bar, a spa, an elegant restaurant and a gift shop so Rosas & Xocolate is a good option if you're looking for a lively stay.
Where to Buy D'Aristi Xtabentun: Xtabentún can be found in liquor stores throughout Mexico. It's also available in Alberta, Canada and in the U.S. in 20 states.
Yucatan Tourism: www.gotoyucatan.com
Hermana Republica: www.cervezapatito.com
La Negrita Cantina: Check the La Negrita Merida Facebook page for specials and events. It is located at Calle 62 x 49, Centro Histórico, Merida within walking distance of Casa Azul.
Other Top Food & Drink in Mexico
Save to Pinterest!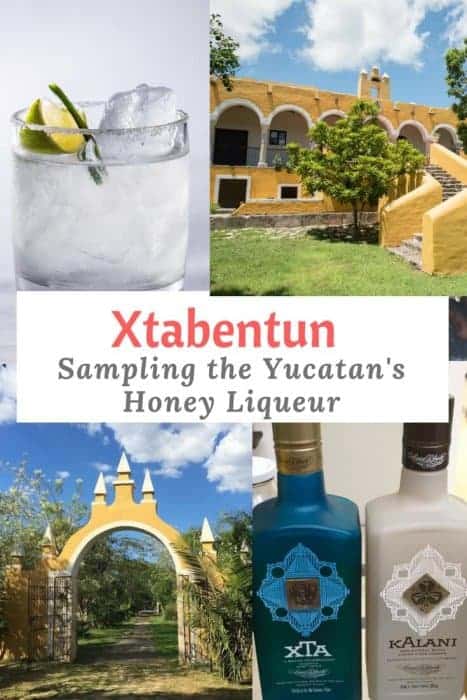 Dividing her time between Canada, Guatemala and Mexico (or the nearest tropical beach), Michele Peterson is the founder of A Taste for Travel. Her award-winning travel and food writing has appeared in Lonely Planet's cookbook Mexico: From the Source, National Geographic Traveler, Fodor's and 100+ other publications.
Read more about Michele Peterson.