We may earn income from links in this post. Please read this Disclosure for details.
This cold brew hibiscus tea (also known as fresco de rosa de jamaica and agua de jamaica) is a ruby-hued iced drink that's refreshing to enjoy any time of day.
Tart with a touch of sweetness, it's super thirst-quenching after a long day in the sun and delicious served with tacos, tostadas and other Latin American dishes.
Unlike many recipes for agua de jamaica, this version is low calorie, 100% natural and contains zero refined sugar.
Why I Love This Cold Brew Hibiscus Tea
Whether I'm in Mexico, at our family ranch in Guatemala or at a cottage in Canada, a tall glass of cold brew hibiscus tea over ice is my go-to drink when I want a caffeine-free beverage with personality and flavour.
Its tart and tangy flavour is really thirst-quenching and complements many dishes.
Unlike sodas, it's low calorie and contains no additives, preservatives, artificial flavours or colours.
Known as agua de jamaica in Mexico and fresco de rosa de jamaica in Guatemala, its vibrant ruby hue is so pretty it's perfect for serving at summer patio parties, brunches and barbecues.
The cold-brew method produces a smoother iced tea than its counterpart steeped with boiling water. It's also sweeter and not bitter.
Unlike many recipes for iced hibiscus tea that contain loads of refined sugar, this recipe gets its sweetness from a splash of apple juice. You can use as little or as much juice as you like.
Health Benefits and Dangers
Many people might wonder "Is homemade hibiscus iced tea good for you?" The answer is it depends.
A natural diuretic, hibiscus tea may offer health benefits for some people when enjoyed in moderation. For example, the red pigment in hibiscus flowers is an anthocyanin, a flavonoid compound with antioxidant effects.
Potential benefits include lowering blood pressure, reducing free radicals, fighting bacterial infections and boosting liver function.
However, much as with any beverage made with botanicals, hibiscus tea may also have side effects, risks and dangers. For example, pregnant or breastfeeding women should not consume hibiscus.
Follow these safety guidelines for herbal supplements published by the Mayo Clinic before consuming herbs or flowers in tea or any other form.
What is Jamaica and Is it Different from Hibiscus?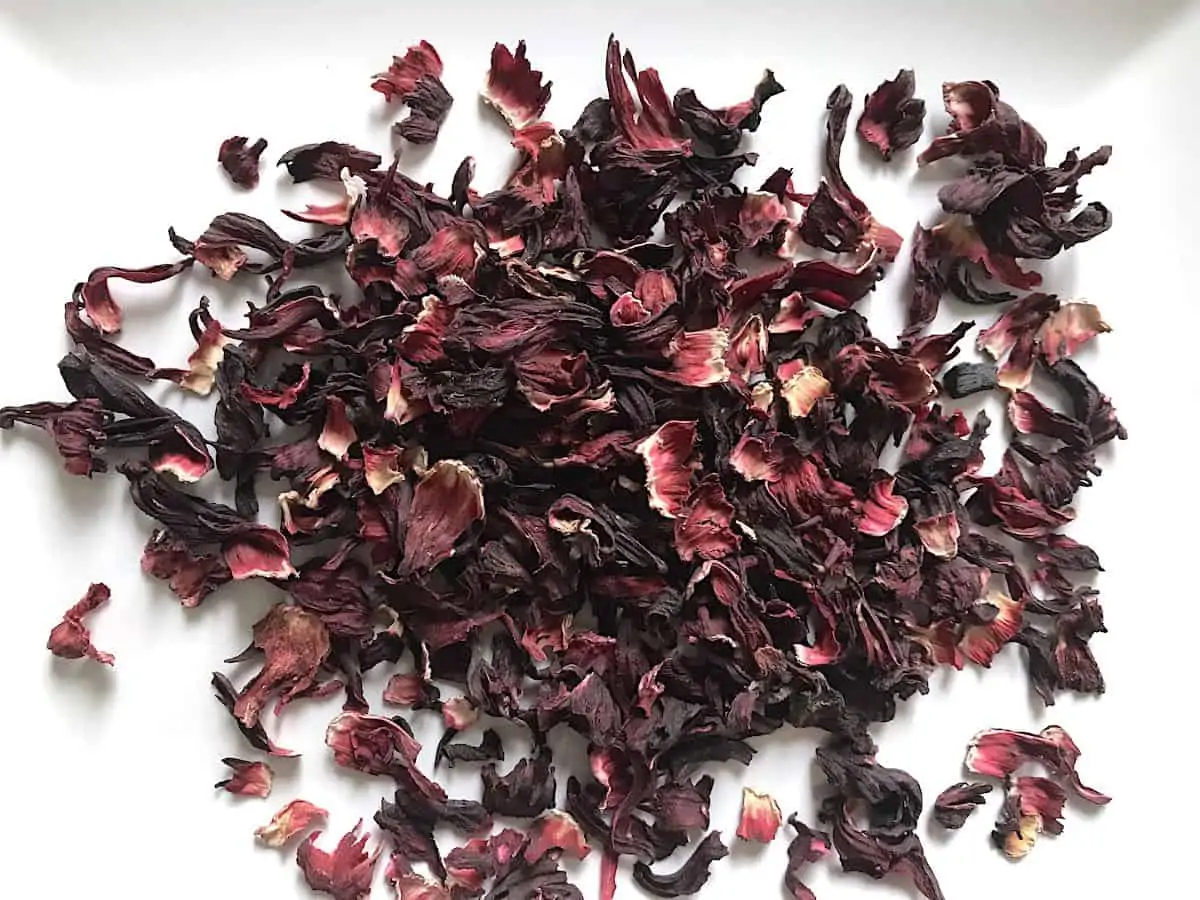 Is Hibiscus and Jamaica flower the same? All hibiscus tea is made from the dried flowers from the hibiscus plant. Jamaica is the Spanish name for hibiscus.
In Mexico, hibiscus flowers are the main ingredient in agua de jamaica, a popular agua fresca served at comedores (restaurants) with the menú del día (menu of the day).
Flor de jamaica is also an important part of chamoy sauce, the famous sweet and tangy Mexican condiment.
And as a popular traditional drink in Guatemala, hibiscus tea is known as fresco de rosa de jamaica.
In the Caribbean, hibiscus is called roselle or red sorrel. Also known as Florida cranberry, it's of the species hibiscus sabdariffa. Made from flowers grown and harvested locally, it's especially popular at Christmas.
In Grenada and Trinidad, traditional sorrel drink is made with cinnamon, cloves and dried orange peel. Much like Latin American ponche de frutas (holiday fruit punch), sometimes it's spiked with dark rum or aguardiente.
Ingredients of Cold Brew Hibiscus Tea With No Refined Sugar
Dried Hibiscus Flowers – Loose, dried organic hibiscus flowers, also known as rosa de jamaica, flor de jamaica or sorrel.
Apple Juice – We use apple juice as a natural sweetener rather than refined sugar. You can add as much or as little as you want. For the most attractive drink, opt for clear apple juice rather than cloudy cider.
Water – filtered, purified or distilled.
Garnish – fresh mint, a wedge of lime or even a slice of fresh apple.
Ice – serve over ice made with filtered, purified or distilled water.
Step-By-Step-Instructions on How to Make Homemade Iced Hibiscus Tea
Please scroll down to recipe card for exact method and quantities.
You need a very large jar or pitcher and loose, dried hibiscus flowers to make cold brew hibiscus tea. If you have a dehydrator and are sure your flowers haven't been sprayed with pesticides or other unhealthy sprays you can dry your own.
Of course, you'll want to make sure you have the right kind of flower to make hibiscus tea. It's a very specific plant, and using the wrong flower could be dangerous.
I usually purchase packaged dried hibiscus flowers so I can be sure I know what I'm getting.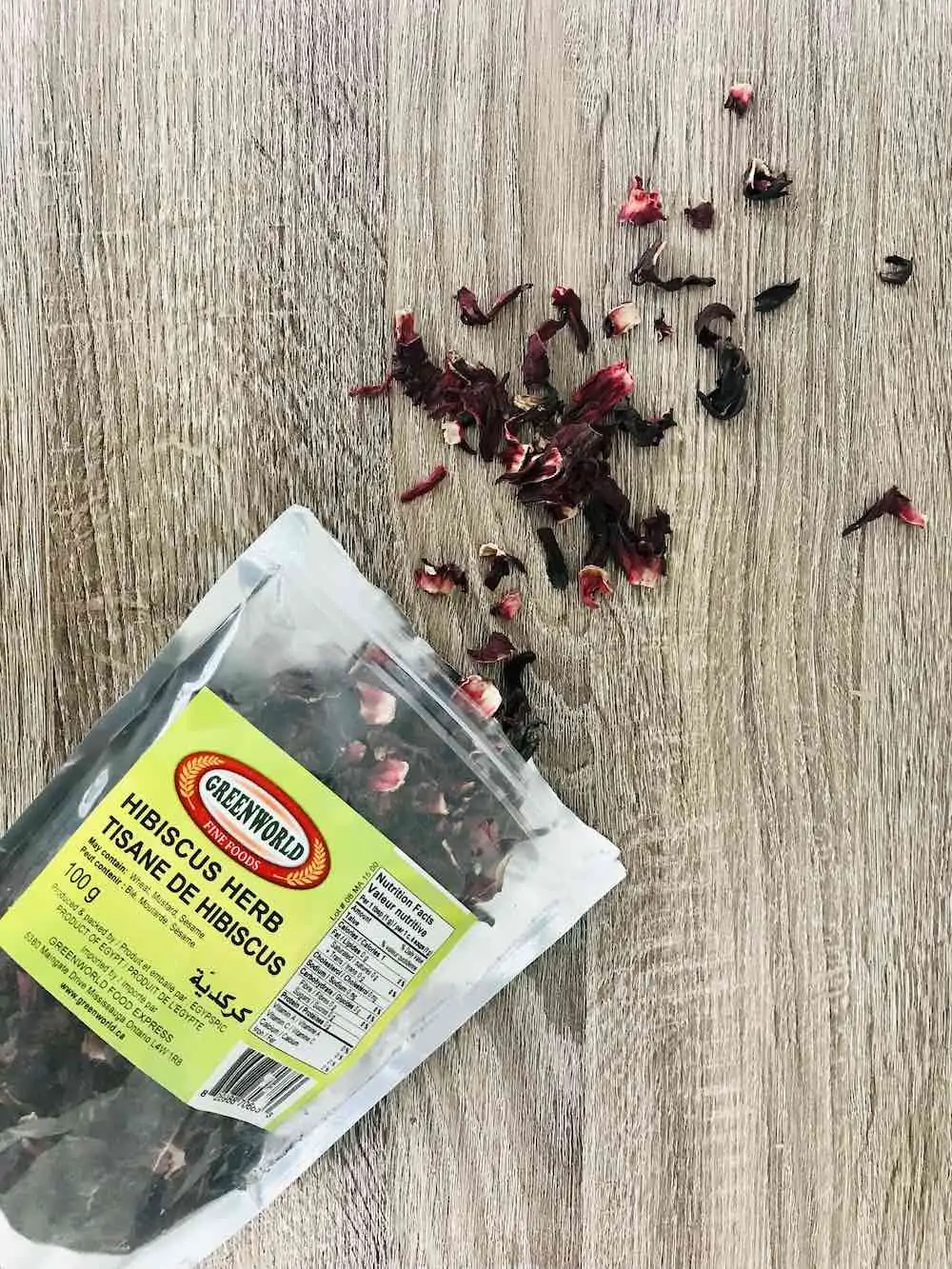 In Mexican and Guatemalan markets hibiscus or jamaica is often sold in bags or in large bins. In Canada and the United States, packaged hibiscus flowers are available at most Latin grocers or in the ethnic aisles at large supermarkets.
You can also order packaged hibiscus on Amazon. Note that it's often listed as an herb rather than a tea because it's not officially a tea as it's not a member of the camellia sinensis plant family.
1. Once you have the dried flowers for tea, place the loose flowers in a glass container, bowl or large teapot and pour the purified water over the flowers.
2. Allow the hibiscus flowers to steep in the water for at least two hours and up to five hours. Don't over-steep as it can become bitter and lose some of the natural sweetness.
3. Strain the concentrate by pouring it through a fine-mesh sieve, tea strainer or colander with small holes into a glass serving pitcher. Be careful when pouring as the bright ruby red colour can stain light counters and clothing!
4. Add apple juice to the concentrate. Then, fill the serving pitcher with the remaining cold water. Stir gently.
5. Adjust the sweetness to taste by adding more apple juice as needed.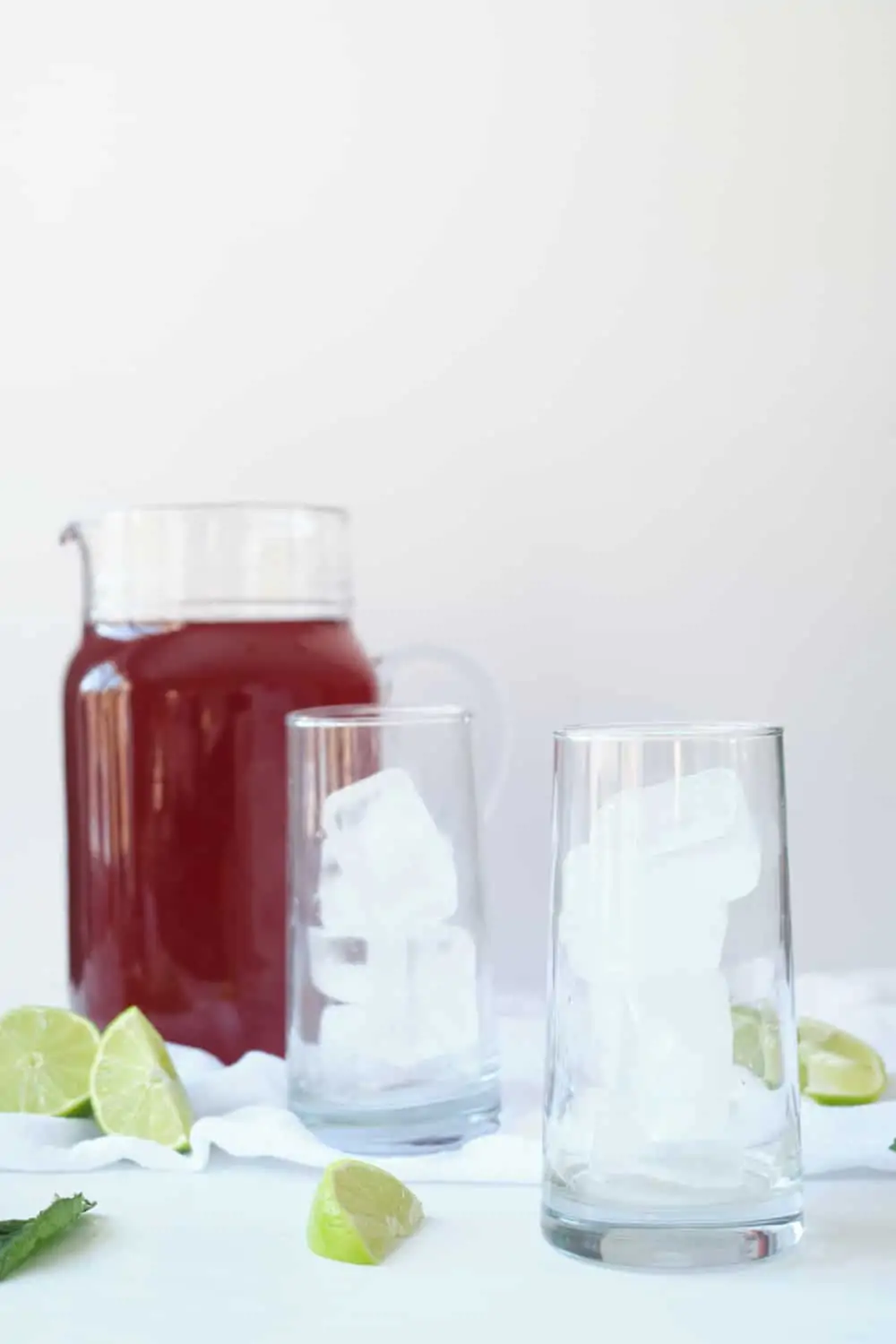 6. Stir again and then chill in the refrigerator for several hours.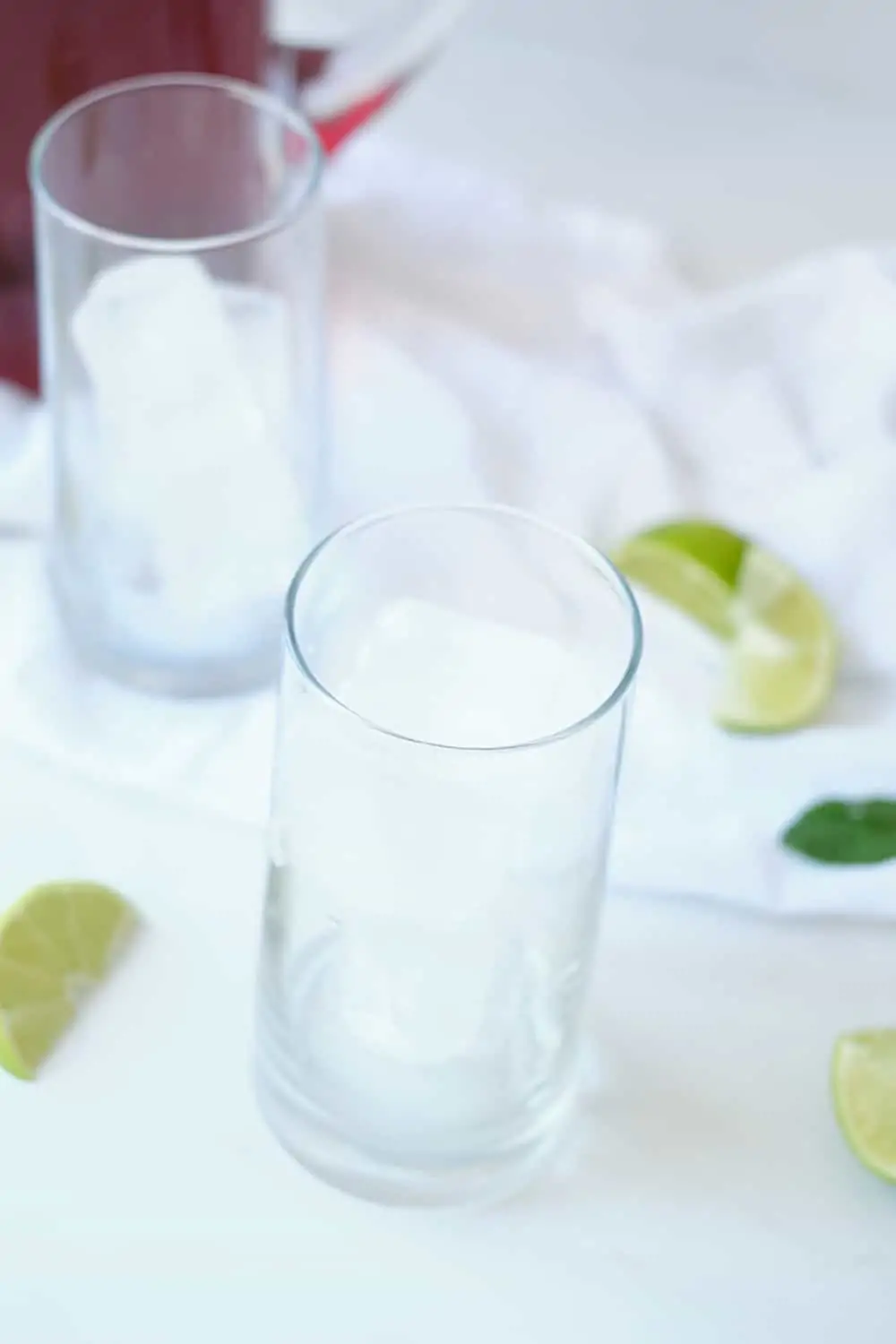 7. Serve in tall glasses filled with ice and garnish with a sprig of mint and/or a slice of fresh lime.
Tips and Tricks for Making and Serving Cold Brew Hibiscus Tea
This cold-brew hibiscus tea recipe uses apple juice instead of refined sugar for sweetness. Add it to taste depending on the tartness of the flowers you purchase and your own preference.
Store the prepared iced tea in the refrigerator for up to five days.
It's possible to substitute fresh hibiscus flower petals for dried. Begin by harvesting 4 cups of hibiscus flowers. Then, remove the green calyx, stem and ovary at the bottom of the flower as well as the pistil, the narrow filament with pollen inside the blossom. Be sure to wash them thoroughly before using them. You should have around three cups of fresh petals ready to cold brew.
Instead of discarding the leaves after brewing, enjoy the softened hibiscus leaves in tacos de jamaica or hibiscus salsa.
The tartness really complements meaty, rich or fried foods. I often serve fresco de flor de jamaica with traditional Guatemalan dishes such as salpicón de res (shredded beef and fresh mint salad) and salpicón de pollo (chicken salad tostadas).
If you'd like to use refined sugar rather than apple juice, it's easy to make a simple syrup. Just combine equal parts of white sugar and water in a saucepan, boil until dissolved and allow it to cool. Then add to the tea instead of the apple juice.
Enjoy summery flavour variations by adding dried apple rings or herbal and fruit teas such as mango during the steeping process.
Frequently Asked Questions
How Long to Steep Hibiscus Tea
You should steep your cold brew hibiscus tea for at least two hours, but no more than four for the best possible flavour. How long you steep the tea depends on the freshness of the flowers. The drier the flowers, the longer you'll need to steep it.
Look for fresh dried flowers. Even with packaged hibiscus, the flowers should not be brittle and crumbly. If you squeeze the package, the petals should feel soft and pliable.
If you steep it for too long the flowers will begin to disintegrate and add an off-putting flavour.
How Long Can I Keep Cold Brew Hibiscus Tea?
If you have an airtight pitcher, you can keep cold-brew hibiscus tea in the refrigerator for up to five days. Like any tea, the flavour will change over time so it's at its best the first few days.
Is Rose of Sharon the Same Plant?
Rose of Sharon (the hibiscus syriacus plant), the cousin to hibiscus is also edible. Note that it is toxic to animals so avoid allowing your cat or dog to consume this flower.
Is the Starbucks Verry Berry Hibiscus Drink Similar?
Starbucks Very Berry Hibiscus beverage actually contains no hibiscus tea and is green tea with berries and sugar. Panera's Iced Plum Ginger Hibiscus Tea contains no added sugar.
Other Refreshing Non-Alcoholic Summer Drink Recipes to Try
Agua de Avena – Vanilla Oat Milk Cooler.
Fresh Strawberry Mango Lemonade.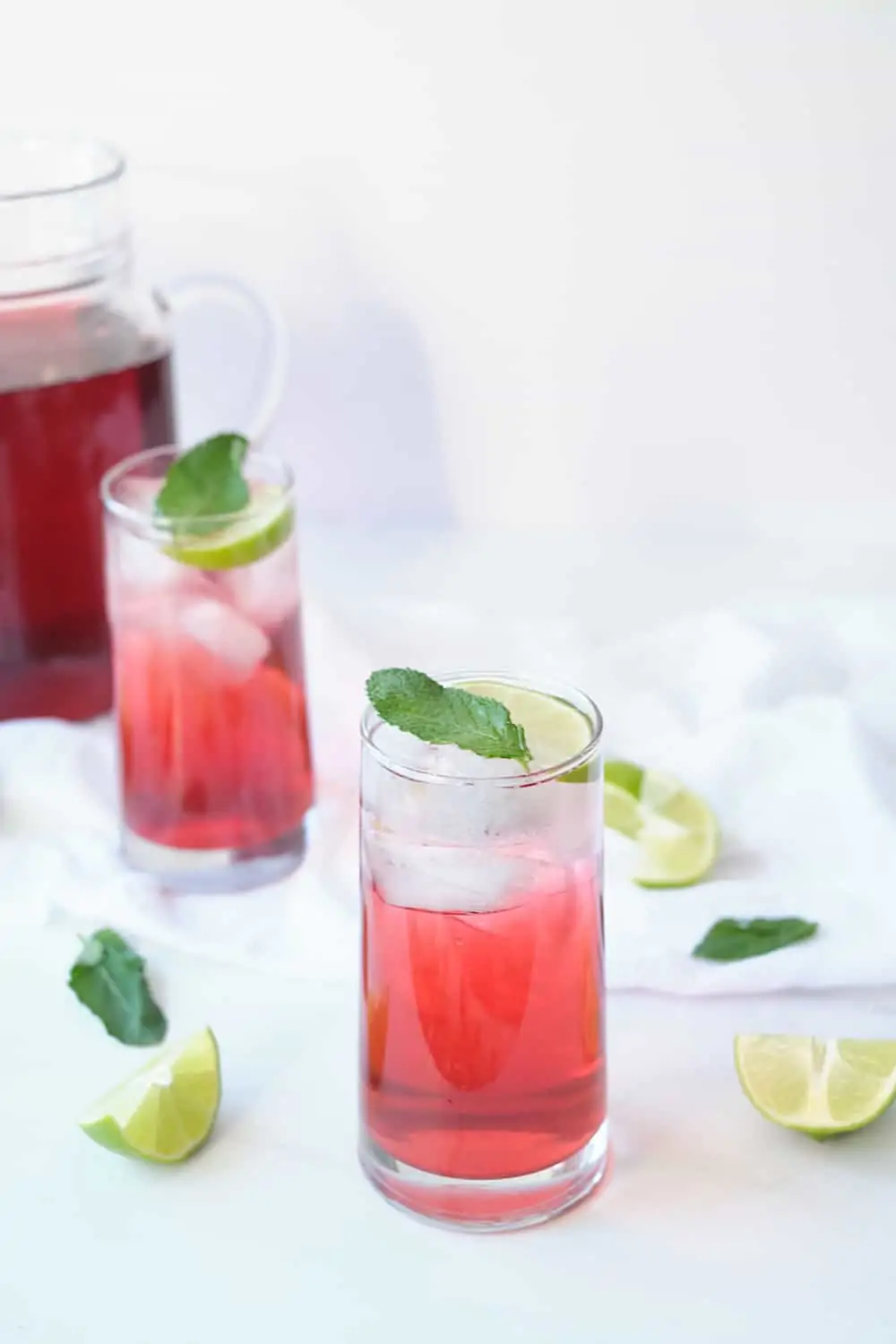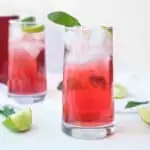 Print
Iced Cold Brew Hibiscus Tea - Fresco de Flor de Jamaica
This healthy, cold brew Hibiscus Tea or Fresco de Rosa de Jamaica is a ruby-hued iced tea that's refreshing to enjoy any time of day.
Equipment
Pitcher

large pot

fine mesh sieve
Ingredients
6

cups

water

filtered, purified or distilled

1

cup

dried hibiscus flowers or flor de jamaica

1/2

cup

apple juice

preferably no sugar added, low acid - not apple cider

fresh mint and slices of lime
Instructions
Place the dried hibiscus flowers in a large glass jar, bowl or pot.

To make the concentrate, pour three cups of purified cold water over the flowers.

Allow the flowers to steep in the water for at least two hours but not longer than 4 hours.

Strain the concentrate through a fine mesh sieve, strainer or colander with small holes (or lined with cheesecloth) into a large glass serving pitcher. Discard or reserve the steeped flowers.

Chill for several hours. Add the remaining three cups of water to the concentrate in the pitcher. Stir gently.

Add apple juice to the pitcher to taste according to your sweetness preference.

Stir and serve in tall glasses over ice.

Garnish with fresh mint and lime.
Notes
This cold-brew hibiscus tea recipe uses apple juice instead of refined sugar for sweetness. Add it to taste depending on the tartness of the flowers you purchase and your own preference.
Store the prepared iced tea in the refrigerator for up to five days.

Reserve the flowers for use in a recipe (tacos de Jamaica or salsa) or discard.
Note: Nutritional information is created by online calculators so the figures are only estimates.
Nutrition
Calories:
24
kcal
|
Carbohydrates:
5
g
|
Protein:
1
g
|
Fat:
1
g
|
Saturated Fat:
1
g
|
Polyunsaturated Fat:
1
g
|
Monounsaturated Fat:
1
g
|
Sodium:
14
mg
|
Potassium:
24
mg
|
Fiber:
1
g
|
Sugar:
4
g
|
Vitamin A:
117
IU
|
Vitamin C:
7
mg
|
Calcium:
9
mg
|
Iron:
3
mg
Save to Pinterest!
Dividing her time between Canada, Guatemala and Mexico (or the nearest tropical beach), Michele Peterson is the founder of A Taste for Travel. Her award-winning travel and food writing has appeared in Lonely Planet's cookbook Mexico: From the Source, National Geographic Traveler, Fodor's and 100+ other publications.
Read more about Michele Peterson.