We may earn income from links in this post. Please read this Disclosure for details.
Wraps are one of the best food ideas for a meal on a boat, a beach picnic or road trip. They're easy to make in advance, portable and mess-free!
There's also no limit to the delicious flavour combinations. From burritos to spring rolls, almost every world cuisine has a wrapped food of some sort!
Why We Love Wraps for Easy Meals on a Boat
If there's one thing I've learned since we bought our boat (I'm still working on rope knots!) is that planning for a meal on a boat is quite different than planning a patio party.
Our pontoon boat seats 8-10 people — it's a bit like a party barge — but with just a tiny table there's not much space for meal prep or buffet-style lunches.
Dining on deck means eating with fewer utensils, serving platters and plates. This is where wraps come to the rescue!
Tortilla wrap meals-to-go are definitely one of the best foods to take on a boat (or a road trip) because:
They're compact! You can roll them up individually and pack dozens into a soft-sided cooler bag, saving room for floating noodles, towels, fishing gear, you name it!
Unlike sandwiches they don't get soggy.
Another beauty of a wrap is that they chill easily and stay cool longer than sandwiches and many other foods.
They're not messy! Traditional picnic foods like fried chicken or hot dogs slathered with mustard can easily stain the plush upholstery on a pontoon boat.
Wraps are easy to eat if you're bobbing around on the water. No worries about spills.
A wrap is a super versatile food to eat on a boat. There are so many variations of fillings for wraps you can sample global flavours with very little effort.
For another nutritious lunch idea, try our recipe for a Chipotle Chicken Burrito Bowl. It's also super portable so perfect for a meal on the go.
Planning For Boat Lunches – Food Safety, Packing and Serving
When planning a meal on a boat, one major consideration is the number of people. Everything really does taste better outdoors! So with appetites in overdrive, it's a good idea to make more food than usual. When we're boating on Rice Lake where there aren't any places to easily pick up extra food, I usually count on 1.5 portions per person.
Bring snacks to fill in the gaps so people don't get famished. Check out this list of our favourite 15 Healthy Boat Snacks for fun and tasty ideas.
If you have a crowd, it's easiest to roll the wraps individually in plastic film, chill and stack inside a soft-sided cooler lined with an ice-pack. In addition to using ice packs, keep your cooler out of the sun.
Our Bennington pontoon came with a collapsible cooler that fits perfectly in the seat storage area, but any insulated bag will do. They take up a lot less space than a hard-sided cooler with wheels. Some insulated coolers even come with a 12 volt battery that can be plugged in and keep food cold even longer.
Keeping food cold is important for food safety. Chill your food thoroughly at 4°C (40°F) or colder in the refrigerator until ready to pack it.
Another option is to use a divided plate with a cover. These bento box style containers are really handy. Food cools faster in shallow containers plus you can put a wrap in one section, a salad in the other and a snack in the other. They're also environmentally friendly.
To reduce reliance on single-use plastic, I'm a big fan of the GoSun collection of cutlery. Their flatware combo of knife, fork and spoon in stainless steel is so compact, it's actually smaller than a credit card.
Tips on How to Fold a Tortilla Wrap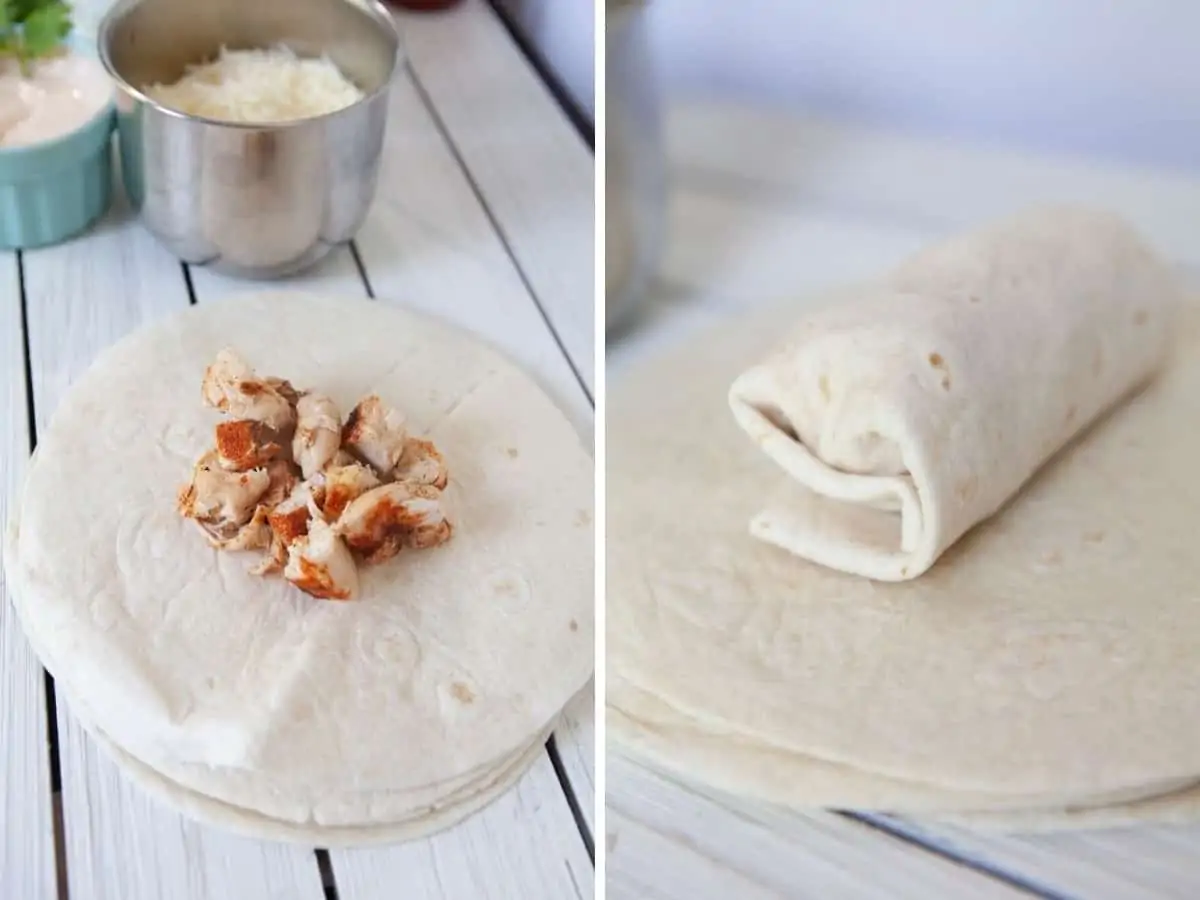 Begin by warming the wrap so it doesn't tear. There are several methods of warming a wrap. You can warm a stack of wraps in the microwave ( 10 seconds on high), in a 350 F oven wrapped in foil for 15 minutes or individually in a dry skillet until soft.
Once warmed, place the filling in the middle of the tortilla wrap. Fold the right and left sides over the filling, then fold the bottom edge over the centre and roll it upward until the sides and filling are enclosed.
While every wrap recipe is different, avoid using too much filling or they'll tear or overflow. Generally one cup of filling plus lettuce and/or other veggies is plenty.
20 Globally-Inspired Wraps - Best Boat Food Ideas for Summer
Whether you call them tortilla wraps, burritos or handheld meals, these wrap recipes are among the best boat food ideas for lunch on the water.
Discover a world of flavour in this collection of easy tortilla wraps to take boating, on a road trip or picnic!
You Might Also Like: Best Boating Drinks to Try This Summer
Save to Pinterest!
Dividing her time between Canada, Guatemala and Mexico (or the nearest tropical beach), Michele Peterson is the founder of A Taste for Travel. Her award-winning travel and food writing has appeared in Lonely Planet's cookbook Mexico: From the Source, National Geographic Traveler, Fodor's and 100+ other publications.
Read more about Michele Peterson.