We may earn income from links in this post. Please read this Disclosure for details.
Love to cook and travel? Then you're likely to encounter a surprise or two when renting an Airbnb or vacation apartment. While having your own kitchen lets you live like a local and cook healthy meals, Airbnb essentials and standards vary widely.
Be prepared for the unexpected with these tips from Gigi Griffis of Gigi Griffis on how to cook in an Airbnb without losing your mind – or a finger.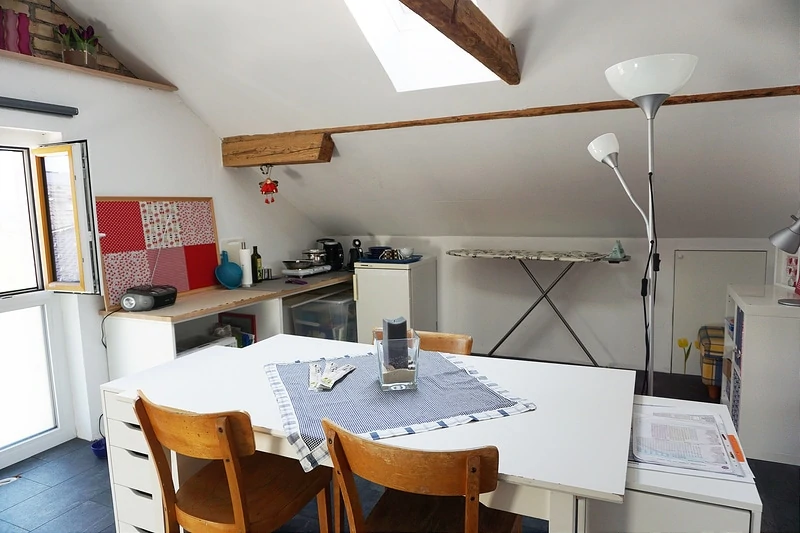 I've just arrived in Minneapolis and checked into my Airbnb. The décor is pleasant. The location's great. And in the kitchen I find …a full liquor cabinet, about 33 mugs, and no water glasses.
Well, I think, this is going to be interesting.
The good news is that I'm no stranger to strange Airbnb kitchens. Two spoons and 35 forks? I've seen it. Five wine openers and no oven-safe dish ware? That's happened more than once.
No measuring cups or mixing bowls when I desperately want to make cookies? Bring. It. On.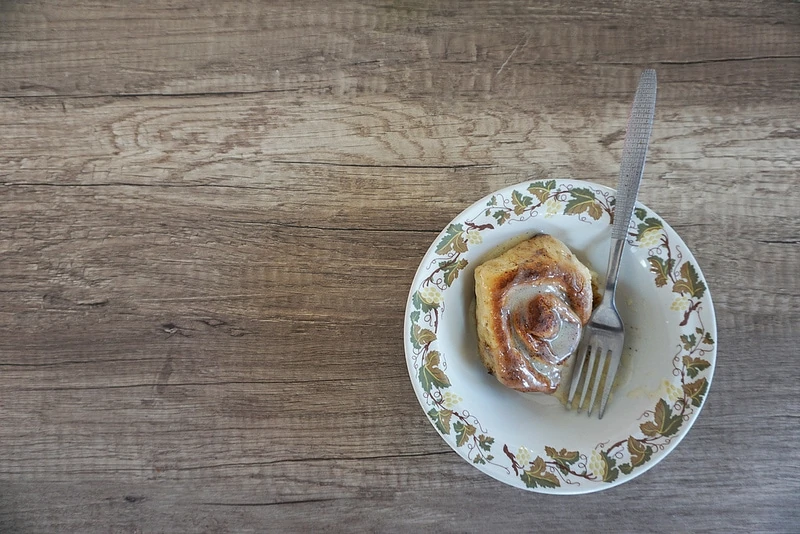 You see, I'm a devoted home cook. I love cooking. It's meditative and creative and, as someone who's day job is all about looking at computer screens, it's a refreshing change of pace.
I also happen to be a full-time traveler. I've been on the road for almost seven years now, dragging my partner and my tiny dog to top-floor apartments in old Italian villas and farmhouses in the Swiss Alps and sunny rooms in Arizona ranch houses.
Insider tip: Check out these picks for the best family-friendly Airbnbs in Europe.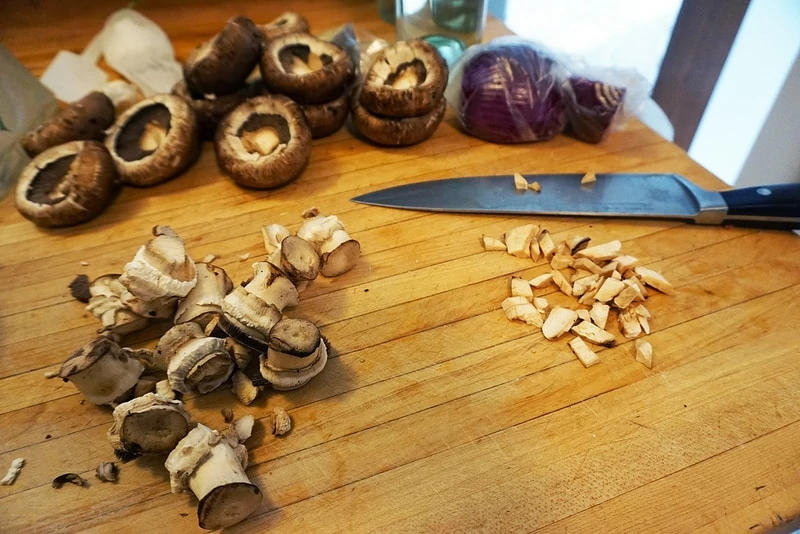 Along the way, I've cooked risotto in hotel bathrooms (don't try that at home, kids) and assembled no-cook meals in the back of a hatchback car. And I've cooked thousands of meals in Airbnb kitchens of wildly varying quality around the world.
Check out this off-the-grid AirBnB cabin in Vermont to see an example of the memorable but rustic wilderness cooking adventures you might encounter!
If you're also a devoted home cook and about to embark on some serious travel, here are 10 handy tips on how to cook in an Airbnb kitchen.
1. Carry Some Spices
These are your Airbnb essentials. I can almost guarantee that your Airbnb isn't going to have anything beyond salt and maybe pepper.
Which is why I travel with my own little spice kit. If there are spices you use a lot, take a little with you! They weigh almost nothing and take up little space.
My own spice kit varies based on my current cooking mood and seasonality. Right now, I've got cinnamon, cloves, nutmeg, cumin, and a little grinder full of peppercorns.
2. Pack Your Own Knife
A good knife is one of the top things to bring to an Airbnb. I know other home cooks who travel with a chef's knife, and I think eventually that'll be in the cards for me. For now, to keep weight and space down in my bag, I carry a small knife that I can use in a pinch for just about anything except squash.
It's great if all the knives at your Airbnb are dangerously dull (which happens a lot) and it's equally great when you have to lunch on an Italian train and need to cut up some cheese or salami.
Check out this handy travel knife set on Amazon: Top Chef by Master Cutlery 5-Piece Chef Basic Knife Set with Nylon Carrying Case
3. Budget for Occasional Kitchen Purchases
Once you've found your perfect Airbnb apartment rental, it's worth contacting your host in advance to inquire about the supplies in their kitchen.
Is there a frying pan, a coffee maker, blender or a stock pot? What about utensils, pot holders, sheet pans, dinner plates, bowls, mugs and glassware?
If your Airbnb host knows you are planning to cook in the kitchen they might be willing to purchase any gaps in the list of kitchen essentials or move them from another Airbnb unit they operate to yours.
Upon arrival, I might ask my hosts to bring me something that's missing, but sometimes that's just too much of a hassle. I might also need a sharp knife or a pie pan immediately. Rater than waiting this means it's off to the grocery store to buy aluminum pie tins or the secondhand store where you'll find pretty much any cookware you need on the cheap.
I've purchased knives in Spain, measuring cups in Switzerland, etc. and I've always been happy that I did. A few bucks here and there for my kitchen happiness is absolutely worth it to me.
4. Have Some Clever Equivalents Up Your Sleeve
First, free yourself from the idea that you need to have exactly one teaspoon of sugar or precisely one cup of sliced carrots for a recipe to work. Taste as you go and you can always add more along the way.
Once you've done that, you can find creative ways to get almost-exact measurements even if your Airbnb doesn't have measuring cups (most don't).
One cup, for instance, is about the size of a baseball. A 3-oz serving of chicken is the size of a deck of cards. WebMD's guide is helpful on the visuals to a point.
It's also useful to know that you can measure ounces with a shot glass. And there are probably a few things in your kitchen with measurements actually on them. Why not try measuring in a coffee pot or using the markings on a stick of butter?
And for baking, a lot comes down to the feel of the dough. Pasta-dough should feel like an earlobe when it's ready. Cookie dough should feel sticky but not wet. Cake batter should be smooth. Pie crust should be a little flakier, barely wet enough to hold together.
5. Use Your Hands as Kitchen Utensils
If your Airbnb has whisks and stirring spoons, count yourself among the lucky few. If you don't have them, don't despair. A fork and some gumption will do for whisking in many cases.
A regular spoon should do okay for things like cake or sauces. And for homemade pasta, cookies, or breads, there's nothing better than some very thoroughly cleaned hands.
Honestly, now that I've become a literal hand-mixer, I kind of prefer it. I've gotten to know the textures of what I make and they've given me the confidence to continue attempting more precise types of cooking and baking (like cookies) without measuring cups or scales.
6. Check Your Kitchen Supplies Before You Shop
I used to buy whole chickens before I realized I had no oven-safe pans in my Airbnb. It's much better to know the score and decide up front whether you'll be taking a trip to the thrift store for some Pyrex or if you want to buy chicken parts and cook them up on the stovetop.
7. View Your Airbnb as a Challenge—and Get Creative.
This is your MasterChef debut. Can you make chocolate truffles in a coffee maker? Can you make cake without a cake pan? Is there anything else in your Airbnb kitchen that can stand in for a spatula?
This is your chance to get creative—come success or failure.
Because the truth is that you can grate potatoes instead of mashing them and come up with a similar consistency. And sauteeing in a smaller pan often just means doing a couple portions separately.
8. Have an Edible Backup Plan
Nobody gets it right all the time. In fact, the time you most want to get it right is probably the time when disaster will strike.
And that's fine. I always have a restaurant recommendation or nearby takeout option at the ready. Even with every kitchen gadget you can imagine, sometimes things just go wrong.
Personally, the first meal I ever cooked for my now-long-term-partner was one of the worst things I've put in a plate in a decade. The man still lives with me three years later.
9. Let the Kitchen Lead the Way
The easiest thing to do is simply not to fight your kitchen. Our Airbnb in Georgia (the country) this winter had an enormous soup pot and no smaller pots.
So what did I make on our first foray into the kitchen? A giant pot of soup with fresh ingredients from the local market.
10. Choose the Right Meals to Cook at an Airbnb
Okay, so now that we've prepped with all of our Airbnb essentials, what exactly should we cook up in our Airbnb kitchen? You've already heard me say that the easiest thing is to let the kitchen be your guide, but here are a few things I come back to again and again no matter what the kitchen looks like.
Soup is one of the top things to make in an Airbnb kitchen. All you need is a big pot and a knife, so this is a good pick for Airbnb cooking. My soup recipe changes based on the ingredients I can get at the local market, but it almost always starts with chicken.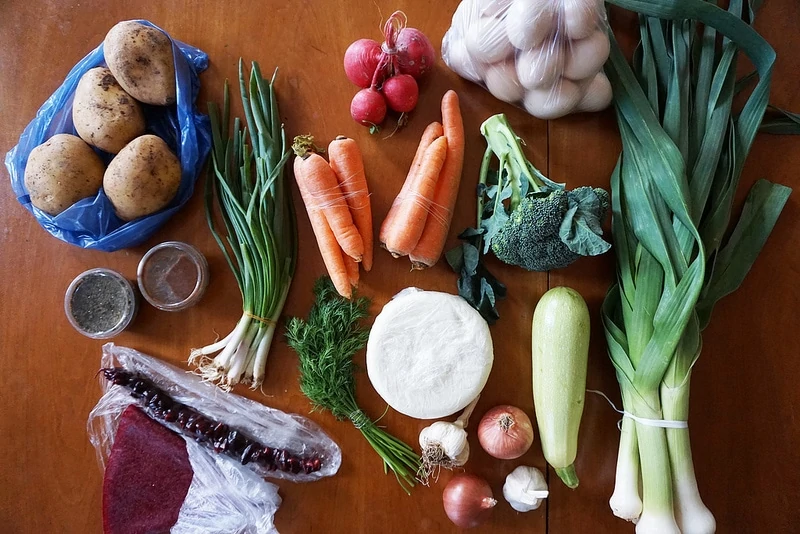 If I have chicken bones, I use those to make a stock (simmer in a large pot or crock pot on low heat for 8+ hours with onion, garlic, salt, and herbs, then strain out the bones and veggies and keep the liquid).
If not, you can either use bone-in chicken (I like to use drumsticks) or buy stock if it's available wherever you are. Once you have the stock, the rest of the soup-making is a breeze.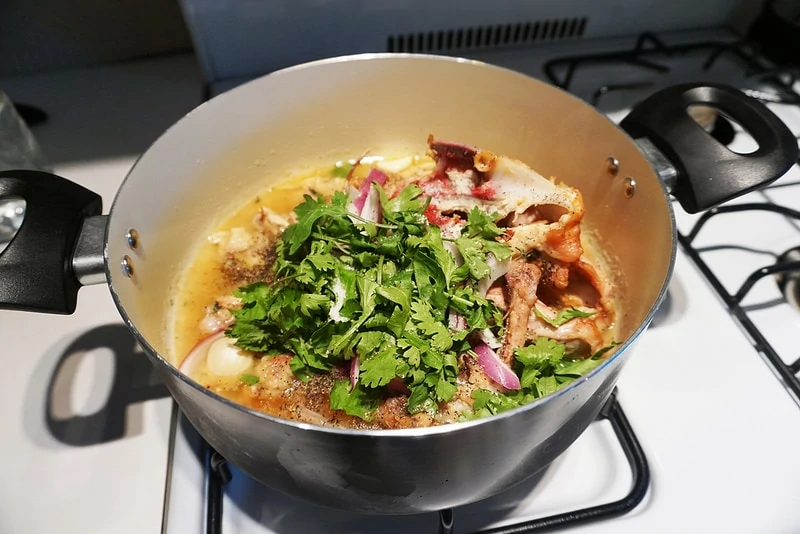 Chop up your preferred soup ingredients (for me, that usually means leeks, carrots, potatoes, onions, herbs, chicken, and maybe noodles or rice).
Add spices and salt and taste regularly to make sure the spice level is what you like. And simmer until veggies are tender/pasta is done.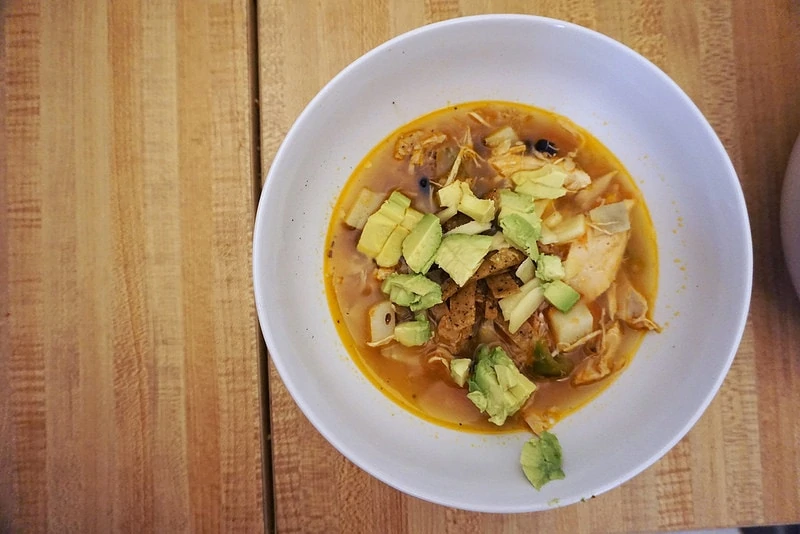 I also like this zucchini soup recipe, although you'll need a blender in your Airbnb to make it.
Another easy vacation meal to cook is an omelet. All you need to make passable omelet is a pan and a spatula. I love this as a travel meal for kitchenette cooking because eggs are a great way to showcase local ingredients.
Make an omelet with the famous peppers of France's Basque Country if you're there. Try one with Parma ham in Parma, Italy. Mix up one with local Alp cheese in Switzerland.
Now, to you, fellow foodies. Any tricks up your sleeves for Airbnb cooking? I'd love to hear them.
BIO of Gigi Griffis of The Vicious Foodie
Gigi Griffis is a world-traveling entrepreneur and writer with a special love for all things European food. She's a pain in the butt to travel with because she'll make you go to every farmers market twice, but she's also pretty good at finding the best food a place has to offer.
You can find her at Gigi Griffis .
Insider Tip
In Puerto Escondido and Playa del Carmen Mexico many guests return to rent the same Airbnb or vacation rental for the winter season, year after year.
Those who love to cook often ask their Airbnb host to store their favourite cooking essentials in a plastic box within the bodega or storage unit of the vacation rental home so their kitchen equipment is waiting for them on their return the following year.
Saving Money on Your Airbnb
One of the reasons people love Airbnb is that the cost of a guest room or fully-serviced apartment is often much lower than the cost for a hotel room. That's not always the case so it's worth doing your research in advance.
If you've never tried Airbnb, get a coupon to save $45 off your first Airbnb rental. If you're already an Airbnb fan, there's even a travel hack so you can get the coupon too!
Check out these Airbnbs we love in Playa del Carmen, Mexico.
Save to Pinterest!