We may earn income from links in this post. Please read this Disclosure for details.
This collection of today's best canned salmon recipes is proof that tinned salmon doesn't have to be boring!
Have you ever looked in your pantry and wondered what you can make with those tins of salmon? Then you'll love this list of recipes featuring canned salmon.
From salmon nachos, salmon sliders, pasta with salmon and more, there are lot of ideas for ways to cook canned salmon.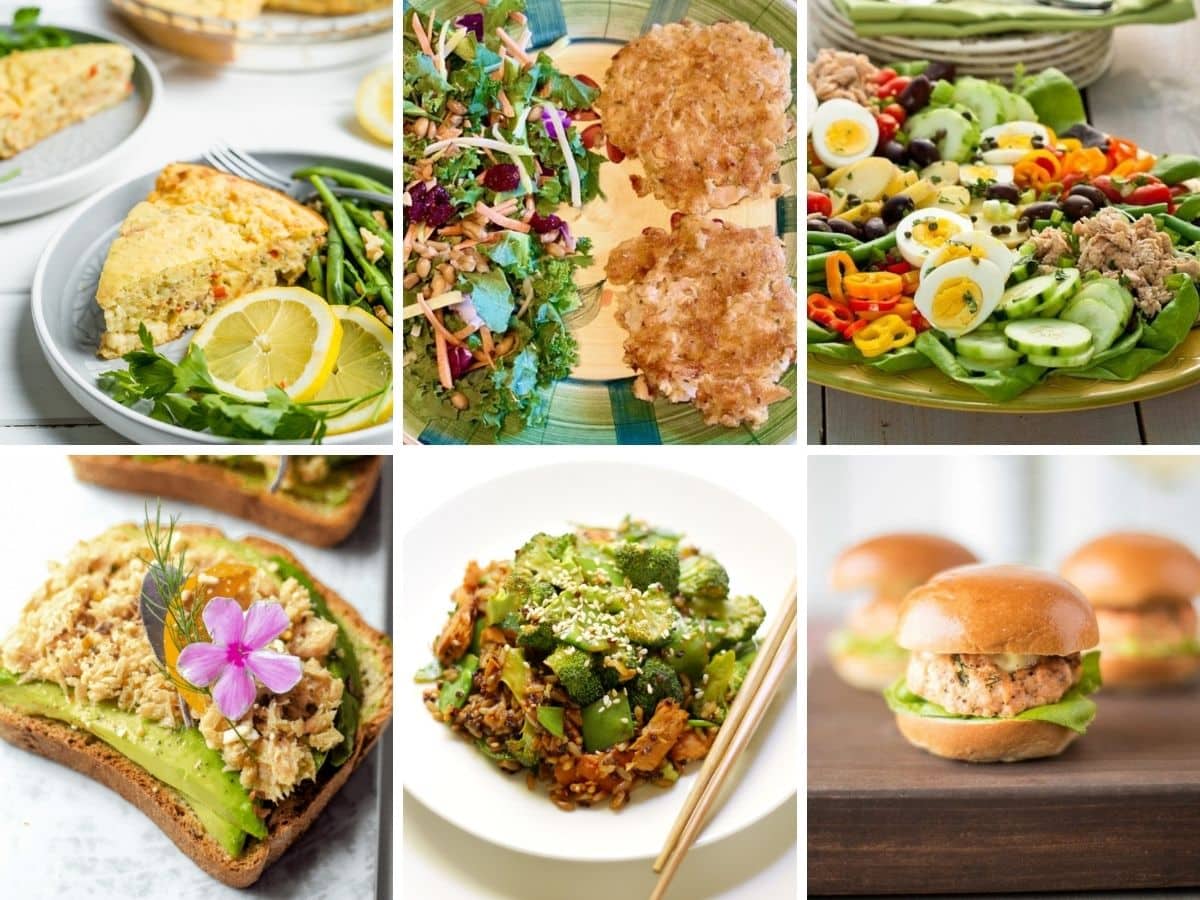 They're all fun, easy to make and delicious!
Both pink and red canned salmon also happen to be high in protein. Salmon is packed with heart-healthy omega-3 fats making it a great option when you're looking for a nutritious meals from shelf-stable ingredients in your pantry.
There are even some fantastic paleo, GF and low carb recipes to choose from!
20 Delicious Canned Salmon Recipes To Try Right Now
Discover a whole new world of delicious dinner options with these exciting recipes featuring heart-healthy canned salmon.
You'll never wonder what to make with tinned salmon with this collection of easy recipes using red and pink salmon in a can.
How to Shop for Canned Salmon
According to nutritionists, salmon is one of the best canned foods to have in your pantry. It's versatile, resists spoilage and is relatively economical.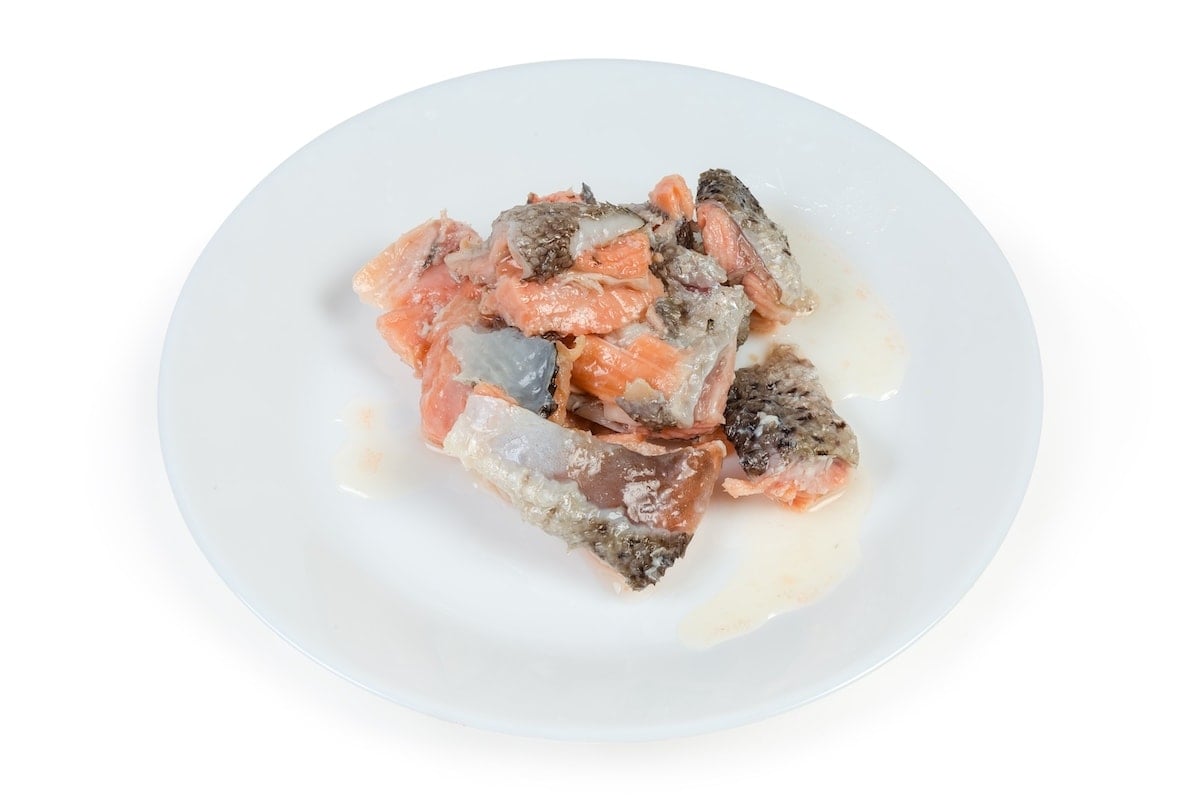 But there are important food safety guidelines to consider when choosing, storing and using canned goods:
Check the quality of the packaging. Don't purchase cans that are dented, leaking, cracked or have bulging lids.
Watch for BPA. Bisphenol A is a synthetic compound used in the lining of canned foods. Although most manufacturers have stopped using BPA to make their cans, it's worth being extra safe by choosing canned foods labelled BPA-free.
Although canned foods aren't required to display a best before date, many do. Avoid cans that are dusty or have ripped labels as that may indicate they've been on the shelf for a long time.
Pink, Sockeye, Chinook and Chum (Keta, Chub) salmon are caught in wild fisheries in the Pacific Ocean while Atlantic salmon is usually farm raised.
Look for canned salmon with the blue MSC label which means the fish is from a fishery certified by the Marine Stewardship Council (MSC). This certification standard considers best practices for sustainability of fish stocks, environmental impact and effective fisheries management.
FAQ About Cooking with Salmon in a Can
Do you need to cook canned salmon?
No, tinned salmon is already cooked so you can actually eat it right out of the can. Or, use it right away in a recipe.
Do you need to remove the bones?
The bones in canned salmon are edible and provide valuable nutrients such as calcium. But certain recipes, such as those where a smooth texture is important, require the bones be removed before using. It's also possible to purchase boneless, tinned salmon.
You Might Also Like These Seafood Recipes
Save to Pinterest!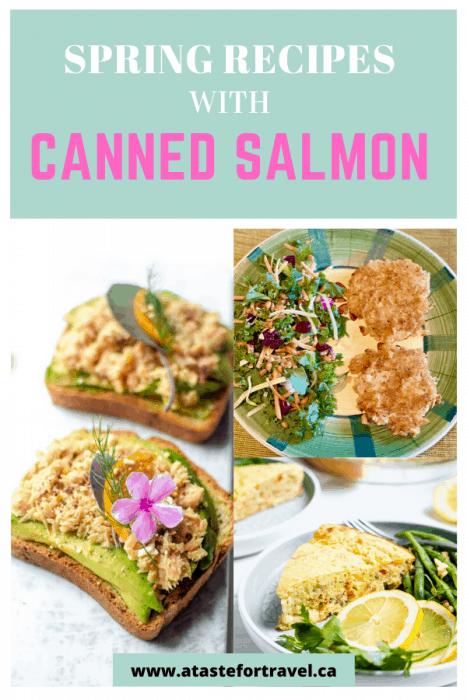 Dividing her time between Canada, Guatemala and Mexico (or the nearest tropical beach), Michele Peterson is the founder of A Taste for Travel. Her award-winning travel and food writing has appeared in Lonely Planet's cookbook Mexico: From the Source, National Geographic Traveler, Fodor's and 100+ other publications.
View more posts by Michele Peterson Read more