We may earn income from links in this post. Please read this Disclosure for details.
This authentic recipe for tortas de huauzontle, features the traditional Mexican vegetable wrapped in a light batter bathed in tomato sauce. It makes a satisfying vegetarian lunch that's packed with protein, vitamins and minerals.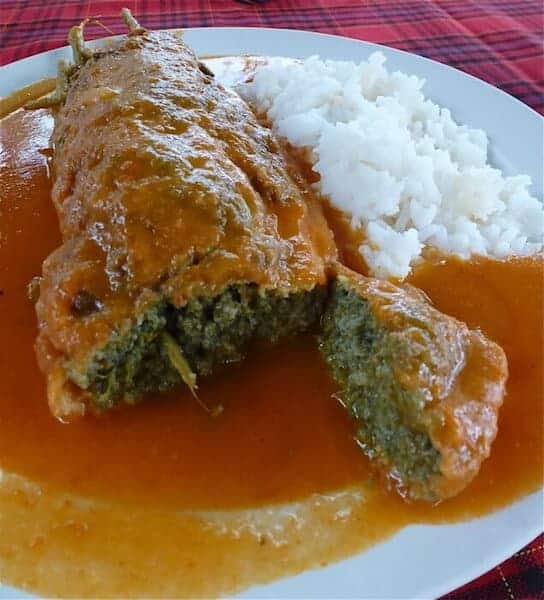 Huauzontle — I couldn't pronounce it but knew I wanted to eat it. Cultivation of this high-protein, heirloom vegetable dates back to pre-Colombian times when archeological records show it was so prized in the Aztec civilization, it was used as tribute and in religious ceremonies.
It was banished by the Spanish conquistadores and joined the ranks of forgotten and overlooked vegetables where it languished for centuries. Now it's enjoying a resurgence in popularity, due to its delicious, slightly bitter flavour and high protein content. It's even possible to see it in Latin markets and purchase the seeds to grow at home.
I had the opportunity to sample huauzontle at el Jardin de Rafaela Restaurant, located on Zicatela Beach in Puerto Escondido.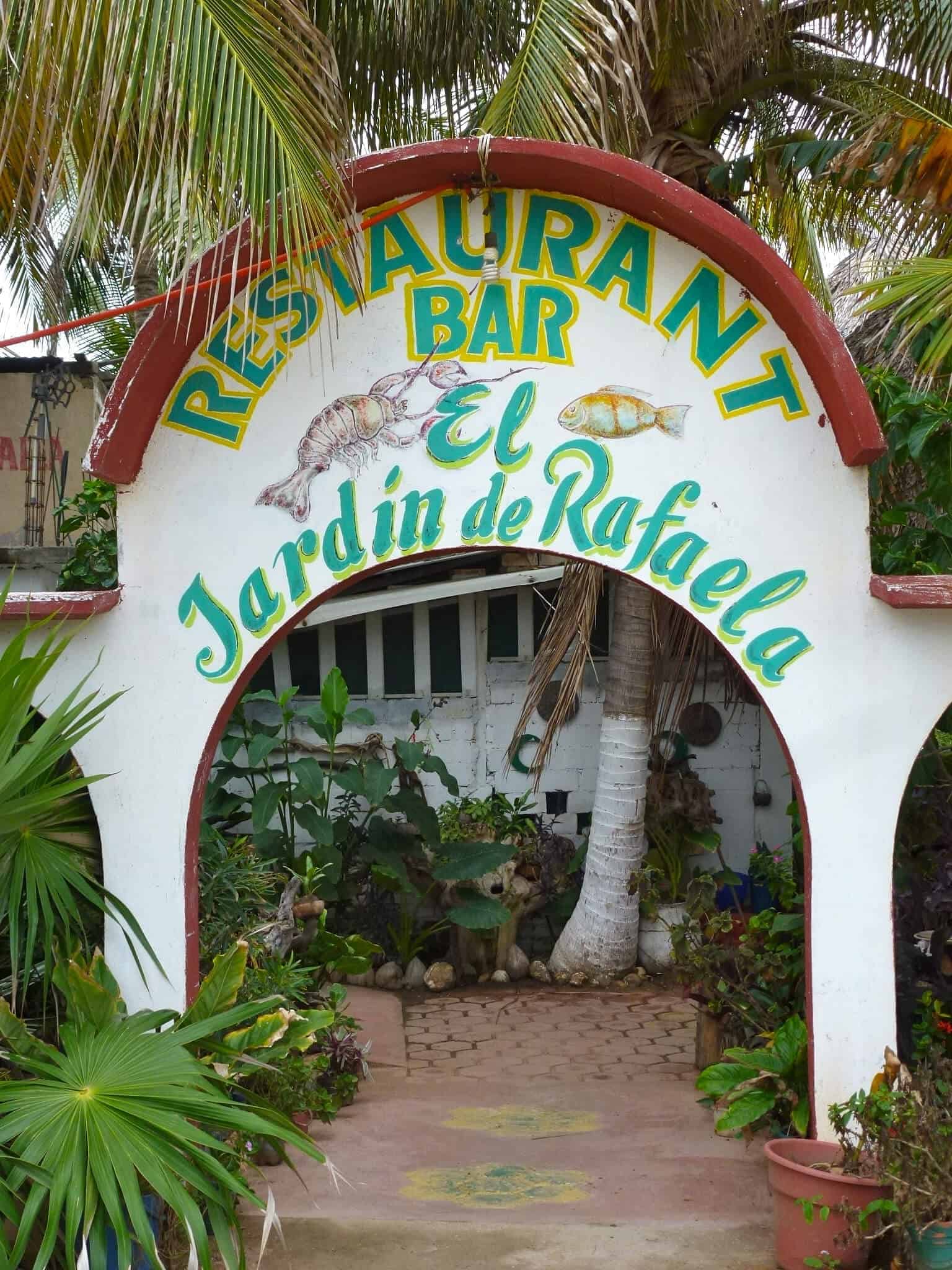 Gateway to goodness at El Jardin de Rafaela
Had I not been accompanied by dining companion, food guide and enthusiastic eater Gina Machorro, it would have been easy to walk right past the humble Puerto Escondido eatery.
It's hidden behind such a dense screen of palm trees across from Blater Hotel, it doesn't even look as though there's a kitchen there, let alone a complete collection of dining tables, hammocks and loungers.
It would have been a shame to miss El Jardin de Rafaela. For more than 20 years, Senora Rafaela Pineda Pineda has been cooking up authentic traditional Mexican dishes.
And because her cuisine reflect her roots in the state of Guerrero, she prepares regional dishes you won't find many other places in Puerto Escondido — like huauzontle.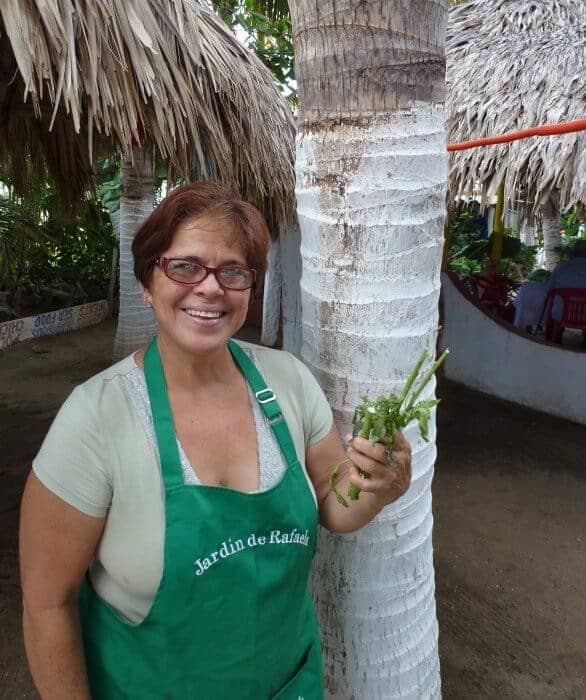 What is Huauzontle and How Do You Pronounce It?
Huauzontle pronounced "wah-zont-lay" is an ancient species of plant that's both cultivated and grown wild high in the Sierra Madre Sur mountains in Oaxaca as well as other regions of Mexico. Its botanical name is chenopodium nuttalliae and it's also part of the goosefoot family along with quinoa, lamb's quarters and amaranth.
Even in Mexico, it's relatively uncommon to see it sold in the markets every day. In Puerto Escondido, it's delivered by farmers only on Mondays and Fridays, so it has to be ordered a day or more in advance.
Fortunately for me, Gina had done her homework, made the required phone calls and Rafaela and her staff were waiting for us when we arrived.
Although slightly similar in spelling, Huauzontle should not be confused with Huitlacoche, an edible corn fungus that's also popular in Mexico and one of the top foods to try during a visit to Oaxaca.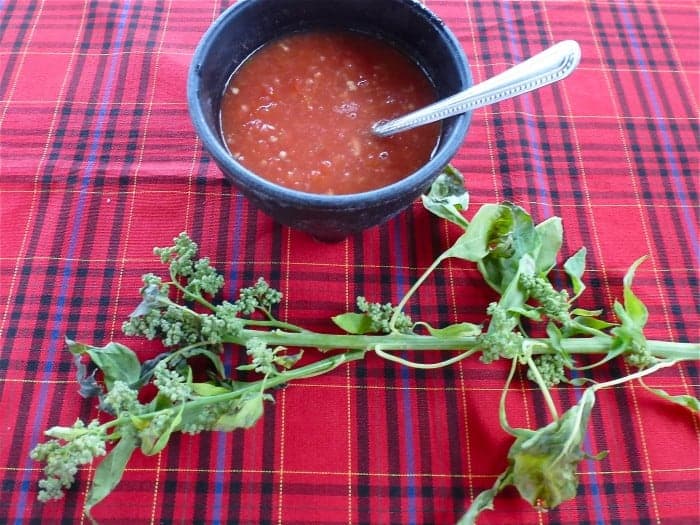 After a rather lengthy discussion about bee sting therapy (Rafaela's other specialty is apiterapia, the medical use of bee venom for healing neurological disorders, MS and chronic pain), Rafaela shared her recipe for huauzontle.
How to Clean and Prepare Tortas de Huauzontle
While it's possible to prepare another delicious variation which calls for removing the buds and seeds from the stalk and using them to create small bite-sized tortitas de huauzontle, Rafaela said the traditional way for her family to enjoy it is to batter it whole.
Handfuls of the thoroughly-washed and rinsed huauzontle (with the buds and seeds on the stalk) are first blanched until slightly tender. Then it's drained and separated into handfuls which will serve as individual portions.
Rafaela explained that she had prepared the vegetable by stuffing it with a stick of Oaxaca queso panela, a firm, salty white cheese. Then she rolled the vegetable and cheese mixture in flour.
The bundles are then dipped in batter. The batter is similar to the one used for making chile rellenos ( stuffed poblano peppers).
The batter is made by separating the eggs, beating the egg yolks until creamy and adding salt. Then, the egg whites are beaten until stiff and folded into the egg yolks.
The bundled coated in batter are then fried in several inches of vegetable oil until crispy. It's similar to my mother-in law's recipe for Guatemalan green bean fritters.
The tortas of huauzontle are then served topped with a simple tomato sauce with white rice and beans on the side.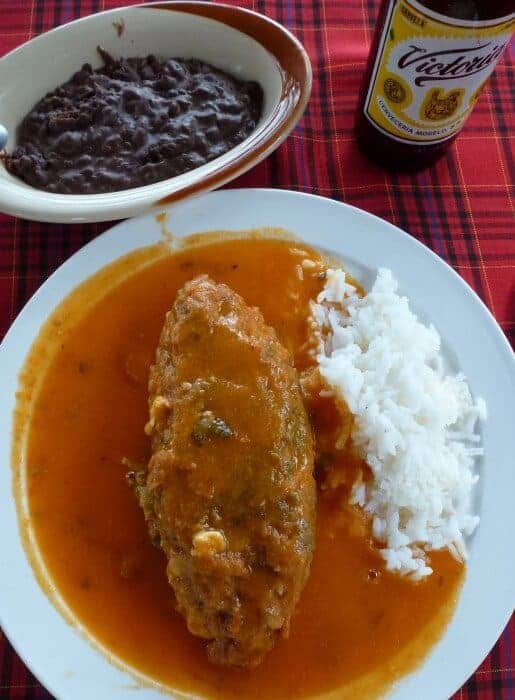 How to Eat Torta de Huauzontle
Eating the huauzontle looked a bit daunting at first glance. But I decided to follow Gina's lead which basically involved using your teeth to scrape the tender green buds off a stalk the size and shape of an enormous baby bottle brush.
Once I got the hang of it, I decided it's a bit like eating corn on the cob, which means you eat everything except the inside stalk!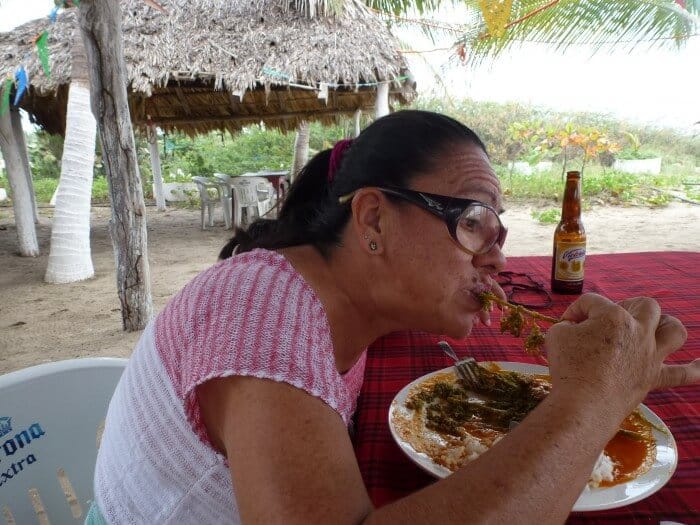 What Does Huauzontle Taste Like?
The taste of huauzontle seeds and buds are deliciously bitter, somewhat akin to rapini. But because huauzontle is a member of the quinoa family, the seeds also give it a slight hint of grainy earthy flavour. The stalk is not edible as it is too fibrous and extremely bitter.
Although you might have trouble remembering how to pronounce the word huauzontle, trust me, if you eat it once and you'll want it again and again.
While we ate, I discovered that Rafaela has a treasure trove of other dishes that aren't on the menu. She even makes my all-time fave dish — chile rellenos, which are poblano peppers stuffed with chicken, cheese, potato or beef picadillo.
I'll definitely be returning to el Jardin de Rafaela for more off-the-menu adventures and I'll be making this dish whenever I spot a bunch of huauzontle or goosefoot.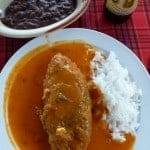 Print
Tortas de Huauzontle
This authentic recipe for torta de huauzontle, features the whole stalk of the traditional Mexican vegetable wrapped in a light batter bathed in tomato sauce. It makes a satisfying vegetarian lunch that's packed with vitamins and minerals.
Ingredients
1

bunch

huauzontle

4

eggs

separated

1

cup

flour

8

ounces

queso panela

5

tablespoon

vegetable oil
Instructions
Clean and wash the huauzontle carefully to remove any dirt and grit.

Cook the entire stalk, seeds and leaves in a large pot of boiling, salted water for 5 minutes. Allow it to cool and drain throughly.

Prepare the batter by separating the eggs, beating the egg whites until stiff then beating the egg yolks until creamy. Gently fold the egg whites into the egg yolks.

Cut the panela cheese into long pieces.

Divide the huauzontle into four portion-sized bundles and tuck the pieces of cheese into the seed and leafy sections of the cooled, drained huauzontle stalks.

Then roll each bundle in flour, dip it into the batter and drop into the hot vegetable oil and fry until golden brown.

Serve with a simple tomato sauce and a bowl of black beans.
Notes
You can substitute rapini for the huauzontle if you'd like to try this recipe but can't find huauzontle. In that case, you should chop the rapini into pieces before putting it in batter.
Feta cheese, mozzarella or Monterrey Jack can be used instead of the panela cheese.
Note: Nutritional information is provided as a courtesy and is not guaranteed to be accurate. It is created by online calculators and although we attempt to provide accurate nutritional information, the figures are only estimates.
Nutrition
Calories:
1936
kcal
|
Carbohydrates:
112
g
|
Protein:
74
g
|
Fat:
134
g
|
Saturated Fat:
94
g
|
Cholesterol:
856
mg
|
Sodium:
2858
mg
|
Potassium:
960
mg
|
Fiber:
9
g
|
Sugar:
11
g
|
Vitamin A:
7835
IU
|
Vitamin C:
45.6
mg
|
Calcium:
1480
mg
|
Iron:
15.2
mg
Try Huauzontle at Source in Puerto Escondido, Mexico
The scoop: You won't find huauzontle on the menu so you need to call a day in advance to place your order. it's delivered by farmers only on Mondays and Fridays so place your order in advance of those days. Plan to spend a few hours relaxing overlooking the Mexican pipeline surf or book a bee sting treatment.
Location: Located oceanside on Calle del Morro in Colonia Santa Maria next to the Hotel Blater Beach Club past Azucenas.
Phone: 954 109-2512
Cost: The menu items at el Jardin de Rafaela cost from 50 pesos to 130 pesos for main courses ( $5 – $10 USD). My meal was around 120 pesos ( including the beer).
Hours: 8:00 am- 11:00 pm daily
Food Tours: Contact Gina Machorro (GinainPuerto@yahoo.com) for more culinary adventures, such as her delicious walking tour of Puerto Escondido. Book in advance for her market tour.
Grow Your Own: It's also possible to purchase the seeds for this specialty vegetable and grow your own huauzontle in a home garden much as you would quinoa. One source for the seeds is the Wild Garden Seed website.
Dividing her time between Canada, Guatemala and Mexico (or the nearest tropical beach), Michele Peterson is the founder of A Taste for Travel. Her award-winning travel and food writing has appeared in Lonely Planet's cookbook Mexico: From the Source, National Geographic Traveler, Fodor's and 100+ other publications.
Read more about Michele Peterson.