We may earn income from links in this post. Please read this Disclosure for details.
Planning to study Spanish in Guatemala? There's no better place to learn Spanish than at a language school in the former colonial capital of Antigua.
This atmospheric city in the central highlands is filled with Spanish schools and also happens to be a convenient hub for taking day trips, tours and excursions to other regions of Guatemala.
Read our post on Amazing Things to Do in Guatemala for a taste of the many incredible experiences you can have in Guatemala.
I've studied Spanish in Xela, Panajachel and Antigua (as well as Honduras and throughout Mexico) and here's why I think Antigua is a top choice for learning Spanish.
Why Choose to Study Spanish in Guatemala?
If you're serious about learning Spanish, Guatemala is one of the world's leading locations. Antigua is home to over 30 language schools while Quetzaltenango (Xela) and Panajachel are also popular alternatives.
I chose Antigua because it was close to Guatemala City and tuition at Probigua was only $160 a week, plus a book donation, for 20 hours of one-on-one personal instruction.
Probigua wasn't the cheapest Spanish school, but I liked that it's a non-profit institution that provides mobile libraries for children in rural villages where there is no access to books.
Books had been such an important part of my life growing up, I think everyone should have the opportunity to read so it was the best choice for me.
I also liked that Probigua offers personalized instruction tailored to your current proficiency level.
Why is Antigua Your Best Choice for Studying Spanish in Central America?
If you're serious about learning Spanish, you need to invest more than a week to master the basics. Whether you're a beginner or an experienced Spanish speaker, it's best to plan for a month of language classes in order to make significant progress.
So this makes choosing a base for your language studies especially important.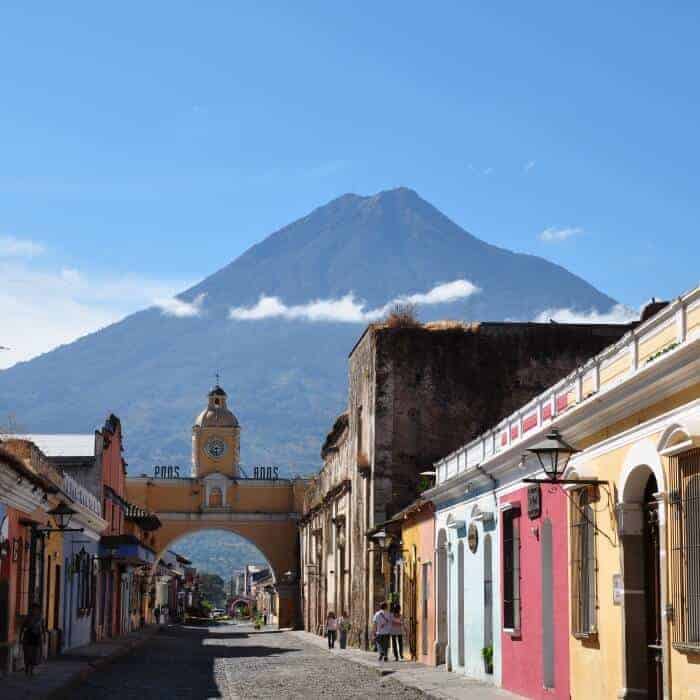 Here are the main reasons you should consider Antigua to study Spanish in Guatemala:
Antigua is a UNESCO World Heritage Site which means you'll be surrounded by beautiful colonial churches, atmospheric ruins, leafy parks and markets.
Unlike the city of Xela which is a large urban centre, Antigua is relatively small and walkable.
Although the city is walkable and much smaller than Xela or Guatemala City, there are enough interesting things to in Antigua — from photographing its colonial ruins to climbing to the Cerro de la Cruz — you can easily stay a week or longer and not get bored.
Antigua is close to Guatemala City ( less than an hour) which means it's easy to get to.
Antigua is a transportation hub for taking day trips and amazing excursions to coffee plantations, visiting the turtle-nesting beach of Monterrico, exploring the highlands and more.
Antigua also has a large ex-pat population, a well-established infrastructure of banks and a great food scene. While some people find it too touristy, I enjoyed spending time in the cafes, visiting art galleries and shopping for crafts.
If you plan ahead and time your visit to Antigua for Semana Santa, Dia del Diablo ( Dec.7) or Day of the Dead (Nov 1), you'll also be able to experience unique and memorable ceremonies such as the Giant Kite Festival in Sumpango, Guatemala or Quema del Diablo ( Burning of the Devil) without travelling far.
If you're worried about tropical diseases such as dengue fever, zika or chikungunya, Antigua (while not immune to mosquito-borne viruses) is less prone to outbreaks of these debilitating tropical diseases.
Antigua is also one of the safest destinations in Guatemala. This is especially important if you're travelling solo and want to go out in the evenings.
Read our guide on Is Guatemala Safe? 20 Tips for Safe Travel in Guatemala
Which Spanish School to Choose in Antigua Guatemala
It's actually possible to study Spanish online with a school in Guatemala. Personally I don't think that's the most enjoyable way to learn any language so I recommend that if at all possible, you try to budget for travel to Guatemala for one on one personalized lessons.
The costs are not as high as you might think. At the PROBIGUA school I attended, 4 hours of individual classes daily costs $160 USD plus a book donation.
You can study up to 7 hours a day if you're super keen (and have a larger budget). Group classes cost even less (see the Travel Planner below for more details).
In addition to classes, all schools offer plenty of extra activities from salsa dancing classes, cooking lessons, movies and excursions to coffee plantations.
Where to Stay When Studying Spanish in Antigua Guatemala
Home stay options are available at most Spanish language schools, but I wanted more privacy so I stayed at Posada La Merced, a nearby hotel with clean rooms, two garden courtyards, and a communal kitchen.
I loved the rooftop patio where you can see the whole town, the spires of crumbling churches punctuating the low relief of the short squat stucco buildings. My room was on the back patio. It got a bit noisy in the late afternoon with people coming and going but that didn't bother me much.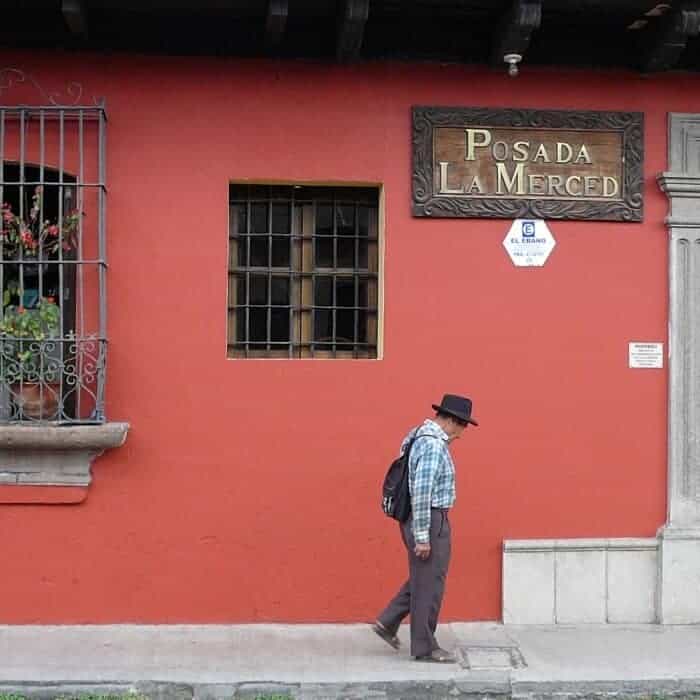 Around the corner is Hotel Casa Cristina where the best rooms (#11 and #12) come with a view of the volcano Long stay discounts are available. There are no kitchens at Hotel Casa Cristina.
Read more about 3 Budget Hotels You'll Love in Antigua, Guatemala
My Experience at a Spanish School in Antigua Guatemala
It was after midnight when the plane touched down in Guatemala City. The streets were clear of traffic and the moon had risen high above the jacaranda trees silhouetting Pacaya volcano, with its molten lava spilling out the cone. A short winding ride later, I neared my hotel in Antigua.
The streets were empty, the wrought-iron gates of the colonial homes locked up tight and the air chill as the driver jumped out and rang the buzzer. The sleepy doorman finally woke up and led me past a lantern-lit courtyard to my room.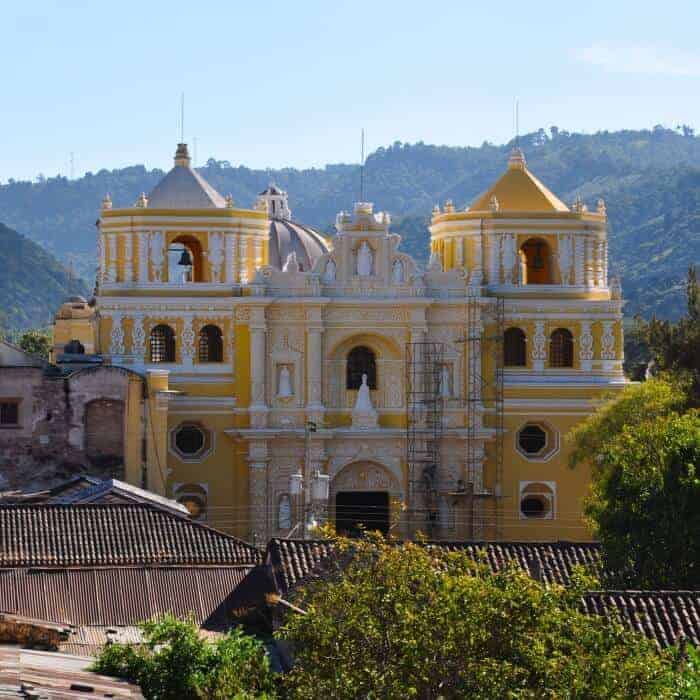 My plan was to take a crash course in Spanish. That might seem crazy since I'm married to a Guatemalan but my ad-hoc home schooling has resulted in huge gaps in vocabulary. I can talk about kitchen ingredients but if the conversation veers into religion or business I'm lost. I just don't have enough vocabulary. Often, I just stay silent, nodding demurely and leading people to think I'm shy — which is the opposite of the truth.
The next morning at Probigua Spanish School I met my teacher, Lucrecia, and she assessed my level of Spanish as intermediate and created a personalized training plan.
"I've been teaching here for six years" she said "and, after one week, if you work hard, you will get to here."
She pointed to the Future tense in my workbook. "But, if not, you ll get to here". The Past Preterite. Not one to live in the past, I vowed to diligently complete my homework. The lessons began that day. Soon my brain was going fuzzy.
"Only one more hour to go until la pausa or coffee break," she encouraged. I persevered and was rewarded with strong coffee and a bun from a woven basket. Coffee was served in an olla, a large earthenware urn. It was ladled into each student's mug, the delicious scent of coffee with a hint of cinnamon and cloves wafting up.
I used the coffee break to scout the premises. There were 20 pairs of students and teachers, seated at individual wooden tables, within an outdoor courtyard. Stone steps led to a garden patio shaded under pink bougainvillea. The break ended and another hour and a half of lessons began.
Just when I was sure I couldn't possibly speak one more word in Spanish, a bell sounded and we were done for the day, ready to go out into the world and converse with our new Spanish language words.
Travel Guide to Studying Spanish in Antigua Guatemala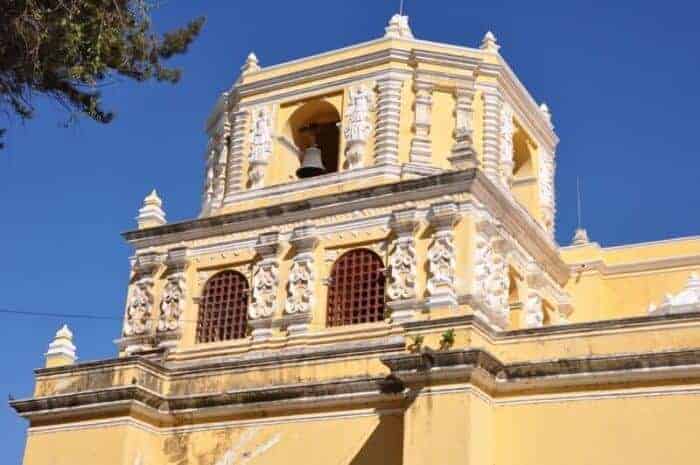 Disclosure: A Taste for Travel participates in affiliate advertising programs. Read more on our Disclosure Page.
What to See in Antigua: At the north end of Antigua is La Merced church, a confection of golden yellow stucco and glossy white trim, built in 1552. Inside is a 4 ton statue of the Black Christ which, during Holy Week, gets carried aloft by 80 men in a procession that moves slowly through the streets.
Costs: For one on one instruction, Probigua charges $160 USD for 20 hours a week, $180 USD for 25 hours a week (it's also possible to study 35 hours a week). Group classes ( 2 people or more) are $100 USD per person. It's definitely worth investing in a Spanish dictionary and a guide to Spanish verbs.
I've almost worn out my copy of 501 Spanish Verbs: Fully Conjugated in All the Tenses in a New Easy-To-Learn Format Alphabetically Arranged
Home Stay: The cost for a home stay for 7 days is $120 USD and this includes 3 meals a day.
Tours and Transportation: Adrenalina Tours offers shuttles from the airport direct to your hotel, from Tikal and other points in Guatemala and they've been doing business in Guatemala since 1987.
Teaching English in Guatemala: If you decide you'd like to stay in Antigua ( and many people do!), it's possible to get certified to teach English in just four weeks. Learn more about the Guatemala TEFL Program
Volunteering in Guatemala: Many of the Spanish Language schools offer opportunities to volunteer in the community. If you're considering this, please consider volunteering at Mayan Families in Panajachel on Lake Atitlan in the highlands. Read more about my experience Volunteering in Guatemala and Studying Spanish.
Travel to Mexico from Guatemala: It's also relatively easy and inexpensive to travel by shuttle bus from Antigua or Panajachel, Guatemala to San Cristobal de las Casas in Chiapas Mexico. Get detailed instructions in Night Bus to Guatemala.
Save to Pinterest!
Dividing her time between Canada, Guatemala and Mexico (or the nearest tropical beach), Michele Peterson is the founder of A Taste for Travel. Her award-winning travel and food writing has appeared in Lonely Planet's cookbook Mexico: From the Source, National Geographic Traveler, Fodor's and 100+ other publications.
Read more about Michele Peterson.