We may earn income from links in this post. Please read this Disclosure for details.
For two countries that once shared the mighty Maya empire, it's surprisingly difficult to travel from Oaxaca to Guatemala.
From Oaxaca, most people travel by bus via the sweaty town of Tapachula or they fly via Mexico City if they've got the money.
But there's another, more scenic (and economical) route to get from Oaxaca to Guatemala if you've got the time and your destination is Antigua, Guatemala City or Panajachel, Guatemala or Xela, Guatemala.
This route crosses the Sierra Madre de Chiapas mountains in Mexico into the highlands of Guatemala rather than through Tapachula along the coast.
It's relatively easy to do thanks to the direct overnight bus from Puerto Escondido in Oaxaca to San Cristobal de las Casas.
Here's a detailed look at how to do it. It's the route my friend Linda and I took from Puerto Escondido Oaxaca to Guatemala via San Cristóbal de las Casas, Chiapas.
You can also do this trip from the Bahias de Huatulco area.
Read on for what you need to know if you're planning to cross the border from Mexico to Guatemala via the Oaxaca and Chiapas route:
Bus from Puerto Escondido, Oaxaca to San Cristóbal, Chiapas, Mexico
13-14 hours by OCC or ADO bus
Travel Tips
Buy your ticket in advance. Buses to San Cristóbal de las Casas depart from the OCC Bus Station in Puerto Escondido in the evening. We booked two days prior to departure and many of the best seats (front of the bus) were already gone. The cost per ticket from Puerto Escondido to San Cristobal de Las Casas by bus is: 1,086 MXN pesos on First Class OCC and 1,282 MXN pesos on ADO Executive Class. Those prices were effective as of February 6, 2023 and are subject to change.
Purchase your shuttle ticket from San Cristobal to Guatemala in advance from a reputable company. We chose Adrenalina Tours and booked online. You need to book a minimum 48 hours in advance and pay via Paypal. The cost for a one-way door-to-door shared shuttle from a hotel in San Cristobal to Panajachel is $65 USD (effective November 2022). Keep your receipt in a safe place. As we discovered, you'll need it.
Plan to overnight in San Cristobal de las Casas as the shuttle buses depart at 6:00 am or 7:00 am for Guatemala and you won't arrive in San Cristobal early enough to make the connection.
Come prepared to get comfortable. These buses are first class but are not as deluxe as Executive Class buses. Bring a sweater, food and enough water to last several hours. There is one breakfast stop at around 4:00am but the comedor doesn't offer much in terms of food at that hour. A washroom at the back of the bus starts out clean but deteriorates fast as the journey progresses.
Expect to get to know your neighbour. The bus seats recline to an almost prone position, which means you'll be sprawled on the lap of the person behind you.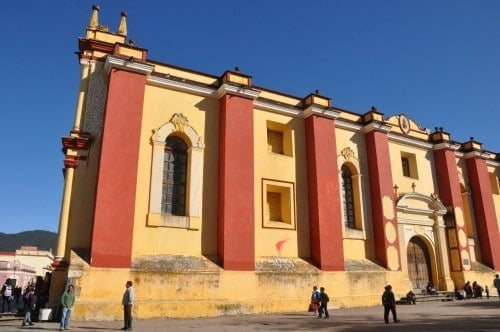 Oaxaca to Guatemala: Overnight in San Cristobal de las Casas
Travel Tips
To get from Oaxaca to Guatemala plan to overnight in San Cristobal. Founded in 1561 and designated a Pueblo Mágico ("Magical Village) by Mexico Tourism, it's a beautiful city filled with colonial architecture, cafes and the rich indigenous culture of the Tzotzil and Tzeltal.

Expect chilly temperatures. San Cristobal is located at an altitude of 6890 feet (2100 metres) above sea level so even though the sun may be shining by day, it's very chilly at night. The day we arrived, it was 8 C and the wind was whistling across the red tile rooftops.

For maximum comfort, choose a hotel that has fireplaces or heating. We had originally booked a room at Casa Margarita but with Linda shivering in open-toe sandals, the helpful reception staff called their sister hotel Parador Margarita which had heaters. A bellhop wheeled my mega-sized suitcase and Linda's backpack uphill several blocks to the Parador Margarita. We felt as though we'd won the lottery when we discovered our rooms had wifi, flat screen TVs, rain shower bathrooms with onyx fixtures all set around a pretty courtyard for 600 pesos each cash ( almost 50% off the rack rate). Breakfast included. We loved it and highly recommend it.
Although you may be tempted by the trendy restaurants on Calle Real de Guadalupe selling hot chocolate laced with Kahlua there's no better place to ground yourself in a Mexican town than the zocolo. Guided by the aroma of strong coffee we found our way to Cafe con Rostro Humano where we had huevos Mexicanos, cafe Americano, fruit salad, tortillas, black beans, fried plantain and toast for 60 pesos each. The rest of the afternoon was spent shopping in artisanal markets and looking for jackets and scarves.
If you have time, be sure to spend a few days exploring the area. Don't miss Hiking El Chiflon Waterfall
Check rates and availability at Parador Margarita Hotel on Booking.com
Shuttle from San Cristobal de las Casas, Chiapas, Mexico to Panajachel, Guatemala
Time: 10 hours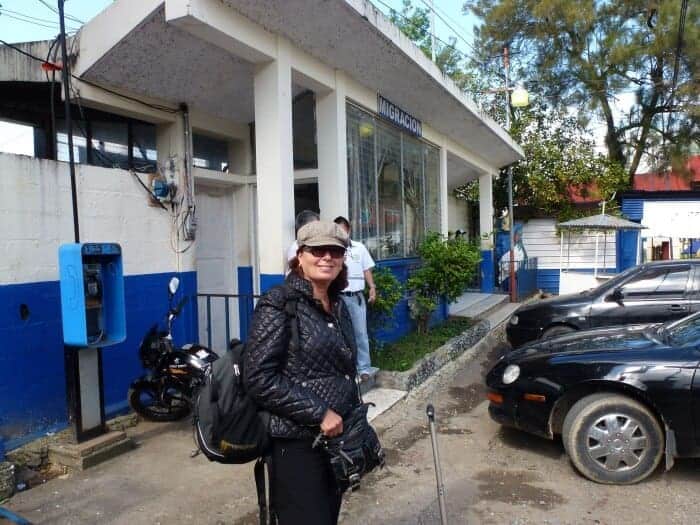 Travel Tips
Expect to wake up early. The Adrenalina shuttles from San Cristobal de las Casas depart between 6:00 am and 7:00 am. If you're like me and need coffee to kick-start your day, you'll have to rely on the kindness of your hotel staff (and perhaps a tip or two) to get your coffee fix. Most cafes in San Cristobal don't open until 8:00 am.
Keep a copy of your shuttle receipt. If your shuttle van is late, you'll need it to call the emergency phone number. Plus, the driver will ask for it and you won't be popular with the other passengers if they have to wait while you dig around in your luggage trying to find it. You can book a private shuttle if you want more control over the journey and/or don't want to share a minivan with other travellers. (Check with Adrenalina for pricing).
Eat breakfast or bring food with you as the shuttles don't stop until the Guatemala border (3 hours). If you're prone to motion sickness you might want to take Gravol as the road winds its way through the mountains along the HWY 190 route.
Bring 300 MEX pesos cash to pay the Mexico Departure Tax. Our Adrenalina driver took our passports into the Mexico customs office, paid the fee and got our passports stamped while we waited in the van. It took less than 5 minutes. Note that this fee fluctuates and is charged locally. If you flew directly from the US or Canada, your departure fee was likely included in your airline ticket so you should keep a copy of your airline ticket as proof of payment and present it.
When you arrive at Ciudad Cuauhtémoc (La Mesilla in Guatemala) border crossing, your driver will drop you and your luggage off and you will need to make your own way by foot through Guatemala Immigration. This is no easy task if you're laden with luggage like I was.
To use the washrooms you'll need anywhere from 3-8 Quetzals depending on which sanitario you choose. This is where it pays to travel with a pal as your companion can watch your suitcase while you make a rest stop or purchase a snack. You can exchange pesos or American dollars for Quetzals at the border. Watch for the guys with large rolls of money.
Try to avoid crossing the border on the market days of Wednesday, Thursday or Friday as the border area will be filled with vendors, touts and opportunists looking for marks to pickpocket. Otherwise, it's manageable if you grab a spot by the side to wait for your connecting shuttle van to appear. This border is smaller and less hectic than going the route through Tapachula.
Your driver from San Cristobal will wait with you until your connecting shuttle van appears. Or, at minimum he will give you a piece of paper with the name of the shuttle and/or the driver for you to watch for. Once again you will be sharing the van with other passengers. No matter how temping it is to hop on any empty mini-van that comes your way, be patient and wait for your van.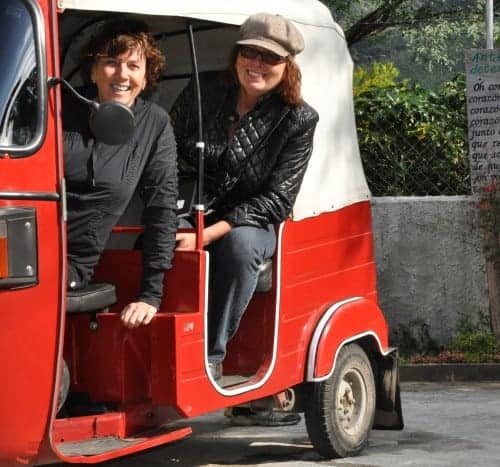 Shuttle to Panajachel, Guatemala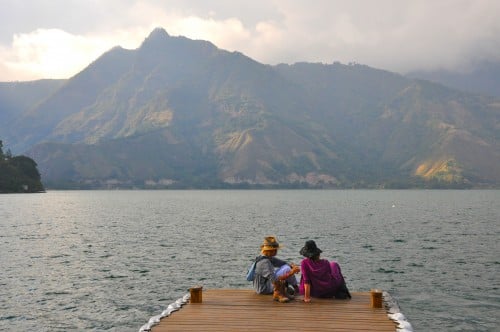 The route through the highlands to Panajachel is one of the most beautiful road trips in the world. There will likely be one stop at a gas station enroute but otherwise the only stop will be at Cuatro Caminos where passengers headed to Antigua or Quetzaltenago will get out of the mini-van and transfer to another.

Once you arrive in Panajachel, your driver will take you directly to your hotel. So be sure to have the address handy so you can advise him where to go.
We stayed at Casa Alegre Apartments located at 4-70 on Calle Santander. The six apartments are safe, eco-friendly, clean and come equipped with kitchenettes, balconies, a rooftop terrace and plenty of hot water. Plan to stay a week or more. You'll need it to rest up after your journey.
Check rates and availability at Porta Hotel del Lago on Booking.com.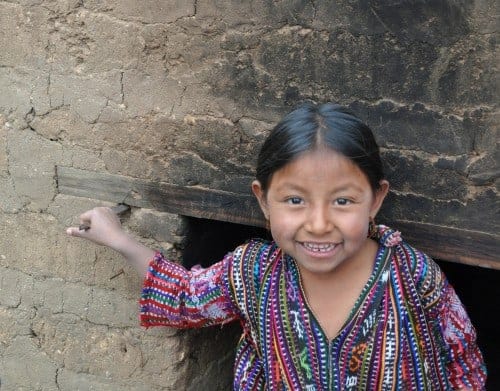 Best Hotels in Central San Cristóbal de Las Casas:
Parador Margarita Parador Margarita is located at #39 Dr. Jose Felipe Flores in the Historic Centre of San Cristobal de las Casas (967) 116 0164 email hotelesmargarita@tourshotel.com.mx.
Check rates and availability at Parador Margarita Hotel on Booking.com
Casa Margarita ( the more modest hotel) is located at #34 Real de Guadalupe in the Historic Centre close to the zocolo. www.tourshotel.com.mx
Other Transportation Options and Things to Do
Day Trips: History and nature lovers should spend a few extra days in San Cristobal. Top things to do include taking a tour to the incredible archeological site of Palenque, set deep in the jungle. The best tours include stops at Agua Azul and Misol-Ha waterfalls.
Check rates and availability of a tour to Palenque from San Cristobal de las Casas on Viator.com
Renting a Car: While it's easy and convenient to rent a car in Puerto Escondido or Huatulco to get from Oaxaca to Guatemala, many car rental companies will not allow you to take the rental vehicle into Guatemala (or any other country outside Mexico).
Check for the lowest car rental rates on Discovercars.com. This online booking service compares rates among available car rental agencies.
Tapachula to Antigua Guatemala: If you're interested in going directly from Oaxaca to Antigua Guatemala (or Guatemala City) and bypassing San Cristobal de las Casas completely, Ticabus offers a daily bus from the border. You depart at 7:00 am and will arrive in Antigua by 1:00 pm.
Oaxaca to Antigua, Guatemala: You can also take a shuttle from Panajachel to Antigua, Guatemala.
For safety reasons, try to choose a shuttle company with new vehicles in its fleet. Ask before booking.
Other Posts You'll Like on Travel to Guatemala
Guide to Panajachel, Guatemala
3 Budget Hotels You'll Love in Antigua, Guatemala
Study Spanish in Antigua, Guatemala
Save to Pinterest!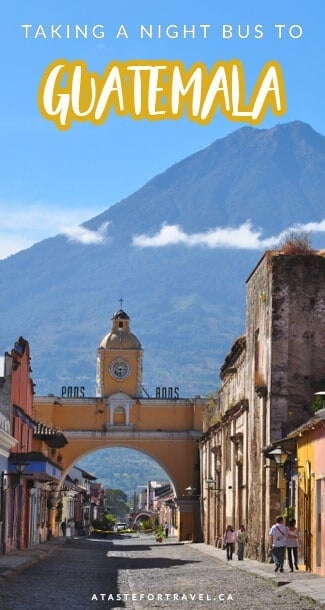 Dividing her time between Canada, Guatemala and Mexico (or the nearest tropical beach), Michele Peterson is the founder of A Taste for Travel. Her award-winning travel and food writing has appeared in Lonely Planet's cookbook Mexico: From the Source, National Geographic Traveler, Fodor's and 100+ other publications.
Read more about Michele Peterson.