We may earn income from links in this post. Please read this Disclosure for details.
One of the best things to do in San Cristobal de las Casas in Chiapas, Mexico is to take a day trip to go hiking the Cascadas El Chiflon waterfall.
Cascadas El Chiflon / El Chiflon Waterfall
El Chiflon waterfall Eco-Park is located 30 km west of the colonial town of Comitan de Dominguez in Chiapas, Mexico. Las Cascadas el Chiflon are a series of cascading waterfalls formed by the San Vicente River as it passes through steep limestone canyons making for a waterfall lover's paradise.
Along with the archeological ruins of Palenque, the waterfalls of Agua Azul and Sumidero Canyon, it's one of the major attractions in Chiapas and visiting it is a top thing to do in the area.
El Chiflon Waterfall Chiapas Mexico
An ejidario or community co-operative created an eco-tourism park around the waterfalls to preserve it for future generations. The remote location of El Chiflon waterfall means most visitors are locals who enjoy the hiking trails, stone barbecues and natural swimming holes on weekends.
This is a weekday so I'm alone except for a young couple from Milan who stops to smooch or smoke when the trail gets steep. I see a cave opening hidden in the lush undergrowth. For the Maya, cave openings are portals to the underworld and places of worship to their rain deities. Dwarves who guard the forest are believed to live within.
Earlier, my guide told of a Mayan legend that said the God of the Underworld torments those who die tragically by forcing their souls to wander the earth for four years. Each morning, their spirits turn into butterflies and at sundown they return to the Land of the Dead. Rainbows are signs of these lost souls.
If that's true, I'm surrounded by lost souls. Around me flashes a cloud of butterflies — some canary yellow and others with black polka dots–and rainbows arch from one side of the river to the next.
Cascada Velo de Novia or Bridal Veil Fall
Resisting the lure of exploring further, I catch a glimpse of a white snowball above the treetops. It's the Cascada Velo de Novia or Bridal Veil Fall and, like a mirage, it sparkles with reflected sunlight.
It's all I need to motivate me up the steep trail.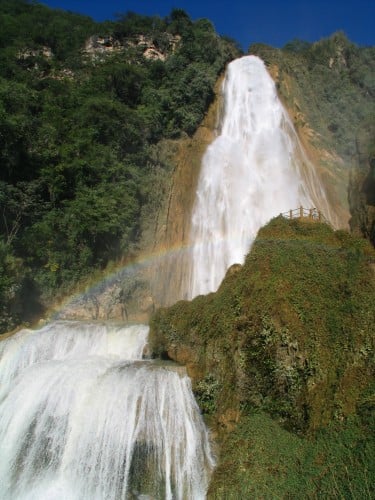 An observation platform at the base of the waterfall offers a safe point for viewing. Slender like a needle, the falls drop a dramatic 120 metres into the churning rapids below. A rainbow stretches across the gorge. The couple from Milan disappears into the thick, heavy mist.
The rocks are slippery as I grab a tree branch to get closer. Then I realize I'm no longer alone. A group of young men, bared to the waist, their shirts tied about their heads like turbans, are facing the falls, hanging onto the handrail and riding the blasts of spray as though water-skiing. With their bare skin glistening with sparkling droplets, they holler with each new gust.
"Give me your hand," yells one but I'm blown back by a blast of mist as strong as a fire hose.
El Chiflon waterfall is no timid bride. With her white watery veil streaming into the churning river, she blows until I'm forced to run gasping back to the safety of the path at the jungle's edge. She sparkles and roars – perhaps proclaiming her devotion to Chac, the Maya rain god.
How to Get to El Chiflon Waterfall in Chiapas, Mexico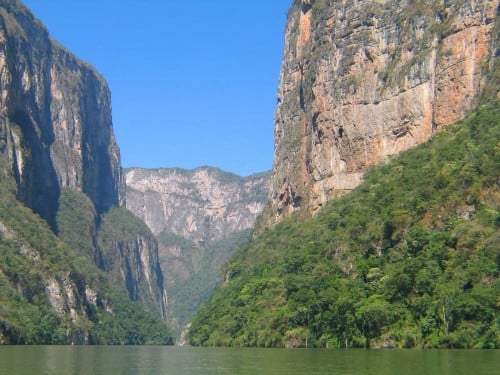 San Cristobal de las Casas: Tours to El Chiflon waterfall and Cascada Velo de Novia Chiapas are available as part of the Lagos de Montebello day tour. Cost is around $25. Bring a bathing suit, food and drink.
If you're keen to visit more beautiful waterfalls, check out this guide to other amazing Chiapas waterfalls
Adrenalina Tours: You can take a shuttle from Antigua, Guatemala (and other locations) to San Cristobal de las Casas in 11 hours. Cost is $60 USD per person
Travel Between Oaxaca to Chiapas, Mexico and Guatemala: Get detailed instructions on how to travel between Mexico and Guatemala in Night Bus to Guatemala.
Puerto Escondido: The distance is 640 kilometres to San Cristobal de las Casas or 13 hours drive ( 11 hours to Tuxtla Gutierrez). The overnight OCC bus costs 518 pesos one-way. Check the schedule on the ADO website or book at a travel agency or at the bus station.
Visting San Cristobal de las Casas: Looking for more things to do while you're in Chiapas? Check out this post on 7 Wonderful Things to Do in San Cristobal de Las Casas Mexico for even more ideas.
Save to Pinterest!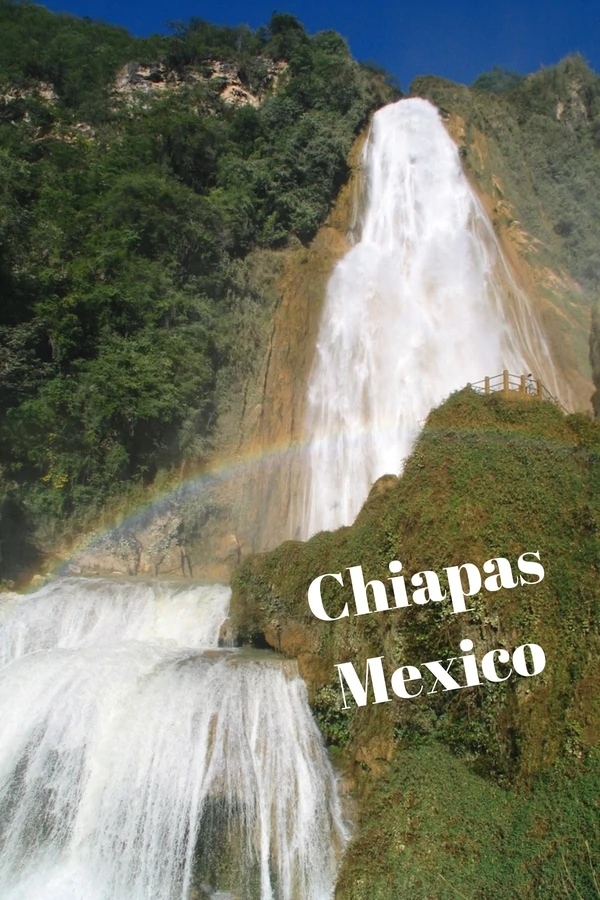 Dividing her time between Canada, Guatemala and Mexico (or the nearest tropical beach), Michele Peterson is the founder of A Taste for Travel. Her award-winning travel and food writing has appeared in Lonely Planet's cookbook Mexico: From the Source, National Geographic Traveler, Fodor's and 100+ other publications.
Read more about Michele Peterson.