We may earn income from links in this post. Please read this Disclosure for details.
Looking forward to discovering the best things to do in Naxos? You're not alone.
From the marble columns of the soaring Temple of Apollo to the sky-blue waters of its beaches, it's no wonder this Greek island has enduring appeal.
What can you do beyond working on your tan once you get to Naxos? Lots!
Greece is home to 6,000 islands (227 of them inhabited), which can make for a dizzying number of choices when planning a trip.
If you're trying to decide where to go in the Greek islands, then the island of Naxos in the Cyclades should be at the top of your list.
No time to read the whole article? Our top pick for a tour in Naxos is the Naxos Sunset City Walk.
It gets fantastic reviews too!
Why Choose the Island of Naxos?
Home to Greece's best beaches, jaw-dropping mountain views, wineries, ancient olive groves and quiet mountain villages, this island isn't as glossy as neighbouring Mykonos or Santorini.
And that's part of its appeal.
There are so many things to do in Naxos, you could easily stay a month (or longer) and still feel as though you've just scratched the surface of things you've dreamed of doing.
I've had a two-decade love affair with Greece. I've hiked pine forests in Thassos, danced all night in Mykonos, kissed the foot of Leonidas in Sparta and gotten tipsy with wine tastings in Santorini.
I even persuaded my husband we should move to Greektown Toronto!
After all that (and more), I'm still prepared to declare that if you're trying to decide where to go in the Greek islands, then the island of Naxos should be at the top of your list.
This travel guide to Naxos will help you see the top attractions, enjoy local food and drink, discover the most beautiful beaches and experience the very best this Greek island offers.
1. Bask on the Beautiful Beaches of Naxos
Naxos is famous for its long sandy beaches. Here you'll find powdery golden and pearl while sand rather than the pebbly rocks common at many other beaches in Greece.
The waters are also exceptionally clear.
Looking for the best beach in Naxos? Although it's tough to pick just one from so many beauties, my vote goes to Agios Prokopios Beach on the western side of the island.
Located 6 km from Chora Naxos, it stretches for 1.5 kilometres and is somewhat protected from the powerful summer Aegean winds known as the Meltemia.
Known in Greek mythology as the Etesian, they were controlled by Boreas, the god of the North Wind.
When these north winds are gusting, the ocean can be choppy and cool. So, choosing a beach sheltered from the wind is a wise idea.
During high season (June-August), Agios Prokopios is lively with busy restaurants, bars and sunbeds for rent.
We stayed at Nikos Apartments and Studios overlooking the beach. The room rate included breakfast and use of a sunbed. That's a big saving as the cost to rent a lounger ranges from 10 to 40 EURO per day.
If you're looking for a beach with less action and more privacy, head to Plaka Beach further south. It's also excellent for walking and swimming.
Parts of Plaka Beach have slightly coarse sand but this beach offers a tranquil atmosphere with pillowy dunes and azure waters.
A good beach for families is Agia Anna Beach, tucked in a picturesque bay, 7 km from Chora Naxos. There are more restaurants here than at Plaka Beach.
Another popular beach is Agios Georgios, the closest beach to Chora Naxos.
It's best known for its windsurfing and kitesurfing (more on that later).
2. Hike a Seaside Beach Trail on the West Coast
It's actually possible to hike the entire stretch of beaches and coastal boardwalks from Agios Prokopios to Plaka and beyond.
A well-marked footpath begins at the southern end of Agios Prokopios and continues along the shores of Agio Anna beach, past the port of Agia Anna to a rocky promontory.
Here, the pretty whitewashed church of Agios Nikolaos (patron saint of sailors) anchors the peninsula facing the Aegean Sea.
Framed by wind-gnarled cedar trees, it's especially lovely in spring when the wildflowers are blooming. On a clear day you can even see the island of Paros.
From there, a wooden boardwalk continues to Marangas and Plaka beaches where one can continue walking with no end in sight. We walked for 8 kilometres and could have continued further.
Although you can cool off with swim along the way, the sun is intense so bring water, wear sunscreen and a hat.
🌟 Insider Tip: Don't be surprised to see nude sunbathers in the coves along this walking trail! The northern section of Agios Prokopios, the coves near the church and much of Plaka beach are popular (unofficial) nudist beaches in Naxos.
3. Wander Around Naxos Town (Chora)
Once you've got your beach time in, the next best thing to do in Naxos is to take a walk around Naxos Town (also known as Chora).
The harbour's promenade is dotted with traditional fishing boats, glossy catamarans and tour boats.
But it's the narrow back streets, boutiques, Venetian castle and architecture in Old Town that are the real attractions.
While it's fun to get lost in the labyrinthine alleys full of shops and tavernas, it's also worth taking a short guided walking tour to gain insights into the town's history.
If you book a Naxos Sunset City Walk you'll learn about Naxos castle seeing highlights such as Ursuline Nun school terrace and the Tower Della Rocca Barozzi, make stops at the Catholic and Orthodox Cathedrals, sample some citron liqueur and wrap up with sunset at the Portara Gate.
🌟 Insider Tip: While in Old Town shop for linen clothing, leather goods, jewellery and unique souvenirs in the boutiques and independent shops. Prices are lower than in Santorini or Mykonos.
✅ Check prices and availability of the Naxos Sunset City Walk on Viator.com.
4. Dine on Seafood at a Waterfront Restaurant in Chora
There are lots of restaurants, tavernas, ice-cream shops and bars to choose from in Chora (the capital of Naxos). You can't go wrong with Meze *2 Restaurant (Google Map), the best on the promenade.
Classics like souvlaki, moussaka, grilled sardines and calamari are a step above the fare at neighbouring eateries.
The complimentary dessert of Greek yogurt and marmalade is a Naxian specialty. Service is fast and prices reasonable.
🌟 Insider Tip: Naxos is the largest and most fertile island in the Cyclades. To discover the best Naxian regional food, head inland to the mountain villages. Rent a car and make a day of lunch.
5. Marvel at the Archaeological Museum of Naxos
Be sure to pencil in time to visit to the Naxos Archeological Museum. It's a treasure trove of ancient artefacts offering insights into how the island has evolved and developed over the years.
Located on the lower level of the Venetian Castle of Naxos, this museum showcases a diverse collection of archaeological finds from various periods, spanning the Early Cycladic era to the Roman period.
You can admire exquisite marble statues, intricately carved relics, pottery, and jewellery. The museum also houses a fabulous collection of artifacts from the Mycenaean period, including weapons and tools.
6. Catch a Spectacular Sunset at the Portara
Although you likely saw the Portara Gateway when you arrived on Naxos via ferry, it's well worth returning at sunset to catch it in all of its glory.
The colossal marble gateway, all that remains of the 6th century BC Temple of Apollo, is the island's most recognizable landmark.
Although ruler Lygdamis began work on it 2500 years ago, the project was interrupted by war and never finished. It languished into ruin, forever incomplete.
However, you can still see its foundations today – standing proudly on the islet of Palatia, adjacent to the port.
Its size will give you an appreciation of how big it was conceived to be. Remarkably, the marble stones used in its construction have a combined weight of 80 tons!
It's an impressive example of ancient engineering skills and a Naxos must-see.
7. Explore the Venetian Castle (Kastra)
Also known as the Kastro, this magnificent marble and granite Venetian castle stands proudly in the heart of Naxos Town.
On a gorgeous blue sky day, the contrast between the stone castle and sparkling white facades of the Old Town is especially striking.
Built during the 13th century by the Venetians, this imposing fortified structure served as a defensive stronghold against invaders and played a significant role in the island's history.
The castle's thick, well-preserved walls and towers offer a glimpse into its former grandeur. At the same time, its narrow passages and hidden corners create an atmosphere of mystery and intrigue.
Once inside, climb to the top of the castle for panoramic views of the skyline and the Aegean Sea.
Should You Rent a Car on Naxos?
We rented our car on Discovercars.com. It's an online car rental booking site that compares rates from several companies to find the best deal.
The cost for a one-week car rental on Naxos was less than two taxi fares in Santorini. It's easy to drive on the island, there's little traffic and GPS worked well even in the mountains.
It was also very easy to pick up and drop off the car at the ferry terminal. Most Naxos car rental agencies meet clients upon arrival with paperwork and keys.
There is public transit but if you're visiting for more than a day or two, it's well worth renting a car so you can visit villages and beaches on your own schedule.
Check for the best car rental rates at Discovercars.com
8. Be Amazed by Colossal Marble Kouros Statues
Once you've admired the Portara Gate, it's worth scouting out the source of the marble.
Naxos was one of the first Greek islands to mine marble for sculptures and architecture. Many of the ancient quarries still exist scattered throughout the island's valleys and cliffs.
One of the top things to do in Naxos is to see the remarkable Kouros (statues of nude male youth popular in 5th century Greece) within the quarries.
Ranking among Greece's most significant ancient sculptures, these colossal marble statues date back to the 6th century BC.
The largest Kouros, known as the 'Kouros of Apollonas' lies unfinished in an ancient quarry near the village of Apollonas.
It extends to an impressive length of 10.5 metres. It's a must-see attraction in Naxos as it offers a glimpse into the ancient sculpting process and the artistic prowess of the ancient civilization that once thrived on the island.
Climb to the top of the marble quarry for panoramic views of the island's northern coastline.
🌟 Insider Tip: Pack your swimsuit as you can cool off at nearby Apollonas Beach.
Elsewhere, the 'Kouros of Melanes' can be found in the village of Melanes, standing at 6.4 metres tall.
Lastly, the 'Kouros of Flerio' resides in a serene valley near the village of Flerio and measures about 5.5 metres in height.
You can even learn the basics of marble carving during a Hands-On Marble Carving Class held in the garden of a master sculpture.
Much like the mosaics workshop I took in Sparta, this 3.5 hour marble carving session is an opportunity to experience an ancient art and meet local artisans.
✅ Check prices and availability of the Experience Marble Carving workshop on Viator.com.
9. Sip Local Wine at Saint Anna Winery
Naxos is said to have been the birthplace of Dionysus, the god of wine and revelry. So one of the best things to do on Naxos is visit Aya (Saint) Anna Winery (Google Map).
Owned and run by Manolis Petrakis, a young Naxos entrepreneur, on land his grandfather owned, the winery produces 22,00 litres of white, red, rose and dessert wine annually.
Similar to neighbouring Paros and Santorini, the white varietals on Naxos are predominantly Monemvasia, Assyrtiko and Aidani.
The wind-swept slopes of Naxos produce grapes with minerality, high-acidity and a slight salty aftertaste. They have beautiful floral and herbal notes.
The most unique wine at Saint Anna is the sun-dried dessert wine, made from late-harvested grapes dried in the sun for 14 days.
The wine is then aged in oak barrels which adds depth to the rich sweetness.
It takes 5 kilos of grapes to produce one litre of dessert wine using this method so much like Canadian ice-wine, it's extra-special.
If you take a Tour of Saint Anna Winery, you'll tour the facilities and enjoy a wine tasting paired with charcuterie such as regional cheeses, tomatoes, bread and olive oil.
Wrap up your wine tasting by visiting the winery's Byzantine Church.
The atmospheric stone walls, candles and well-preserved frescoes of this 9th century church dedicated to Saint Anne make this winery visit extra-special and a very unique thing to do on Naxos.
✅ Check prices and availability of a Tour of Saint Anna Winery on Viator.com.
🌟 Insider Tip: There are two shrines to St. Anne in the world, one being at Sainte-Anne-de-Beaupré a popular day-trip from Quebec City.
10. Step Back in Time at the Temple of Demeter
In Greek mythology, Demeter is the Olympian goddess of the harvest, presiding over the fertility of the earth.
So, it's no surprise that Naxos, the most important agricultural centre in the Cyclades, is home to an impressive temple dedicated to this giver of food and grain.
Set on a hilltop in a fertile valley the archeological site contains the Temple of Demeter (constructed around 530 BC), the remains of an early Christian Church and an olive oil production facility that operated until 8th century AD.
Compared to busy archeological sites in Athens, this windswept temple is free of crowds. It's definitely a Naxos must-see attraction.
Surrounded by green valleys dotted with wild oregano, terraced fields and oleander, it's easy to imagine early peasants worshipping sacred deities in this white marble temple.
The Temple of Demeter is closed Tuesdays. Admission is 4 EURO.
🌟 Fun Fact: A Homeric Hymn tells the famous myth of the abduction of Persephone, Demeter's daughter, by Hades, King of the Underworld.
Although Demeter rescued her daughter from Hades, because Persephone ate some pomegranate seeds while in captivity she's forced to divide her time between the world of the living and the Underworld.
While Persephone is in the Underworld, Demeter doesn't allow crops to grow. This explains the cycle of the seasons.
The full-day Highlights of Naxos Bus Tour includes time at the Temple of Demeter among its 6 attractions, sightseeing and swimming stops.
Hotel drop off and pick up is included in this Naxos sightseeing tour which makes it excellent value.
✅ Check prices and availability of the Highlights of Naxos Bus Tour on Viator.com.
11. Sail the Naxos Coastline on a Catamaran
An unforgettable thing to do on Naxos is to spend a day on the water, sailing to offshore islets where you can snorkel, swim and explore hidden coves.
If you're lucky you may even have a pod of dolphins frolic alongside your boat.
These all-inclusive full-day Catamaran Sailing Tours of Naxos include lunch, drinks and use of snorkel gear.
✅ Check prices and availability of a Catamaran Sailing Tour of Naxos on Viator.com.
12. Enjoy Some Naxos Nightlife
Unlike Mykonos, Rhodes or Ios, there's not a huge amount of nightlife on Naxos.
But that doesn't mean you need to pack it in at 9 pm. Keep a lookout for posters advertising things to do in the evening such as live music, jazz concerts, Greek bouzouki, theatre shows in the Kastro and full moon parties.
Most of the dance party fun happens in the trendy open air beach bars and nightclubs in the port area of Chora near Agios Georgios.
The Ocean Club, DaCosta and Naxos on the Rocks are the best nightclubs for cocktails and all-night dancing.
For nightlife in Agia Anna, try the Santana Beach Club and Island Bar. The fun begins at sunset here.
For something more low-key nearby, Art Café (Google Map) in Agios Prokopios features Movies Under the Stars (usually Mamma Mia), a Greek night with bouzouki music and live music such as folk, jazz and blues. Admission is 10 EURO.
13. Take a Cooking Class on Naxos
Whilst on Naxos, you'll eat some incredible food. So why not take the opportunity to spend a few hours learning how to make it yourself?
Greek cooking classes are available throughout Naxos but two of the most popular takes place at the Basiliko Family Tavern in Potomia and at a traditional home in the village of Kaloxylos.
During the classes, you'll learn how to make authentic Naxian specialties such as gemista (stuffed tomatoes and peppers), tyrokafteri (spicy cheese dip) and stuffed peppers with cheese.
Not only are these cooking classes a lot of fun, but you'll enjoy the fruits of your labour in a delicious feast that includes local wine.
✅ Check prices and availability of Basiliko Cooking Class (including hotel transfer) on GetYourGuide.
14. Go Scuba Diving or Snorkeling
While the water temperature in Greece isn't as warm as in diving destinations in the Caribbean, its azure waters are known for their good visibility.
The island is surrounded by a vibrant underwater world of colourful fish, fascinating rock formations, shipwrecks, intriguing caves and even a World War II aircraft.
One of the top things to do in Naxos is to go snorkeling or diving. You can even get PADI certified in under a week.
A top spot for scuba diving in Naxos is Agios Georgios, located just off Naxos' west coast. Similarly, the Pateronisia Islets are another hot spot.
If you prefer snorkelling from shore, the beach of Agios Prokopios offers calm and clear waters, perfect for observing marine life near the rocky areas.
A popular excursion on the island is Scuba Diving in Naxos, a half-day introductory session with Blue Fin Divers at their PADI Scuba Dive Center at Agios Prokopios beach (Google Map).
Plaka Beach is another great spot for snorkeling. Its long stretch of sandy coastline has numerous rocky formations where you can spot marine life.
But facilities such as equipment rental are limited.
✅ Check prices and availability of Scuba Diving in Naxos on Viator.com.
15. Harness the Wind with Wind-Surfing and Kite-Surfing
Naxos is a renowned destination for wind surfing and kite surfing. Throughout the island, there are several places where you can enjoy these thrilling outdoor adventures.
One of the most popular places is Mikri Vigla Beach, located on the southwest coast.
Known for its consistent winds, Mikri Vigla provides ideal conditions for beginners and experienced kite surfers. The beach also offers ample space for launching and landing and a designated area for kite-surfing lessons.
Agios Georgios Beach, situated near Naxos Town, is another fantastic location.
At the same time, Plaka Beach is a good spot for beginners, as it has a long and wide sandy coast that offers favourable winds, shallow waters and a safe environment for novices to learn and practice.
16. Learn About Greek Olive Oil and Cheese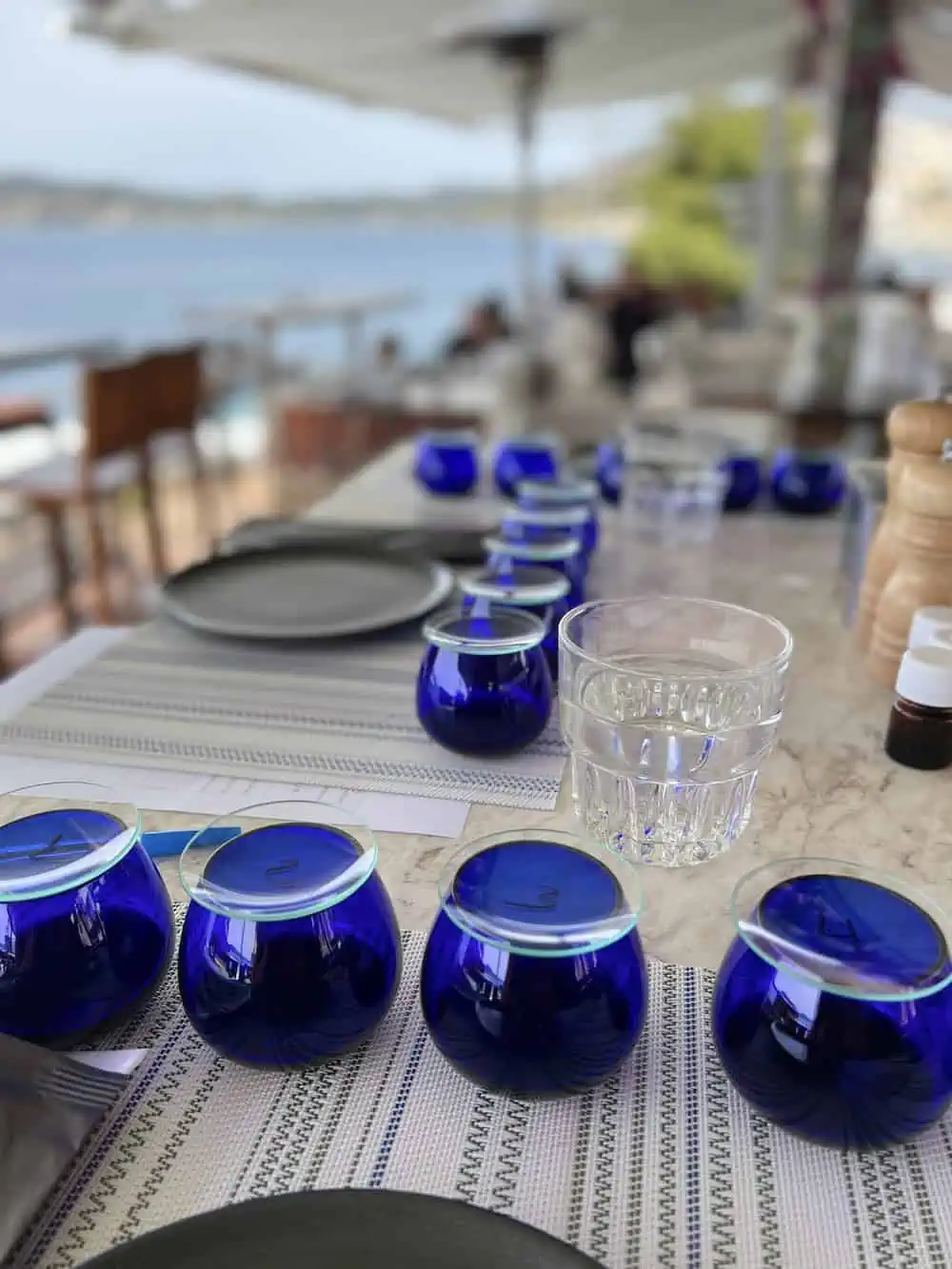 One thing you'll notice as you explore Naxos is that it has a lot of olive trees. Archaeological evidence suggests that olive trees have existed in Naxos more than 50,000 years ago. They've contributed to the island's culture, diet and economy for centuries.
Naxos is also believed to house the world's oldest olive tree (reputed to be 5,000 years old). You can visit it on a food tour with Philomena Tours.
An unforgettable thing to do in Naxos is learn about olive oil production at a village farm.
During a Naxos Village Life tour you'll learn about olive-oil production, sample some extra-virgin olive oil, try hands-on traditional milking and cheese making and enjoy an authentic traditional Greek lunch in a shepherd's hut.
✅ Check prices and availability of a Naxian Village Life cheese-making and food experience on Viator.com.
17. Take a Day Trip to the Mountain Villages of Naxos
While Naxos Old Town and the island's beaches have plenty to keep you occupied, it's well worth checking out other parts of the island.
You shouldn't miss exploring the mountain villages of Aperathos, Filoti and Chalki. They're the best places in Naxos for culture. Each village has its own unique atmosphere, food specialties and traditions.
One of the smallest and prettiest villages is Halki (Chalkio). It's home to the Kitron Distillery as well as jewellery boutiques, cocktail bars, the Fish & Olive Gallery (known for its ceramics) and outdoor tavernas.
Another Naxos must-see is Aperathos. Nestled in the heart of the island, it's known for its well-preserved traditional architecture and narrow cobblestone streets.
By contrast, the village of Filoti, located at the foot of Mount Zeus, is a lively village with several tavernas, cafes and restaurants set beneath centuries-old plane trees in its center and Cycladic homes climbing up the steep mountainside.
The village restaurants are popular hangouts for locals and for hikers refuelling after treks to the Cave of Zeus.
This village is also home to Panagia Filotitissa Church with its three-bell tower and Filoti's small but interesting Folklore Museum.
🌟 Insider Food Tip: The menu at Scholarheio Restaurant features Naxian specialties such as stewed goat, Zas salad topped with local cheese, rooster and rosto (pork). Most dishes are served with sides of the treasured potatoes of Naxos.
18. Hike to the Summit of Mount Zas (Zeus)
Talking about Mount Zeus, if you're feeling energetic, a guided hike up its slopes is a challenging yet rewarding experience.
The highest mountain in the Cyclades, Zeus (aka Zas), soars to 1,003 meters (3290 feet) at its peak. It's an area shrouded in Greek mythology, legendary for being the childhood home of Zeus, the Greek god of the sky and thunder.
There are two routes to the summit. The most popular is a 5.6 km trek round-trip. Both routes are best done by experienced hikers or with an experienced guide.
A highlight along the ancient trail (if you take the Aria Spring route) is the Cave of Zas, which extends up to 11 meters into the cliff. It's worth stopping here to explore the cave and enjoy the dramatic panoramic landscape.
Check prices and availability of a Guided Hike to Mount Zas on Viator.com.
19. Sample the Famous Kitron Spirit and Tour the Distillery
If you enjoy sampling local products as much as we do, a trip to the Vallindras Distillery in Chalki (Google Map) should be on your Naxos must-do list.
The distillery produces Kitron, the local citrus liqueur. Also known as Citron, the liqueur is somewhat similar to limoncello but is produced using the tree's leaves and fruit.
The Vallindras family have been making this much-loved liqueur since the late 1800s and its exported throughout Greece.
Visitors can tour the production facility, lean about the distillation process, see the traditional machinery used to make the liqueur and enjoy a tasting of Kitron. It's also a good spot to pick up a souvenir bottle for friends at home.
Sign up for a one-hour guided Citron Tasting and Distillery Tour that includes mezes and of course samples of the famous spirit.
✅ Check prices and availability of a Citron Tasting and Distillery Tour on Viator.com.
Summary of Things to Do in Naxos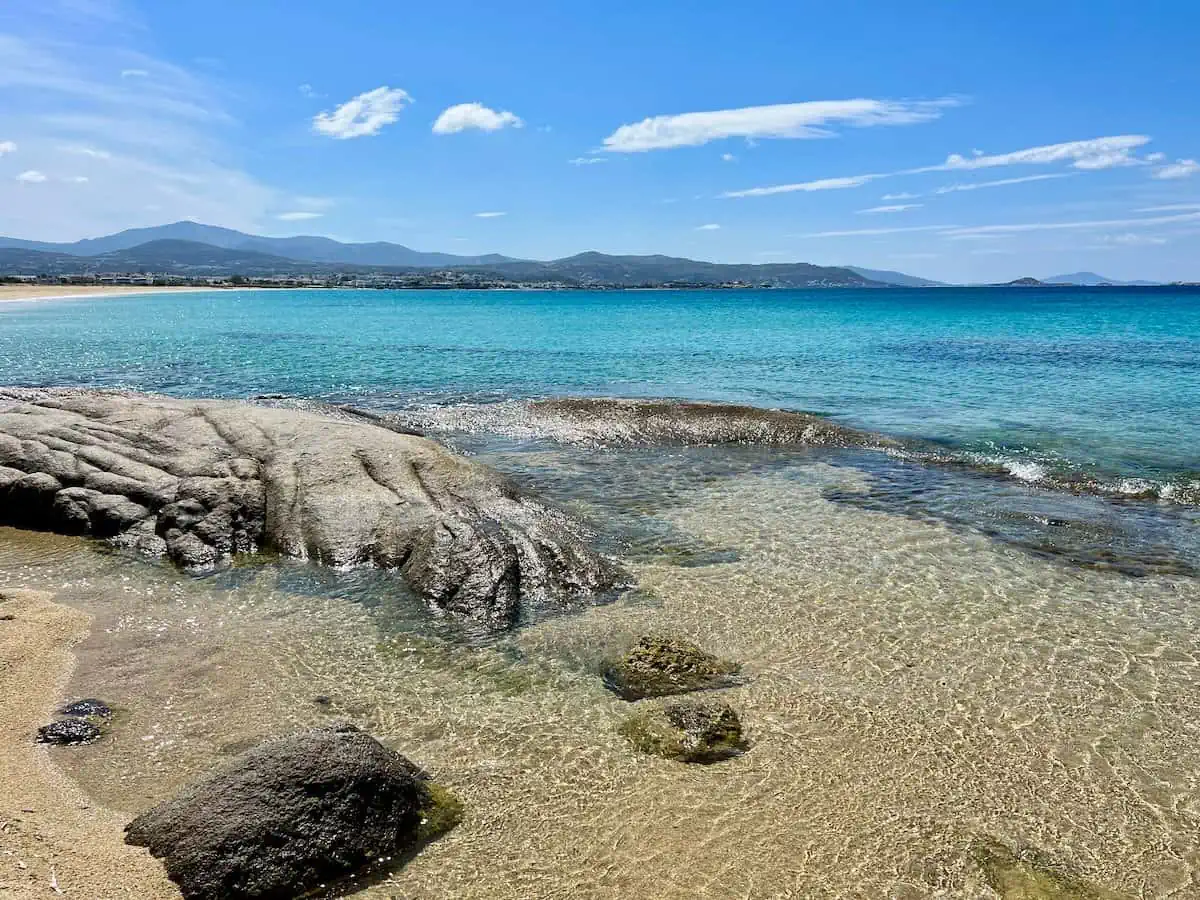 Naxos is one of the best places to visit in Greece. Its unique mix of jaw-dropping history, mythology and natural beauty make it a top choice among the Greek islands.
Prices also happen to be lower than those on neighbouring Santorini, Paros and Mykonos.
And outside of its capital, Naxos is much less touristy than Santorini or Mykonos.
On your way to the islands, be sure to factor in a few days in Athens. We stayed at and recommend the InterContinental Athenaeum Athens.
Map of Naxos
The Best Places to Stay in Naxos
Naxos is the largest island in the Cyclades and there are many choices of where to stay.
Although we were originally tempted to stay in Chora, we decided to stay at Agios Prokopios Beach. We're glad we did.
It was much quieter than the capital and there were lots of restaurants, bars and walking trails at our doorstep. The beach is the best on Naxos.
We rented a car (using Discovercars.com ) and it was a 10-minute drive into town. We really only went into town a few times as we mostly visited the island's mountain villages, historic landmarks, archeological sites and remote beaches.
There's a bus stop with public transit in Agios Prokopios if you don't want to drive.
Nikos Apartments & Studios
Our studio at Nikos Apartments came with a small kitchenette and a balcony with a fantastic view of the Aegean Sea.
It was clean, well-maintained and our room rate included breakfast. Plus we were able to use the sunbeds for no charge (saving up 40 EURO daily).
✅ Check rates and availability of Nikos Apartments and Studios on Booking.com
Katerina Hotel
Located on a quiet street a block from Agios Prokopios Beach, Katerina Hotel offers a wide range of sizes of apartments.
As well, it also has a swimming pool which can be handy if you're visiting early in the season when the sea is cold.
✅ Check rates and availability of Katerina Hotel on Booking.com.
Liana Beach Hotel & Spa
For an upscale luxury hotel in Agios Prokopios that's ideally located across from a perfect stretch of beach, you can't go wrong with the Liana Beach Hotel & Spa.
It features a sparkling swimming pool, a posh beach club, a full-service spa and a fine-dining restaurant.
For a romantic couples getaway, honeymoon or even destination wedding, this is one of the best luxury hotels on Naxos.
✅ Check rates and availability of Liana Beach Hotel and Spa on Booking.com.
This trip to Naxos was part of a 2-month trip to Europe involving stays at several hotels, resorts and guest houses in Greece.
The ones listed below were our favourites!
Our Favourite Hotels in Greece 2023
Mythos Villas in Kalogrias Beach, Stoupa, Mani Peninsula
Nikos Apartments and Studios in Agios Prokopios, Naxos Island
Horizon Blu Boutique Hotel in Kalamata, Messinia, Greece
Kafieris Blue Studios in Firostefani, Santorini
Mystras Grand Palace Resort & Spa near Sparta
Athenaeum InterContinental,an IHG Hotel (with Club InterContinental Executive Lounge Access) in Athens
The Port Square Hotel in Pireas Port, near Athens
Kinsterna Hotel in Monemvasia, Greece
Makis Inn Beach Resort in Ermioni, Peloponnese, Greece
Liotrivi Organic Estate and Mansion near Monemvasia,Peloponnese
AKS Hinista Bay an average 3-star hotel with an excellent location near Porto Heli
Getting to Naxos
The best way to get to Naxos is by ferry. While traveling around the Greek Islands we used both the Blue Star Ferry and the High Speed SeaJet Ferry.
The SeaJet Ferry was the best option for us. The ship was newer, seats more comfortable, it was less crowded and there were fewer people smoking in the common areas.
It was well worth the nominal extra cost.
FAQs
What are the best months to visit Naxos?
The best months to visit Naxos are June and September. The water temperature is warm, the crowds of tourists gone and the summer winds mostly ended.
How many days in Naxos is enough?
Although five days is ideal, three days in Naxos is enough time to visit the waterfront, Venetian Castle and Old Town in Chora, spend time on beaches such as Agios Prokopios, Plaka or Agia Anna and explore some mountain villages and archeological sites such as the Temple of Demeter.
What is Naxos best known for?
The largest of the Cycladic islands, in ancient times Naxos was best known for its marble quarries and fertile agricultural land. Today, it's best known for its excellent beaches, historic landmarks such as the Temple of Apollo and charming mountain villages.
Other Mediterranean Travel and Food We Love
Save to Pinterest!
Dividing her time between Canada, Guatemala and Mexico (or the nearest tropical beach), Michele Peterson is the founder of A Taste for Travel. Her award-winning travel and food writing has appeared in Lonely Planet's cookbook Mexico: From the Source, National Geographic Traveler, Fodor's and 100+ other publications.
Read more about Michele Peterson.