We may earn income from links in this post. Please read this Disclosure for details.
During my visit to Montserrat, a tiny volcanic island with a rich Irish heritage located near Antigua and Barbuda in the Leeward Islands of the Caribbean, I was hosted at Olveston House Montserrat.
This gracious plantation-style guest home was once owned by Beatles producer Sir George Martin.
It's filled with memories from the era when Montserrat was home to AIR studios, the island recording studio that opened in 1979 and for a decade played host to greats of the music world such as Elton John, Dire Straits, The Police and even Michael Jackson.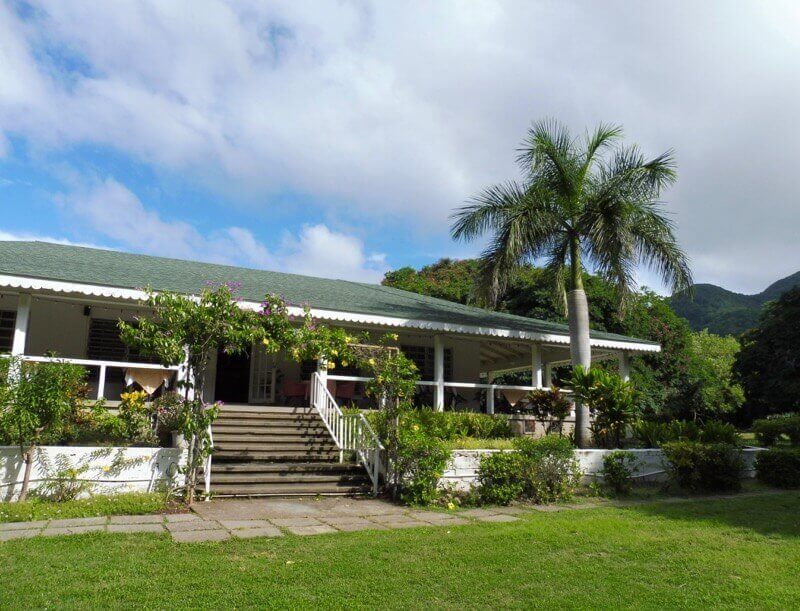 Beatles Fans Should Visit Olveston House Montserrat
Known as the "Fifth Beatle" for his pivotal role in behind several famous songs of The Beatles, George Martin also acted as the record producer behind many other top bands and musicians of the 1980s such as The Police, Dire Straits, Elton John and other superstars.
He purchased Olveston House in the early 1980s and it was the temporary home for many visiting musicians who came to record at George Martin's AIR Studios.
According to Carol Osborne and Margaret Wilson who manage the Olveston House's acclaimed restaurant and guest home, Sir George Martin returned to his beloved island of Montserrat every year, even after AIR Studios was destroyed by Hurricane Hugo in 1989.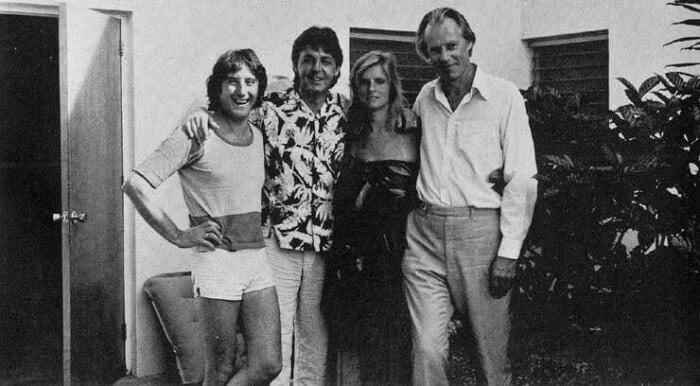 Guests Can Stay Overnight at Olveston House
During the first few days of my stay at Olveston House, I was alone much of the time. It was the off-season and not many other visitors were around.
As a result, I had my choice of guest rooms and was honoured to be checked into Sir George Martin's very own bedroom.
It was a modest room with simple decor featuring a French door that led to an expansive wrap-around deck and high ceilings with a fan that circulated lazily throughout the sultry day and night.
If it wasn't for the framed record album of "Give My Regards to Broad Street" mounted on the wall, you'd never guess the room was a retreat for one of the world's most famous music legends.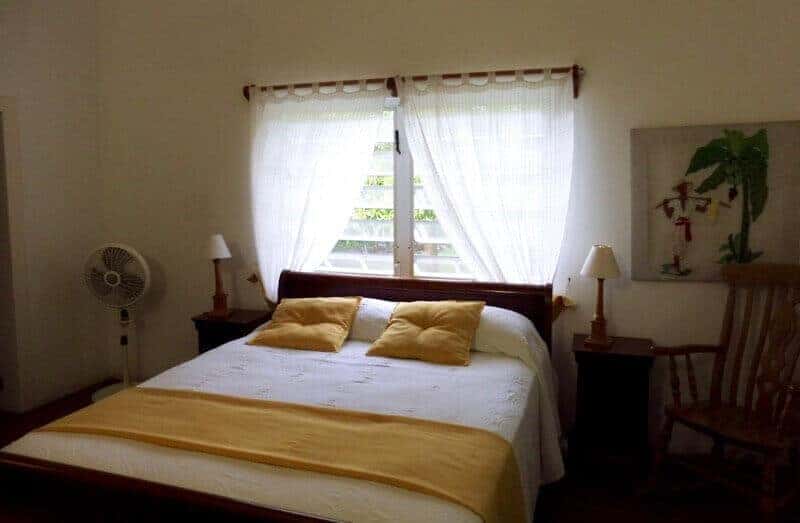 While lying in the bed at night, listening to the frogs peeping outside and the warm wind blowing through the old-growth trees on the estate, I imagined how soothing it must have been for him to escape his busy life as an international record producer and arrive at this quiet, get-away-from-it-all, island.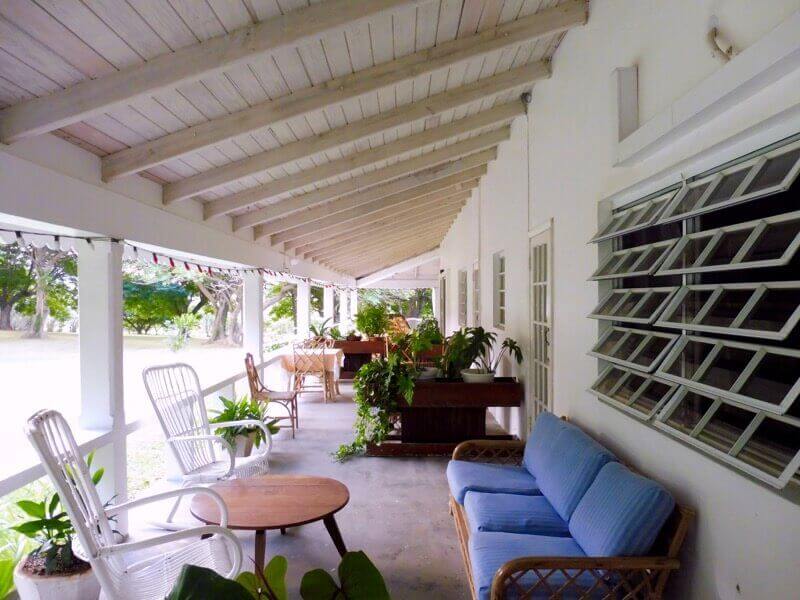 Montserrat Volcano is Still Active
A deceptively sleepy island, it should be noted, as beneath its lush slopes, the Soufriere Hills volcano continues to bubble, gurgle, puff sulphuric fumes and otherwise make its presence known.
As I learned from an expert at the Montserrat Volcano Observatory, the Soufriere Hills volcano is classified as a complex stratovolcano and has many lava domes beyond its main summit.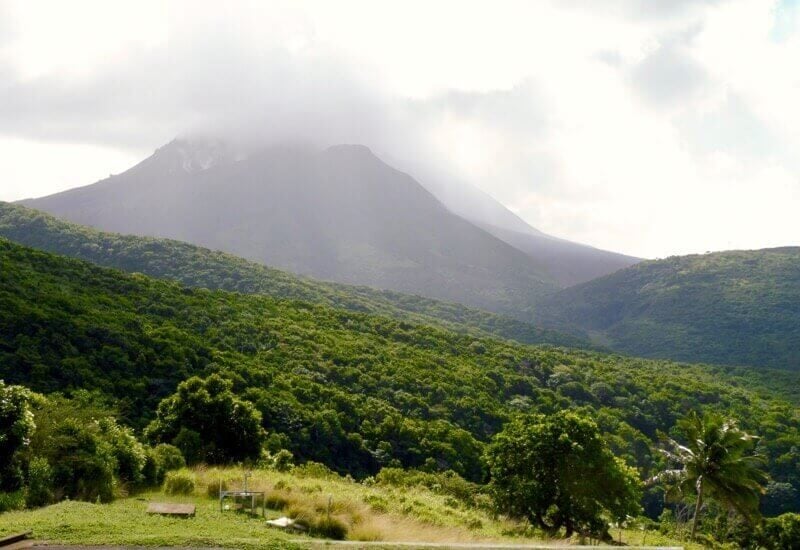 George Martin and his Legacy on Montserrat
While there, I also learned that due to illness, Sir George Martin would not be able to return to Montserrat in 2016 to celebrate his birthday as he had been doing every other January.
I was sorry to hear he passed away a few short months later on March 8, 2016. He was 90 years old.
He leaves a rich legacy of music, admiration and love on Montserrat. His generous contributions raised millions of dollars to help rebuild the island after the devastation of first Hurricane Hugo and then the eruption of the Soufriere Hills Volcano in 1995.
He built a cultural centre in Little Bay, the island's new capital after the destruction of Plymouth, to help nurture the arts on Montserrat.
Original Photography by Linda McCartney
One of the highlights of a stay at Olveston House, is the opportunity to see several original photos taken by Linda McCartney.
They are quite touching photos. There are candid shots of Paul relaxing between recording session or close-up portraits of John Lennon.
Here are a few of the images I gathered during my stay at Olveston House Montserrat.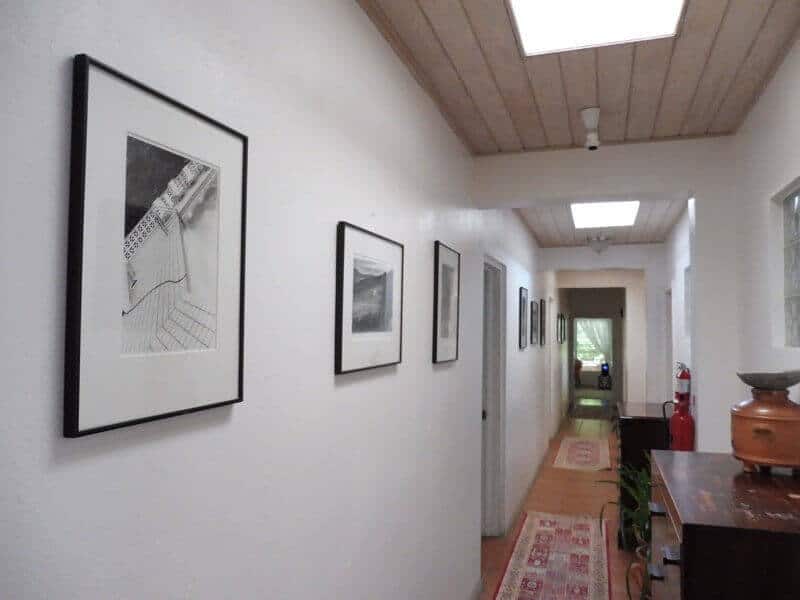 Most of the photographs are dated 1983, which would mean they were taken when Linda McCartney was 42 years old.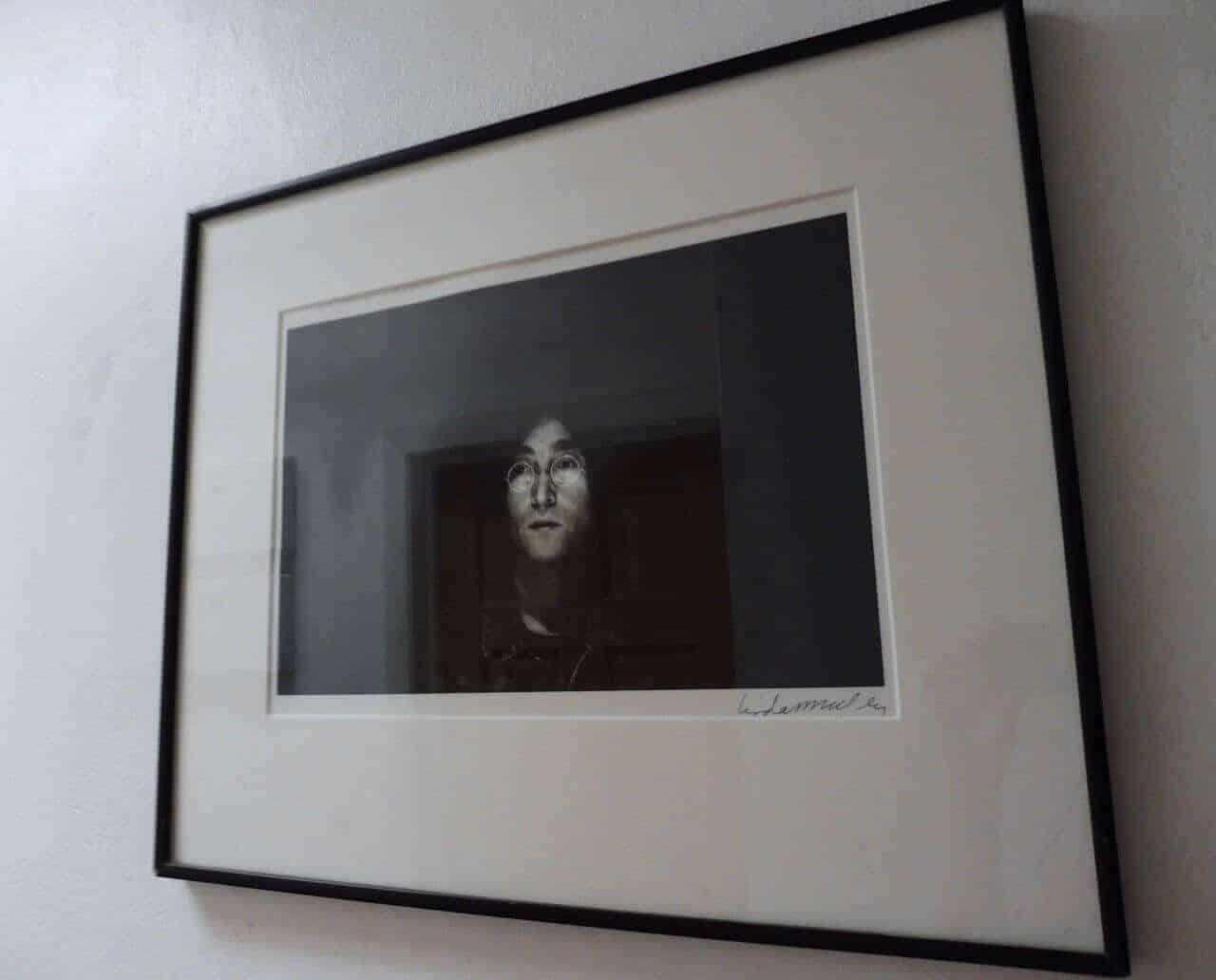 Dining at Olveston House
If you're planning a visit to Montserrat either as an excursion during a Windstar Cruise (or via ferry or plane) and are a Beatles fan, a stop at the Olveston House restaurant/B & B is a must. You don't need to overnight.
One of the most popular desserts at Olveston House is Eton Mess, a summery dessert made of meringue, whipping cream and fresh berries, named after a dish served at Eton College in Great Britain.
Pub nights are especially popular on Friday nights as are the Sunday Brunches featuring a roast carvery or fish. Book early if you want to score a table on the wrap-around porch.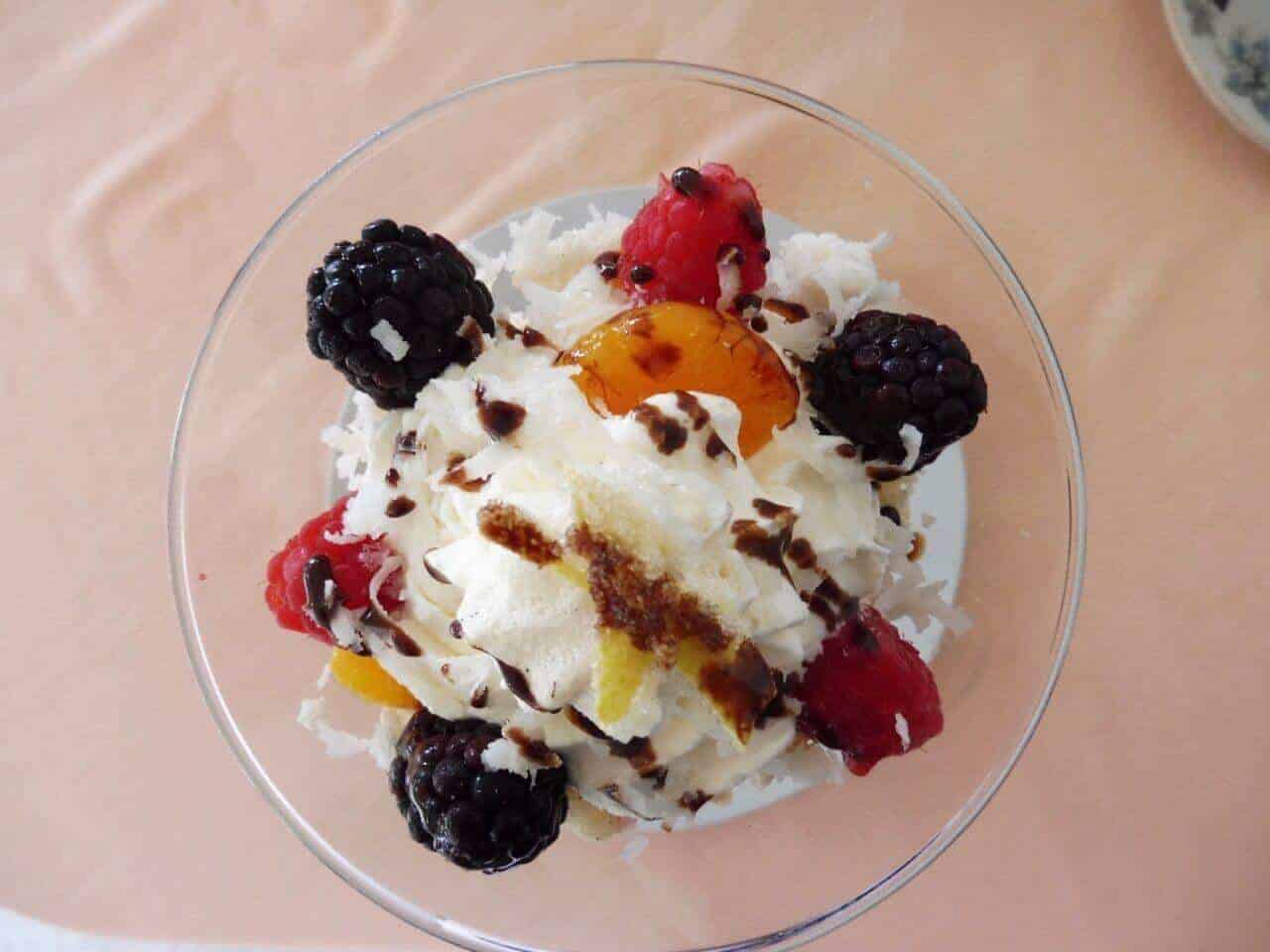 Beaches near Olveston House
During my stay, I took a walk to Lime Kiln Beach, a 15-minute walk downhill, from Olveston House.
There was no-one else on the beach that day and I had just a few chickens for company. It was a steep climb back up.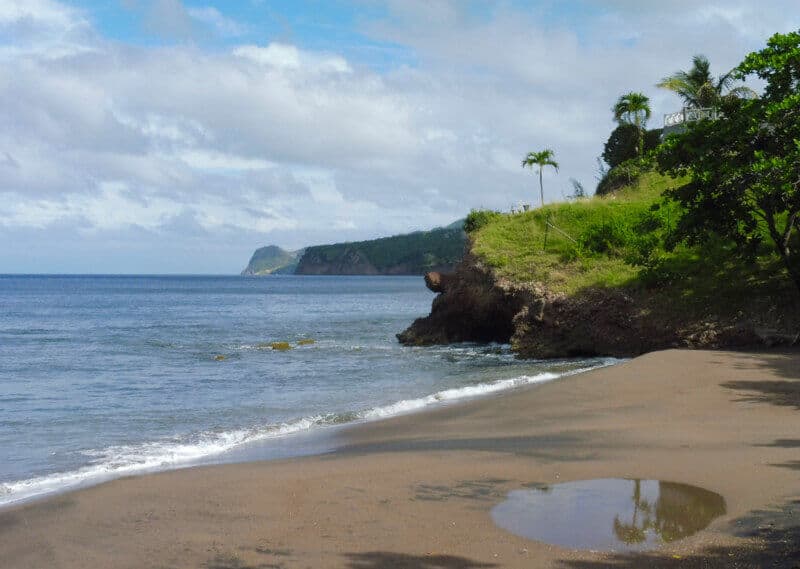 Travel Planner
Olveston House: http://olvestonhouse.com
Woodlands Villa: This 3-bedroom oceanfront villa offers fantastic views, a private outdoor swimming pool and AC, in a prime location near Lime Kiln Bay.
Check rates and availability of this 3-Bedroom Villa on Booking.com
Hilltop Family Centre and Coffeehouse: Browse a fascinating collection of music memorabilia at this coffee shop and restaurant operated by David and Clover Lea. gingerbreadhill.com/hilltop-coffee
Official Visit Montserrat website: www.visitmontserrat.com
How to Get to Montserrat: For sightseeing, you can take a helicopter tour of the island of Montserrat from neighbouring Antigua and Barbuda. You'll get an aerial view but won't be able to visit Olveston House, the Exclusion Zone or other attractions.
The best way to get to Montserrat is to take one of the 20-minute flights on Fly Montserrat Airways. The airline also flies to the islands of Nevis and Barbuda so it's possible to do some Caribbean island hopping using Antigua as a base.
Another option is to take a charter helicopter flight with CalvinAir.
Montserrat is one of 14 British Overseas Territories. Other British Overseas Territories in the Caribbean and South Atlantic include the British Virgin Islands, Bermuda, Anguilla and Turks and Caicos.
St. Patrick's Day:Montserrat has a rich Irish heritage. It's the only country outside Ireland that recognizes St. Patrick's Day as an official holiday with traditional Irish food, music and festivities. Visitors to the island even receive a shamrock stamp in their passports.
Learn about another Caribbean island worth visiting now, before the crowds arrive, in 12 Reasons I'm Tempted to Drop Everything and Move to Grenada.
Dividing her time between Canada, Guatemala and Mexico (or the nearest tropical beach), Michele Peterson is the founder of A Taste for Travel. Her award-winning travel and food writing has appeared in Lonely Planet's cookbook Mexico: From the Source, National Geographic Traveler, Fodor's and 100+ other publications.
Read more about Michele Peterson.