We may earn income from links in this post. Please read this Disclosure for details.
If you have a long layover at V. C. Bird International Airport in Antigua, are sailing the Caribbean or are looking for an excursion while on a Caribbean cruise, it's worth getting a Sandals Grande Antigua Day Pass.
This award-winning luxury resort offers a Sandals Day Pass that's one of the best options for a layover at Antigua airport (ANU).
Note: The Day Pass Program is currently discontinued until further notice. BUT Sandals Grande Antigua is fully open for overnight guests with sanitation protocols in place and departure testing (PCR and Antigen) onsite.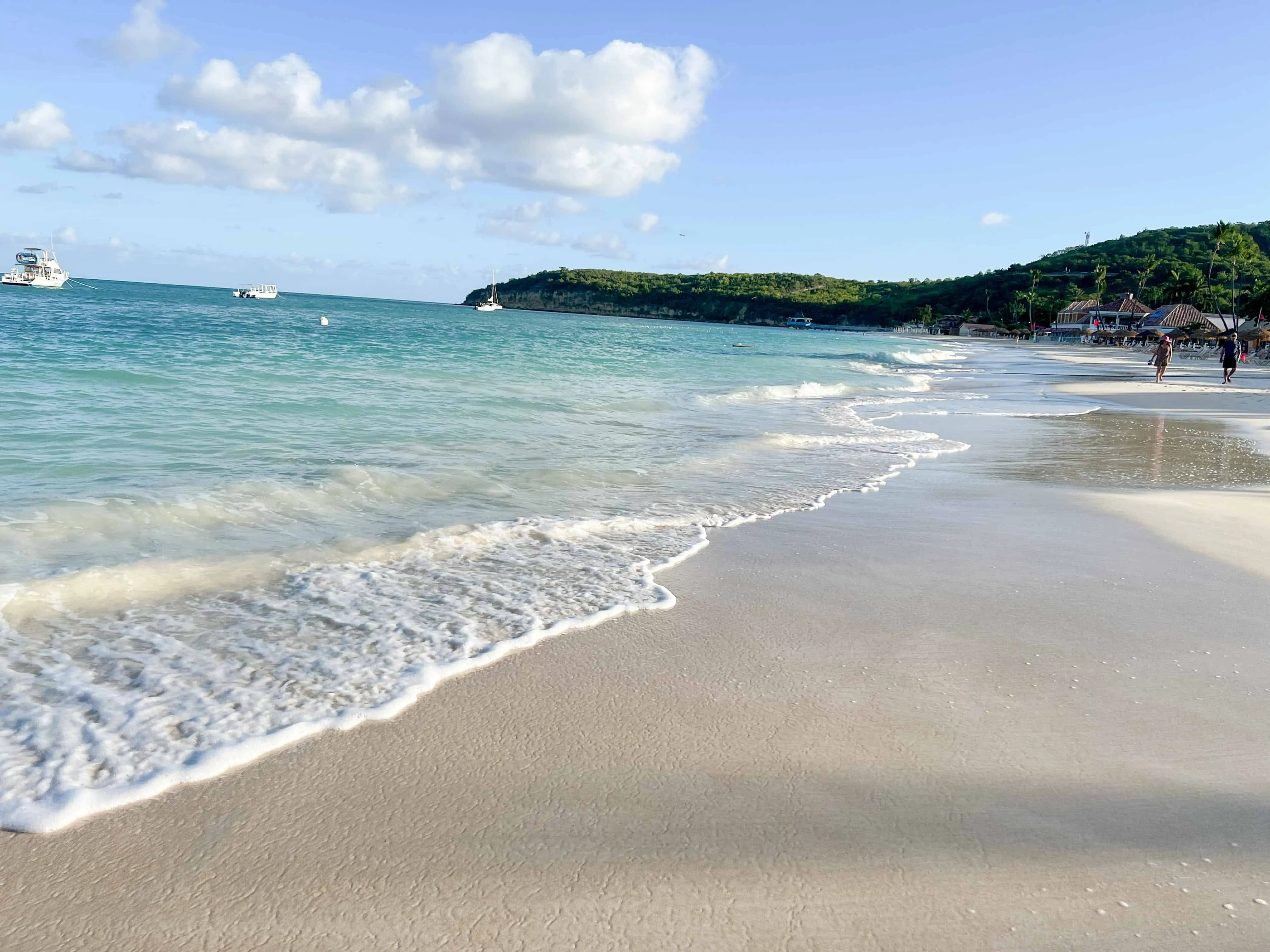 I recently had a whopping 7-hour wait between flights from Montserrat to Toronto so rather than spend my time in the airport, I wanted a white sand beach with calm waters, a swimming pool with loungers, a beachside restaurant, a place to store my suitcase, changing facilities and a location close to the airport.
I got it all at Sandals Grande Antigua Resort.

Sandals also happens to be a great way to spend a day ashore if you're sailing Antigua on a boat or, if you're on a Caribbean cruise and are looking for a luxury shore excursion in Antigua.
Here's why you should consider a Sandals Antigua Day Pass.
1. Check out the Sandals Brand with a Sandals Grande Antigua Resort Day Pass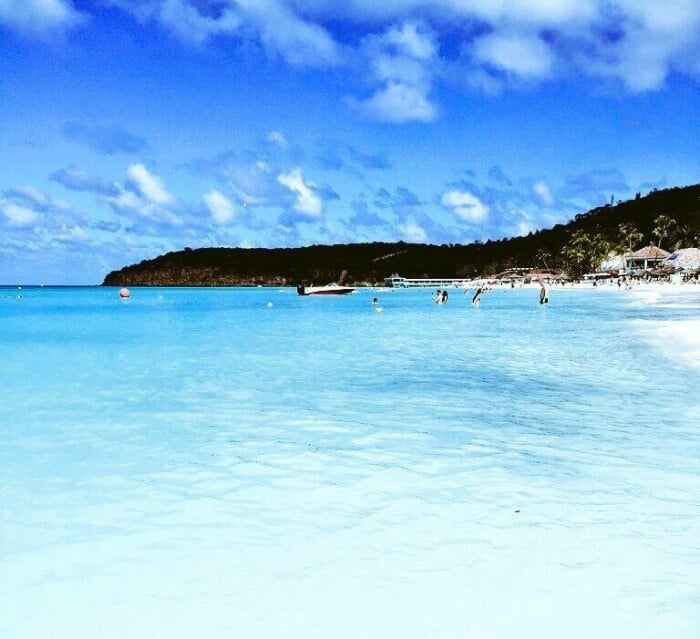 If you're planning a return visit to Antigua and Barbuda, a honeymoon, vow renewal or destination wedding, a Sandals Antigua Day Pass offers the opportunity to check out the Sandals Resort brand experience in advance.
Founded by his father, Gordon "Butch" Stewart owns and operates this mega brand, one of the world's most recognized brands of luxury all-inclusive resorts.
Sandals has an incredibly loyal fan base and an impressive social media presences with 1.5 million fans on Facebook alone. However, it's worth checking out in person before booking a major expense such as a destination wedding.
Note: Antigua and Barbuda is a Caribbean Island with No Zika Virus
The World Health Organization (WHO) removed Antigua and Barbuda from its Zika virus country classification list on Oct 23, 2018. There has not been a case of Zika virus on Antigua and Barbuda since 2016.
This makes it the perfect Caribbean destination for a babymoon (a relaxing getaway for expectant parents) or for couples who plan to get pregnant in the upcoming future.
2. Antigua's Best Beach at Sandals Grande Antigua Resort & Spa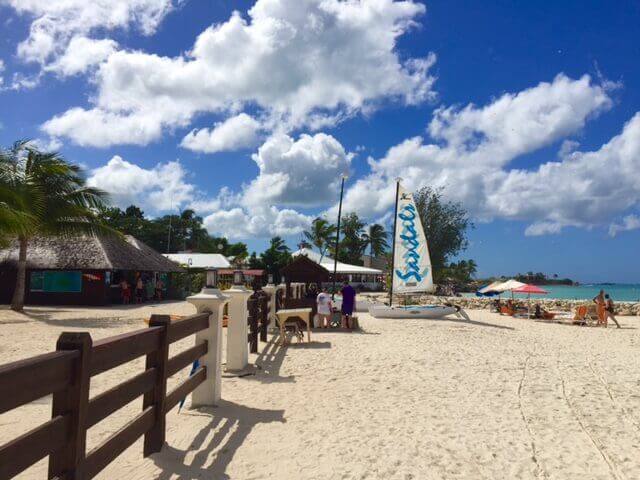 Located just a 15-minute taxi ride ($16 USD one-way) from ANU airport
Set directly on Dickenson Bay Beach, the longest white sand beach in Antigua and one of 365 beaches on the island. Visiting Dickenson Bay Beach is one of the top things to do in Antigua.
Landscaped with lush gardens filled with mature plants. In December, the clouds of white butterflies flitting about looked like confetti in the sunlight
Adults-only, couples only (singles, families and children are welcome at Beaches properties only) with a mix of ages but most seemed between 30 and 55 years of age.
3. Sandals Antigua Day Pass Includes Full Access to Swimming Pools and Facilities
Six fresh water pools and six whirlpools including two swim-up bars.
The 27-acre setting is large but not so huge you need a golf cart to get around. Everything is within easy walking distance. Important if you only have a day to spend on a property – I wanted to spend my time on the beach or around a swimming pool not zipping around.
The hotel was at >85% occupancy yet didn't feel crowded.
Two sections of 373 rooms include the Caribbean Grove, a classic low-rise collection of cottages and quiet swimming pools set among flowers and palm trees. The newer Mediterranean Village offers two modern towers, a shopping zone plus with a vast swimming pool featuring aerobics, entertainment and tropical music. A Day Pass doesn't include accommodation but it helps to know the style of each zone so you can choose where you want to spend your day.
Free WiFi available throughout the property.
Fitness Centre is very modern with AC, drinking water, and Life Fitness equipment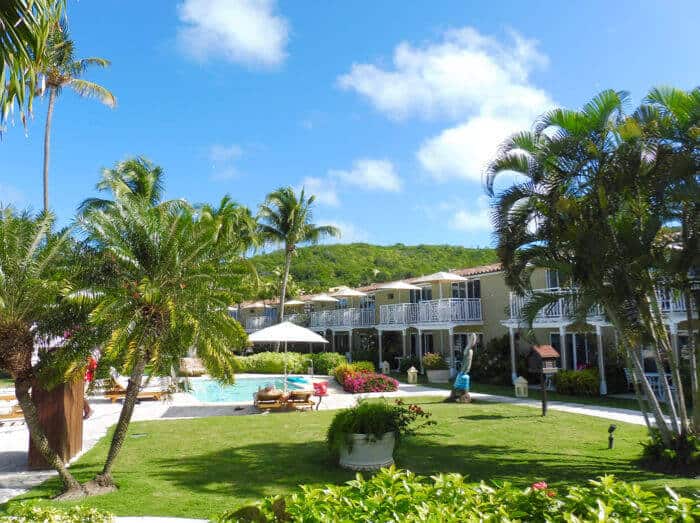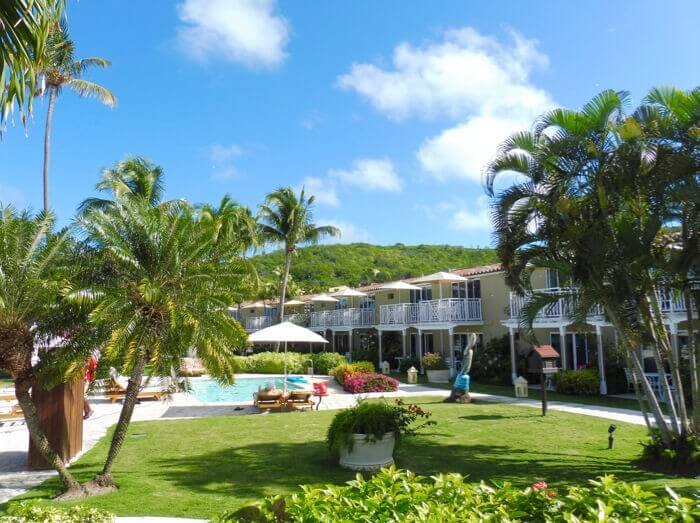 4. Enjoy All-inclusive Fine Dining and Cocktails with a Sandals Day Pass
Seven bars and cocktail lounges including the Mediterranean Swim-up Bar and the Swim-up Pool Bar in the Caribbean Grove.
Eleven restaurant options to choose from. If you're there on a Day Pass you can choose from Barefoot by the Sea for grilled fish, meat, ribs plus veggie choices (11:00 am-5:00 pm), Bella Napoli Pizzeria (11:00am-6:00 pm), Courtyard Bistro ( 12:00 noon – 5:00 pm) and the Bayside Buffet open for breakfast, lunch and dinner, Café de Paris for patisserie, espresso, crepes (7:000 am – 10:30 pm).
Sandals has partnered with Robert Mondavi Winery so the complimentary Robert Mondavi Twin Oaks varietals house wine is a real treat at this property. Other wines are available at an additional cost.
Sandals also offers several typical dishes of Antigua & Barbuda to enjoy at breakfast, lunch and dinner. Try pepper pot, salted fish, chop-up and other delicious traditional foods.
No wristband policy adds to the hassle-free enjoyment
5. Cost of a Sandals Antigua Day Pass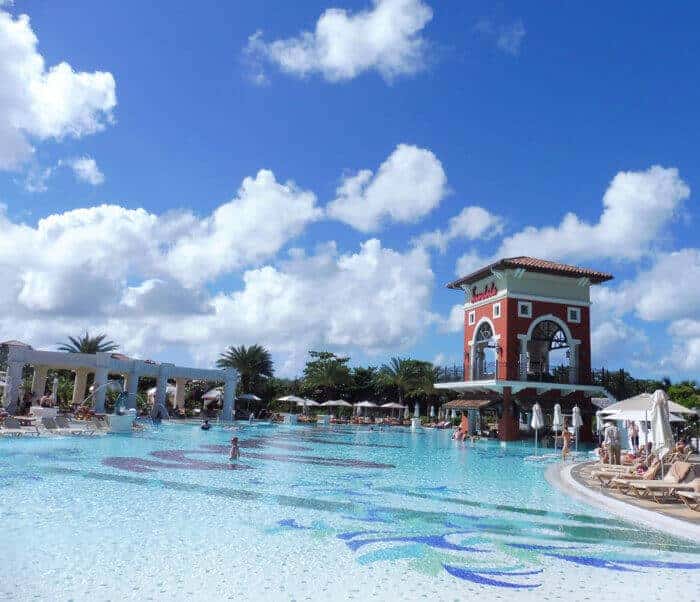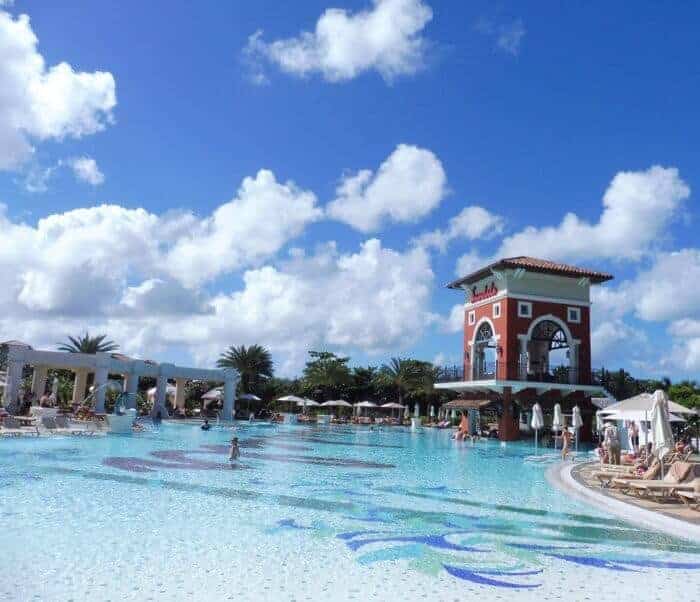 A Day Pass costs $110 per day per person (10 am – 6 pm) and includes full access to public resort facilities including restaurants and bars (remember you don't get an overnight room)
An Evening Day Pass is available from 6 p.m. to 2 a.m. and costs $88.00. In the evening, your restaurant choice will be larger ( includes Kimonos for Japanese teppanyaki, the Drunken Duck pub and Eleanor's Caribbean etc) but reservations are needed for a la carte restaurants. Prices are subject to change without notice.
The Sandals All-inclusive luxury means cocktails, spirits, drinks, coffee and meals are included. There is a no tipping policy.
You can rent a cabana for an extra cost of $99 a day in the Mediterranean Village.
A changing room is available on the second floor of the Mediterranean Tower so you can shower and change before heading back to the airport.
How to Get a Day Pass to Sandals Grande Antigua
Day Passes are available subject to approval. In periods of high occupancy or holidays, they may not be available so it's worth calling ahead to be sure.
Phone: (268) 484-0100
Prices are subject to change without notice
Phone or send the resort an email to reserve your day pass in advance. Email: satmail@grp.sandals.com
See the complete list of Sandals Resorts offering day passes on the FAQ section of the Sandals website.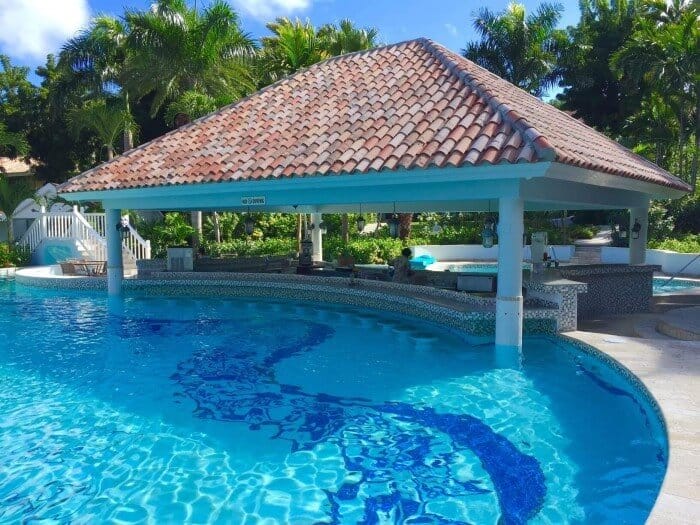 Sandals Antigua Travel Planner
Address: Sandals Grande Antigua Resort & Spa, P.O. Box 147 Dickenson Bay St. John's Antigua
Phone: (268) 484-0100
Email: satmail@grp.sandals.com
Website: www.sandals.com
Taxi: Flat rate $16 each way from V.C. Bird International Airport ( subject to change without notice)
YOU MIGHT ALSO LIKE:
A Day Pass to Carambola Beach Club on St. Kitts
Day Pass ( take the kids!) to Dreams in Huatulco Mexico
Day Pass to Secrets The Vine, Cancun
Day Pass to luxury in Panajachel, Guatemala
Day Pass to Secrets, Huatulco Mexico
Enjoy a Day Pass to Dreams Playa Mujeres Resort Cancun
Shirley Heights Antigua – The Caribbean's Best Party!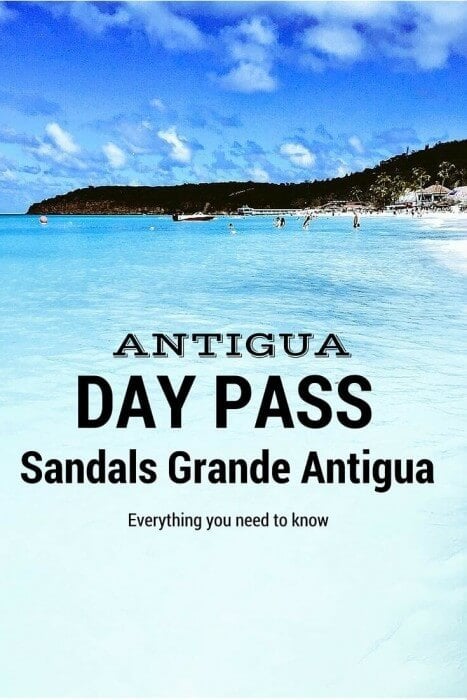 Dividing her time between Canada, Guatemala and Mexico (or the nearest tropical beach), Michele Peterson is the founder of A Taste for Travel. Her award-winning travel and food writing has appeared in Lonely Planet's cookbook Mexico: From the Source, National Geographic Traveler, Fodor's and 100+ other publications.
Read more about Michele Peterson.