We may earn income from links in this post. Please read this Disclosure for details.
Lugging my suitcase through the Paris Metro, onto the high speed train, down the cobblestone streets of Arras and up four flights of stairs to my hotel room, had seemed like an ordeal.
Until I visited the trenches of Vimy Ridge.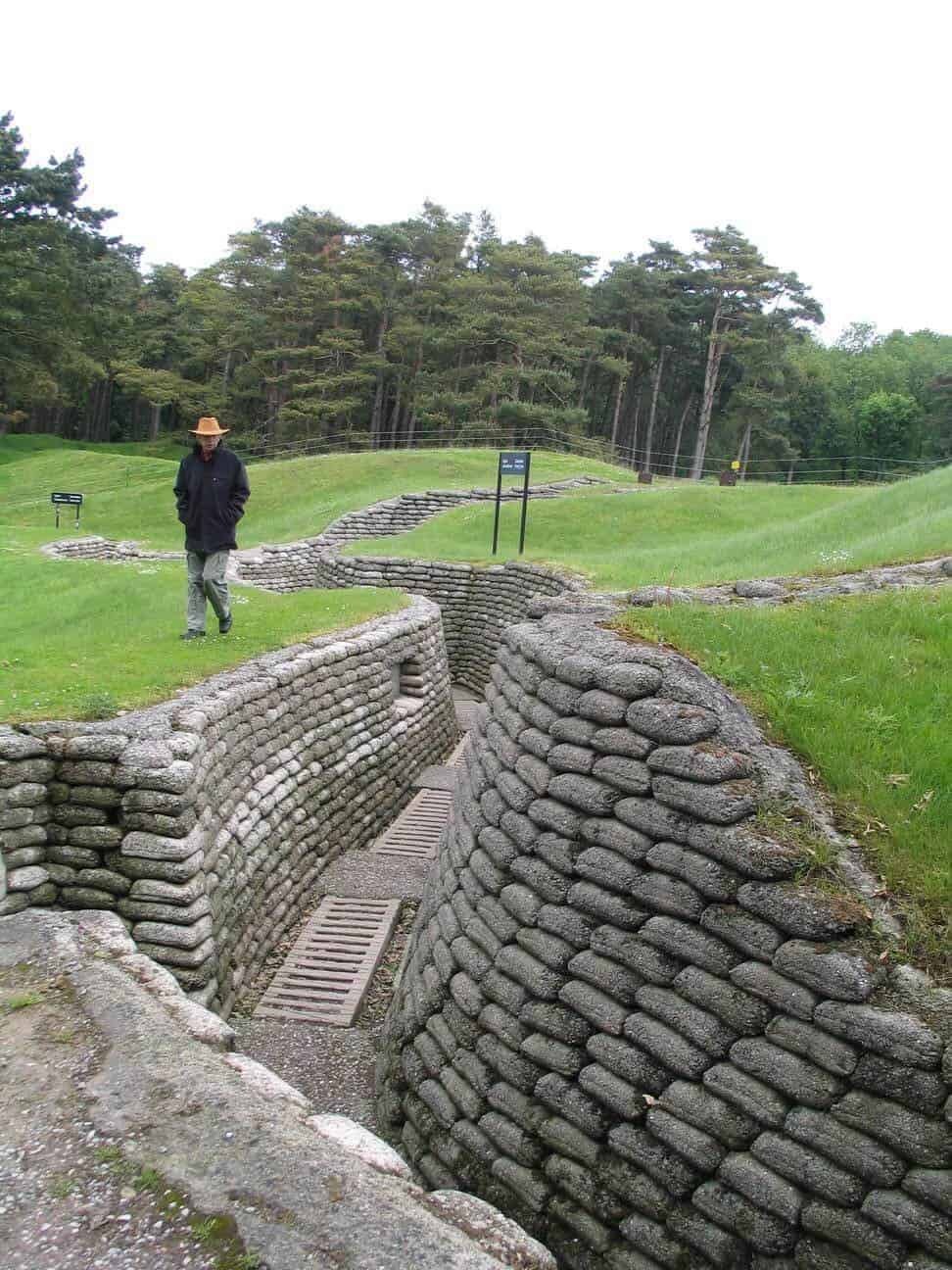 "Imagine carrying a 30-kilogram pack on your shoulders and navigating through this tunnel as shock waves of artillery shells pounded the crumbling chalk walls around you," said Ashlee Beattie, a Veterans Affairs Canada guide, as we walked the Grange subway tunnel at the Canadian National Vimy Memorial Site.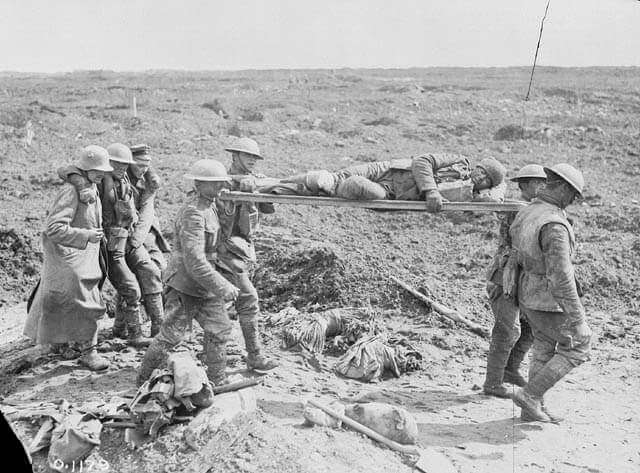 Once they arrived at the trenches, soldiers faced fetid water, vermin, stench, enemy fire, gas attack, fear and shell shock. And that was if they stayed below.
If they went over the top, they faced the horror of No-Man's Land, the muddy gap between the German and Allied lines.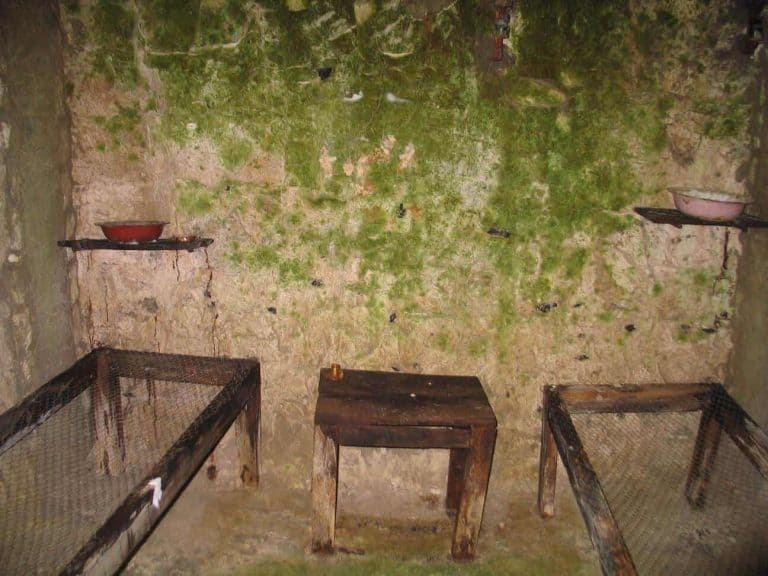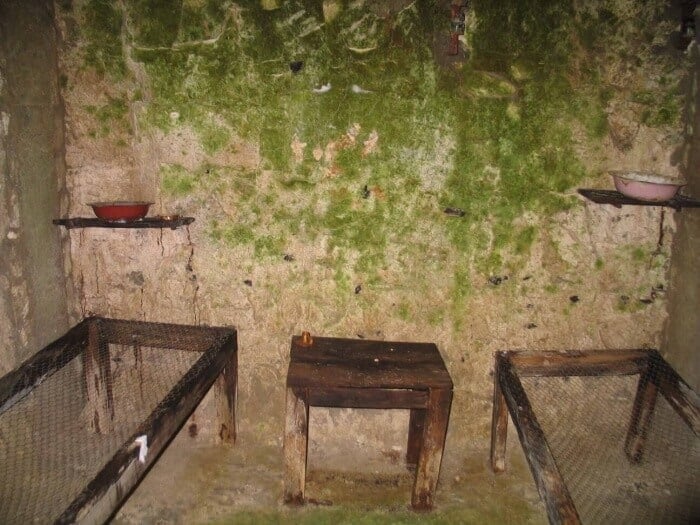 "Vimy is not just about horror," said Beattie, "It is a testament to man's determination, sacrifice and bravery."
I'm retracing the footsteps of my great-grandfather, Peter Biely, who died on these battlefields. Based on his enlistment documents, we had a lot in common.
We both arrived in France during a cold rainy season. He stood 5 feet 8 inches tall, as do I. His complexion was fair, his hair light-brown and his eyes blue – as are mine.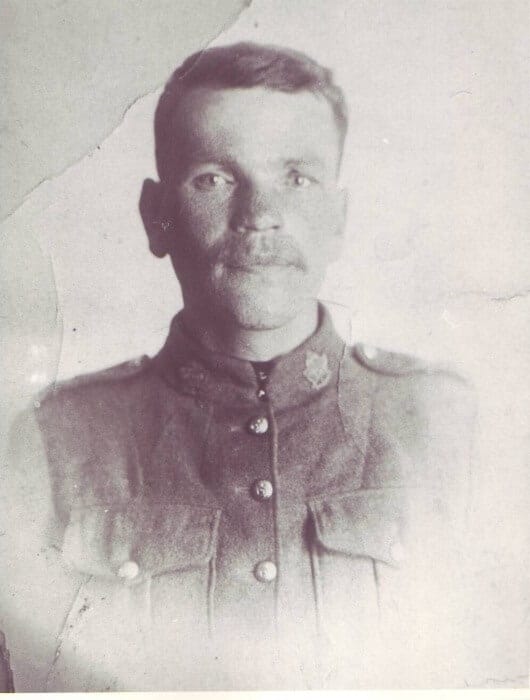 While we both lugged 30-kilograms of baggage, mine would return home. His would not.
It, along with all traces of his body, would remain somewhere on the Douai plains of northern France, just one of 66,655 Canadian fatalities of WWI.
Now, I've come to pay my respects – a pilgrimage to the memorial that bears his name.
"Vimy Ridge was a very important strategic site. Rising 61 metres above the plain, it had been held by the Germans since 1914 and protected valuable mining and manufacturing districts," she explained. "The Canadian Corps' objective was to seize it."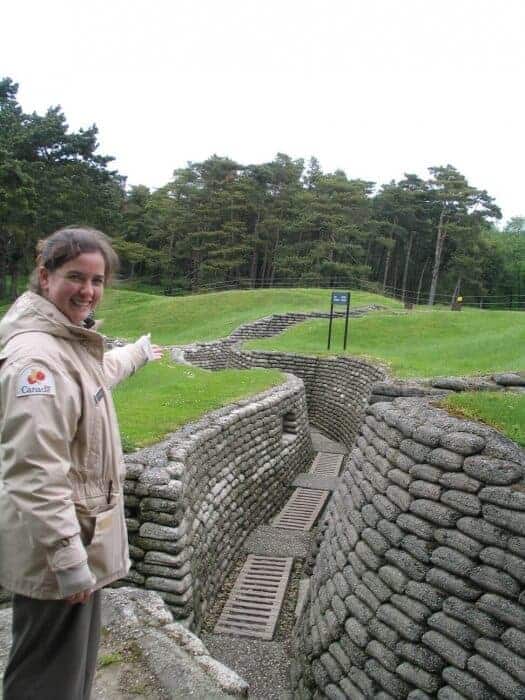 Today, the flocks of grazing sheep and green rolling hills present a pastoral scene. The reality is that the hills are actually grass-covered mine craters and, although it is a myth that grazing sheep are regularly blown to bits by buried grenades, an estimated 30 million tonnes of unexploded shells still line the former Western Front.
"If you see something on the ground, don't pick it up," said Beattie. "It may not be inert."
The Interpretive Centre provides further insights into the soldiers' experience.
Unlike the German army which was comprised of professional soldiers, the Canadian army was drawn of volunteers made up of ordinary Canadians.
My great-grandfather was one of those volunteers. Born in Ukraine in 1881, he had emigrated to Kamsack, Saskatchewan from Ukraine seeking a new beginning. (Read about their family's immigration journey to Canada)
But not well-suited to the rigors of farming, by the second winter, he faced a difficult reality. An infant daughter had already died and it appeared doubtful the family would survive another harsh winter.
So, with the prospect of a salary, he enlisted and shipped out with the 44th Battalion, arriving in France on January 14, 1917. He would be dead less than six months later.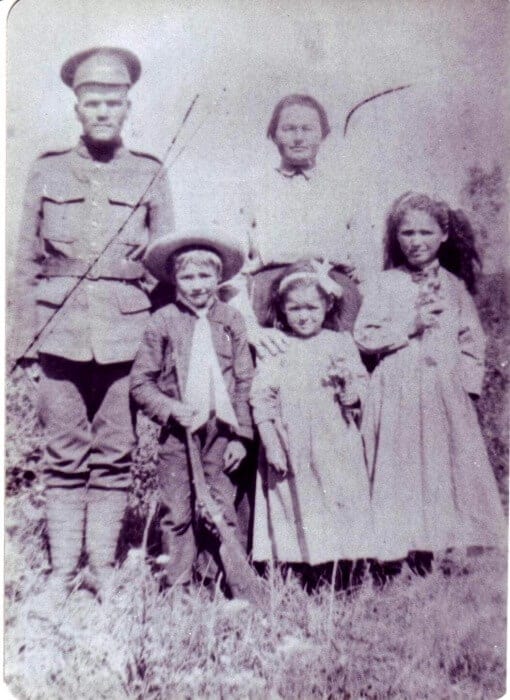 The battle itself is described in the Centre's exhibits. At dawn, on Easter Monday April 9, 1917 through a driving sleet, all four divisions of the Canadian Corps stormed the ridge. Although the German defences were well-fortified, by mid- afternoon the Canadians had taken the crest.
Three days later, they seized the rest.
"The victory at Vimy is considered a coming of age for Canada as a nation," explained Arlene King, Site Director. "It was the first time the Canadian Corps had advanced together and it was a turning point in the war for the Allies."
Although the 91-hectare site has much to offer, most of the 750,000 annual visitors head to the Canadian National Vimy Memorial. Unveiled in 1936, it continues to hold a haunting power.
Towering limestone sculptures such as "Canada Mourning Her Fallen Sons" are moving tributes to sorrow. Considered one of the most beautiful war memorials ever created, time, wear and weather have resulted in significant damage.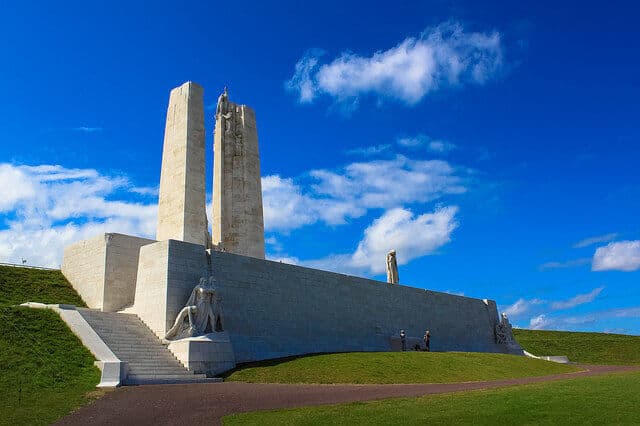 Thanks to official designation as a Canadian National Historic Site in 1996, it received the bulk of a $31 million injection of cash for restoration. Shrouded in scaffolding for several years, construction was completed in April 2007 to commemorate Vimy's 90th anniversary.
Restoring it in a manner that respected the integrity of architect Walter Allward's original design, presented many challenges.
"The most significant problem was water damage caused by the freeze/thaw cycle. It obscured many of the names inscribed on the memorial," explained Peter Craven, Senior Technical Advisor on the Canadian Battlefield Memorials Restoration Project. "Because the names flow continuously in alphabetical order across mortar joints, special masonry techniques were needed."
My great-grandfather's name is inscribed on the Vimy Memorial as he perished two months later during offensives intended to consolidate Vimy's gains. His commander, Lieut-Colonel Davies, reports in the war diary:
May 7th: Troops at rest. Some accidental wounding by snipers.
May 8th: Clear day. Light wind. Front and support line are constantly shelled by the enemy.
May 9th: Enemy still very troublesome. Decided to extend trench positions to connect with nearby trench. Very successful but heavy casualties.
May 10: Enemy shelled during day and made extensive use of grenades and gas shellers;
May 11th: Battalion experienced highest casualties since Oct. 1916
May 12-19th: Relieved for R & R at ( concerts and entertainment) Chateau De la Haie
May 19th to 31st: Returned to trenches. Shelling continued.
May 31st: Battalion moved forward to carry out order # 58
The diary of Order #58 reads:
"On the evening of June 2nd, assembly of the troops was completed at 11:50 p.m. All companies in position but very crowded. Companies moved out after gas bombardment of German positions by over 600 projectors. Company "B" was badly cut-up by machine gun fire and became disorganized but were rallied and gained brewery with very reduced numbers. Support Company was held up by strong German positions in the gunpits but carried on and lost 30 men at the enemy front lines. Right assault Company "C" occupied La Coulotte but lost contact with Left Company and were surrounded by the enemy at 1:00 am. They maintained their position until dawn when they withdrew having lost 78 men. Left Assault Company "D", nearest to the Avion Enemy Trench were caught by severe machine gun fire from all sides and no trace of its officers or ordinary rank could be found. Only two wounded men returned and could give no clear story of what happened."
Apparently, the village of La Coulotte was occupied by a strong enemy garrison. Private Peter Biely was reported as Killed in Action, along with 75 other ordinary rank infantry, in what became known as "The Affairs South of the Souchez River."
The time from when he touched French soil to his death was less than six months. No trace was ever found.
Wanting to stand on the ground where he stood his final moments, I headed to the village of La Coulotte. Today, a quiet French town, it was once the epicentre of heavy fighting.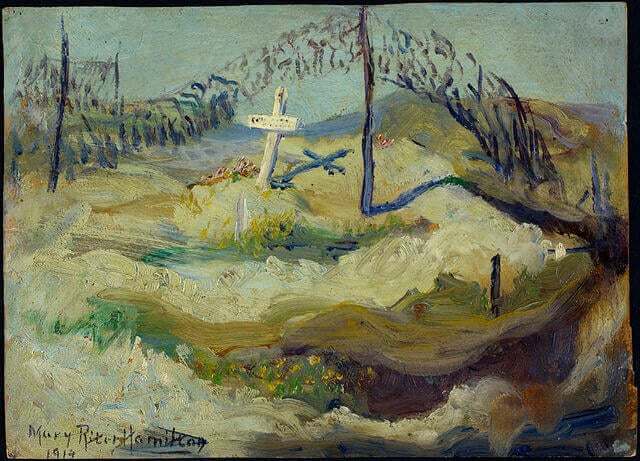 "Sometimes there was nothing left to recover," explained Jean-Marie Prestaux, Director of Tourism for Arras, itself the site of heavy battles "Artillery shells could reduce men to nothing. In battlefields like this, what did remain was ploughed back into the earth and gone forever."
According to Commonwealth tradition, soldiers were buried where they fell. More than 7,000 are buried in 30 cemeteries within a 16-kilometre radius of the Vimy Memorial. In sharp contrast to the stark, sombre black crosses in the German mass cemeteries, the graves are clustered in small intimate gardens, carefully tended by the Commonwealth War Graves Commission. Many white crosses bear names and moving inscriptions. Others, representing unidentified soldiers, read only "Known unto God."
Some, like my great-grandfather, have no grave stone at all. For those 11,285 soldiers, the Vimy Monument serves as a focus for contemplation. The site itself enables people to connect with the soldiers' experience on a personal level. As I did.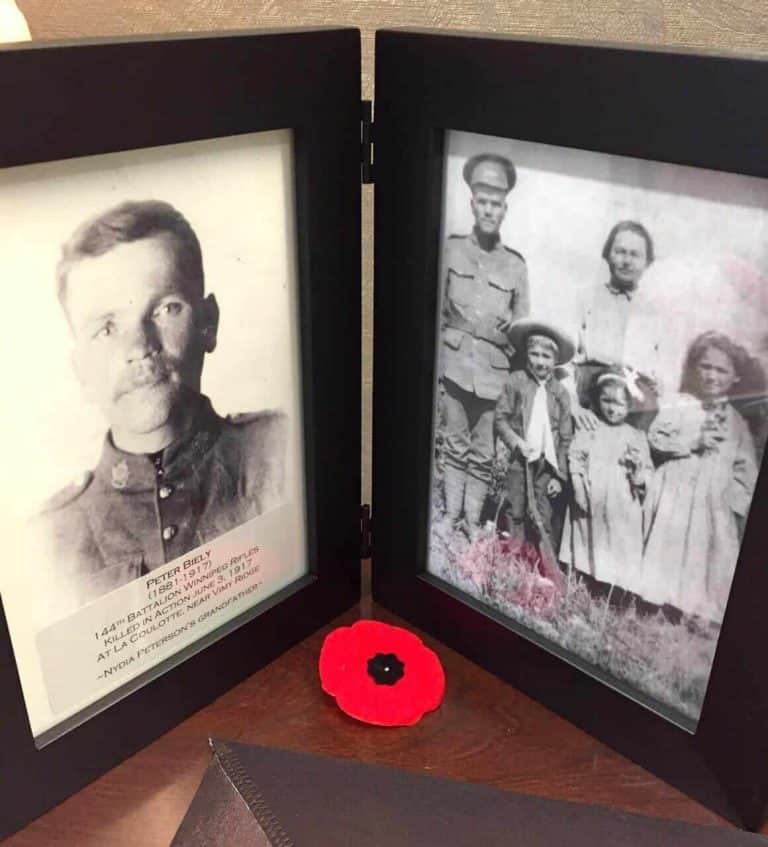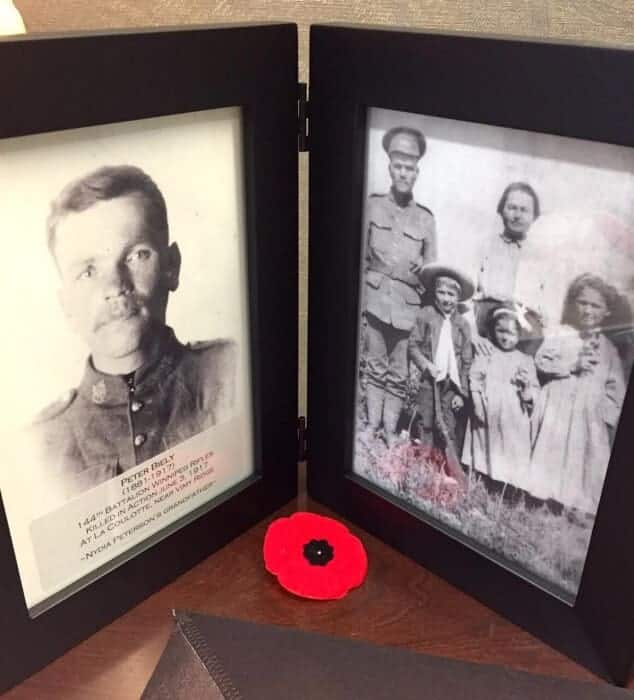 May He Rest in Peace.
Travel Planner
Canadian National Vimy Memorial Site: For detailed information visit Veterans Affairs Canada at The tunnels are open May – November. Visitors wishing to view them should pre-book tours by contacting the Interpretation Centre at Vimy: Tel: 011-333-21-50-68-68
Where to Stay: Lens and Arras are the closest towns. Arras, located 8-kilometres from Vimy, offers a historic square flanked by fascinating Flemish-Baroque row houses, a war museum and its own underground tunnels. Official Arras Tourism site: www.ot-arras.fr Hotel Diamant in Arras is well-located, reasonably priced and has helpful English-speaking management.
Transportation: Arras is 11.5 hours from Paris by car or 50 minutes by TGV high speed train. Inter-city buses, rental cars or taxis are also available for transportation from Arras to the Vimy Ridge memorial. See RailEurope.com
Royal Canadian Legion: Pledge to never forget those who sacrificed for our freedom by supporting the annual Poppy Campaign.
Official Website for France Tourism: http://in.france.fr/
Before You Go: The Canadian War Museum in Ottawa presents exhibits and artefacts on Canada's military history. The Library and Archives Canada's Genealogy Services consultation room is located on the 3rd floor at 395 Wellington Street in downtown Ottawa, Ontario.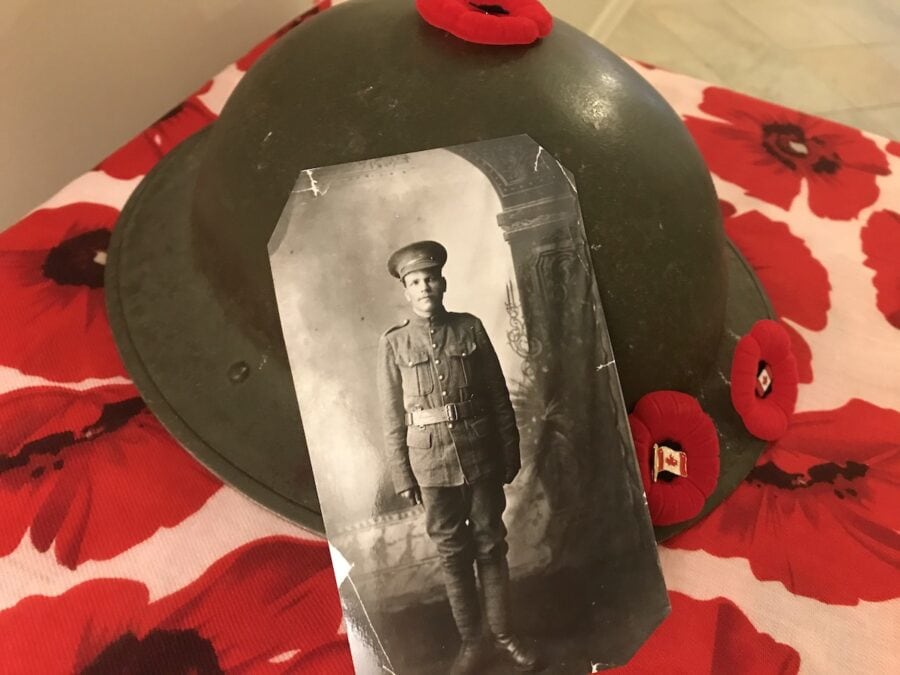 I am very grateful to Veteran Affairs Canada, Library and Archives Canada, France Tourism, Arras Tourism, Rail Europe and the staff at Vimy Ridge Memorial who assisted me with the research for this story. Particular thanks to Lt. Col Phillip Robinson for his invaluable assistance in helping me to understand the War Records. Thank you sincerely.
Dividing her time between Canada, Guatemala and Mexico (or the nearest tropical beach), Michele Peterson is the founder of A Taste for Travel. Her award-winning travel and food writing has appeared in Lonely Planet's cookbook Mexico: From the Source, National Geographic Traveler, Fodor's and 100+ other publications.
Read more about Michele Peterson.