We may earn income from links in this post. Please read this Disclosure for details.
Curious about the food in Martinique? You've come to the right place because the best food and drink to try in Martinique is featured here!
Although Martinique is known for its beautiful beaches, aqua blue sea and Creole cottages in bold pastels, this French Caribbean island has a fascinating food, drink and restaurant scene.
Along with the Islands of Guadeloupe, Saint Barths and Saint-Martin, it's an overseas collectivity of France.
This means you'll find lots of French influence in the island's architecture, cuisine and culture.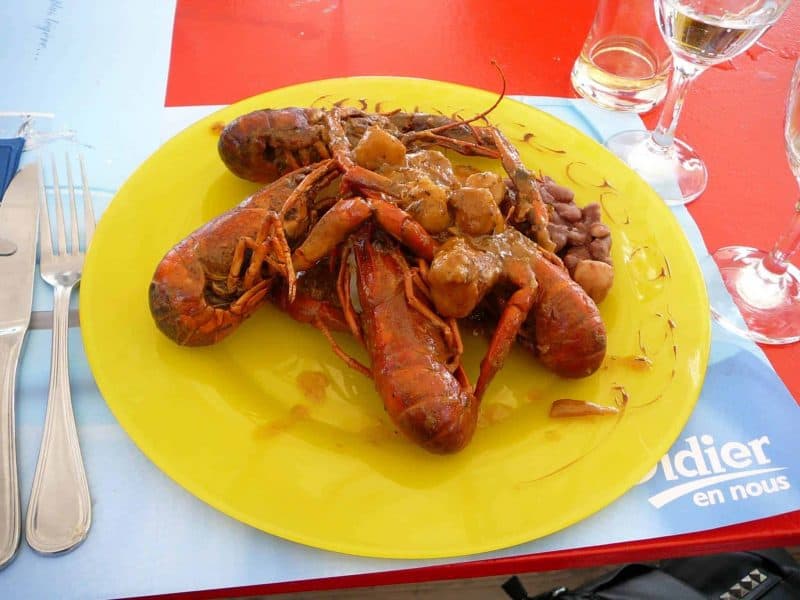 Over the past several years, I've eaten my way across more than two dozen islands and nations in the Caribbean region. And Martinique is still one of my favourite food destinations!
From rhum agricole to French haute cuisine to Creole flavours, there's a wealth of culinary experiences to discover when it comes to Martinique food.
Here's a look at what not to miss — restaurants, traditional dishes and food tours — on this French Caribbean island.
No time to read the whole article? Our top pick for a culinary travel experience in Martinique is the North Shore Tour of St. Pierre, Depaz Distillery and Le Carbet Beach.
It gets fantastic reviews too!
1. Explore Martinique's Food Heritage in a Cooking Class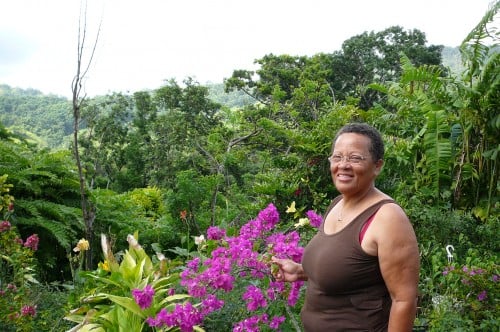 Martinique's cuisine is an inventive blend of French, Caribbean, Creole, West African and South Asian traditions, flavours and techniques.
One of the top places to experience this diversity is in a Martinique cooking class. In these small-group culinary classes you'll learn about cuisine inspired by the Creole garden.
Almost every Martinique home has a garden where you'll see hummingbirds flitting between tangles of dasheen (leafy cabbage), giraumon (squash) and yams.
These ingredient make an appearance in traditional Martinique dishes such as sweet potato fudge and colombo, a curry of turmeric, garlic, coriander, fenugreek, cloves, cumin, pepper, and mustard seeds.
While learning to make these specialties, your cooking class will often include a Ti-Punch (rhum,lime and cane juice shot). Or a planteur (Planter's Punch) cocktail.
Check prices and availability of a Cooking Class in Martinique on Viator.com.
2. Sip a Ti-Punch
In Martinique, the drink of choice is a ti-punch, a powerful aperitif made of aged Martinique rhum agricole, cane syrup and lime juice.
This drink is somewhat similar to a margarita in Mexico but features rum rather than tequila, and contains just three ingredients. It's more like a shot than a cocktail.
This traditional Martinique drink is so popular, don't be surprised to see a t-punch served at breakfast!
A ti-punch also pairs perfectly with a bokit sandwich. The signature French Caribbean street food hails from Guadeloupe but is just as popular in Martinique.
Fillings vary but the classic is salted cod with chicken and pork as close runners-up.
3. Sample a Traditional Martinique Breakfast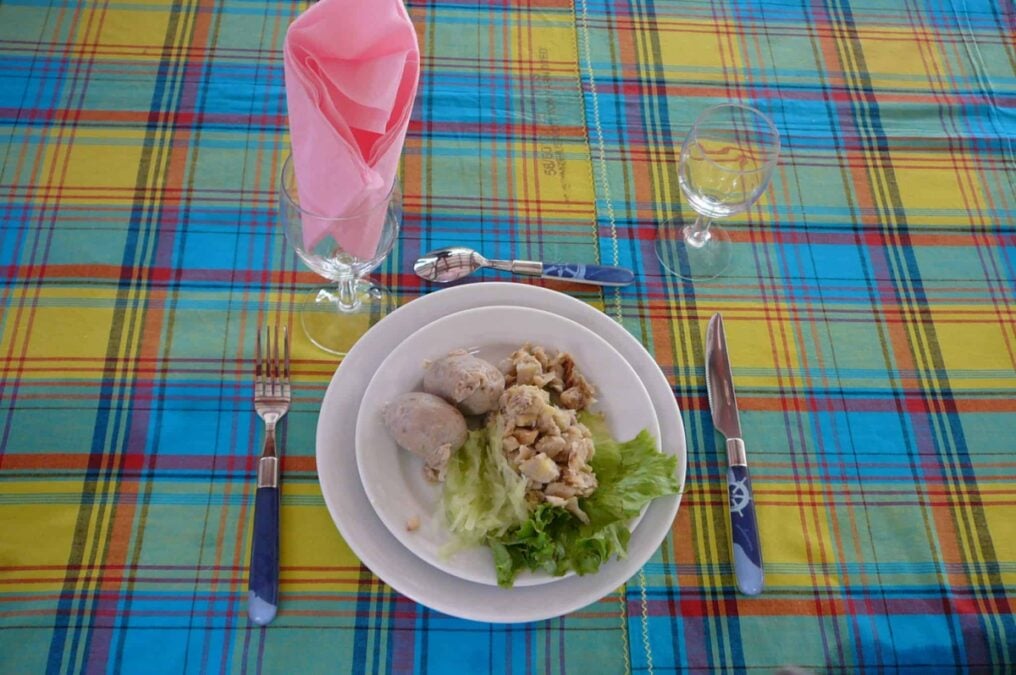 Breakfast in Martinique is a colourful affair you absolutely don't want to miss!
A typical breakfast in Martinique might feature a madras tablecloth of cinnamon, orange and yellow topped by pitchers of guava juice and a platter of salty-sour hareng fume (smoked herring) surrounded by shaved cucumber, carrots and lettuce.
A gratin of christophene (chayote) and baked ti-nain, a tiny banana, often anchor the offerings.
🌟 Pro Tip: Recipes featuring salted cod are popular throughout the Caribbean and are a must-try!
4. Sail to Ilet Madame for a Creole Picnic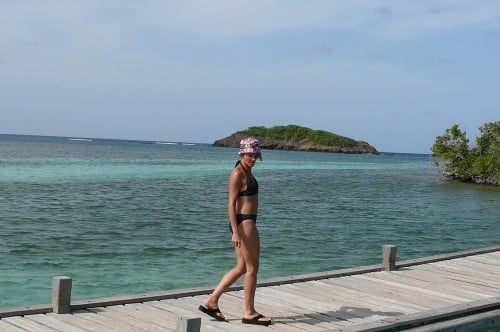 One of the most memorable food experiences in Martinique involves taking a Sailing Trip to Ilet Madame, a protected island archipelago on the Atlantic Coast.
On this picnic excursion by boat, you'll munch on treats such as accras de morue, crisp bite-sized fritters made of salted cod that are Martinique's version of tapas.
One of the best beaches in the Caribbean, the calm waters of Ilet Madame are ideal for swimming. It's possible to see starfish and other marine life in the clear waters.
The best sailing tours also include a swim at Josephine's Bath, a sandbar in the middle of the ocean where local legend says Napoleon's Empress Josephine bathed as a child.
It's similar to the offshore cays on the island of Anguilla. Playing castaway on one of these specks of sand is one of the top things to do in Anguilla.
Check prices and availability of a Creole Lunch on a Sailing Charter on Viator.com.
5. Dine at a Le Carbet Beach Restaurant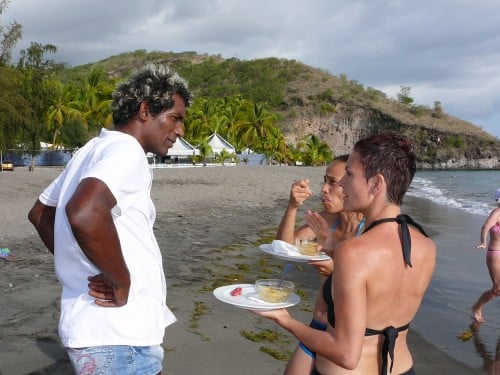 For food lovers, another must-do thing to do in Martinique is to visit Le Carbet on the Caribbean Coast.
Here you can sample contemporary interpretations of local fare under the creative direction of artisan-restauranteur Chef Guy Ferdinand, affectionately dubbed "Chef Hot Pants."
He's a keen supporter of sustainable local producers and his restaurant Le Petibonum is close to his heart.
The menu, inspired by the sea and the senses, includes a lusciously smooth avocado puree shrimp cocktail, grapefruit salad and a platter of shrimp, lobster and ouassou (fresh water crayfish).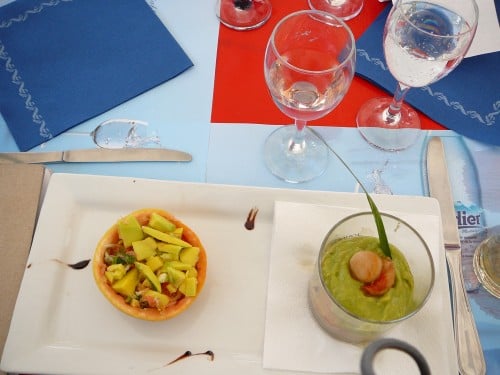 The grilled lobster here is dripping with juices but no need for a lobster bib! Just jump in the ocean for a swim to wash off.
🌟 Insider Tip: Overnight in Le Carbet at MadiCreole, a newly-opened guest house operated by Le Petibonum.
Check prices and availability of Martinique North Shore Tour including St. Pierre, Saute Gendarme waterfall, Rum Distillery and Le Carbet on Viator.com.
6. Chill Out with a Bowl of Manioc Ice-Cream
While in Le Carbet be sure to make a stop at Zioka Glaces (Google Map), a unique artisanal ice cream shop.
At Petibonum, Chef Ferdinand relies on Ziouka Glaces to supply him with unique offerings such as manioc (cassava) ice-cream.
The hand-crafted creation pays homage to the island's slave ancestry who once relied on the root vegetable as a dietary staple.
7. Soak up Culture and History at La Savane des Esclaves
Further south in Trois-Ilets, at la Savane des Esclaves, Gilbert Larose has taken guerrilla gardening to a whole new level in his quest to preserve island history.
Beginning by planting a few plants on an abandoned piece of land, he's now added several huts, built using the same techniques enslaved people would have used in the early 1800's.
Now, he serves lunch, a hearty cabri (goat) stew topped with delicate skewers of dorado.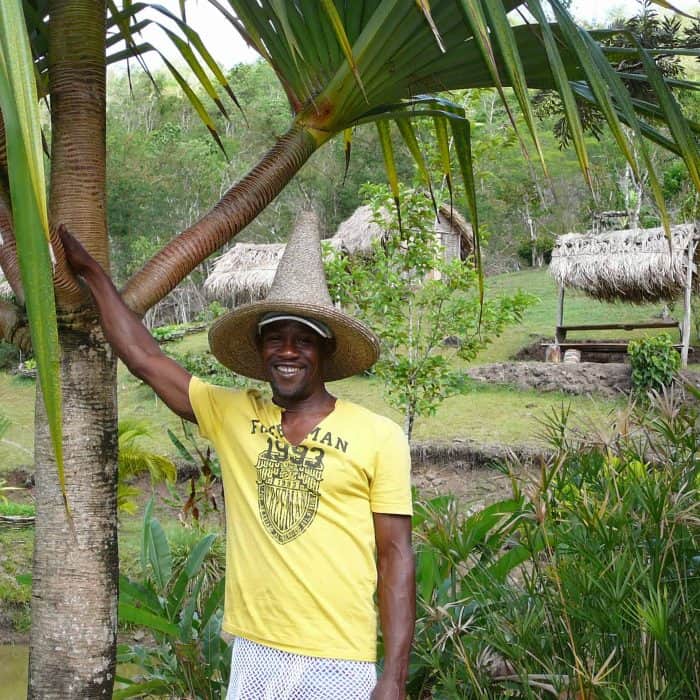 "In the old days we'd cook communally and talk about our troubles together," he says "Now, we've lost that part of our culture."
The future holds even more challenges. According to the University of Hamburg in Germany, islands in the Caribbean are expected to be severely impacted by global warming due to rising sea levels and increasing frequency and intensity of tropical storms.
Mountainous islands such as Martinique, where 80% of the population lives on the coast, will be particularly affected.
Many believe that the traditions of the past can help islanders deal with an uncertain future.
8. Sample Martinique's Famous Rhum Agricole
When in Martinique, be sure to visit a rhum agricole producer such as Neisson, Depaz or another distillery along the rum trail.
The best excursions in Martinique will include a stop at a rum distillery for a tour of the production facilities and a rum tasting.
Rum aficionados will want to sign up for the Full-Day Historic Rum Tour, a deep dive into rum production and rum-tasting with multiple distillery stops.
Unlike other countries where rum is produced from molasses, Martinique's rum is produced from sugar cane juice.
This means it preserves the subtle nuances of the terroir where the sugar cane is grown, much like fine wine reflects the growing conditions of the grapes.
Check rates and availability of a Martinique North Tour (Rum Distillery, Black Sand Beach, Rainforest) on Viator.com
🌟 Pro Tip: Martinique's Rhum Trail now includes 14 rum distilleries. The newest addition is Braud & Quennesson Distillery in the south of the island.
9. Stay Local at a Gîtes de France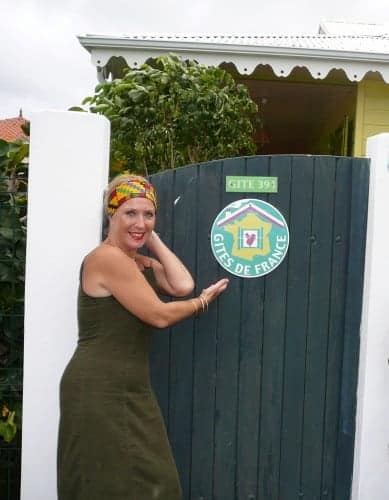 One sure way to get a sense of the local culture is at a Gîtes de France, one of the island's vacation rental homes.
More than a room for the night, these accommodations range from quaint Creole cottages to luxurious villas. They offer an opportunity to sample rural life and often, cuisine.
10. Indulge in Seafood at a Beach Bar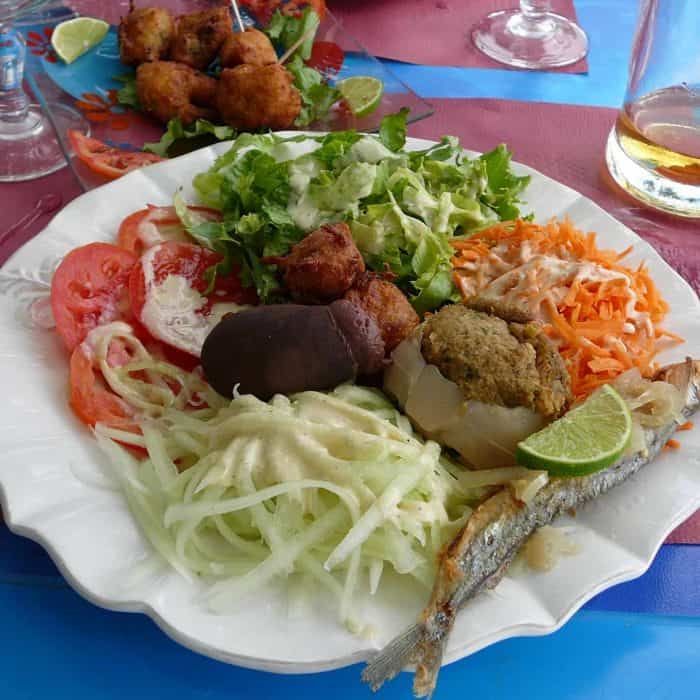 Just steps from the fishing boats at Grand Anse, you can find a wealth of great food.
Be sure to try crab-stuffed rock lobster, plantain and boudin noir. Made of fresh pig's blood, French bread and spices wrapped in intestine, this sausage is also popular in New Orleans.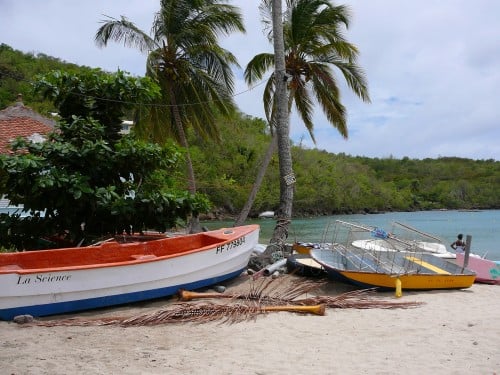 When it comes to authentic local culture and Martinique food, there's no better way to dive in than dining with your toes in the sand.
Getting Around Martinique
You'll need to rent a car to explore this mountainous island fully.
Much like in St. Lucia or Sparta, Greece, driving is a stomach-churning corkscrew ride around mountains. In Martinique the pitons, dramatic rock outcroppings. emerge like teeth out of the landscape.
Along the north of the island, the road criss-crosses past beaches of black volcanic sand, lush rainforest and deep canyons.
It's a route shadowed by cloud-shrouded Mount Pelee, the devastating volcano that erupted in 1902.
We rent our cars on Discovercars.com. It's an online car rental booking site that compares rates from several companies to find the best deal.
Check for the best car rental rates at Discovercars.com
Agri-tourism in Martinique
Eating locally is an important concept in Martinique where agricultural production devoted to sugar cane, pineapple and banana exports has meant 80% of the food is imported.
A fresh crop of grassroots-based culinary tourism initiatives is hoping to change that.
The TakTak Network is an association of farmers, fishermen, chefs and agri-tourism operators who are trying to carve a living out of tourism and at the same time preserve their culture.
TakTak believes that by building on such diversity, culinary tourism can boost the local economy in a way that sustains residents' way of life instead of trampling it.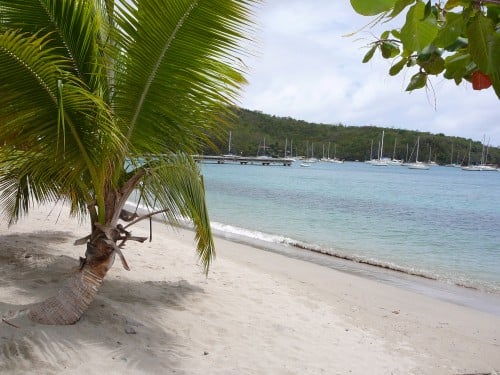 More Caribbean Food and Travel Inspiration
Save to Pinterest!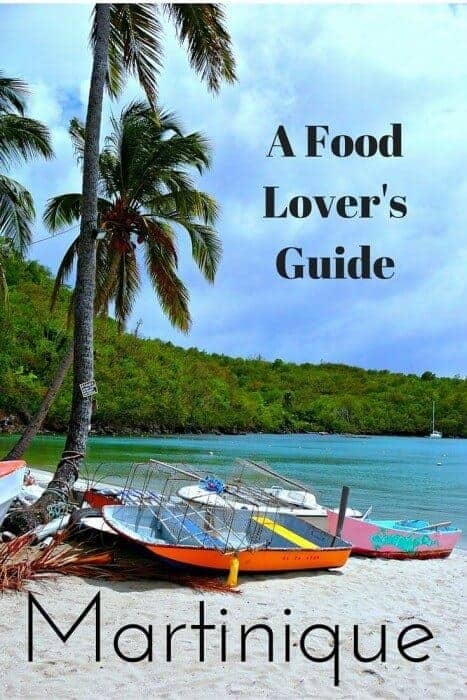 Dividing her time between Canada, Guatemala and Mexico (or the nearest tropical beach), Michele Peterson is the founder of A Taste for Travel. Her award-winning travel and food writing has appeared in Lonely Planet's cookbook Mexico: From the Source, National Geographic Traveler, Fodor's and 100+ other publications.
Read more about Michele Peterson.