We may earn income from links in this post. Please read this Disclosure for details.
While Turkey (now officially known as Türkiye) is home to a wealth of ancient attractions and archeological sites, it also has a rich wine heritage dating to between 5,000 and 8,500 BC.
Many European fine wine grapes can actually be traced back to the wild and cultivated indigenous grape vines of southeastern Anatolia.
A visit to Istanbul's wine bars is an opportunity for wine aficionados to delve into Turkish history and culture while enjoying the elegant, complex and evolving flavours of Turkish wines.
Turkish Wine Making History
Turkey has a long, rich history of wine making and consumption yet Turkish wines are little known outside the country.
It's not surprising, as over the centuries successive rulers, religious leaders and political change have seen wine production in Turkey alternatively supported or suppressed through taxation and regulation.
Having lived in Istanbul for 12 years, I'm passionate about Turkish food and culture. Yet even I'm surprised by how far back the Turkish wine-making tradition goes.
There's evidence of experimental attempts at wine making dating to the Neolithic period.
However, it was the Assyrians who introduced grape growing on a large scale. Whenever they conquered new lands they announced their presence by planting vines and producing wine.
Their empire included large swathes of Mesopotamia, now part of south eastern Turkey. It was here the Hittites, a formerly nomadic peoples, began to challenge Assyrian rule.
Once they'd successfully taken over Assyrian controlled areas they headed north east and based themselves in the area of Turkey known as Central Anatolia.
For the Hittites, wine was more than just an industry. While it contributed enormously to the economy, the use of wine in spiritual and daily activities was of the utmost importance.
After all, they were the ones who coined the phrase "eat, drink, and be merry".
Similarly, in the empires that followed, the Greeks, Romans and Byzantines all worshipped wine for its non-alcoholic properties, consuming it for ritualistic and medicinal purposes.
That said, they liked the taste too.
Turkish Wines in the 20th century
Turkish Greeks (known as Rum) continued to cultivate grapes and produce wine on the island of Boğazcaada, off the north Aegean coast of Turkey, even after the Byzantine Empire fell to the Ottomans in 1453.
However when the Treaty of Lausanne came into effect in 1923, many were forced to migrate to Greece.
Those allowed to stay on the island left a few years later when their living conditions changed for the worse, taking their wine- making knowledge with them.
A decade or so on, now famous names like Kutman, Doluca, Kavaklıdere and Melen started to produce wine. They established large scale wine production originally focused on quantity over quality.
Although the resulting wines lacked depth and nuance, they paved the way for modernization and the nascent boutique sector that developed in the late 1990s.
Money, time and research were invested into modernizing existing vineyards and establishing new vineyards to produce a range of interesting quality wines using indigenous grapes as well as imported grapes such as Syrah, Chardonnay, Sauvignon Blanc and Bordeaux.
While some winemakers are creating signature taste profiles through blends, other boutique Turkish wineries such as Karnas Vineyards on the Bodrum Peninsula have dedicated themselves to growing only Zinfandel, Cabernet Franc and Vermintino varieties.
And increasingly, there's a growing trend among Turkish wine producers towards environmentally-conscious vineyards and wine-making methods.
Turkish Grapes
There are eight distinct wine growing regions in Turkey and around 1200 different grape varieties native to the country. However, only 40 or so varieties are grown for use in wine making.
The rest are eating grapes, fresh from the vine, exported as raisins, or made into a sweet smoky spread known as pekmez.
The four types you're most likely to see on a wine list in Turkey are Emir, Narince, Kalecik Karası and Öküzgözü.
Emir is a white grape. In Turkish the name means ruler and it's grown in Central Anatolia. Narince, meaning delicately, originates in the Black Sea region but is also cultivated in other parts of the country.
Unlike Emir which produces a dry wine, the white Narince grape has a fruitier taste.
Both the red grapes, Kalecik Karası and Öküzgözü, are grown throughout Turkey. When cultivated they produce light to medium bodied red wines.
The former has a distinctly sweet flavour, likened to cotton candy, while the latter tastes of fruit and tannins.
Istanbul's Best Wine Bars
Today, despite restrictions on opening hours and a ban on advertising, the wine industry in Turkey continues to expand.
Younger generations of sophisticated Turks eager to try new tastes has seen more wine bars open up in Istanbul, on both sides of the Bosphorus.
This in turn has renewed interest in older sometimes overlooked establishments. All of them showcase Turkey's wide range of wines. Visitors to Istanbul get to reap the rewards.
Whether you're on a cruise shore excursion or have four days on your Istanbul itinerary, here are the top wine bars you don't want to miss on a visit to this fascinating city.
1. Solera Winery
One of Istanbul's first bars to feature local wines Solera Winery has an extensive wine list and staff well-versed in viticulture and wine terminology to guide you through Turkey's varied geographical offerings.
The cosy space has a mellow, inviting ambience. They offer a short but flavour-packed contemporary menu featuring
Tucked away down a side street off Yeni Çarşı Cd (a short walk from the Museum of Innocence), Solera Winery is the ideal spot to step out of the delightful chaos that is Istanbul.
Whether you treat your taste buds to a glass of wine at lunchtime, a pre-dinner drink or just before bed nightcap, every sip you take transports you to the far flung reaches of Anatolia.
2. Tarihi Pano Şaraphanesi – Pano Wine Bar
Pano Wine Bar, or Tarihi Pano Şaraphanesi to give its full name, is Istanbul's oldest existing wine bar. It was established in 1898 by one Panayot Papadulos, a Rum living in Istanbul.
He actually started out as a bootlegger, buying wine from Bozcaada by the barrel, and selling it illegally through world of mouth.
Bottles of wine are still stacked in the basement, creating a slightly mysterious air. They mainly sell wine by the bottle. The list, while not extensive, offers some good choices from crisp, dry whites to compelling reds.
Pano is very popular with the early evening crowd who meet up to share a bottle of wine and nibble on Turkish cheese, meat platters and traditional Turkish mezze
I like to book a table by the window and dine with friends.
With its marvellous panelled ceiling, friezes and wall paintings, Pano Wine Bar looks like the set of a movie about old world Constantinople, and I get to play an extra.
3. Bordo Şaraphane
Set amongst the student bars and cheap food joints of Kadıköy, Bordo Şaraphane packs a lot into its small space.
Within this intimate Istanbul wine bar, low lighting shines on a handful of tables for two and one large table for groups. Take a seat and sample a range of selections from south east Turkey where descendants of the ancient Assyrians still make wine.
Or travel elsewhere in the country with Bordo's thoughtfully-created wine list and ever-evolving tasting lineup of Turkish wines. They also offer a straightforward food menu made up of snacks and full meals.
4. Viktor Levi Şarap Evi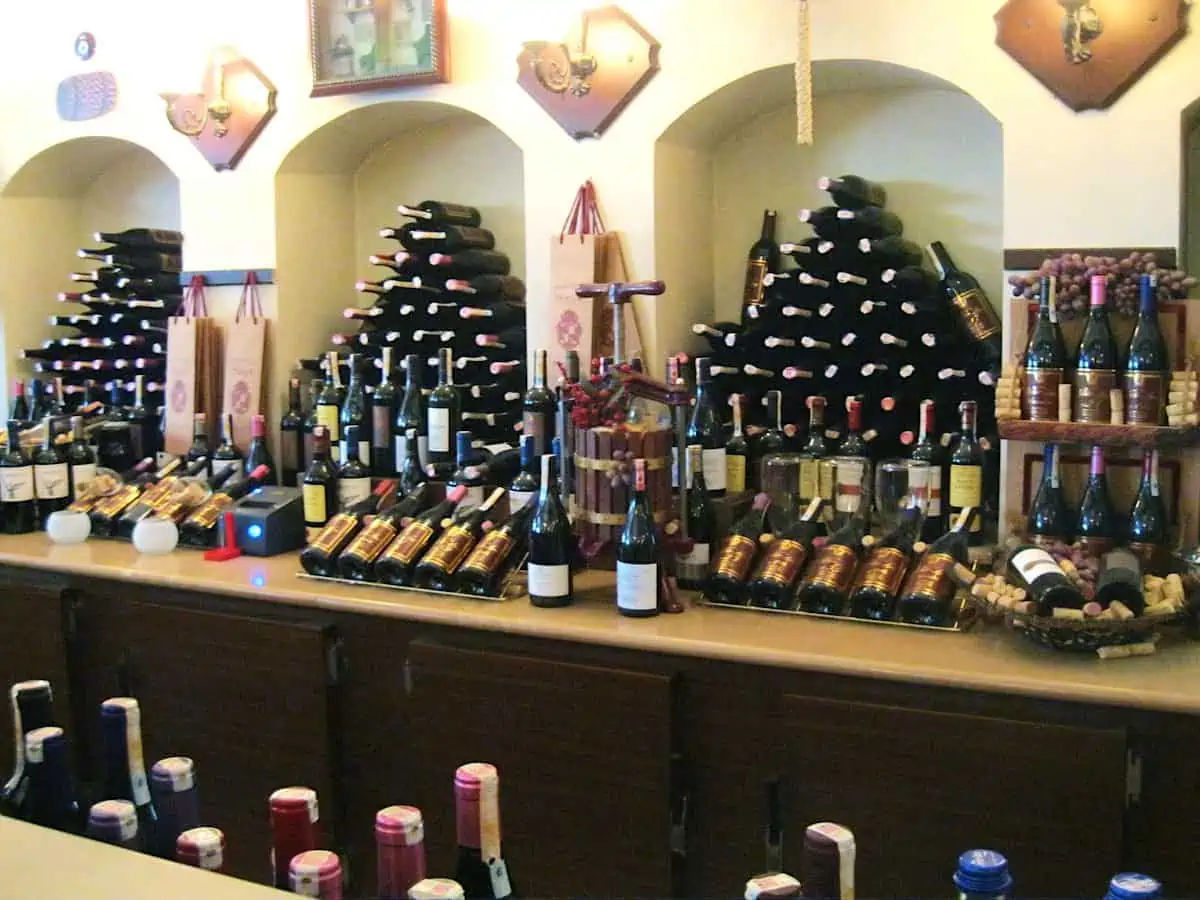 In the early 20th century a young man named Viktor Levi also discovered the island of Bozcaada when he went there to fish for sardines. Viktor quickly realised there was more money to be made in wine than fish and started growing his own grapes on the island.
The first Viktor Levi Şarap Evi opened on the European side of Istanbul in 1914. But it's now located on the Asian side of the city in a former Greek mansion (see location on Google maps).
The entrance of Viktor Levi Moda leads off to inviting nooks with photos of famous diners such as Mustafa Kemal Atatürk, the founder of the modern Turkish Republic, and famous communist poet Nâzım Hikmet decorating the walls.
The wines on offer include their own label, famously listed by number (I like Viktor Levi No 6.) and a selection of imported wines.
It's the perfect place to kick back and relax over long dinners with friends. The spacious courtyard garden remains open year round.
5. Carafe Istanbul Wine & Bistro
Panes of glass in primary colours mark the entry to Carafe Istanbul, located across from Yahya Kemal Park.
Inside, the walls are my idea of heaven, shelf after shelf of wine bottles, representing the wide variety of native grapes available in Turkey.
The Turkish wine selection is perfect whether you're new to wine tasting or are what I like to call a serious amateur, like me.
You can sample better known, more widely available styles from Eastern Anatolia and the Mediterranean regions to get an idea of what you like. Or, experiment with labels from areas less frequently visited.
As well as offering food platters and bread based appetizers to accompany their tasting menus, the Carafe Istanbul kitchen creates tasty salads and pizzas too.
They also offer a Happy Hour.
Where to Stay in Istanbul for Wine Lovers
Hotel Empress Zoe
Istanbul is a huge city and our recommended wine bars are all some distance from one another so a good central location is Sultanahmet. Sultanahmet is the most popular place to stay in Istanbul and the wine bars (on both sides of the city) can be reached from there.
Located in the heart of Sultanahmet, the historic Hotel Empress Zoe is within walking distance of Istanbul's major sights and attractions. It also features a rooftop terrace which is a welcome retreat after a busy day of sightseeing.
Check prices and availability of Hotel Empress Zoe on Booking.com.
Ciragan Palace Kempinski Istanbul
While not in Sultanahmet, the Ciragan Palace Kempinski Istanbul is a five-star hotel set within a former Ottoman palace overlooking the Bosphorus.
During the summer season, a pop-up food truck serving red, white, rose and sparkling Turkish wines by the glass in the palace gardens. Their signature restaurant Tugra serves Ottoman and Turkish cuisine on an open terrace overlooking the Bosphorus.
This fine-dining experience features specialty dishes such as hot and cold mezze platters. Recipes from the 17th century pair nicely with the wide selection of Turkish wines from around the country.
Check rates and availability at Ciragan Palace Kempinski Istanbul on Booking.com.
Renaissance Istanbul Polat Bosphorus Hotel
Although it's a bit off the beaten path, the rooftop restaurant/ lounge with an extensive wine list, contemporary decor, indoor pool and spa make this high-rise hotel good value as a base for explorations. The views are also fantastic.
The buffet breakfast at the Renaissance Istanbul Polat Bosphorus includes a range of food stations with everything from North American to Japanese to traditional Turkish breakfast specialties. It also has an indoor swimming pool and spa.
Check rates and availability of the Renaissance Istanbul Polat Bosphorus on Booking.com.
Turkish Airlines
A member of the Star Alliance network, Turkish Airlines offers direct flights to Istanbul from 122 countries. Business Class passengers enjoy Skychef-prepared meals paired with Turkish wines selected by a sommelier. You'll also enjoy priority check-in, access to the award-winning Turkish Airlines Airport Lounge, the latest in-flight entertainment system, fully-reclining seats and many other advantages.
Visa Requirements: Americans and Canadians need a visa to travel to Turkey. Get an e-visa online at www.evisa.gov.tr/en
Tourism Board of Türkiye – Go Türkiye
For more inspiration, information on travel, visas and more visit: Official Travel Guide of Türkiye
Save to Pinterest!
Lisa Morrow is a sociologist, travel and creative non-fiction writer who has lived in Istanbul and other parts of Turkey for more than twelve years. She's passionate about the place she calls home and wants to introduce visitors to the everyday extraordinary of Turkish life outside the tourist centres. She focuses on travel, Turkish culture, art, architecture, women and food, to show the similarities we share so we can connect, whatever our language or belief systems. Lisa has written four books about her life and travels in Istanbul and Turkey and is currently working on a fifth. In addition to running her blog Inside Out In Istanbul, her byline has appeared in The New York Times, CNN Travel, The Guardian and elsewhere.