We may earn income from links in this post. Please read this Disclosure for details.
Looking for a beach resort in Mexico that's away from the crowds? Check out this review of Gecko Rock Resort in the heart of sea turtle country in Oaxaca.
Although I enjoy the lively scene of Puerto Escondido's Zicatela Beach, sometimes I crave solitude, a secluded place where the only footprints I'll see in the sand are my own.
When I get to dreaming about seclusion, it's time to hit the road. That's because some of the best Puerto Escondido hotels are actually located outside of town.
Gecko Rock Resort – Mexico Away from the Crowds
A top place to go is to Santa Elena, a tiny village southeast of Puerto Escondido on the way to Mazunte and Huatulco.
This long stretch of secluded beach is home to Gecko Rock Resort, an adults-only, all-inclusive boutique hotel that also happens to be in the heart of sea turtle country.
Located on what's often called the Oaxacan Riviera, it's one of the best boutique resorts in Oaxaca.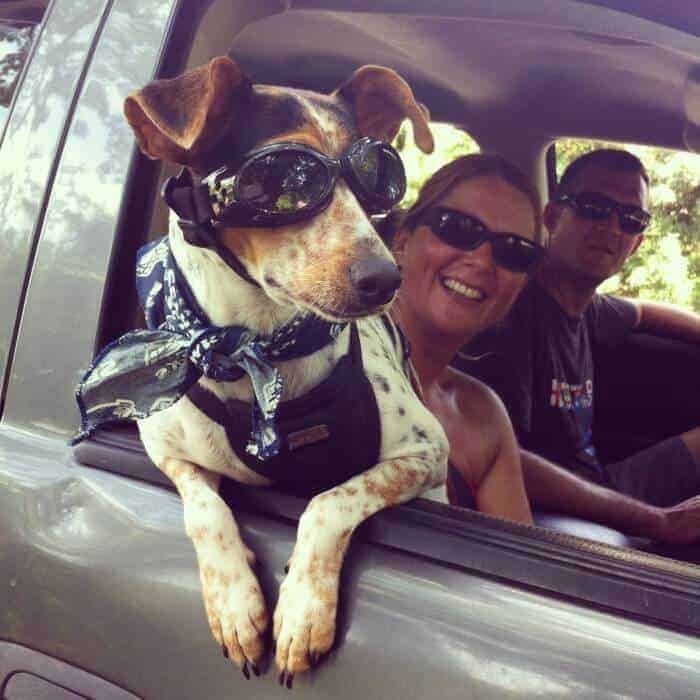 But how to get to Santa Elena? I was travelling with my usual suitcase packed with file folders, media kits and computer gear so wasn't really very mobile.
And Santa Elena doesn't appear on most maps.
Fortunately, Sur Bus line knows where it is. Santa Elena is the first official stop on their bus route to Huatulco. Learn more about taking the Sur bus from Puerto Escondido to Huatulco.
With bus ticket in hand and a less than a 45 minute air-conditioned bus ride, I arrived at the crucero, Highway 200 and Santa Elena's main street.
Gecko Rock Resort is Family-Owned and Operated
My hosts Mike and Aileen (who rescued their adorable terrier Primetime from near death on the streets of Puerto Escondido) picked me up in their truck and we bounced our way along a dirt road towards the ocean and Gecko Rock Resort.
Luxury Guest Suites at Gecko Rock Resort
My bungalow La Tortuga was decked out with a rooftop palapa featuring a hammock and lounger with 360 degree views. It also has air conditioning – a bonus as it can get really hot on the Oaxacan coast.
There was an inviting swimming pool just steps from my porch PLUS a communal fridge filled with icy cold beer and Aileen was busy preparing dinner.
In short, there wasn't much more for me to do than follow the sign marked PLAYA to the beach.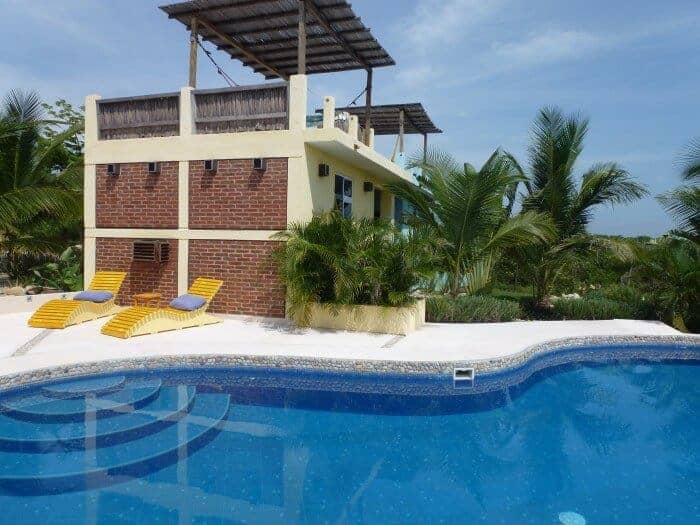 Beach at Gecko Rock Resort
After a few minutes of walking down a meandering trail through a mix of mangroves, gurgling streams and cactus, I arrived at a vast expanse of sun, sea and sand.
All along the beach of Rancho Playa, rocky outcroppings created tidal pools perfect for splashing about in.
And, as I walked a bit further I recognized Agua Blanca beach a favourite spot for people in Puerto Escondido to go for the day, lounge in a hammock and eat raw oysters fresh from the sea.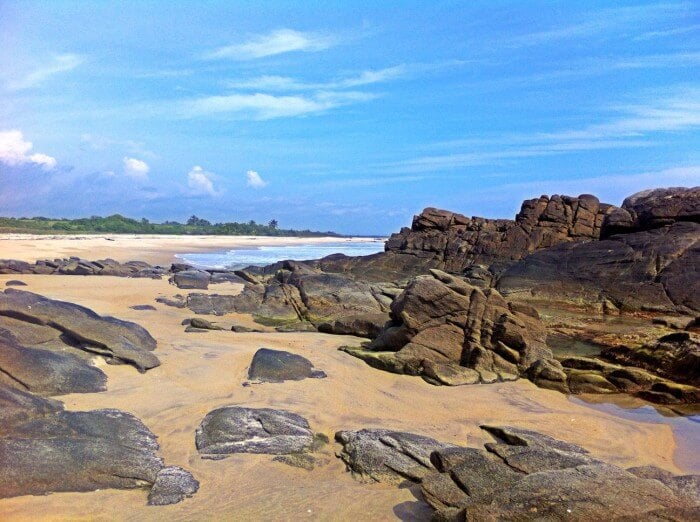 But on my stretch of the beach, the only company was a school of tiny minnows in a tidal pool and a scurrying red crab that looked as surprised to see me as I was to see him.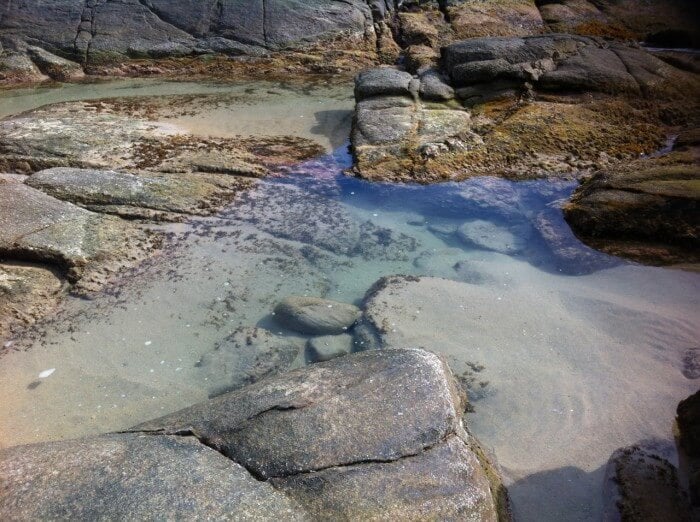 Sea Turtles Lay Eggs on the Beaches near Agua Blanca
Further along the beach I began to notice several unusual impressions in the sand. It didn't take long to figure out that they had been created by sea turtles that had come in the night to nest and lay their eggs in the sand.
In about 45 days, the tiny sea turtles would emerge from the nest and scurry their way into the ocean to begin their own life cycle.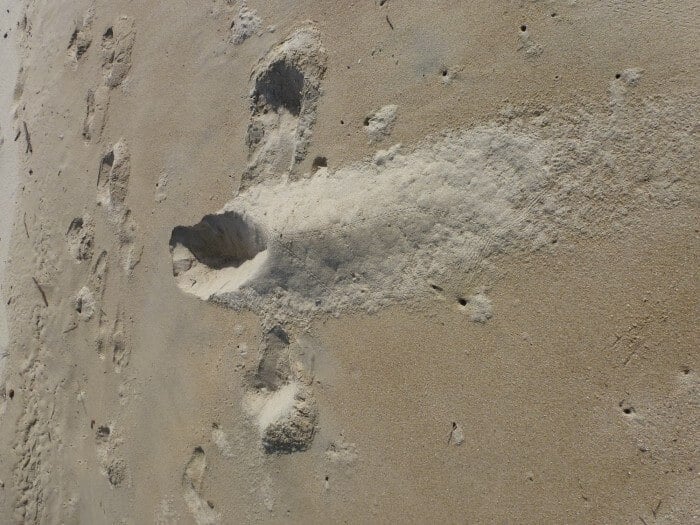 As I walked along the coast it began to seem to me that some of the nests were empty. Poachers of all types steal the turtle eggs, selling the eggs to people who believe the eggs have aphrodisiac powers.
Unlike the nearby protected sea turtle nesting beach La Escobilla further along the coast, where 5,000 or more Olive Ridley turtles can arrive nightly in mass nestings known as arribadas, it's impossible for officials to patrol the entire coast.
Watch this incredible aerial video footage of an arribada,
Gecko Rock Resort is a short drive from this amazing beach, one of the most important Olive Ridley turtle nesting beaches in the world.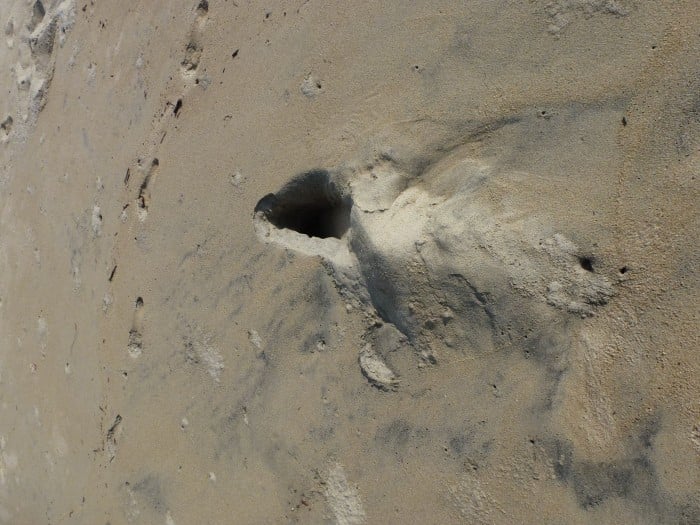 I used my best sleuthing skills to examine the markings around the nest but couldn't tell if the nest had been tampered with by sea birds, dogs or people.
Following a trail of turtle impressions, I wandered further along the beach until the sun began to drop low in the sky.
Although it would be another two weeks before the next arribada of thousands of sea turtles, it was easy to imagine the turtles drifting on the surface of the ocean on the nearby horizon, waiting for sunset to return to the beach of their birth and the beginning of a new nesting cycle.
Magical.
Final Thoughts on this Review of Gecko Rock Resort
Accomodation
A stay in one of the four bungalows at this adults-only resort costs includes a delicious breakfast, lunch (you make your own) and dinner as well as non-alcoholic drinks. The cuisine features local ingredients and is inspired by international and Oaxacan cuisine.
There's a 3-night minimum stay. Visit the Gecko Rock Facebook Page for resort news.
One of the top things to do in Puerto Escondido for outdoor adventure is to see a sea turtle nesting and hatching. This is the place to come if you want to see sea turtles. Inquire about excursions to La Escobilla Beach to witness this natural wonder.
Getting There
Gecko Rock Resort will end a taxi to pick you up at either Huatulco International Airport (HUX) or Puerto Escondido International (PXM) Airport. If you rent a car you can pick it up at either airport and then you'll have it available to go exploring along the Oaxacan Coast.
It's an easy drive to Gecko Rock Resort on well-maintained and clearly marked Highway 200. Get tips on renting a car in Oaxaca.
Check for the best car rental rates at Discovercars.com
FAQs
What are some of the property amenities at Gecko Rock Resort?
Gecko Rock Resort features a freeform swimming pool, hammocks, lounge chairs, AC, private casitas and rooftop sun decks for watching the stars and the fantastic Pacific Coast sunsets.
Where can you see sea turtles in Mexico?
While there are sea turtles on the coast of the Yucatan Peninsula, the best place to see sea turtles in Mexico is on the 370 miles of Pacific coastline in Oaxaca. While turtles nest on several beaches on Oaxaca's coast, the protected beaches near Puerto Escondido and Mazunte receive arribadas, mass nestings of 5,000 sea turtles or more a night. Witnessing one of these sea turtle nestings is an unforgettable experience.
Other Unique Hotels in Mexico You'll Love
Dividing her time between Canada, Guatemala and Mexico (or the nearest tropical beach), Michele Peterson is the founder of A Taste for Travel. Her award-winning travel and food writing has appeared in Lonely Planet's cookbook Mexico: From the Source, National Geographic Traveler, Fodor's and 100+ other publications.
Read more about Michele Peterson.