We may earn income from links in this post. Please read this Disclosure for details.
This themed food and drink journey back in time to the Prohibition era makes a fun couples weekend getaway in Ontario. Our weekend was part of the launch of three fun, new, Experience Tours in the York, Durham and Headwaters regions of Ontario.
These tours are focused on exploring the fascinating era of prohibition, temperance and the rise of bootlegging in Ontario.
Ontario's Prohibition Era
Earlier this week, as part of our ongoing quest for the best weekend getaways for couples in Ontario, we had the opportunity to step back in time to the province's prohibition era.
During this period between the mid-1800's to the early 1900s when many of Ontario's towns and counties decided to go "dry" and outlaw the production, importation, transportation, sale and consumption of alcoholic beverages.
Temperance societies quickly joined the campaign against the ills of "Devil's water" and aggressively began preaching against the sinfulness of drinking. Of course, this period of Prohibition also prompted the rise of bootlegging and secret distilleries.
The Rise of Bootlegging and Secret Distilleries in Ontario
Our themed weekend was part of the launch of three fun, new, Experience Tours in the York, Durham and Headwaters regions of Ontario focused on exploring this fascinating era of prohibition, temperance and the rise of bootlegging.
While we participated in the all-inclusive option, participants can also create their own themed road trip weekend getaway by following the self guided tours of the locations using the maps and audio files available on the Temperance and Temptation website. All of the experiences are located within a few hours drive, so they make an easy road trip from Toronto.
What is the Temperance and Temptation Weekend Getaway?
For the ultimate no-stress couples weekend getaway, the all-inclusive VIP Experience Tours are the best option. They each feature different stops with immersive experiences such as enjoying live music by the Bootlegger band, listening to stories from the past reenacted by actors such as Mag Ruffman (who starred in Anne of Green Gables and Anne of Avonlea and TV series Road to Avonlea) playing the part of Temperance teetotaler Eleanor Crumpacker, and Michael Miranda (seen on Murdoch Mysteries) playing the moonshine swilling bootlegger Mickey Byrnes.
The Temperance and Temptation Weekend also features unique culinary experiences including lunch, dinner, overnight accommodations and breakfast the next morning. It's a full weekend of foodie fun for couples, adult singles or groups that's also an education on a piece of Ontario's past many people aren't even aware of.
For our fun couples weekend getaway, we decided on the York Story Tour running from September 22-23, 2018 and October 13-14, 2018 and set out on our adventure into the past.
Highlights of the Temperance and Temptation York Story Experience:
1. Last Straw Distillery in Vaughn
Although currently an industrial business area, we discovered that this part of Newmarket was originally known as the Hamlet of Edgeley. The first inhabitants came from Pennsylvania in the 1800s drawn to the area by the fertile land found here. The pastoral area became well known for fruit trees and many street names still hint at this heritage, such as Apple Mill Rd – it was also a hotbed for secret stills, often hidden in the stumps of trees.
Instead of the typical espresso shot, here we started off our morning with a shot of moonshine brewed up by owner Don DiMonte followed by a tasting of vodka, whiskey, gin and rum — all before noon!
Last Straw Distillery is the smallest footprint distillery in Ontario, but is making big waves in the industry winning Gold at the 2018 Canadian Artisan Spirits Competition for their Gin Twenty-One.
2. Ground Burger Bar – Newmarket
After our morning libations, and history lesson, we had worked up an appetite for lunch. Next up was a filling meal of burgers with locally sourced beef from Paradise Farms in Caledon Ontario. Tasty vegetarian options such as Portobello burgers were a welcome addition. The rousing sounds of the Bootlegger band kept our toes tapping throughout the meal.
3. York Durham Heritage Railway – Uxbridge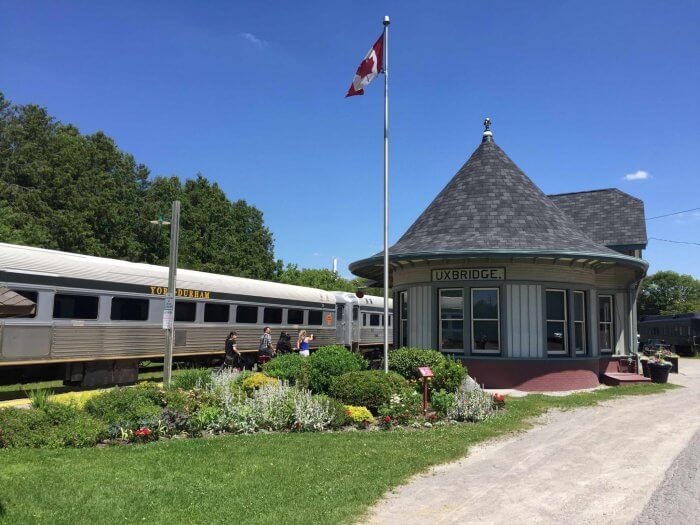 Next, was a visit to the York Durham Heritage Railway built in the 1860's by William Gooderham, a well-known distiller from Toronto (The Distillery District is one of our top picks of things to do in Toronto), to carry grain to his distillery and lumber for exporting.
There is also a small museum inside the restored 1904 station that houses unique railway artifacts from bygone eras. We then enjoyed a beer from Second Wedge Brewing Co. onboard the train while Eleanor Crumpacker led us in a rousing temperance song.
4. Second Wedge Brewery – Uxbridge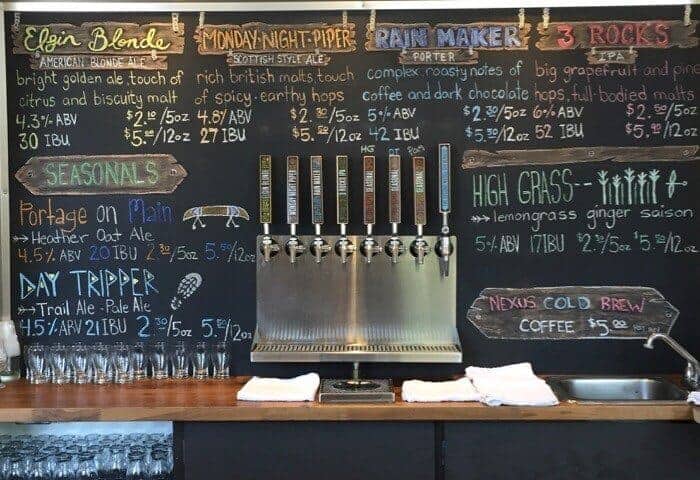 A short jaunt from the railway, we strolled into this bustling and art covered brewery founded by Joanne Richter and Rob Garrard. Joanne led the way as we sipped on a flight of beer and received a tour of what was transformed from an illegal marijuana grow operation into a thriving brewery and local live music destination.
The beautifully-designed terrace makes an ideal place to spend a few hours sampling craft beer and enjoying live music.
5. Jacksons Point Accommodations
Every great couples weekend getaway from Toronto should include an opportunity to soak up some beautiful Ontario scenery. We arrived at our accommodations with a postcard-perfect view of Lake Simcoe from two comfy Muskoka chairs, ideal for enjoying a cup of coffee in the morning while listening to the sound of lapping waves.
6. Holland Marsh Winery – Newmarket
After breakfast, we headed out for a tour of the vineyards of the Holland Marsh Wineries with owner Narek Nersisyan who shared his family's philosophy of winemaking with European craftsmanship. Third generation winemakers, Narek's Father Roland Nersisyan founded the winery in the 1990s after immigrating from Armenia.
After a stroll through the ripe grapes on display in the family owned vineyards of the winery, our informative tour was capped off by a tutoured tasting of white, red and ice wines with a delicious cheese pairing. They offer tours and tastings to the public from Wednesday to Sunday, so be sure to check their website for details.
7. Market Brewing Co. – Newmarket
Another surprising stop in Newmarket (who knew so much was going on in Newmarket??), the final stop on the Temperance and Temptation Experience was at the Market Brewing Co to enjoy a flight of beers.
Started by Shane McCarthy, Josh Domingues, and Ethan Allured who were high school friends, they definitely have scored a hat trick with this establishment as it's very popular with locals enjoying the relaxed atmosphere and windows open to the summer breeze.
Looking for More Weekend Getaways for Couples in Ontario?
Why Hockley Valley Resort Should be Your Next Weekend Escape
Food Lovers Guide to the Top Luxury Resorts in Muskoka
21 Amazing Things to Do in The Kawarthas
Escape Downtown Toronto on a Mariposa Brunch Cruise
Heather Koroluk is a Toronto-based freelance travel writer and photographer who enjoys exploring and showcasing the world of luxury travel, gastronomy, outdoor adventure, wellness and high-end fashion. Her print work has appeared in Canadian World Traveller and Taste & Travel International magazines.
Learn more about Heather Koroluk.