We may earn income from links in this post. Please read this Disclosure for details.
While best known as a summer gateway to the shimmering Kawartha Lakes, there are so many things to do in Lakefield, it's worth making it your base for a weekend escape.
Located only an hour and a half from Toronto, this small historic village is unpretentious, free of crowds and full of cycling trails, beaches and fantastic FOOD!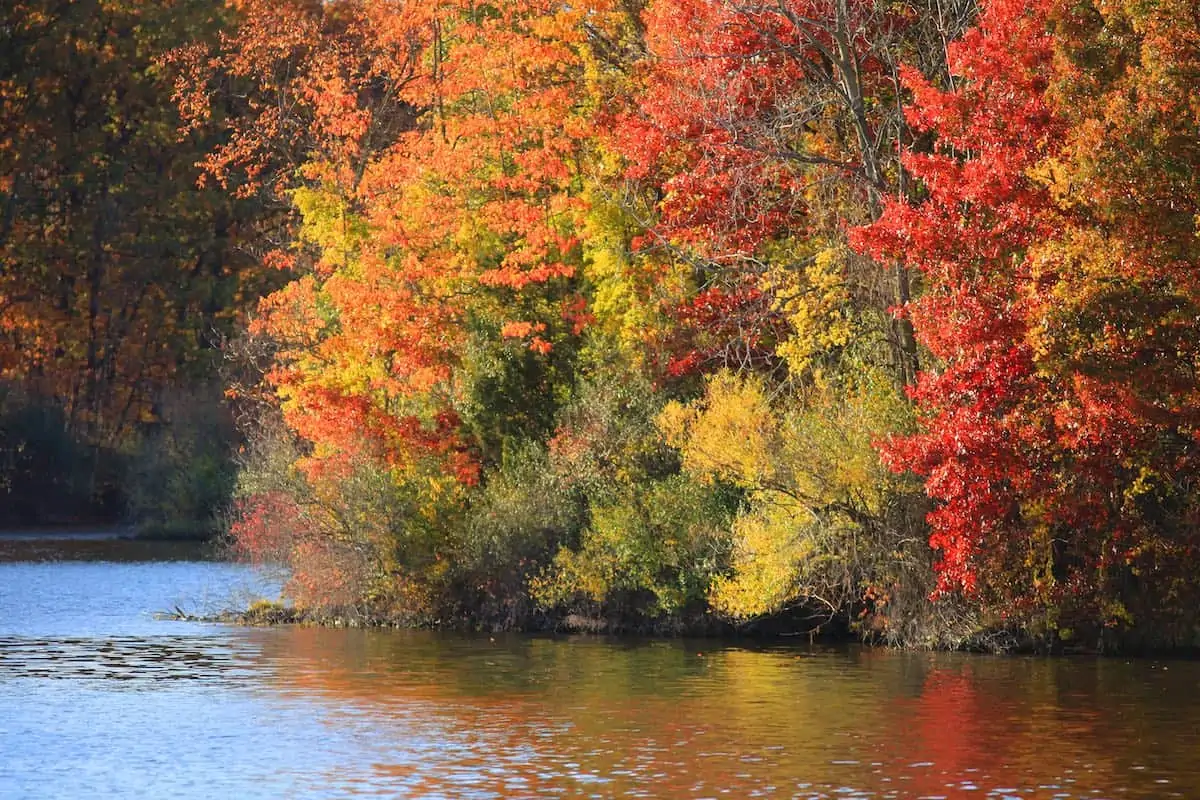 We've got a pontoon boat moored at a marina on Rice Lake so I've spent a lot of time exploring Lakefield and other spots around Peterborough and the Kawarthas.
Closer than Muskoka or Prince Edward County, it's super handy for a quick getaway from Toronto.
Here are my top picks for what you need to see, do, eat and drink in this part of cottage country. And, how to pack it all into a single long weekend!
1. Take a Walking Tour of Lakefield Historic District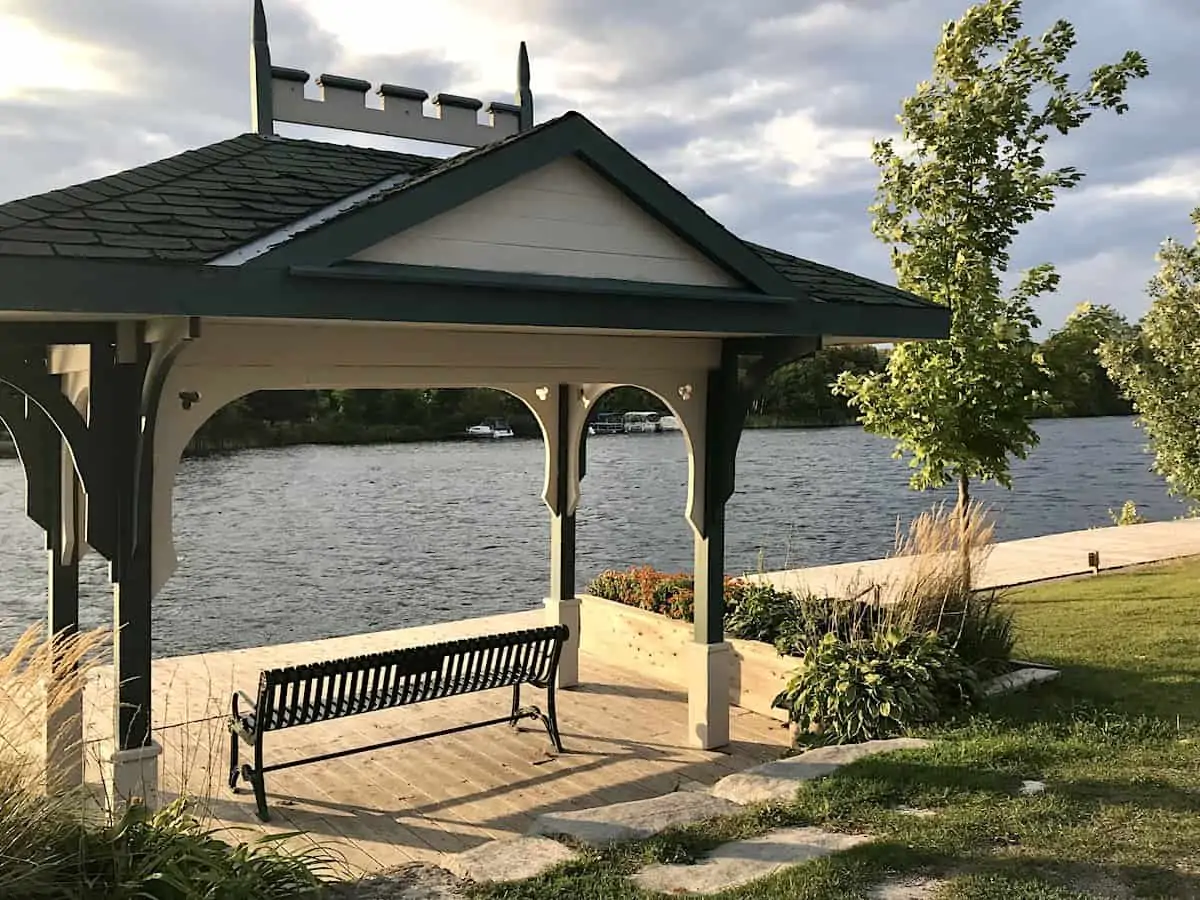 It's easy to spend a full morning wandering through Lakefield's leafy streets lined with 19th century buildings, boutique shops and peaceful parks.
It's so welcoming it's actually been designated a Trent-Severn Trail Town, a select group of nine communities on Canada's first waterway trail town program. You don't even need a car to get around.
One of the most iconic buildings in Lakefield is the Christ Church (62 Queen St. E) set on a pastoral patch of land overlooking the Otonabee River. Built of stone in 1853 in a Gothic Revival style, this Anglican church is home to burial grounds and the Christ Church Community Museum.
Although the museum is currently closed due to pandemic restrictions, you can download a copy of the self-guided Walking Tour of Historic Lakefield online.
The tour provides walking (or cycling) routes through the village and insights into the history of Lakefield's founding families and its literary, boat building, sawmill and pioneer past.
2. Browse the Lakefield Farmer's Market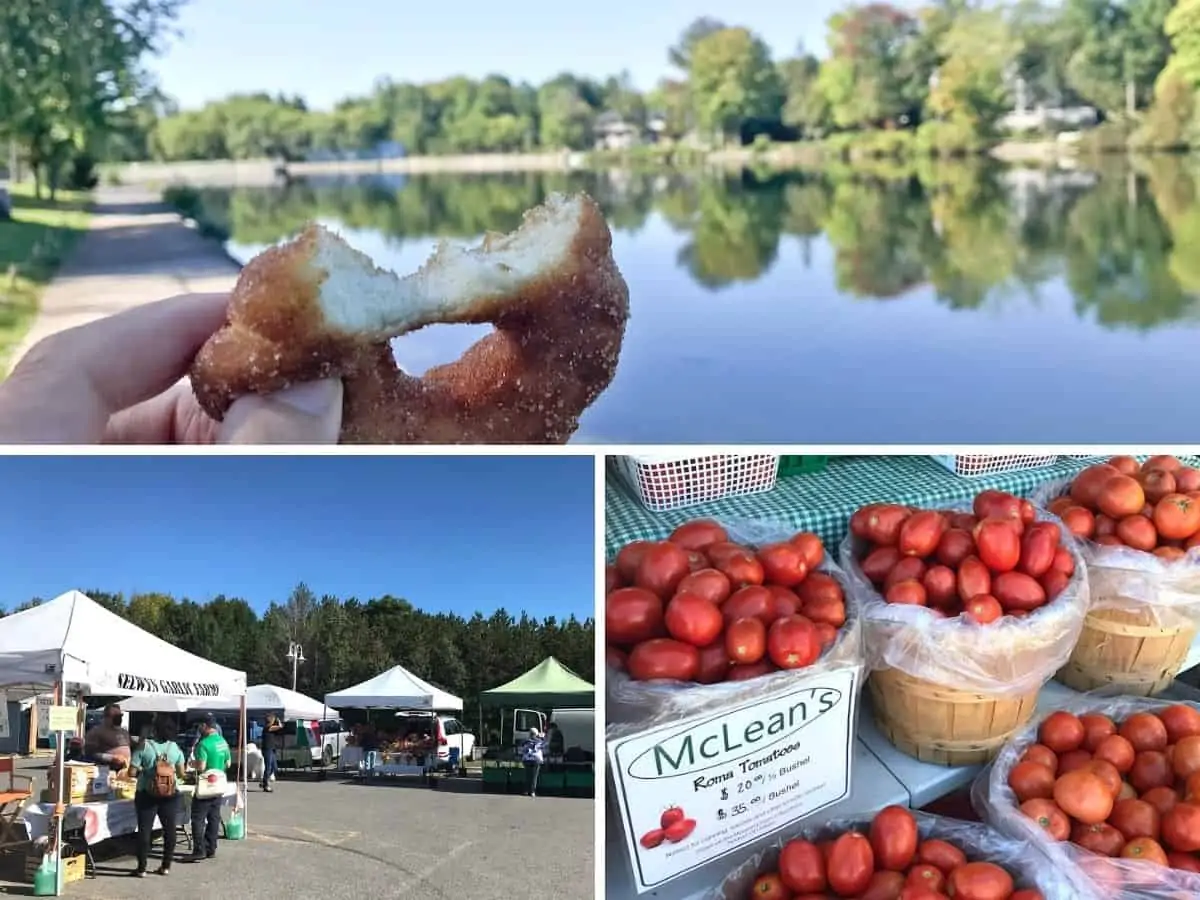 Begin your weekend early and arrive on Thursday morning so you can catch the Lakefield Farmer's Market in full swing.
Open seasonally, it features 30 agricultural and artisanal vendors. No imported goods here. You're buying directly from a verified local grower or maker.
You'll find honey, maple syrup, freshly baked breads and goodies as well as rotisserie chicken, fresh-cut flowers, and churro donuts from our go-to for fabulous authentic Mexican food, La Mesita. You can even enjoy a wine tasting with Pillitteri Wines.
Hours: Thursdays 9:00 am to 1:00 pm (May 20 to October 7, 2021). If you miss market day, stop by Lakefield Pantry (44 Queen St.) or The Market (112 Queen St.) as they're both packed with top quality, locally-sourced food.
Insider Tip: While you're in the neighbourhood, score some deals on kitchenware at the Lakefield Thrift Store (144 Queen St.)
3. Take a Cooking Class at the Angle Iron Kitchen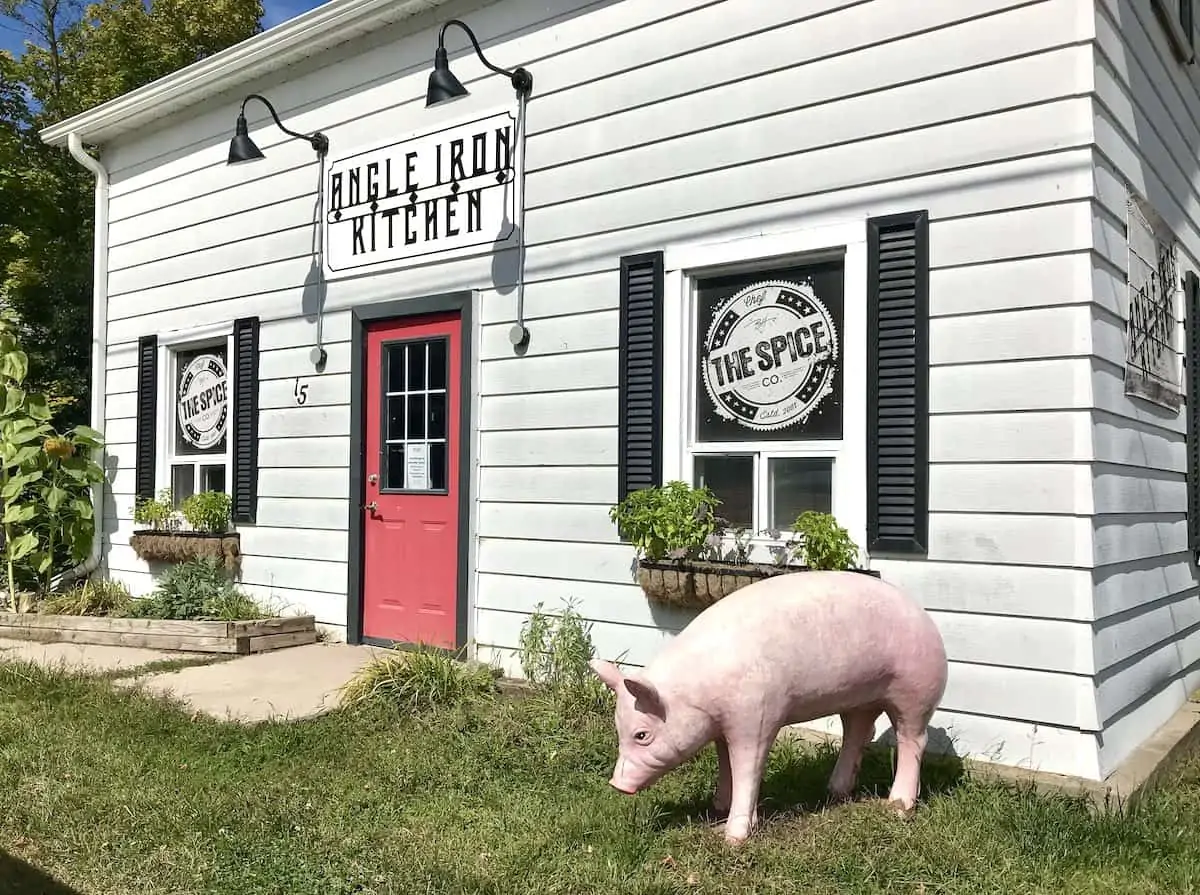 This whimsical building is home to two tasty businesses. With its roots in the food truck world, the menu at Angle Iron Kitchen is modern comfort food with a fun, southwestern twist.
Expect to find light lunches like pulled pork, shrimp tacos, chicken and waffles alongside poutine. You'll also find prepared meals to go and house-made spice rubs.
Sign up for a cooking class (group or private) or check out their videos on how to make Mexican style street corn, Cajun steak and more.
4. Indulge in Artisanal Treats at Chocolate Rabbit Shop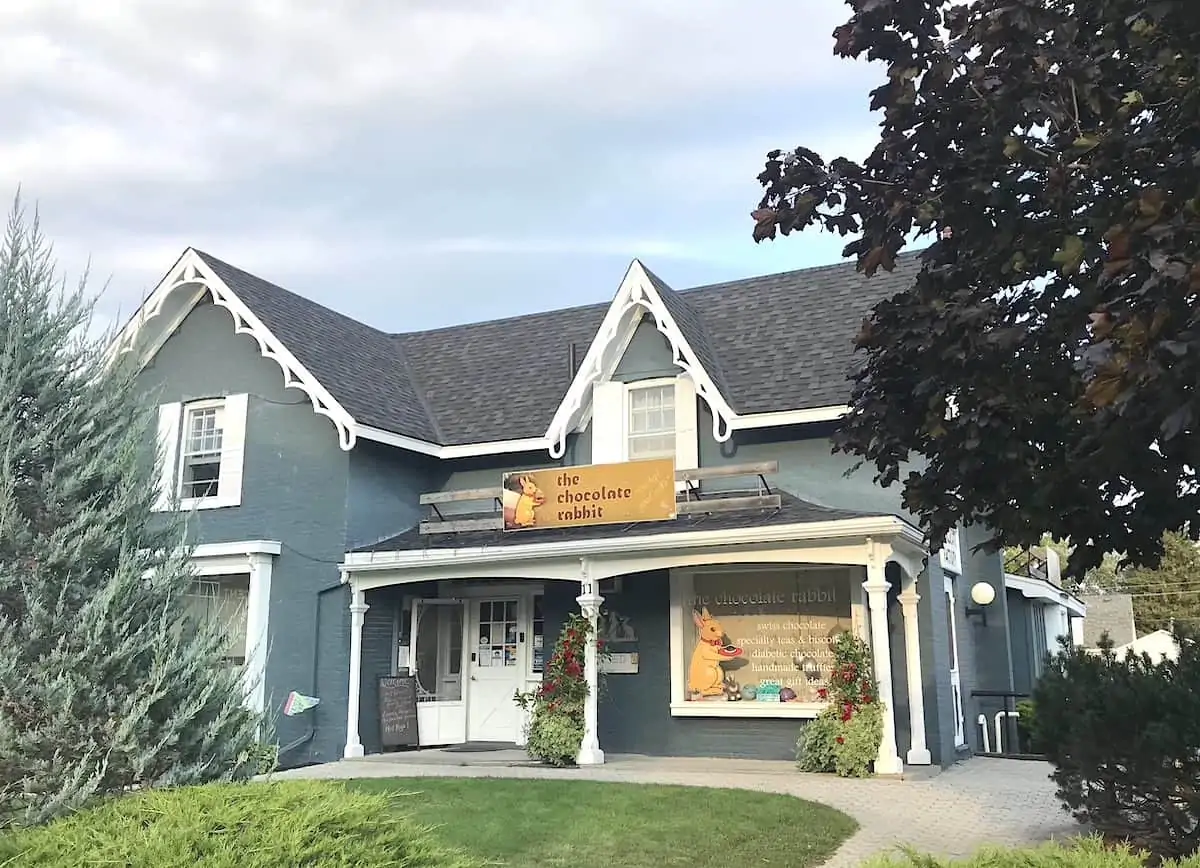 Located across the street from the Chamber of Commerce office, the Chocolate Rabbit is another foodie find in the heart of Lakefield.
It's a treasure trove of sweet treats and confections. Their chocolate truffles are hand-crafted and come in creamy, melt-in-your-mouth flavours.
Other fun finds include sponge taffy (dipped in chocolate of course), lollypops shaped like beavers, frogs and other wildlife, plus chocolate canoes. Lots of great choices for gift giving and souvenirs!
5. Explore Lakefield's Literary History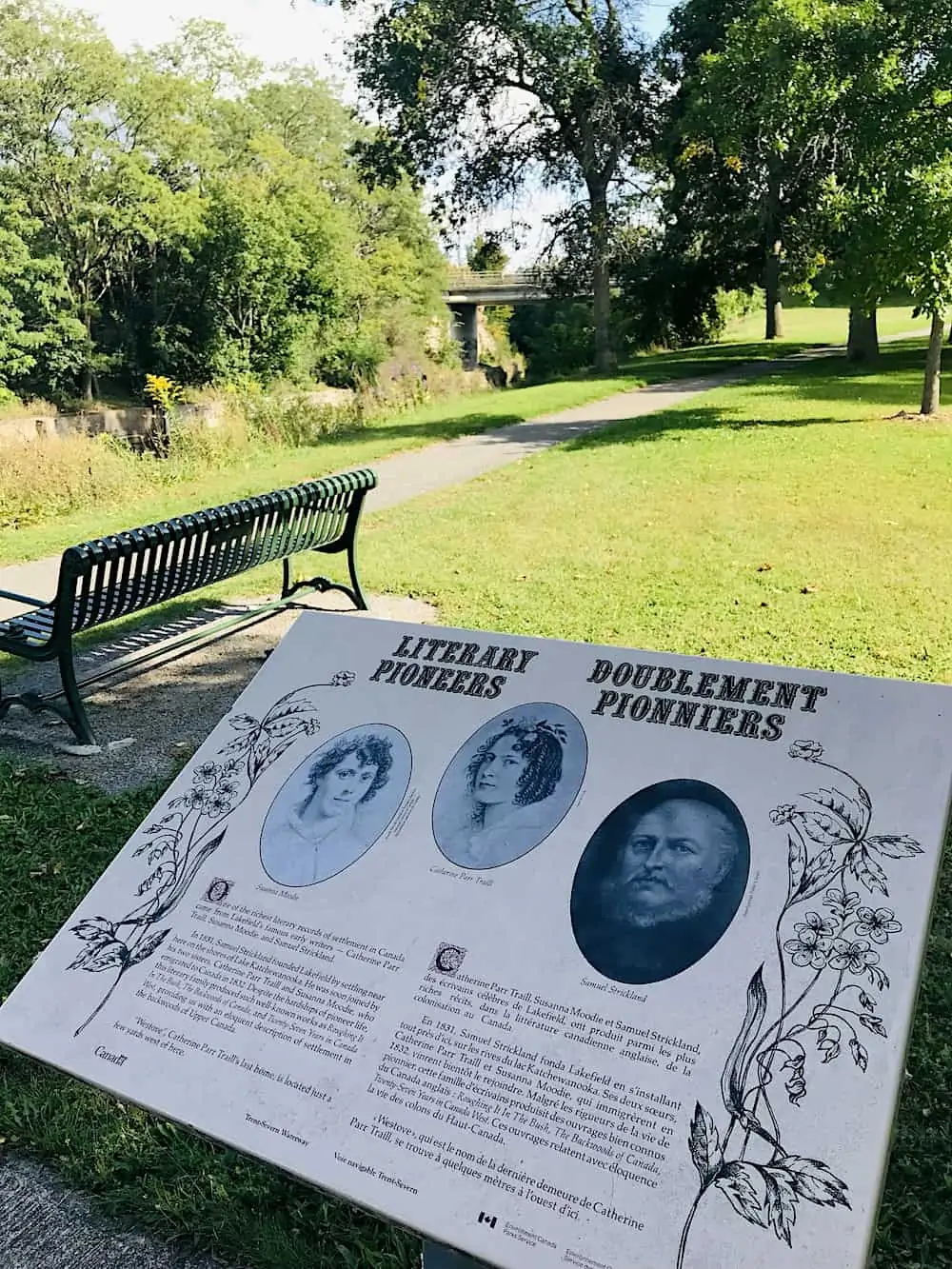 The very same leafy river paths, tranquil lakes, pastel-coloured Victorian buildings that appeal to today's adventurers also attracted famous Canadian writers.
Susanna Moodie ("Roughing it in the Bush"), Catherine Parr Traill, Isabella Valancy Crawford and Margaret Lawrence all lived and worked in and around Lakefield.
You can see tributes to their legacy on interpretive signs around town. Their homes are now private residences and aren't open to the public. So no banging on the front door hoping to get inside!
Literary fans will want to made a special stop at Margaret Lawrence's former home (8 Regent St.) where she lived from 1974 until her death in 1987. Although she was born in Neepawa, Manitoba, she penned her novel "The Diviners" here in Lakefield.
Each year, the Lakefield Literary Festival is held in mid-July and features author readings, workshops, contests and literary events in unique venues.
Insider Tip: Stop into Happenstance Books & Yarns (44 Queen St.) to pick up a novel or the latest bestseller.
6. Cycle or Walk the Lakefield Trail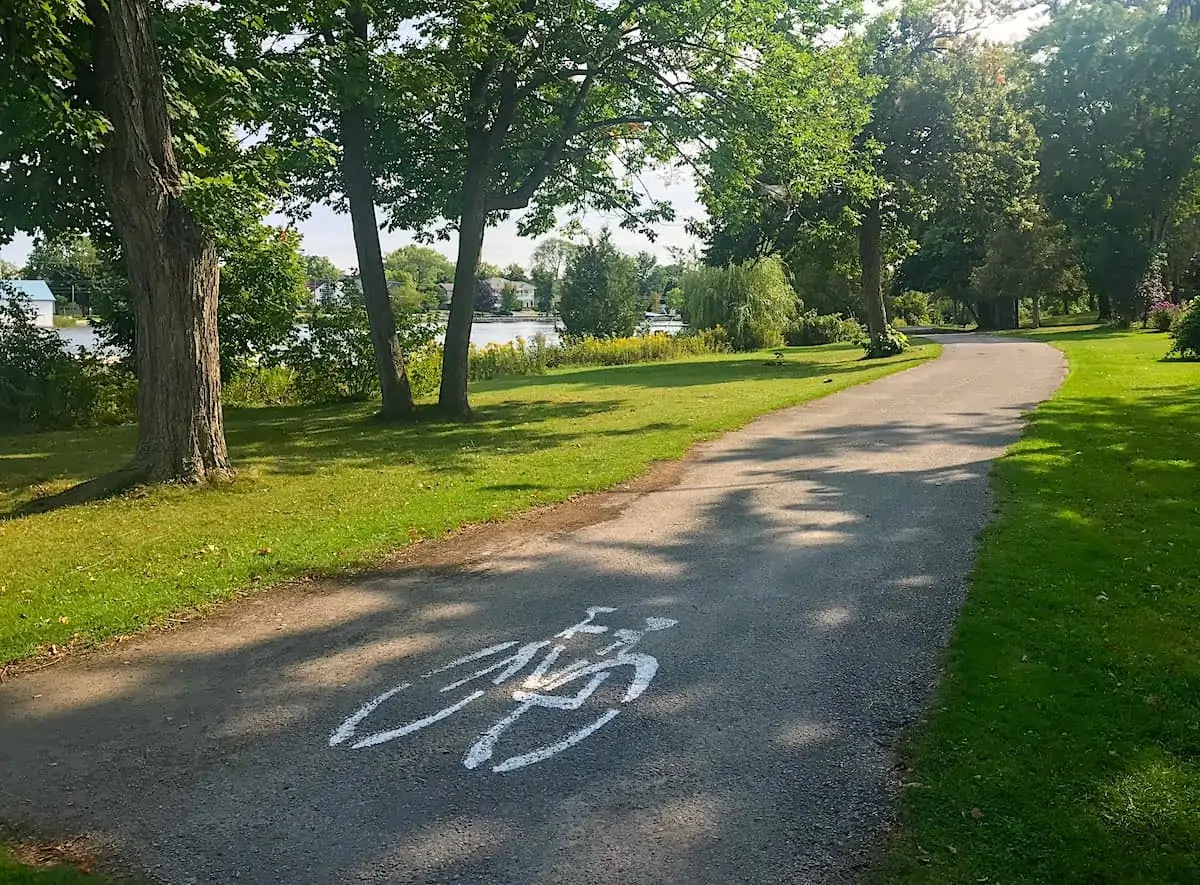 One of the best things to do in Lakefield is to go cycling its blissful bike paths. There are actually two major routes to choose from – the Lakefield Trail and the Rotary Trail.
They connect with each other as well as the Trans Canada Trail. It spans 28,000 kilometres making it the world's longest network of multi-use recreational trails.In Lakefield, you can opt to hike or pedal one or both depending on your fitness or stamina level.
If you have time for only one, head to the Lakefield Trail. This mostly flat, well-maintained trail was established in 2000 and meanders for 5.5 kilometres through the village.
It's a mix of off-street trails and on-street bike lanes so it's worth bringing a folding bike or other bicycle suited for touring and travel.
Download a map from the official Lakefield Trail website for a guide to the major attractions and points of interest. Highlights include Lake Katchewanooka, Lakefield Beach, Cenotaph Park and the many interpretive signs along the route.
Insider tip: Don't want to haul your bike to Lakefield? There's a Bike Share program at the marina.
7. Soak up the Views over Lake Katchewanooka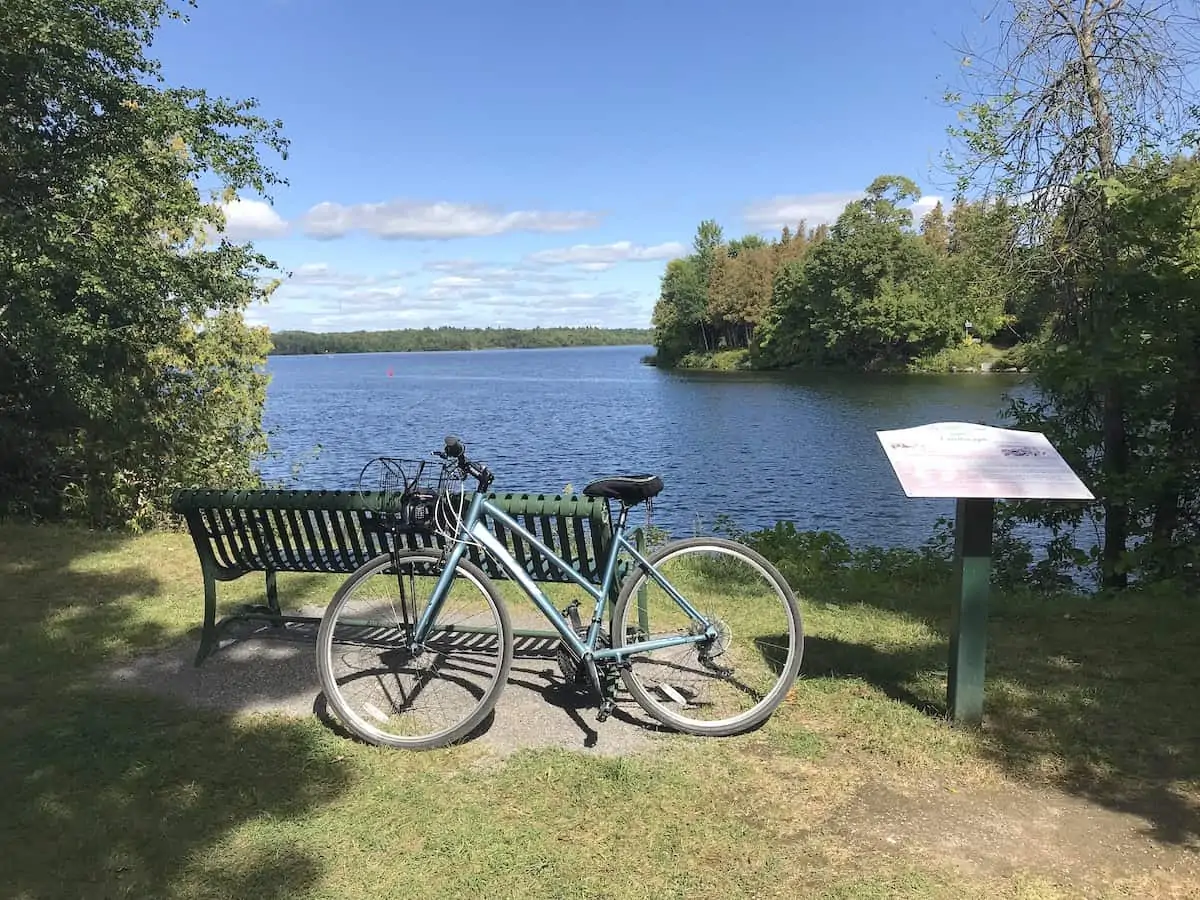 One of my favourite loops on the Lakefield Trail is the path that parallels Hague St. An easy access point is at Lakefield Beach where you can take a post-cycling swim in the clear waters.
The waters of the Otonabee River haven't always been so calm. It derived its name from a First Nations word meaning 'boiling waters' and a series of rapids once stretched from Lakefield to Peterborough.
In 1904, the Otonabee River was dammed creating Lake Katchewanooka. On Bridge St. you can see the churning waters of the Ontario Power Generation plant.
Be sure to continue cycling south along Katherine St. to see the beautiful historic homes along this route.
8. Go Birdwatching at Imagine the Marsh Conservation Area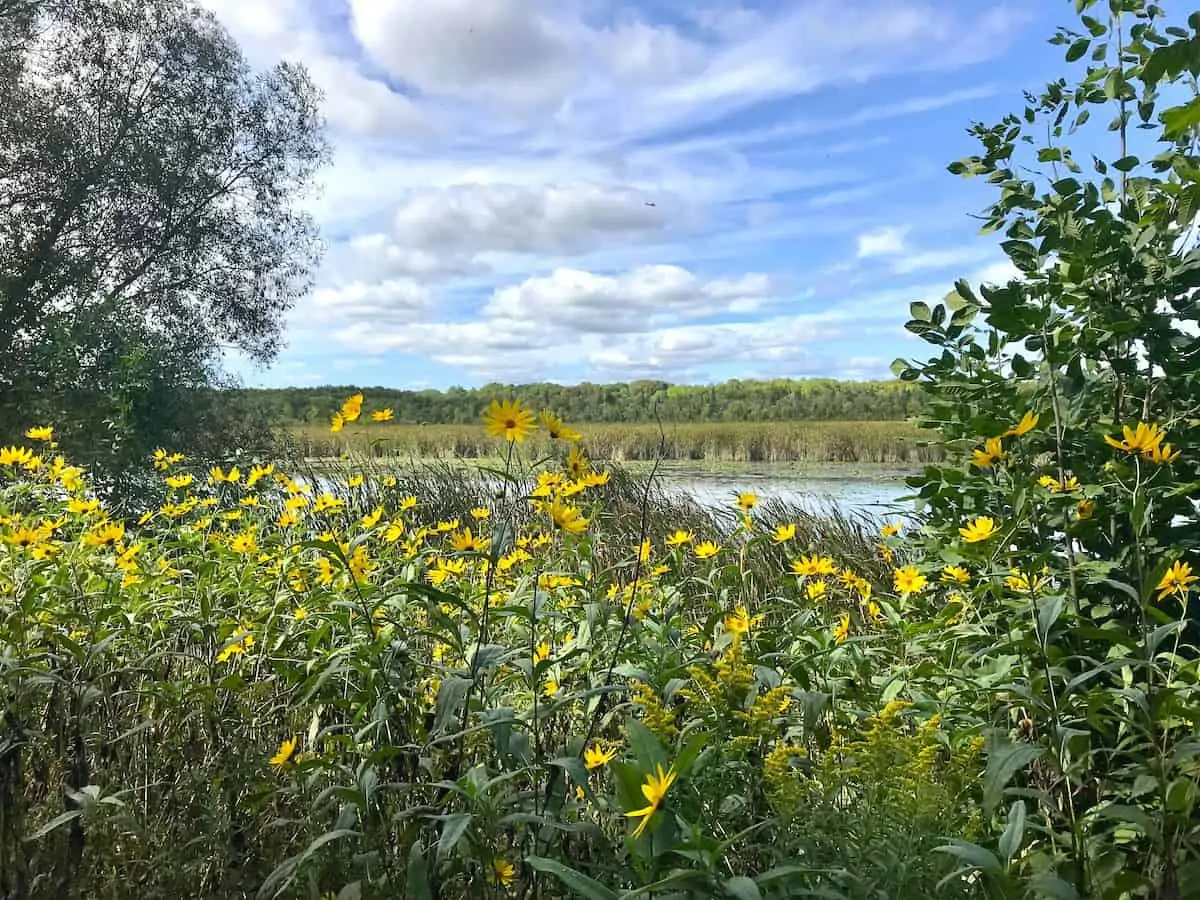 The Marsh Conservation Area located on Katchewanooka Lake to the west of the Otonabee River near the Lakefield Trail is an often overlooked attraction in Lakefield.
It's a cacophony of peeping frogs and bird song at this protected area. Established in 1996, this green space features a boardwalk, a viewing tower and interpretive signage explaining the valuable role this provincially significant wetland plays in preserving biodiversity, protecting drinking water and nature appreciation.
When birdwatching, you can expect to see Canada geese, ring-billed gulls and crows as well as blue jays, warblers, belted kingfishers, yellow-bellied sapsuckers and more.
Insider Tip: Be sure to stop at the historical site of Westove, the home built for Catherine Parr Traill (1802-1899), an English-Canadian author and naturalist who wrote pioneering work about botany and natural history.
9. Enjoy a Healthy Lunch (or Breakfast) at Nutty Bean Cafe
For a lunch break while walking or cycling the Lakefield recreational trail, head to the Nutty Bean Cafe (33 Queen St.). There's space to lock your bike at the back of the building and a cozy patio out front.
The menu features an all-day breakfast of wraps and bagels, fresh baked scones and muffins. At 11:00 am, you can choose from the lunch menu of sandwich specials, wraps, quesadillas and salads featuring locally-sourced produce and house-made dressings such as lemon tarragon or berry balsamic vinaigrette.
Wash it down with a mug of fair trade, organic, shade-grown coffee or house-made iced tea.
Insider Tip: The Nutty Bean is a neighbourhood hotspot so fills up quickly at lunch. If the patio tables are full, get lunch to go. There are benches at the pretty gazebo on Water St. or at Cenotaph Park just steps a way.
10. Go Swimming at Lakefield Beach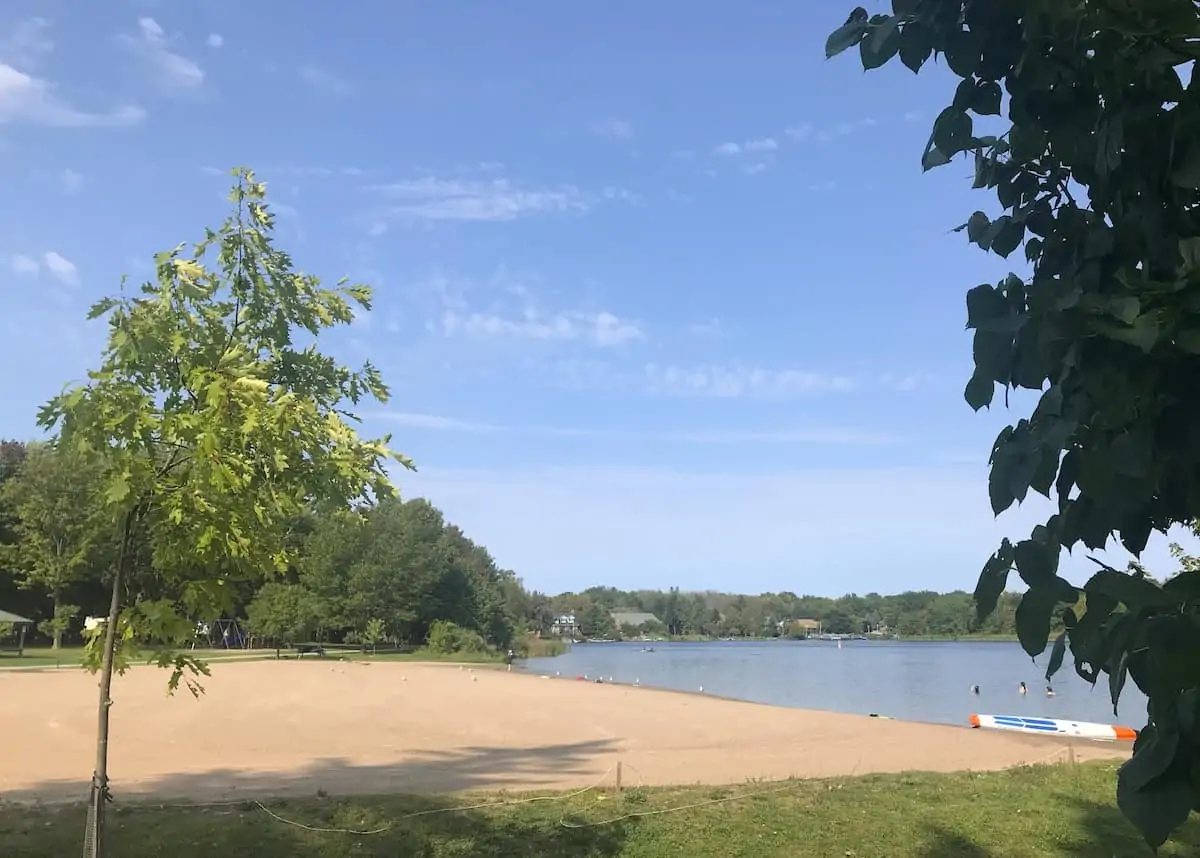 The lakes and rivers in the Kawarthas were originally formed by the meltwaters of retreating glaciers in the Pleistocene ice age. Lakefield Beach is located in a bend of the Otonabee River and features clear waters and a sandy bottom with no weeds.
If you're not up for a swim you can also kayak or canoe along the river banks. Lakefield was once a major hub for wooden canoe building. Read about its rich history and see vintage photos online at the Wooden Canoe Museum.
Or, on your way to Lakefield make a stop at the Canadian Canoe Museum in Peterborough. It's home to a wealth of information about the history and culture of canoes.
11. Marvel at Lock 26 on the Trent Severn Waterway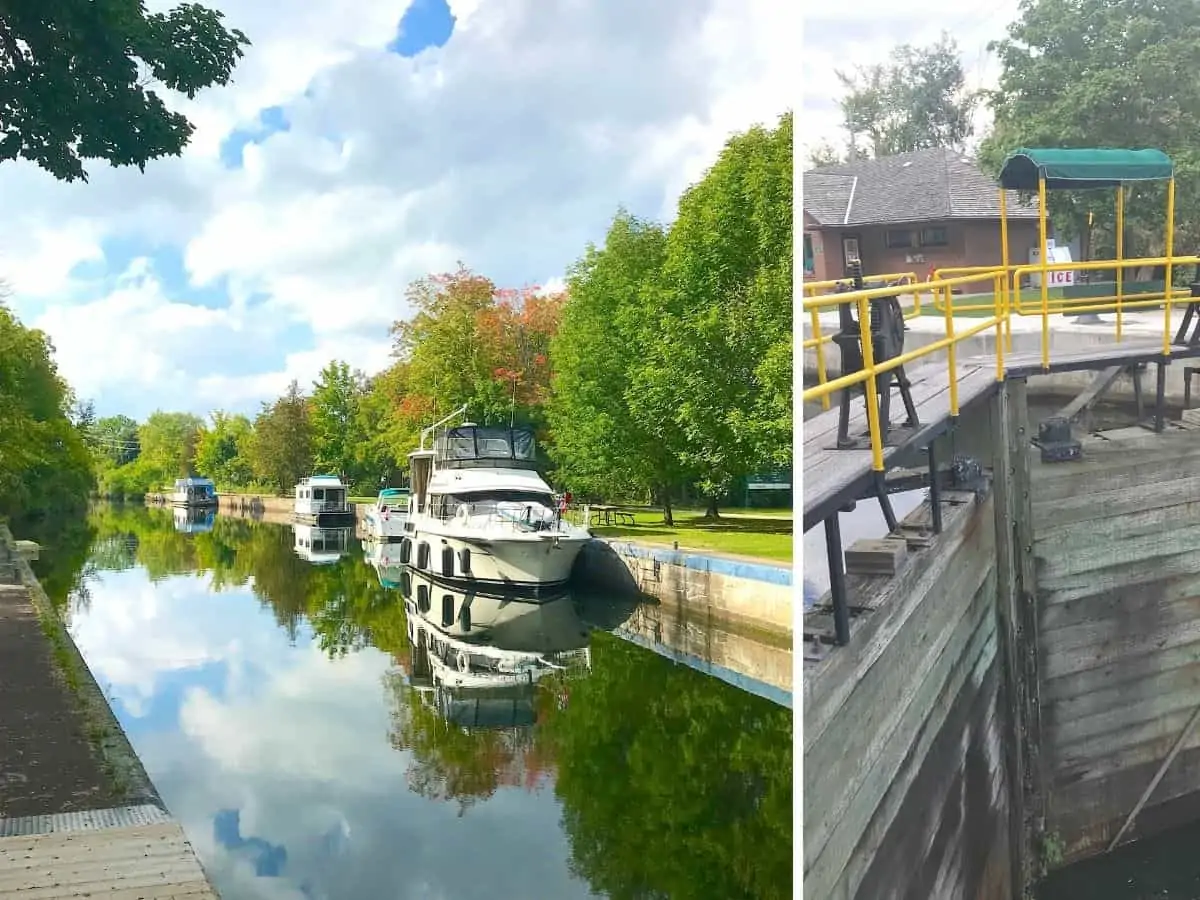 One of the major attractions in Lakefield is Lock 26 on the Trent Severn Waterway. Spanning 386 kilometres from Trenton on Lake Ontario to Port Severn on Lake Huron, the Trent Severn Waterway is a historic canal operated by Parks Canada.
This marvel of engineering features 45 locks and is a National Historic Site of Canada. In addition to its lock operation, the waterway is incredibly picturesque. It's used by recreational boaters from house boats to mega yachts.
Tip: Lock 26 is not the easiest to find! Find it by walking south on Katherine St. or via Hill St. which is accessed on the south side of the bridge in Lakefield.
12. Hit Date Night at Cassis Bistro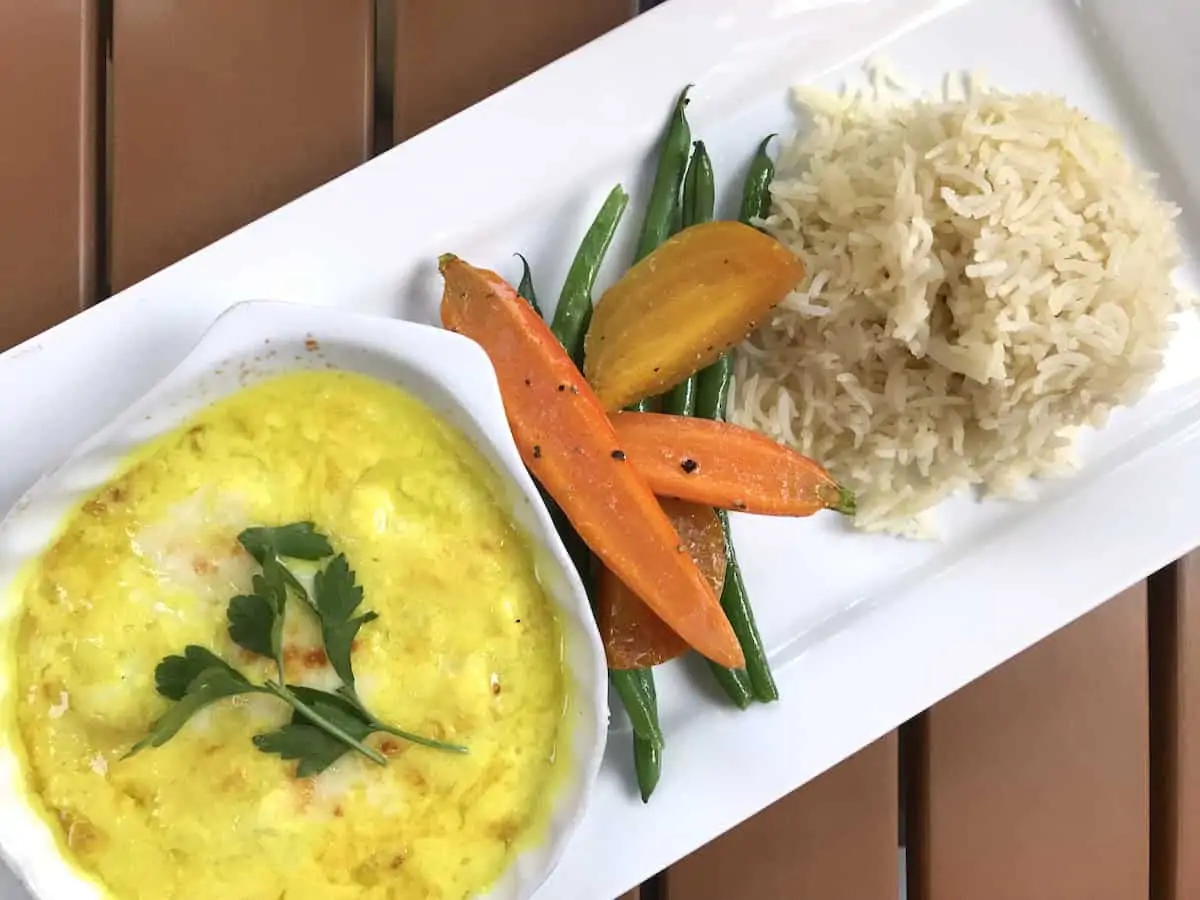 Enjoy French inspired cuisine at Cassis Bistro located on Queen St. in the historic heart of the village of Lakefield. Thursdays is date night when you can enjoy a special menu of an appetizer and dessert (to share) and two entrees for $60.
You'll often see owners Rob and Jacky Rocan greeting and serving guests while Executive Chef Sonja Rich works her magic in the kitchen. Highlights of the lunch menu are the house-made crepes with a range of savoury fillings.
For us (and many others judging from the order of our fellow diners) popular choices on the Cassis Bistro dinner menu are the baked brie with cranberry chutney, rainbow trout with mango salsa and Coquille Saint Jacques, wild sea scallops bathed in a Pernod and leek cream sauce.
The Dutch Chocolate cake with orange buttercream icing makes a fabulously decadent finish to a relaxed evening on the patio.
13. Snuggle with an Alpaca or Pot-Bellied Pig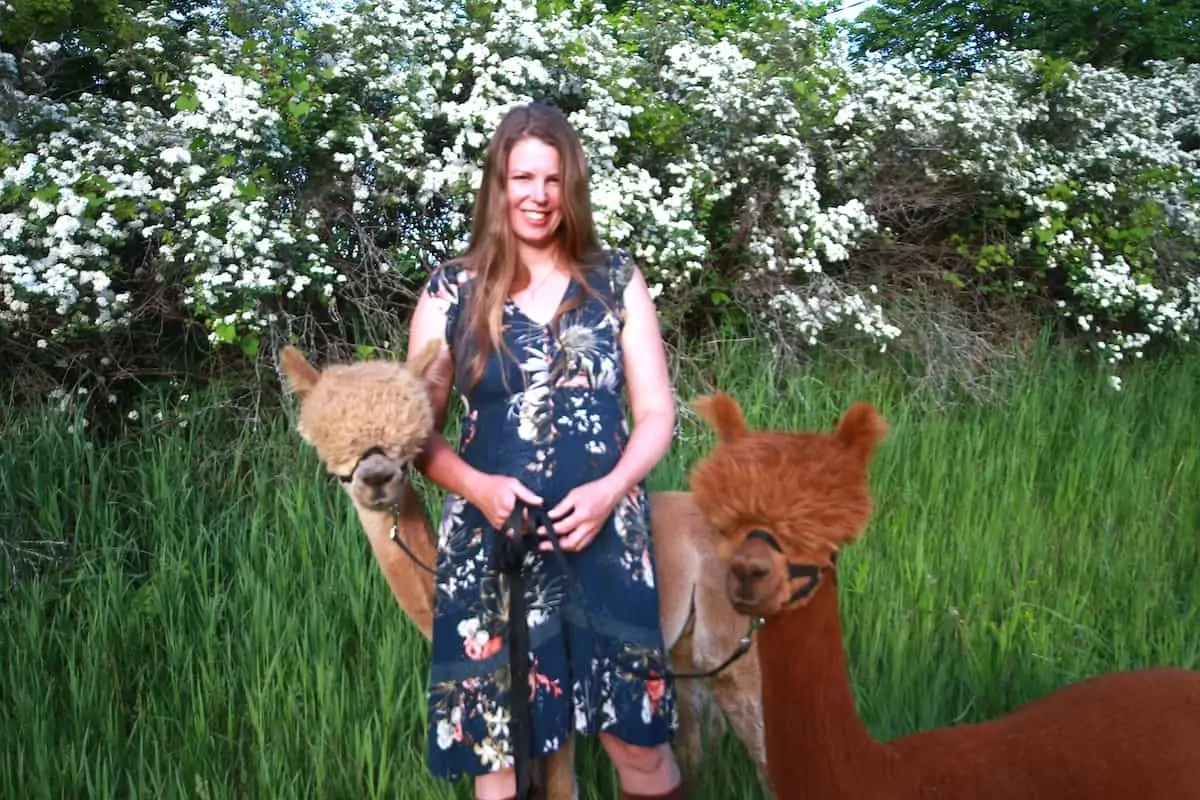 Among the most unique things to do around Lakefield is to commune with some of the local animals. One of the most popular experiences is to go hiking through the forested hills with an alpaca at Wanderlight Alpaca Experience.
On your one-hour guided hike, you'll have the opportunity to meet and bond with the resident alpacas such as Heaven, Puck, Oberon and Cartright.
Alpacas are social, gentle herd animals so this experience is a rewarding activity for families. It's also very popular which means hikes can be booked quite far in advance.
If Wanderlight Alpaca is fully booked, there are other options. Much like the Primrose Donkey Sanctuary in Roseneath, which was founded to rescue abandoned or mistreated donkeys, the Pearly Acre is a sanctuary for pot bellied pigs.
In addition to matching pigs with new homes, the not-for-profit organization offers one-hour guided immersive experiences with the resident pigs.
14. Cycle The Rotary Greenway Trail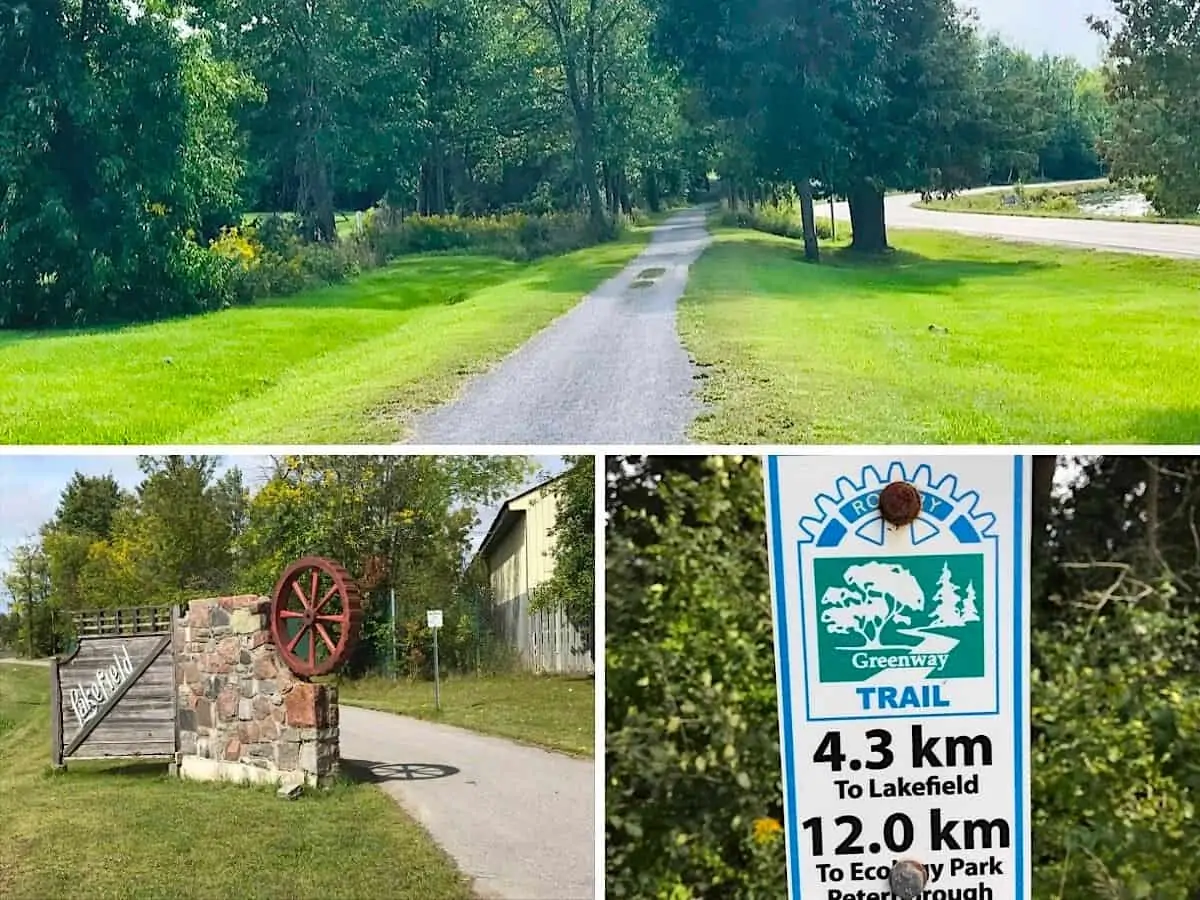 If you cycled the Lakefield Trail on your first day in Lakefield, then your next cycling route should be the Rotary Greenway Trail.
This off-road route begins at the southern edge of town on Water St. and parallels the eastern bank of the Otonabee River and Highway 32, winding its way south all the way to Trent University in Peterborough (and beyond).
Along the way you'll cross over wooden bridges and pass pastoral farms, scenic lookouts over the Otonabee River, fishing holes and more. The maple, elm and birch trees put on a fantastic display of fall colours in yellow, orange and red in autumn.
15. Sip Fruit Wine and Cider at Kawartha Country Wines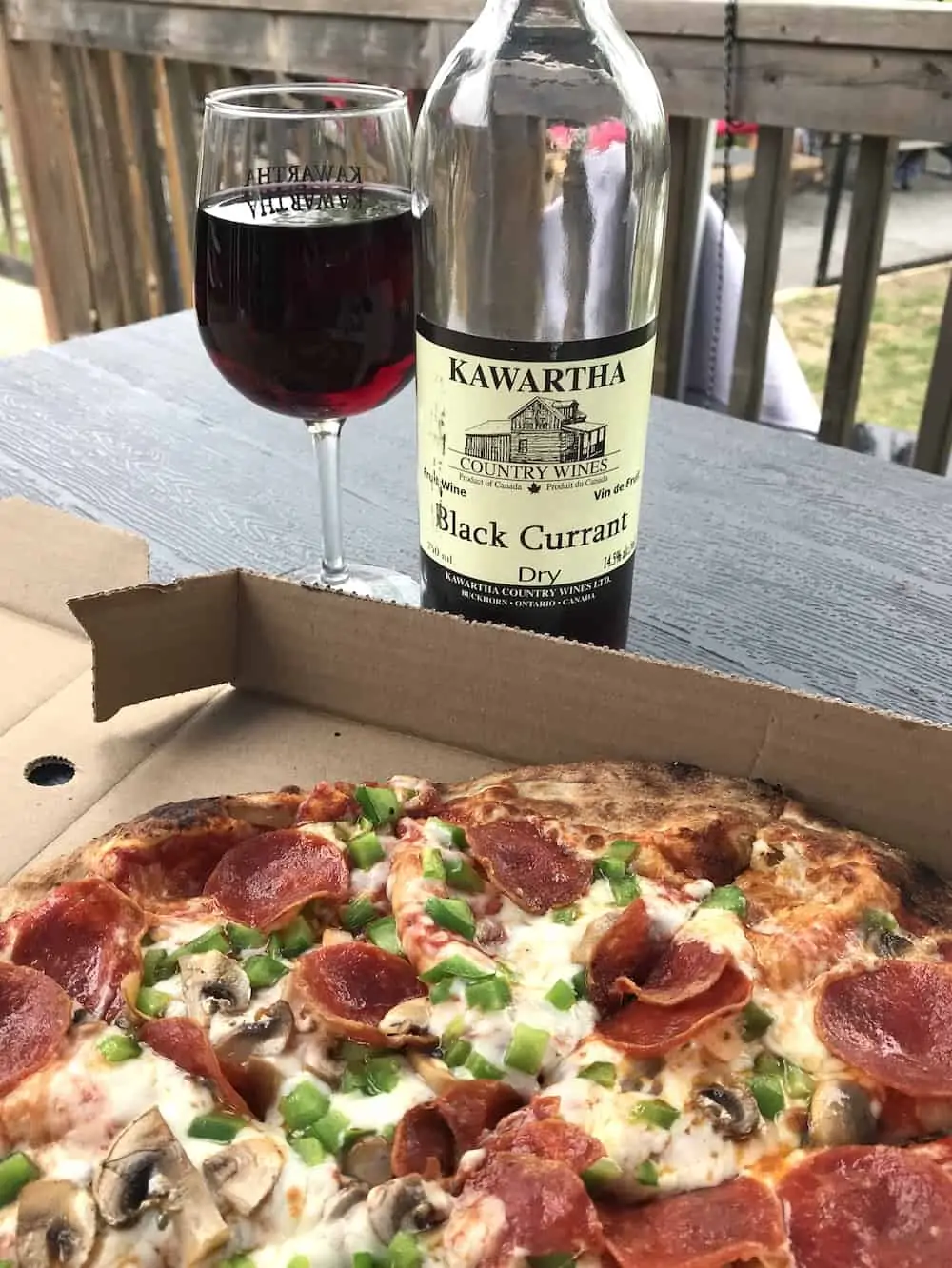 Although best known for its incredible selection of fruit wines and ciders, Kawartha Country Winery also happens to be home to the best wood-fired pizza in the Kawarthas! The outdoor pizza oven is fired up and happening every weekend in September and October.
Place your order at the counter inside the log building and tasting room, grab a seat at one of the outdoor picnic tables and sip your way through a selection of fruit wines.
Go for the popular Black & Black (a smooth blend of black current and blackberry with a deep berry nose ) or get adventurous with a seasonal vintage of pumpkin or gooseberry wine.
Insider tip: Pick up a bottle of their house-made Blackberry Balsamic vinegars!
16. Stop at a Farmer's Stall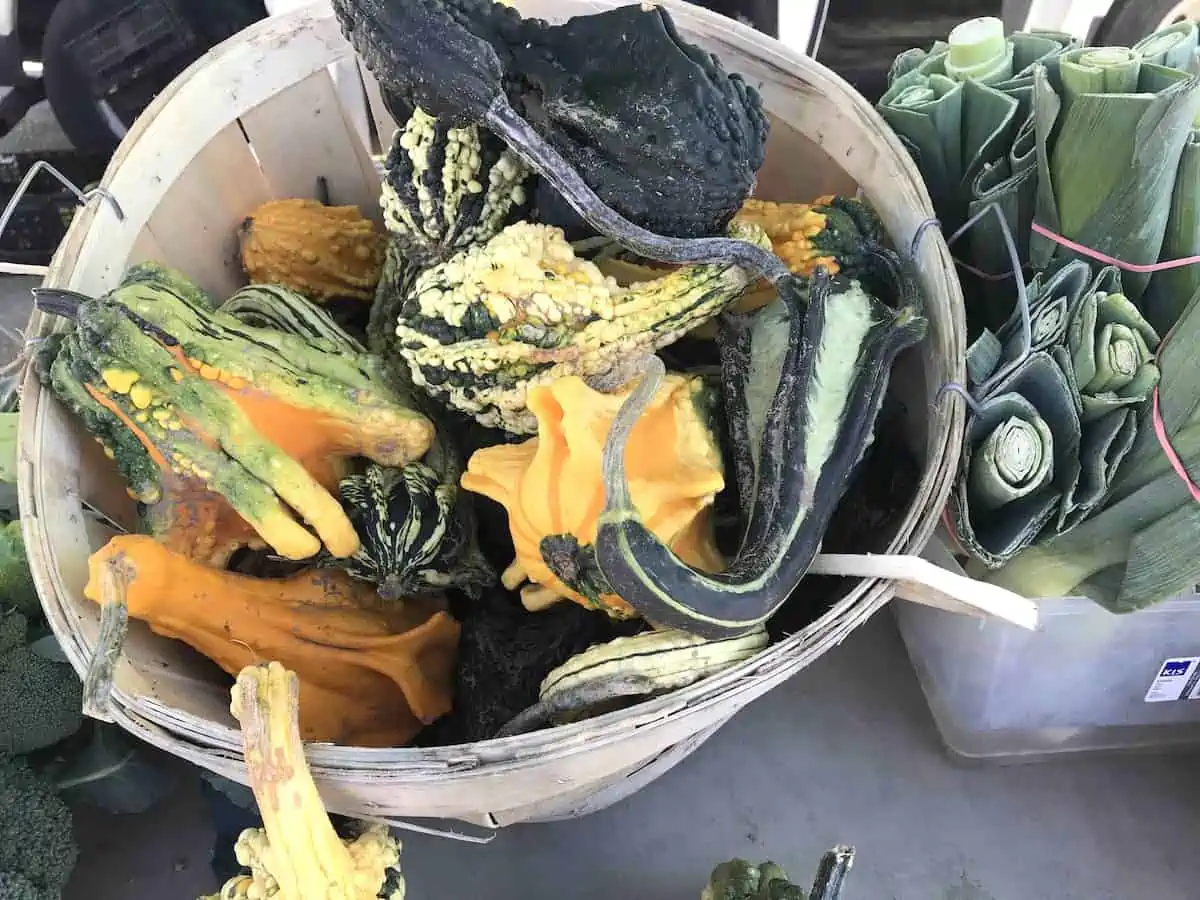 While driving to Buckhorn, another picturesque trail town on the Trent Severn Waterway National Historic Site of Canada, you'll see pastoral farm fields interspersed between the rugged granite outcroppings of the Canadian Shield.
On weekends, many of the local farmers, growers and producers will set up roadside stalls to sell their wares. Some farmers have lived in the area for generations, while others have started a fresh, new chapter in life. They all have inspiring stories to share.
17. Canoe through Epic Landscapes
There's nothing more quintessentially Canadian than gliding silently across a mirrored lake in a canoe. There are so many places to launch a canoe (or a kayak) in Lakefield you can easily spend an entire weekend paddling across a variety of pristine waterways.
For me, Stoney Lake is an ideal spot to canoe. Not only is it especially beautiful, it's easy to paddle up to one of the pink granite outcroppings and jump out of the canoe for a swim.
Quick Tip: Rent a canoe for a day or a weekend at Adventure Outfitters in Lakefield.
18. Experience Indigenous Culture at Whetung Ojibwa Centre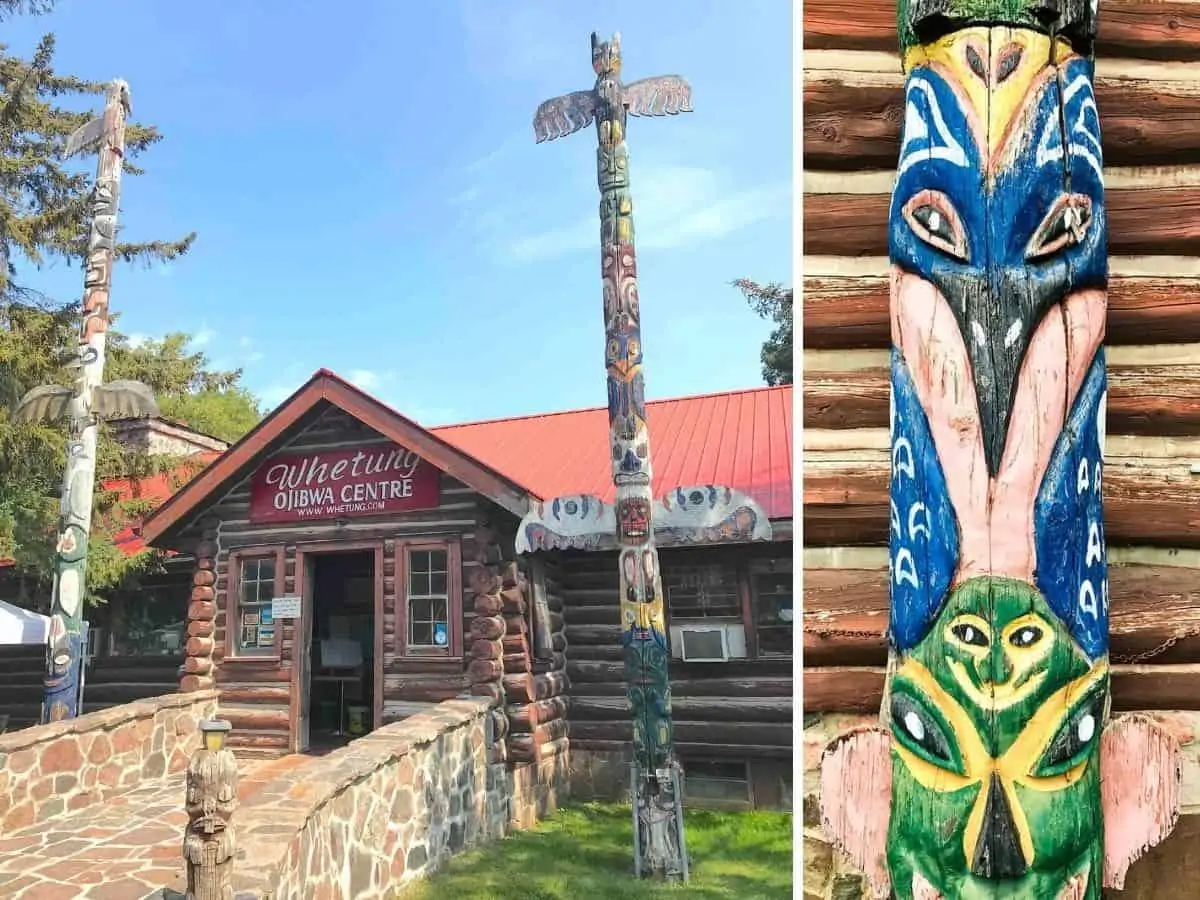 Plan on spending a few hours at the fascinating Whetung Ojibwa Centre located in the heart of the Curve Lake First Nation.
Chat with First Nations artists in the gallery, pick some Canadian-made moccasins (huge selection in all sizes), shop for stone carvings and porcupine quill baskets, marvel at the mask collection and more.
Don't miss the museum located on the lower level.
Insider Tip: Fill up on tax-exempt gas while in Curve Lake. Prices are around 15% lower than outside the reserve.
19. Soak up the Views at Lock 27 Tap & Grill Young's Point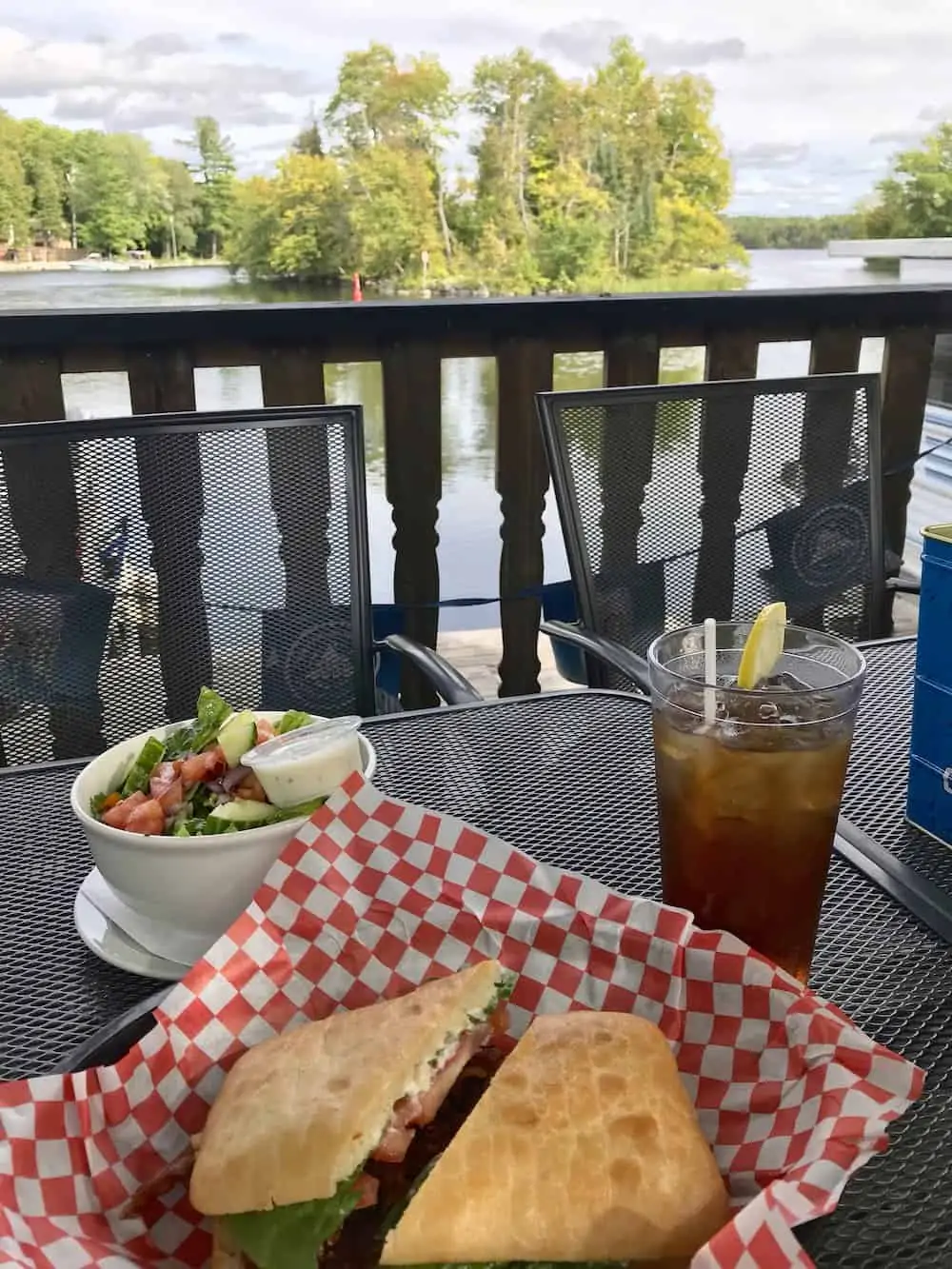 Take a scenic 10 minute drive or 30 minute cycle (11.5 km along Highway 25 from Lakefield) to Young's Point where the Otonabee River meets Clear Lake on the Trent Severn Waterway. At the end of River Avenue – just when you think you're surely lost – you'll come across Lock 27 Tap & Grill.
Open seasonally from May to September, this cottage country neighbourhood pub set on the waterfront overlooking Mink Island on Clear Lake gets our vote as the best restaurant patio in the Kawarthas. In operation for 30 years, it offers a range of weekly specials (Wing Wednesday, Fish Friday) as well as live entertainment.
Chill out with a frosty mug of Lock 27 lager, one of several draft beers on tap, watch the boating action and soak up some history. The Young family from Ireland first settled the area in 1825, setting up a grist mill and dam.
If you're interested in getting out on the water, you can rent a 14 foot aluminum boat with a 9.9 h.p. outboard motor at Island View Resort (2824 River Ave.) and go fishing for small and largemouth bass, walleye, pike and perch.
Cost is $65 per half-day plus taxes and gas. Be sure to reserve in advance. Get an Ontario fishing license and learn about conservation and sport catch limits before you go.
20. Marvel at Ancient Petroglyphs and Other Amazing Things to Do in Lakefield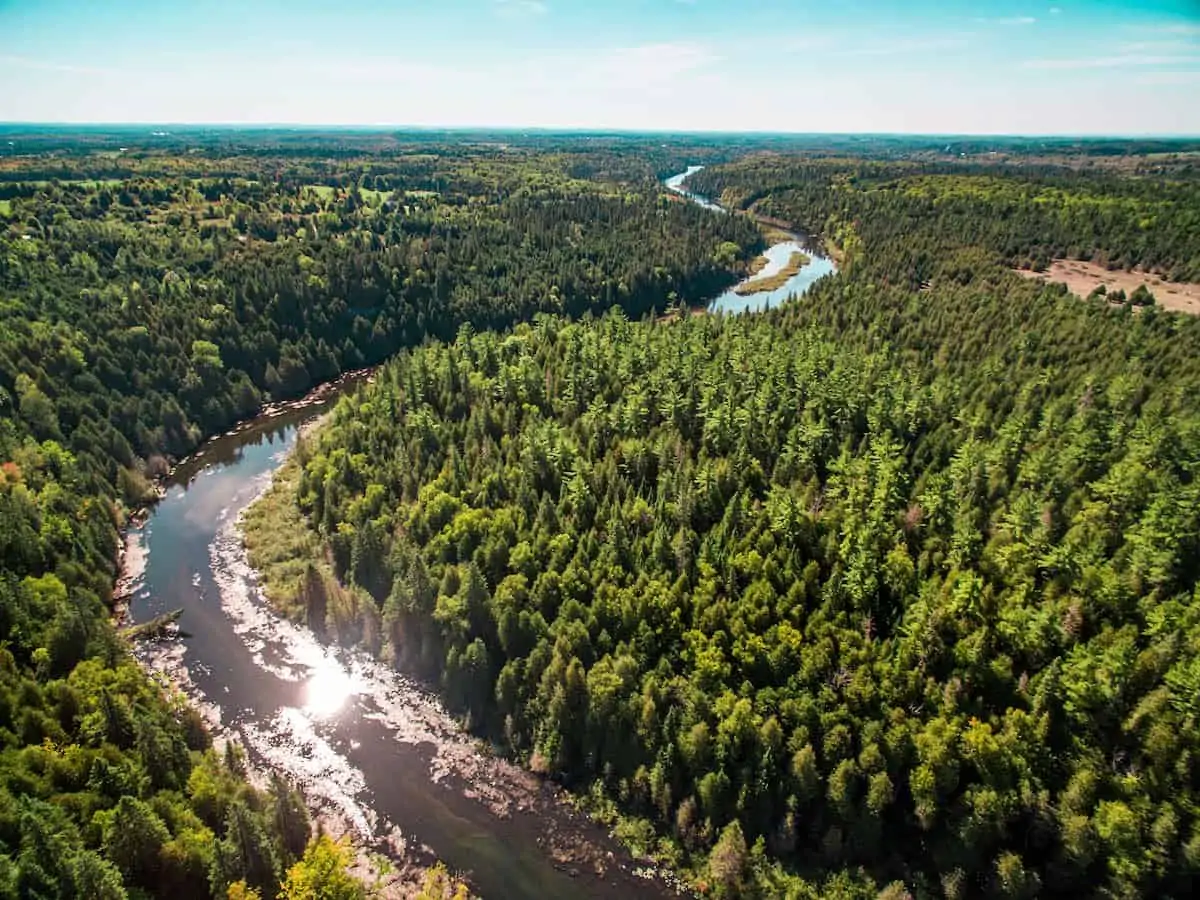 A bit further afield but definitely worth including on any Lakefield itinerary are the Warsaw Caves and/or the Learning Place Visitor Centre at the Ontario Parks Petroglyphs site.
The sacred petroglyphs site is home to the largest concentration of indigenous rock carvings in Canada and the carvings depicting turtles, snakes, birds and people are truly incredible to see.
Travel Planner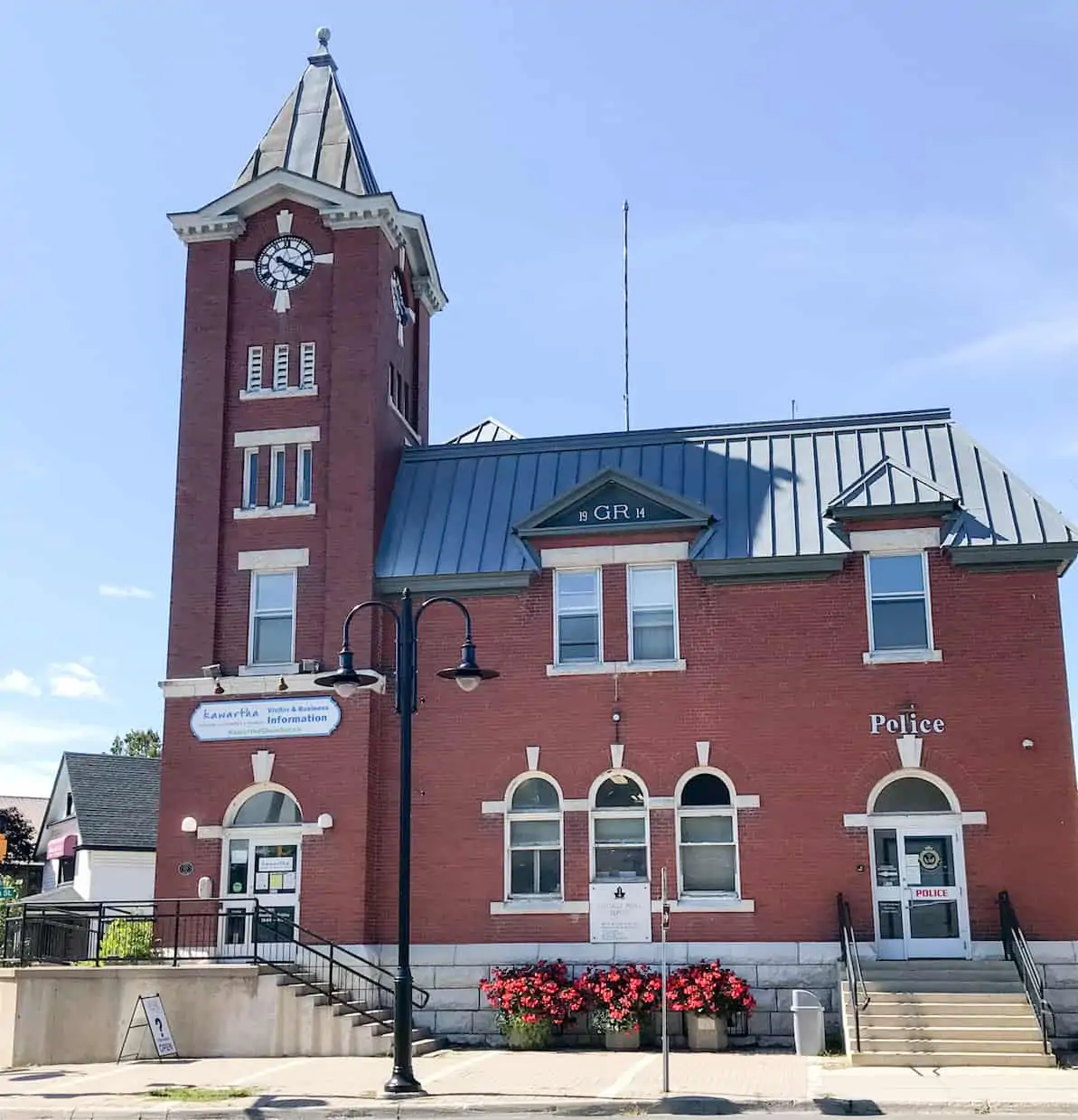 Travel by Car: Toronto to Lakefield Ontario by car takes around 1.5 hours depending on traffic. There's no direct public transportation but it is possible to travel via Peterborough by bus (seasonally).
The easiest way to get to Lakefield is to rent a car. Check online for the best rates at Discover Cars and then pick up your vehicle at Toronto Pearson Airport or other convenient location.
Begin your vacation in Lakefield with a stop at the Kawartha Business & Tourism Office (12 Queen St.), conveniently located in the heart of the historic district. The helpful staff can provide suggestions on even more things to do in the area as well as maps and booklets. There's also a public washroom.
Tip: There's free parking in the Village Square beside Foodland and on the street beside Cenotaph Park.
Official Tourism Board Peterborough & The Kawarthas: Check out Peterborough & The Kawarthas Tourism for trip planners, itineraries and helpful links. You can also stop into the Visitors Centre in Peterborough to get in-person assistance.
Check opening hours at listed establishments as many are closed on certain days of the week or operate seasonally.
Best Places to Stay in Lakefield – Hotels, AirBnB, Cottages
Red Brick Lofts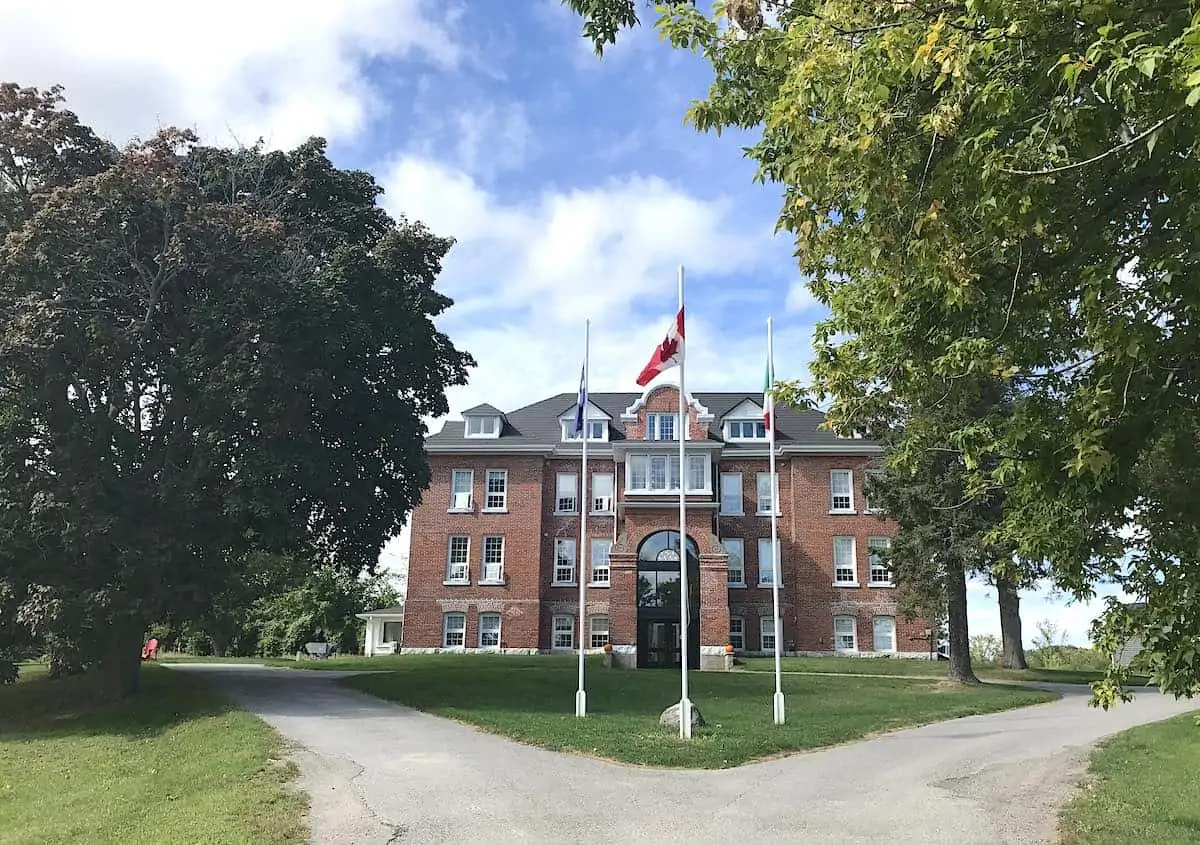 This AirBnB unit is a one bedroom apartment on the main level of a historic building set on the outskirts of Lakefield, a five minute drive to the heart of the village.
It offers free parking as well as easy access to cycling trails and nearby attractions. For foodies, one of the most appealing features of this AirBnB is that it features a full kitchen.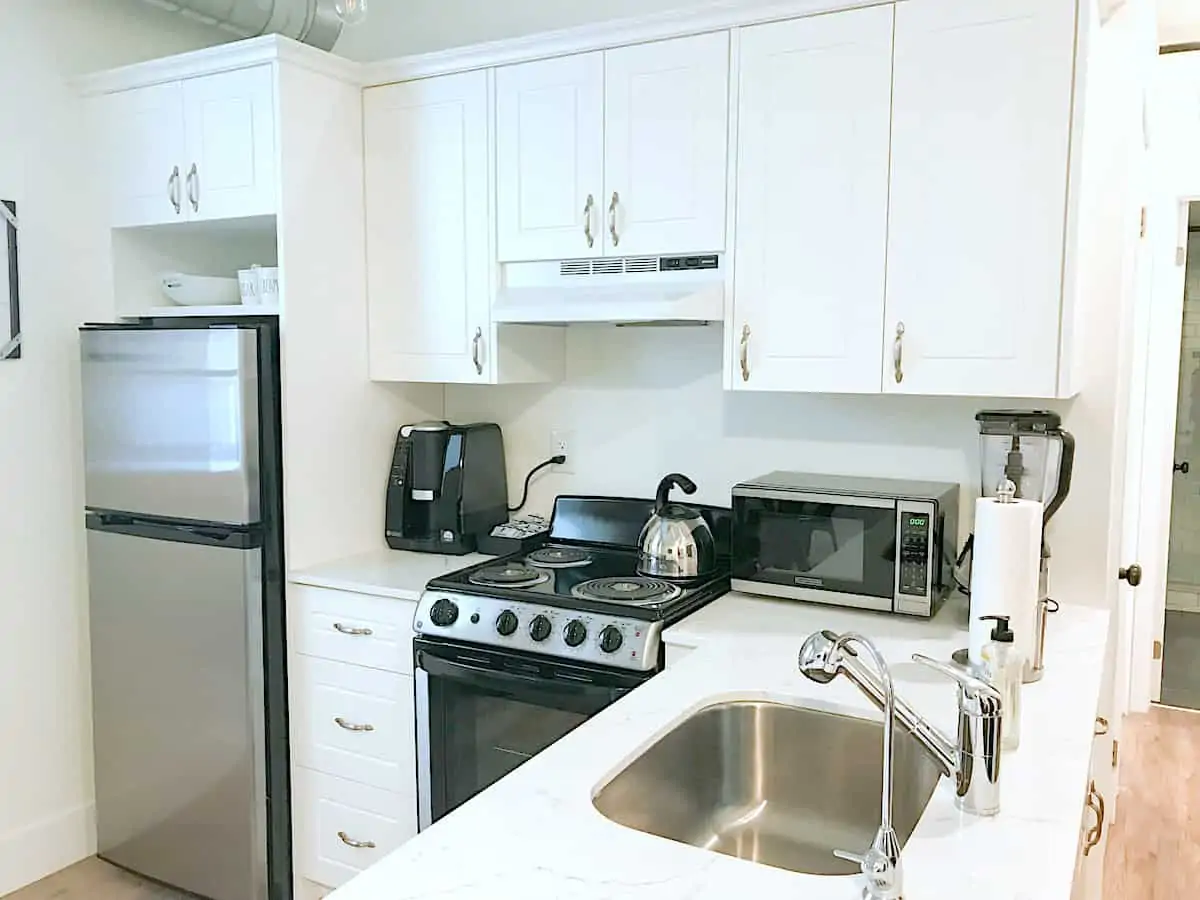 Unlike many vacation property kitchens (Check out our post on How to Cook in an AirBnB (Without Losing Your Mind), the kitchen at Red Brick Lofts is fully equipped.
It's got everything from coffee makers (two!), cutting boards and wine glasses to a dishwasher. So cook a full meal with the goodies you've gathered from local farmer's markets, shops and food stands.
Pine Vista Resort on Stoney Lake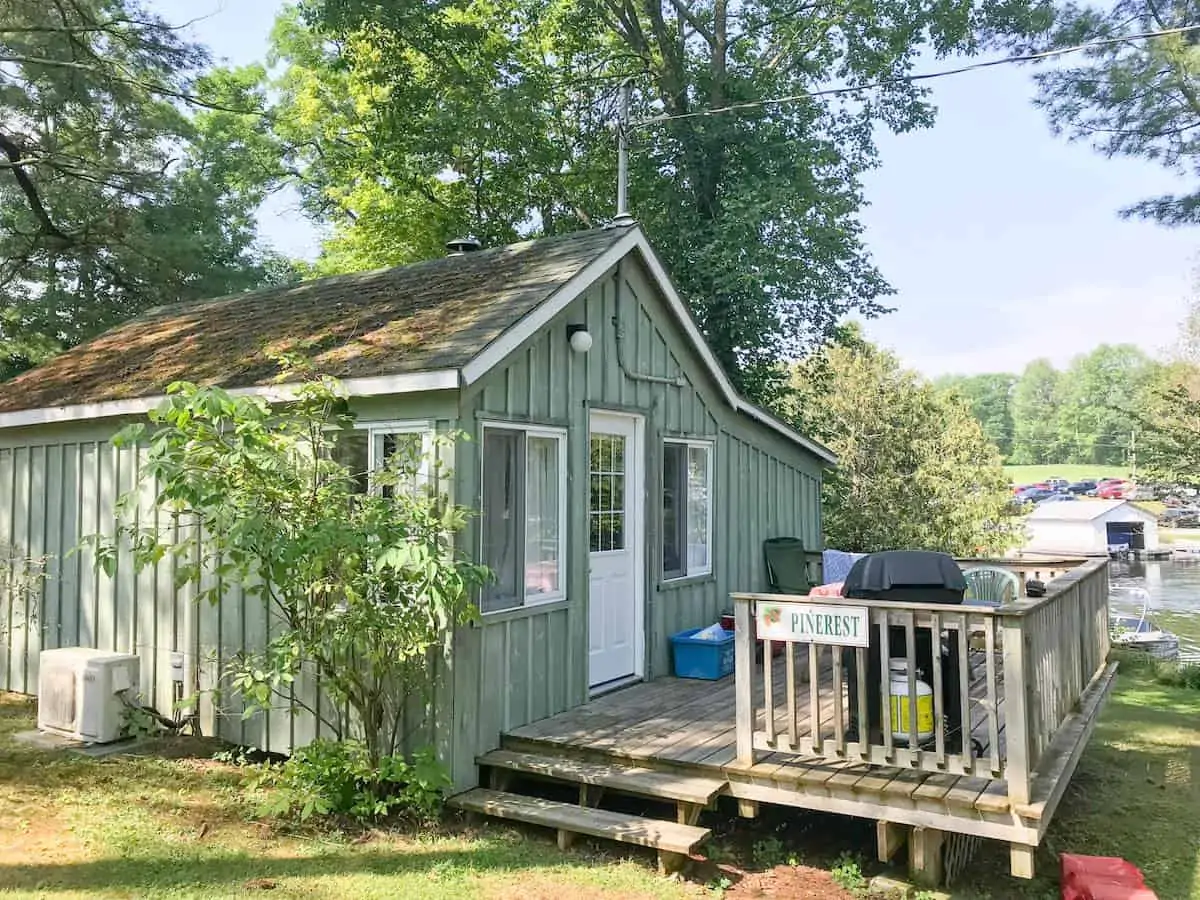 During the summer months, this family-owned and operated waterfront resort is open for bookings of one week or longer. But come fall, you can book a 3-day stay, which is perfect for a weekend cottage country getaway.
While the resort is a 20 minute drive to Lakefield, you've got the added benefits of being immersed in nature. Listen to loons, book a massage, hike the nearby trails, go stargazing and canoe Stoney Lake.
Cottages at Pine Vista Resort are fully equipped with kitchens and come with BBQ grills, picnic tables and outdoor decks with fabulous views.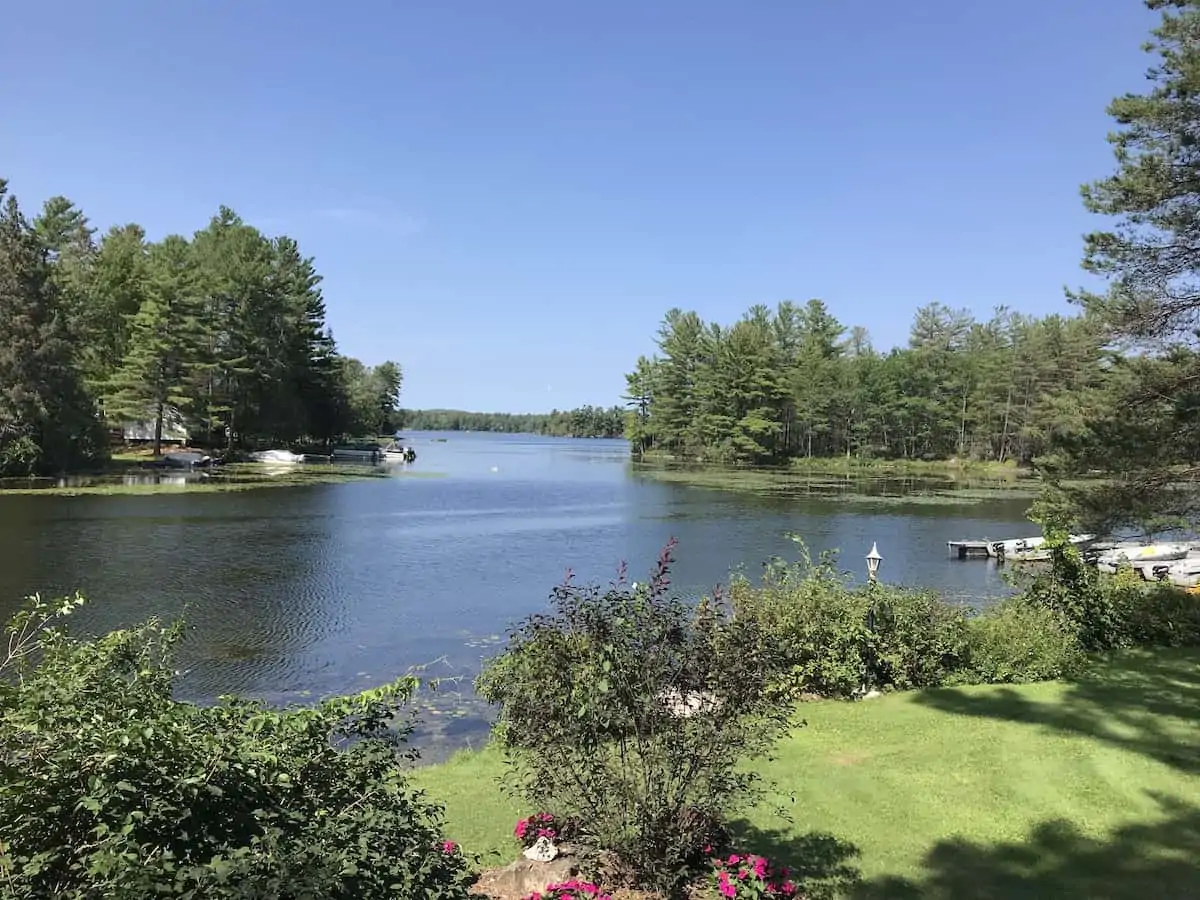 Village Inn of Lakefield
Located on Queen St. in the heart of historic Lakefield, this comfortable hotel is a bit dated in decor. But it gets top marks for location and service.
Check rates and availability at the Village Inn of Lakefield on Booking.com.
Save to Pinterest!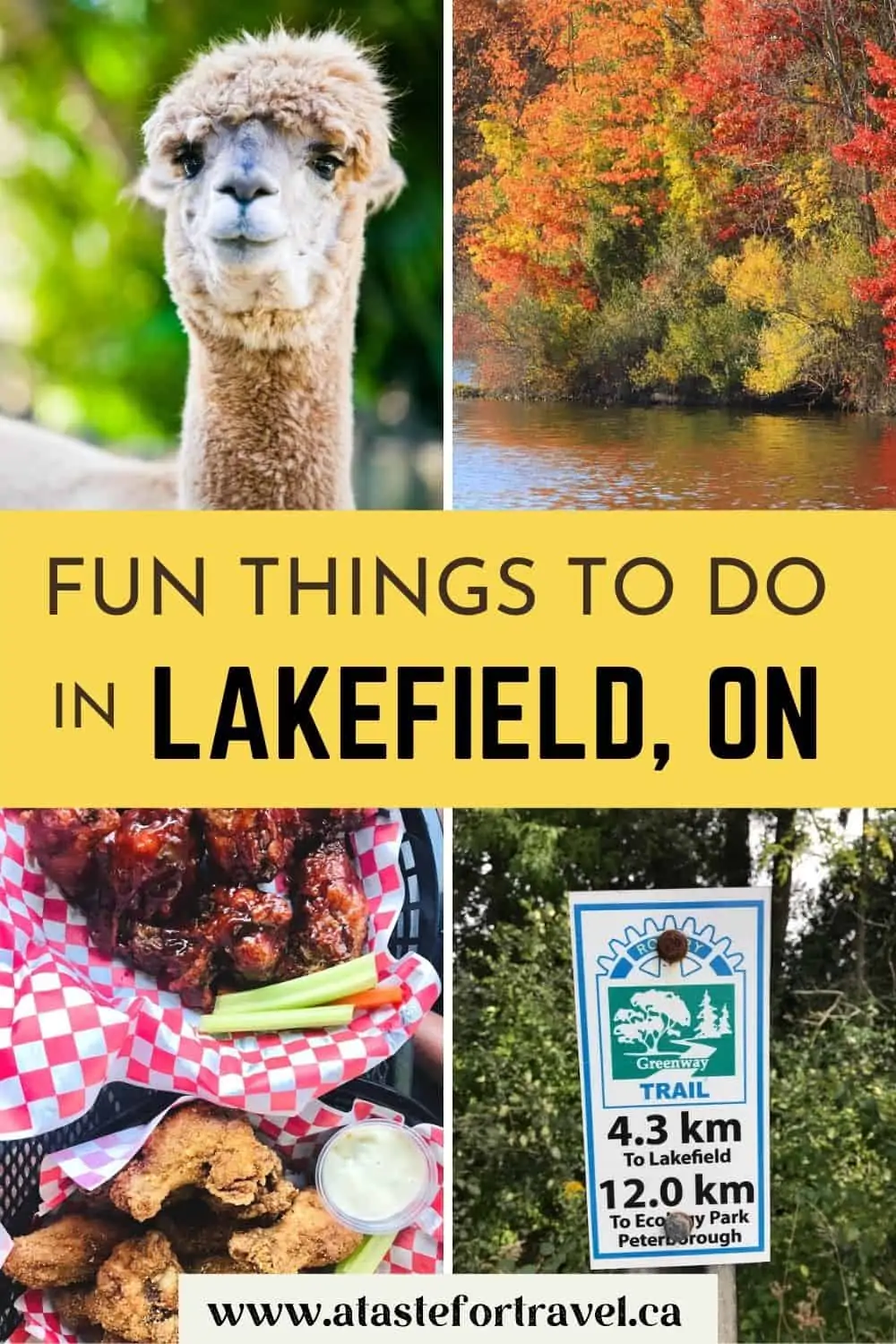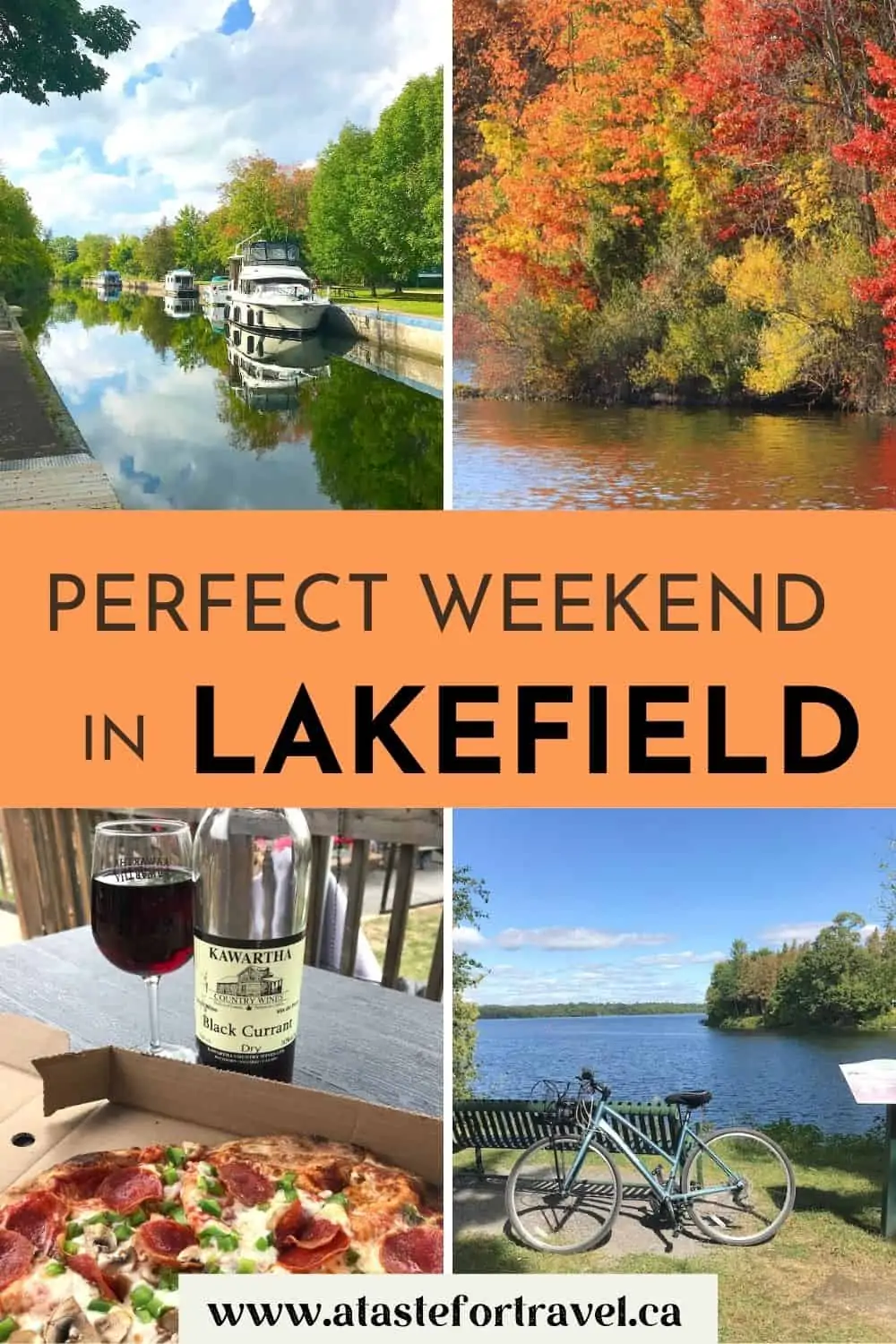 Note: All Photos by Francisco Javier Sanchez unless otherwise credited.
Dividing her time between Canada, Guatemala and Mexico (or the nearest tropical beach), Michele Peterson is the founder of A Taste for Travel. Her award-winning travel and food writing has appeared in Lonely Planet's cookbook Mexico: From the Source, National Geographic Traveler, Fodor's and 100+ other publications.
Read more about Michele Peterson.