We may earn income from links in this post. Please read this Disclosure for details.
Enjoy a delicious farm-fresh lunch and connect with nature, the land and animals on this sustainable Puerto Rico farm tour and agritourism project at Frutos del Guacabo.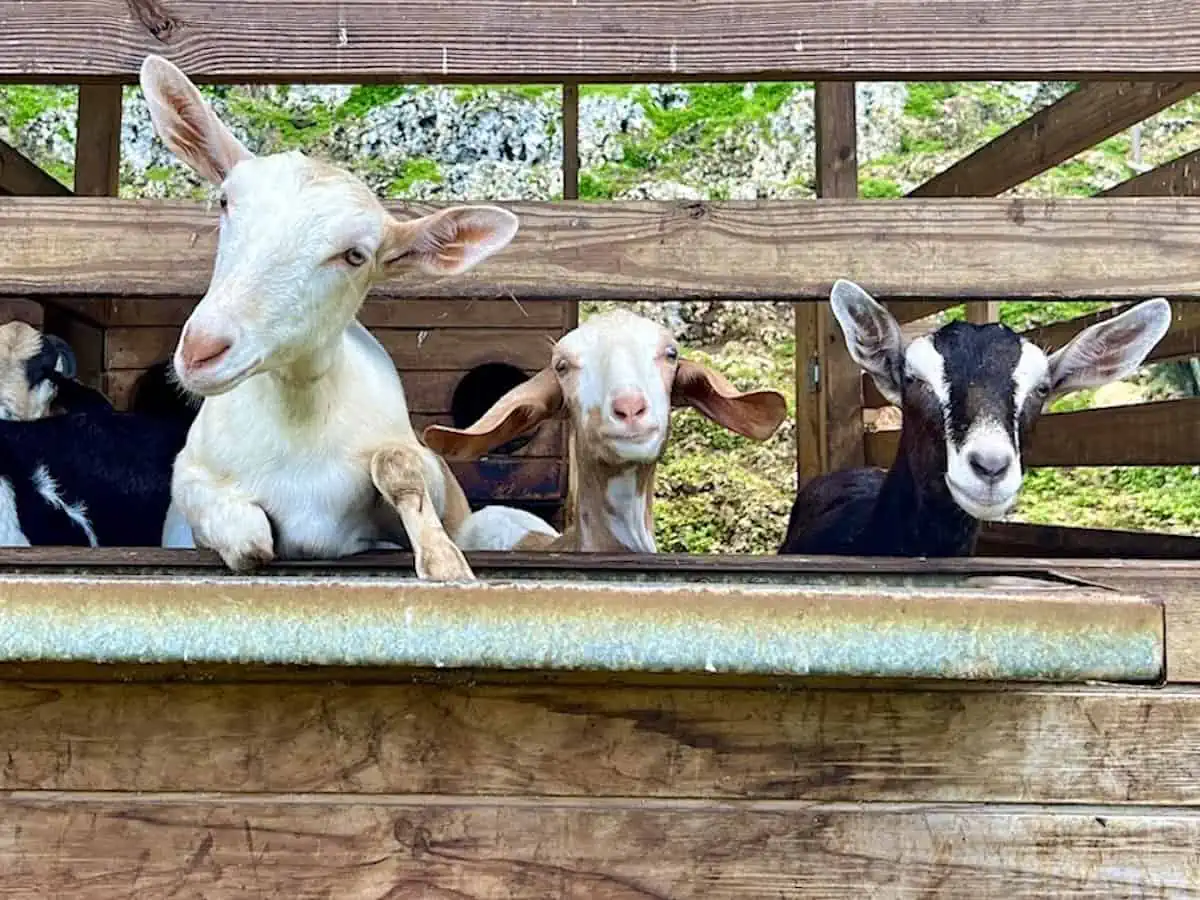 As a LaMancha dairy goat named Chimbi munches on a mix of honey-sweetened oats, corn and alfalfa, I place my thumb and forefingers together and pinch the top of her teat where it meets her udder.
Then, with my other hand, I work the warm, frothy milk out of the teat and into a silver jug while she's distracted.
While I feel like I have a knack for milking, I don't have the patience for it. So I turn things back over to Jezmuel Robles.
He can milk a goat double-handed in just a couple of minutes flat at Frutos del Guacabo (Google Map), his family's farm on the northern coast of Puerto Rico west of San Juan.
Local Lunch at the Farm
Instead, I wash my hands and take my place on hay bales for a truly farm-to-table lunch starring finger-sized slices of goat's milk queso fresco.
They're on a plate surrounded by homemade marmalades (tomato and mango), confit tomatoes, candied orange peel and a freshly picked passion fruit that has been sliced in half.
Alongside this pretty plate — which has been garnished with four kinds of edible flowers —there's even more food.
Pickled lipstick peppers stuffed with goat cheese. Sautéed bok choy. Chicken longaniza (a local sausage) that has been thickly sliced and pan-fried.
Blue tortilla chips. Flan brulée topped with lime zest will complete the meal.
Everything I'm about to eat is made from ingredients that have been grown right here or nearby.
It's all been made in the farm's tiny kitchen or by small local businesses.
I've spent more than 25 years writing about food, testing recipes and authoring cookbooks. I relish any chance to get to the source of my food.
Here in Puerto Rico for a Society of American Travel Writers (SATW) convention, I had to see this sustainable farm making a name for itself.
So I took a 35-minute Uber ride from San Juan to Manatí for a farm tour.
A Farm to Table Eco-Experience
Frutos del Guacabo runs tours every day except Sunday. The tours cost $40 USD, last about 2.5 hours and must be booked in advance.
Visits to what they call the vegetable/herb garden and hydroponic, microgreen and edible flower "canopies" are interspersed with drinks, treats and a tapas-style lunch and interactions with the farm animals.
"We call the experience a sensory one," explains Efrén Robles.
"You smell, you taste, you understand."
History of Frutos de Guacabo Farm
Born and raised in Manatí, Robles is an industrial mechanic. He worked with purified water systems before co-founding the farm in 2010 with his chemist wife Angelie Martinez.
Their sons Adrian Rivera and Jezmuel Robles help them run it. Carlos Prieto handles customer service and tours.
What began as a small farm to develop hydroponic products is now a certified sustainable farm and agritourism destination with an educational mission. It supplies about 200 of the island's hotels and restaurants.
Puerto Rico, Robles laments, imports about 85 per cent of its food.
If there's one thing that Hurricane Maria, earthquakes and the pandemic have taught him, it's that "you have to be closer to the food source."
Some of their restaurant clients have gone from sourcing eight per cent of ingredients locally to buying almost 85 per cent here on the island.
Frutos del Guacabo sits on just half an acre of land. And with the several other nearby small plots of land it all adds up to two acres.
"Frutos" means fruit and "Guacabo" was a local Indigenous chief.
The name "fruit of the chief" is a nod to the fact that the Taino people (the
island's Indigenous people) were once farmers.
I'm welcomed with a bowl of sliced fruit — mango, starfuit and guava — and a glass of fresh watermelon juice.
Robles shows off a mural painted on an outside wall.
Inspired by his nephew Sebastian Rodriguez who is on the autism spectrum, the mural offers an artistic take on photosynthesis.
The artwork demonstrates the process by which plants use sunlight to make their own food and grow.
Get Inspired by Sustainable Farming and Living
Next, Prieto walks me up and down the driveway, pointing out the plants that grow on either side of it and telling stories about each.
This education area "shows people things they can do at home and how to actually develop their own home gardens."
There are papaya, pomegranate and acerola (Caribbean cherry) trees, makrut lime plants, ginger, amaranth, curry leaves, eggplants, shishito peppers, turmeric, tarragon, oregano, lemongrass, Thai basil and more.
As Prieto explains, some things — like lime and curry leaves — aren't local. But they are ingredients that chefs want to work with.
Recyling, Repurposing and Innovating
Tires that double as plant pots jump out as something unusual.
"We tell people to use old tires to plant the tree in. Why? Because we have a problem recycling tires on the island. We don't know what to do with old tires," explains Prieto.
"In this case, when we know a tree will not grow for example as big as a mango tree and will be more like a bush, a tire can be used to protect the tree."
Tires can also be used as planters to grow things like ginger.
In between the soursop tree and the corazon (sweet apple) tree, Rivera wanders over with an avocado sorbet paired with goat milk ice cream.
This dish is sprinkled with caramelized passionfruit seeds and presented with a guava cookie.
The serving cup and cutlery are compostable.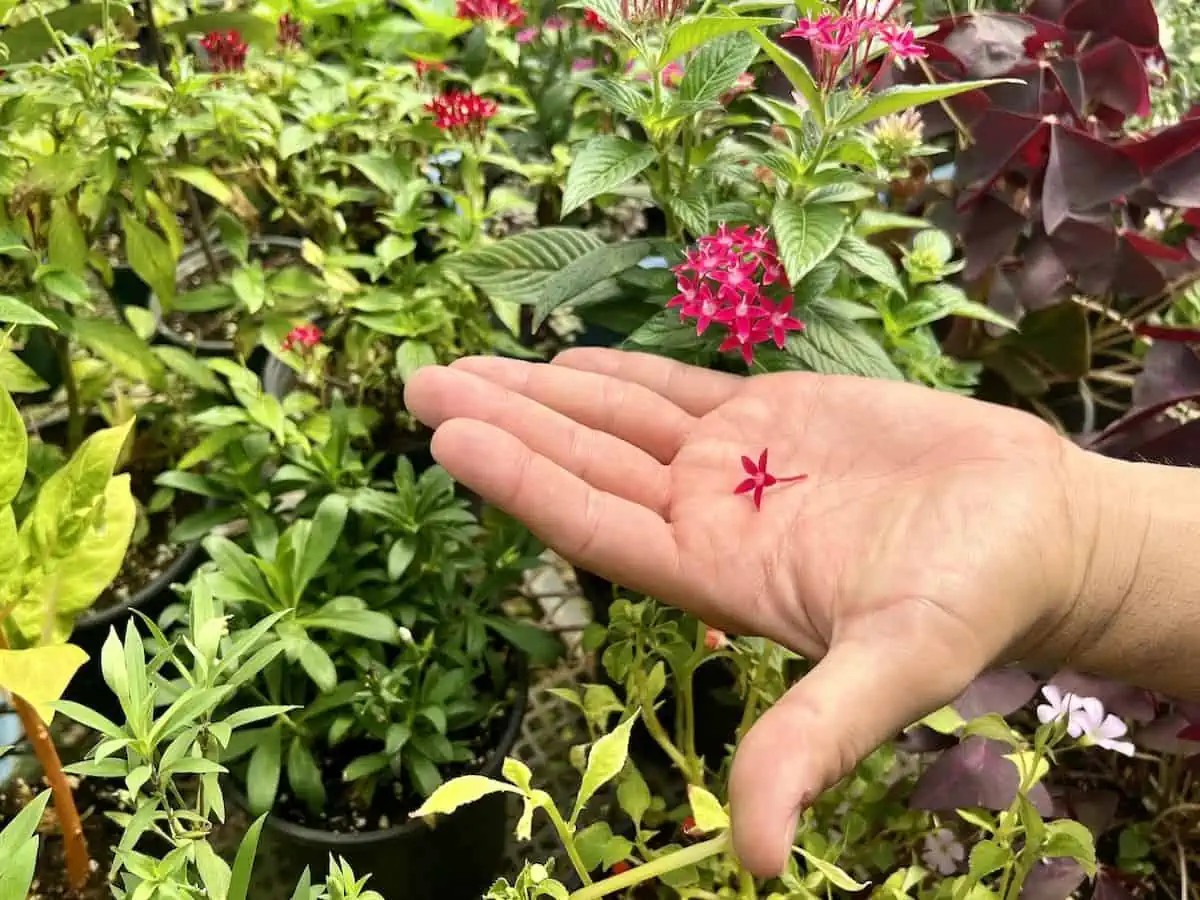 Talk turns to the edible flowers grown here that garnish the cocktails and dessert plates of San Juan.
We admire the showy red hibiscus and linger over the top-selling blue butterfly flower (aka blue pea).
Throw this flower in with rice or pasta while cooking and your food will turn a lovely shade of blue!
🌟 Foodie Tip: You can also try blue butterfly flowers in Grenada! A top thing to do in Grenada is to sip blue tea during Afternoon Tea at Tower Estate.
"This property is just over half an acre," Prieto says. "The message to our visitors is that you don't need lots of space, you don't need a big backyard. Just identify what you want to grow and organize your space."
Shop for Local Products at the Farm Store
The farm's small store sells fruits and vegetables, but also showcases products made nearby.
Small-batch Doña Lola blue tortilla chips are made in Caguas. Those guava cookies served with the avocado sorbet are called palitos de guayaba (guava sticks) and made by Enhorabuena Dulzuras in Bayamón.
Malanga (taro) flour comes from Eco Finca SOREC in Vega Baja. Longaniza comes from Alcor Foods in Bayamón.
Hydroponic Food in Demand by Chefs
The next part of the tour happens at the back of the lot where the goats live and where the hydroponics operations happen.
It's here where staff begin their days snipping flowers, herbs and microgreens and packing them in boxes to be delivered to chefs.
We walk up and down rows of microgreens, admiring everything from arugula and watercress to kale and basil.
More than 1,000 people come on farm tours each year. Some are sent by cruise ships and local hotels. Others, like me, are on their own.
Locals drop by to shop and relax with the animals.
There's one horse, 50 goats and a pen full of rabbits whose manure is used to make compost.
Each goat, by the way, produces about two litres of milk a day.
They live in a large pen where they can stay sheltered or explore a limestone karst landscape known as "el carso norteño."
Benefits of Sustainable Tourism
While I wait for my Uber back to the city, Robles returns for a final chat.
He'll be on a sustainable tourism panel at my conference, but wants to say that he hopes more people start producing food.
"People are travelling to eat, to understand food," he says. "I'm a foodie. I travel to understand cultures through the food lens, so that's why we're trying to offer."
Those caramelized passionfruit seeds that topped my avocado sorbet and goat milk ice cream?
That's something people typically throw away. But part of being sustainable, Robles proudly points out, is trying to use 90 to 100 per cent of every product that comes through your door.
Farming is a win/win for everyone, he concludes.
A dollar spent in the community has a bigger impact than a dollar spent at Walmart. The island moves away from importing food and closer to food security. People get access to healthier, more interesting ingredients.
Cooking Class in San Juan
Speaking of interesting food, my Uber ride takes me straight to one of the farm's customers — Cocina Abierta, an elegant restaurant in Old San Juan.
The SATW travel writer's conference has arranged for a Puerto Rican cooking class in the restaurant's private event space, Atelier at Cocina Abierta.
Chef Stephanie Haddock demonstrates dishes including mofongo (made from green plantain that are fried and mashed with other ingredients), roast pork (marinated in annatto oil) and rice with pigeon peas.
🌟 Pro Tip: Unlike mangu, a traditional dish in the Dominican Republic, mofongo is made with fried, rather than boiled plantain.
During our cooking class there isn't much actual cooking. But we do a little prep work and then relax over a feast.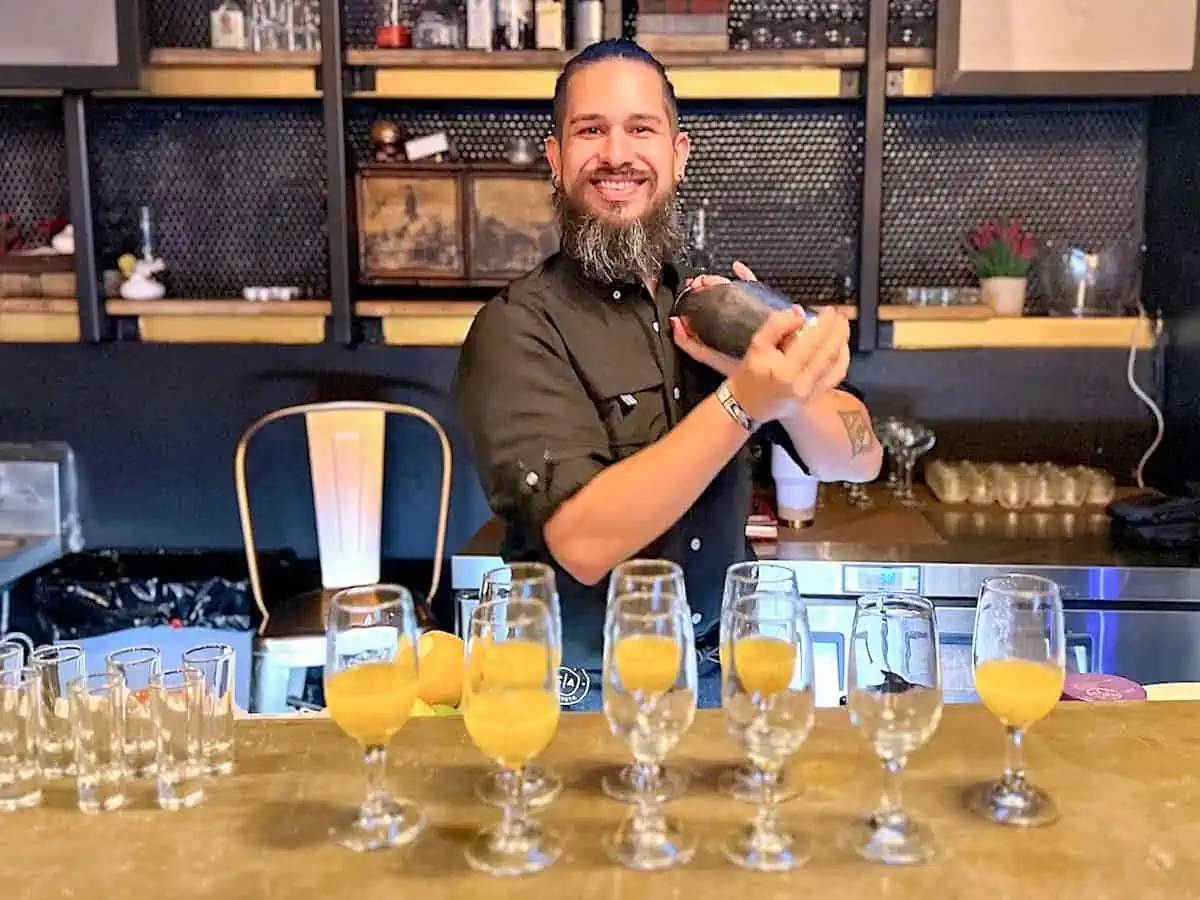 To accompany our meal, Bartender Marcos Rodríguez makes a superb cocktail called El Recado using local craft white rum, ginger, mango, lime and recao.
Also known as culantro, recao tastes like a cross between cilantro and cumin.
It is, of course, grown at Frutos del Guacabo.
When it comes time to garnish my portion of tembleque, a coconut milk pudding that's usually just dusted with cinnamon, I reach for the edible flowers from Frutos del Guacabo and revel in a final farm-to-table moment.
Planning Resources for this Puerto Rico Farm Tour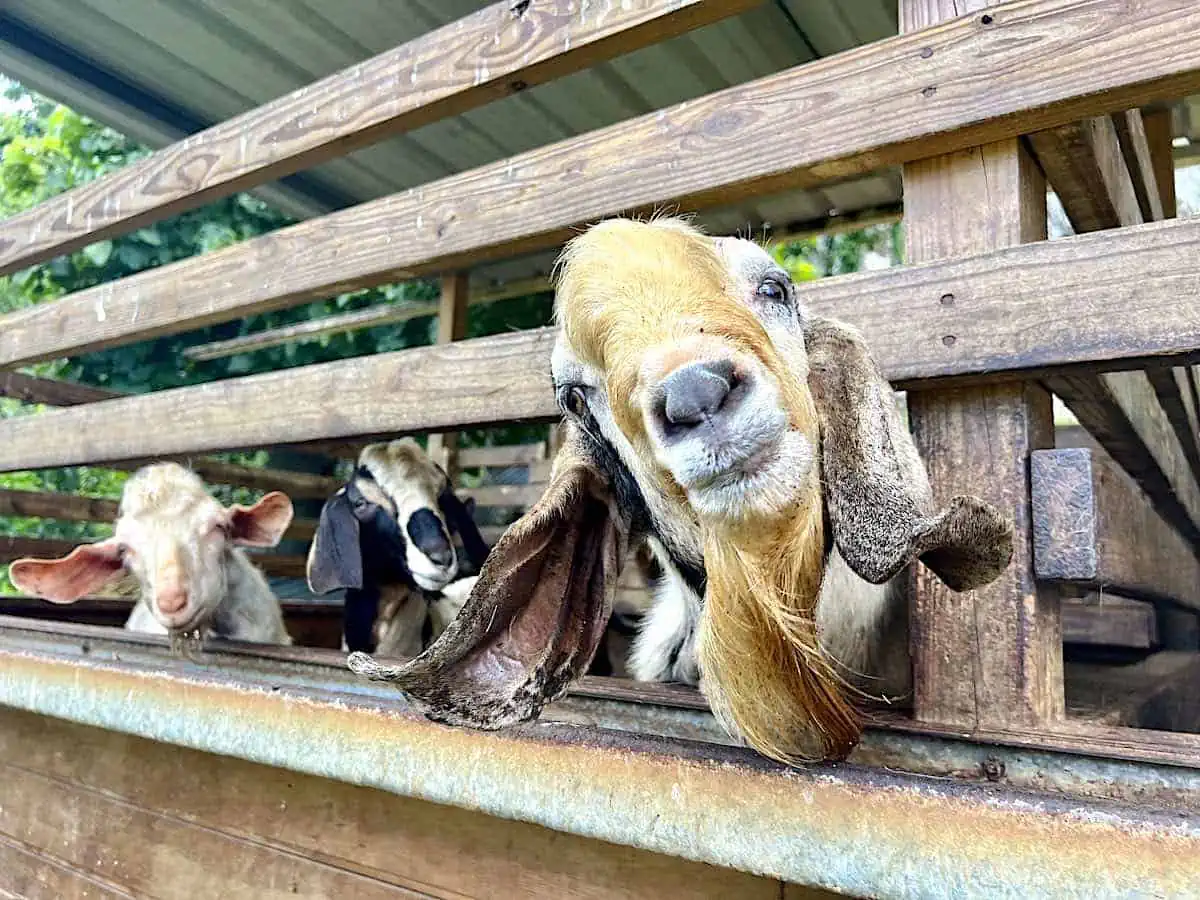 Frutos del Guacabo Farm Tour in Puerto Rico: Tours must be booked in advance. Make reservations via email: guacabo.tours@gmail.com or phone: (787) 884-4216.
Follow Frutos del Guacabo Farm on Instagram and Facebook.
Getting There: The one-way fare on Uber is approx. $26 USD (excluding gratuity) from Old San Juan to Frutos del Guacabo (Google Map).
Official Tourism Website: Discover Puerto Rico
Car Rental: It's worth renting a car if you're planning on taking more farm tours in Puerto Rico or exploring island attractions such as El Yunque National Forest.
Discovercars.com is an online car rental booking site that compares rates from several companies to find the best deal.
Check for the best car rental rates at Discovercars.com
Other Puerto Rico Agritourism Tours
Another option is to take a small-group agritourism excursion that includes pick-up and drop-off at your hotel. You'll get an intro to farming practices and explore beyond Puerto Rico's beaches and historic zone.
This Puerto Rico Agritourism Excursion begins with sightseeing through Old San Juan, followed by a tour of a farming facility (NOT Frutos del Guacabo), a swim at the natural pools of Charco Frio and a stop for a traditional Puerto Rican lunch (meal extra cost).
Check prices and availability of an Agritourism Tour on Viator.com.
More Caribbean Food and Travel Inspiration
Save to Pinterest!
Jennifer Bain is a recovering newspaper food and travel editor who now travels the world in search of quirk. Based in Toronto and with a retreat on Fogo Island in Newfoundland and Labrador, she's an award-winning freelancer who has written two cookbooks and two travel books. View her portfolio at JenniferBain.co