We may earn income from links in this post. Please read this Disclosure for details.
This easy Guatemalan recipe for tortitas de ejotes, featuring green beans and eggs, makes a batch of green bean fritters perfect for an appetizer, nutritious breakfast or light lunch.
Serve these delicious vegetarian, low-carb green bean fritters with a salsa for dipping. Or tuck them inside a crusty French roll with mayonnaise, slivers of red onion and a handful of fresh lettuce.
In spring — when the weather is beginning to hint at warmer weather — I crave veggies. That means it's a perfect time to make tortitas de ejotes, a traditional Guatemalan food featuring fresh green beans in a fritter batter.
This easy Guatemalan dish is also popular in Mexico where fresh green beans are available year round. But if you don't have fresh green beans, you can substitute equal parts of frozen green beans that have been cooked and drained.
Why We Love this Guatemalan Food Recipe
If you have a lot of green beans in your garden or bought green beans are wondering how to use all them all, this recipe is a great way to use up a lot of fresh beans.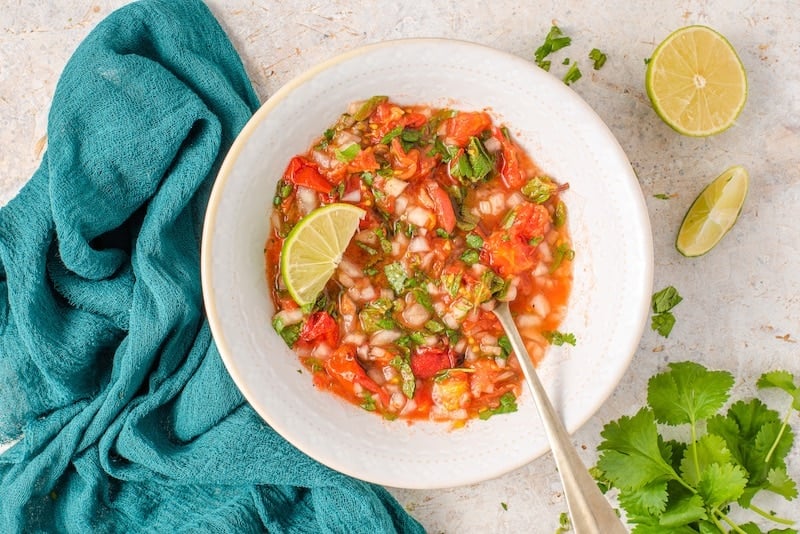 Not only is it super easy to make, it's so delicious you'll literally see bushels of green beans disappearing from your table. You don't have to worry too much if some of your green beans are a bit stringy, they'll come out tender in this recipe.
You can easily scale this recipe up or down depending on the quantity of green beans you have.
Tortitas de ejotes make a bright side dish for a spring time meal. But these bites of goodness are so versatile they can also be served as an appetizer or breakfast.
This very easy Guatemalan recipe is virtually foolproof!
Best Green Beans for Tortitas de Ejotes
While black beans are the most famous beans in Guatemala, fresh green beans are also readily available in outdoor markets. They're especially tasty, crispy and bursting with fresh-picked sweetness.
Unlike other fresh produce such as watercress used in our recipe for tortitas de berro, you don't need to disinfect green beans in an antibacterial wash such as Microdyn. In this recipe, the green beans are pre-cooked prior to being battered.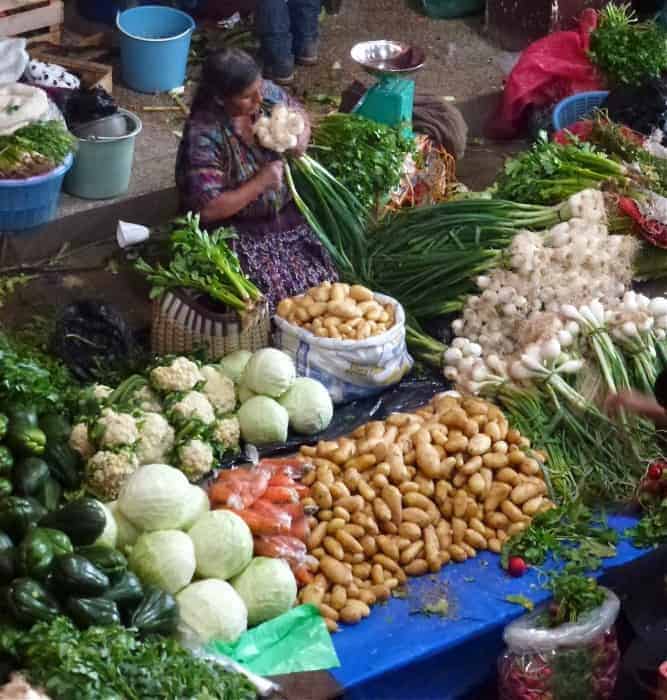 These green bean patties are similar to another popular Guatemalan dish called envueltos de ejotes, which are whole fresh green beans wrapped in a light batter.
My mother-in-law make envueltos featuring other vegetables such as pacaya (palm tree blossoms) or cauliflower.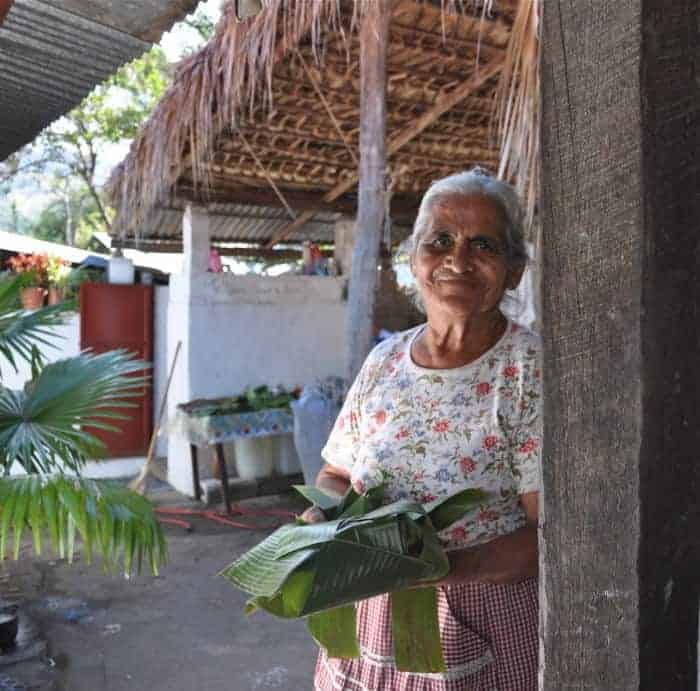 This recipe for tortitas de ejotes is a lower calorie option as the beans are not fried in much oil. They're also easier to make as you don't have to try to keep the green bean bundles together.
Because you'll be chopping the green beans, you can use less-than-perfect beans in this recipe. You don't need French green beans – the long slender (and expensive) variety.
You can use curly, bent or even broken green beans and still get delicious results!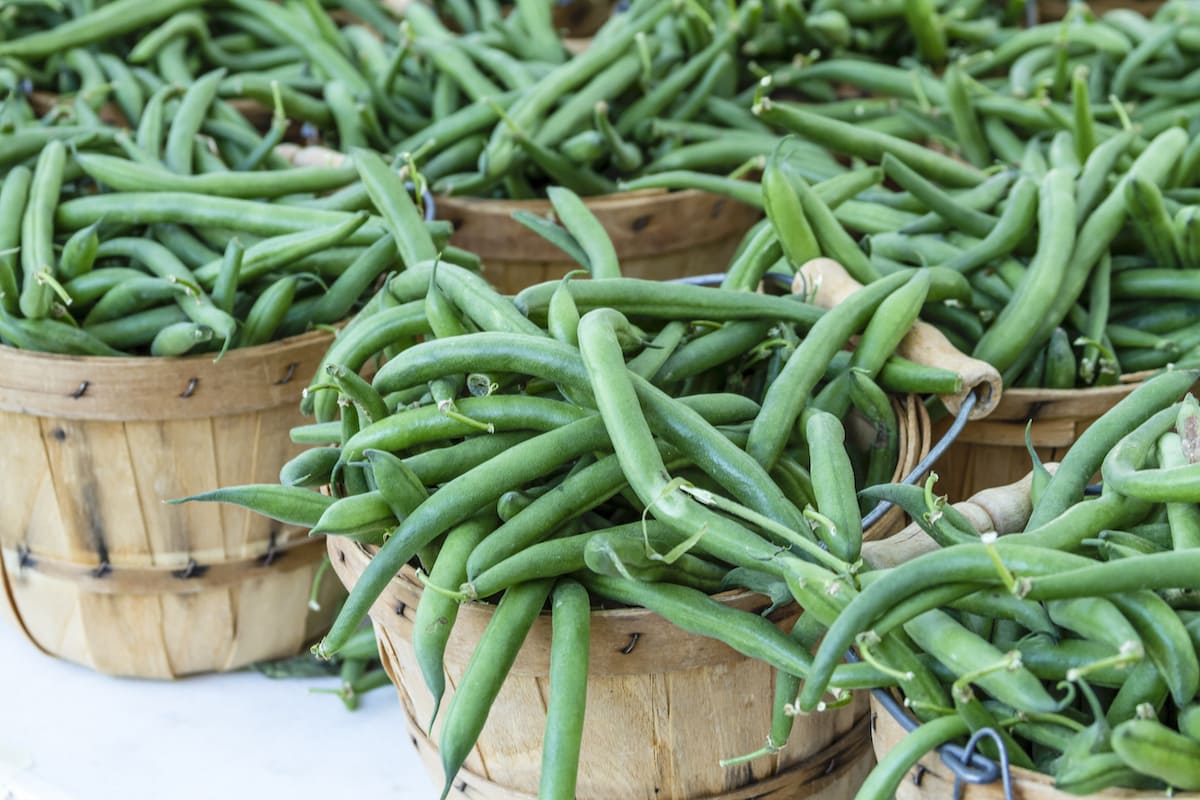 Just try to avoid buying green beans with large bumps as that means they have large seeds inside and those can be tough.
You can store fresh green beans for up to one week in the refrigerator. They should be stored dry, unwashed and bagged in plastic or an eco-friendly bag.
If you chop the green beans in advance and store them in the refrigerator overnight, it's easy to whip up a batch of these green bean omelettes in the morning for a healthy breakfast.
Nutritional Content of Fresh Green Beans
There's another great reason to add green bean recipes to your list of dishes to make. Fresh green beans are a power food!
According to Food Data Central, they're an excellent source of Thiamin, Riboflavin, Niacin, Vitamin B6, Vitamin C, Calcium, Iron, Magnesium, Phosphorus, Potassium and Copper. They're also low in calories and high in dietary fiber.
Combining the green beans with eggs for protein makes these fritters a very nutritious vegetarian dish.
How to Make Guatemalan Tortitas de Ejotes – Fresh Green Bean Fritters
After removing the ends of the green beans, place them in batches within a food processor or chop finely by hand.
I'm a big fan of the Braun MQ777 Multiquick 7 Hand Blender as it cleans easily, is compact and trouble- free to use. Best of all, it chops vegetables finely without crushing them.
Once you've chopped the green beans, par boil them in salted water for three minutes. Drain and then plunge into icy water to stop the cooking process.
Drain thoroughly and dry in a paper or kitchen towel.
Note: If you're using frozen green beans, cook them according to the package instructions, drain, plunge into cold water and drain again.
Chop the onions finely and mix with the green beans.
Prepare your batter, beating the egg whites until stiff and then folding the beaten egg whites to the beaten yolks.
Mix the salt, pepper and flour and then combine with the beaten eggs.
Gently fold the green bean and onion mixture into the eggs.
Add oil to a non-stick frying pan or griddle. I love the Delonghi Livenza All-Day Grill as it has a very large grilling area so you can cook very large batches of fritters. It's also easy to set up and clean.
But you can use any sturdy frying pan.
Drop 1/4 cup of green bean batter onto the griddle to fry each of the tortitas de ejotes until browned.
The key to making them crispy is to try not to pack too many green bean pancakes into the pan or onto the griddle at the same time.
How to Serve These Healthy Green Bean Fritters
While I love tortitas de ejotes for breakfast, in Guatemala they are most popular for lunch or dinner.
They're traditionally served with fresh tomato salsa such as our freezer salsa or Guatemalan chirmol, tortillas de maize and a salty cheese such as queso de Zacapa from Guatemala. Or substitute any crumbly white cheese such as Greek feta or Mexican cotija.
For a hearty lunch enjoy these nutritious bites with a side of Guatemalan black beans and rice.
Instead of a tomato salsa, try a green tomatillo salsa verde such as this easy recipe for salsa verde from The Mexykan.
Another way to enjoy this recipe for fresh green beans is to tuck some green bean patties inside a crusty bun, slather it with mayonnaise or a creamy avocado dressing and enjoy as a vegetarian sandwich.
Or, try these mini green bean omelettes with mango black bean salsa for brunch!
You Might Also Like These Delicious Breakfast Recipes
Print
Tortitas de Ejotes: Guatemalan Green Bean Fritters
An easy recipe for green bean fritters that's perfect for breakfast or a light lunch. You can also serve tortitas de ejotes inside a crusty French roll slathered with mayonnaise or avocado
Ingredients
5

cups

fresh green beans minced

1/2

cup

onion minced

salt and pepper to taste

1/4

cup

vegetable oil
Batter
4

large

eggs, separated

1/4

teaspoon

salt

2

Tablespoons

white flour
Instructions
Boil the green beans in water until tender but still crisp

Plunge the green beans into cold water to chill. Drain the beans and allow to cool

Mix the onion, salt and green beans together

Prepare batter by beating egg yolks until creamy. Beat egg whites separately until stiff and then fold egg white into yolks together with salt and flour

Mix the green beans and batter together, stirring lightly

Drop by large spoonful (1/4 cup) in a frying pan with oil and shape into patties

Fry in oil for 2-3 minutes per side until browned. Turn and cook other side

Serve topped with chirmol (simple tomato and onion sauce) or any other salsa. I like red pepper salsa as it's got a bit of spice.
Nutrition
Calories:
168
kcal
|
Carbohydrates:
9
g
|
Protein:
6
g
|
Fat:
12
g
|
Saturated Fat:
8
g
|
Cholesterol:
124
mg
|
Sodium:
150
mg
|
Potassium:
258
mg
|
Fiber:
2
g
|
Sugar:
3
g
|
Vitamin A:
815
IU
|
Vitamin C:
12.2
mg
|
Calcium:
56
mg
|
Iron:
1.6
mg
Enjoy This Post? You Might Also Like these Easy Guatemalan Recipes:
Tortitas de Berro: An Easy Guatemalan Recipe for Watercress Omelettes
Jocon de Pollo: Chicken in Tomatillo Sauce
Recipe for Pulique: A Guatemalan Stewed Chicken
Salpicon, Guatemalan shredded beef and mint salad
Save on Pinterest!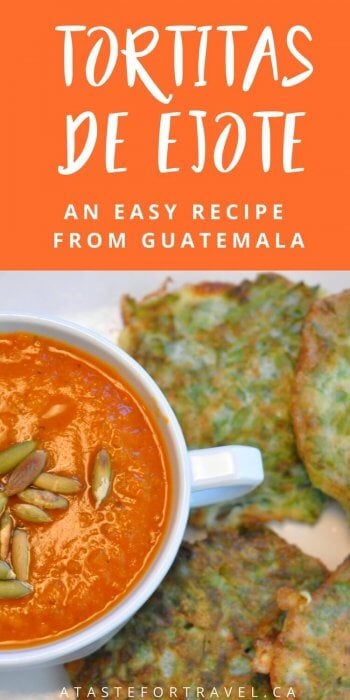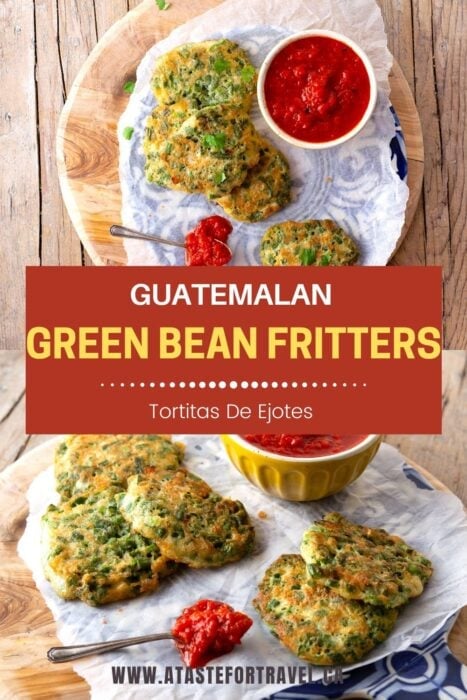 Dividing her time between Canada, Guatemala and Mexico (or the nearest tropical beach), Michele Peterson is the founder of A Taste for Travel. Her award-winning travel and food writing has appeared in Lonely Planet's cookbook Mexico: From the Source, National Geographic Traveler, Fodor's and 100+ other publications.
View more posts by Michele Peterson Read more