We may earn income from links in this post. Please read this Disclosure for details.
One of the most unforgettable things to do in Oaxaca City is to experience a traditional sweat lodge or temazcal ceremony. This bath ritual is intended to purify your mind, body and spirit.
Read on for a first hand account of a temazcal ceremony in Oaxaca City, Mexico.
Seated inside a baking hot beehive-shaped spa with the heat building, I finally understood how the wicked witch must have felt after she was tossed in the brick oven by Hansel and Gretel.
At least I wasn't alone. With me inside the brick chamber was Patricia Mendoza Cruz, a third generation temazcalera or shaman.
We were in the UNESCO World Heritage site of Oaxaca City in south-western Mexico and I was about to begin a temazcal treatment, an herbal steam bath ritual that dates back 1,500 years.
Visiting a temazcal is one of the top things to do in Oaxaca City – it's definitely a quintessential Oaxacan experience.
Temazcal Ritual in Oaxaca City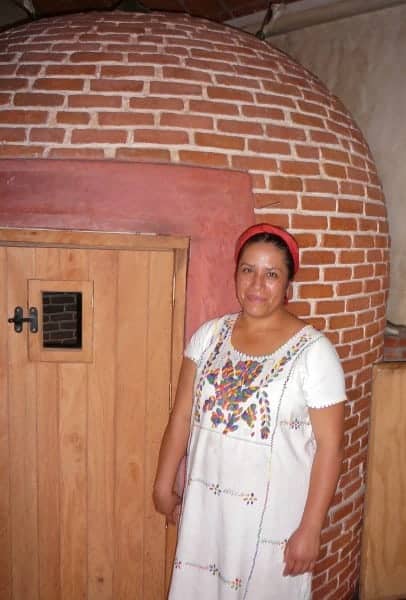 The ancient ceremony, said to hold curative powers, was taking place at Casa Catrina, an elegant six-room converted family home of internationally-renowned painter Rolando Rojas.
At the heart of the hotel is the temazcal (also spelled "temascal").
Tucked off the central courtyard, the spacious room is flooded with natural light and holds an open air shower, vaulted ceilings and the temazcal, an igloo-shaped brick chamber slightly larger than a garden shed.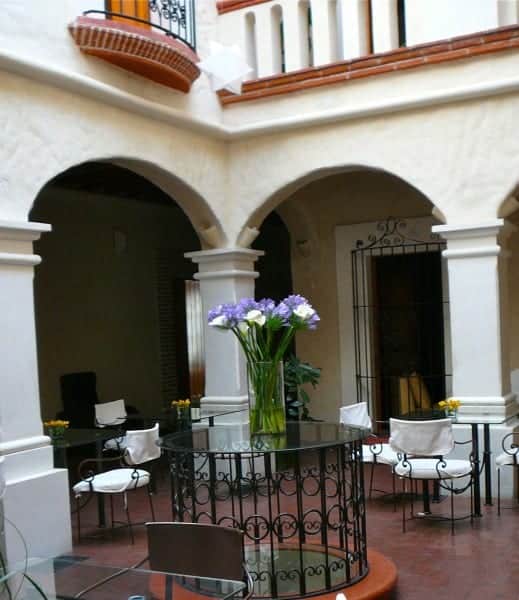 Temazcal Health Benefits
To begin, I walked barefoot down the camino, a path edged with rose petals that led to the chamber's heavy wooden door. Stepping inside the dark interior, I shuffled across the stone floor to take a seat on a small wooden bench facing a platform of hot volcanic rocks where Cruz was preparing an herbal tea. It was comprised of six medicinal herbs intended to rid me of a lingering head cold.
Some, such as basil, rosemary, eucalyptus and rue (a stinky herb often used to ward off the evil eye), I was familiar with. Others, such as piru (pepper tree leaves) and poleo (known as the hangover herb) were new. She placed a corona or crown of flowers on my head and laid additional boughs of herbs across the hot rocks. As she doused them with the hot herbal tea, a richly scented steam rose and filled the room.
"By sweating, the body releases toxins and becomes purified physically and spiritually." she explained in Spanish.
Unlike regular steam baths, a temazcal involves a series of steaming sessions, each accompanied by rituals intended to assist the cleansing process.
"We call upon the four elements – earth, water, air and fire – to aid us" she said. Motioning me to stand, she took what appeared to a broom-sized bouquet of wet herbs and began brushing my body as though basting a gigantic roast chicken.
"Gracias por todo– the good and the bad," Cruz chanted with a swooshing sound that encouraged the expulsion of toxins. Then, she slowly poured fragrant herbal tea over my head until it cascaded down my body to disappear into the stone floor.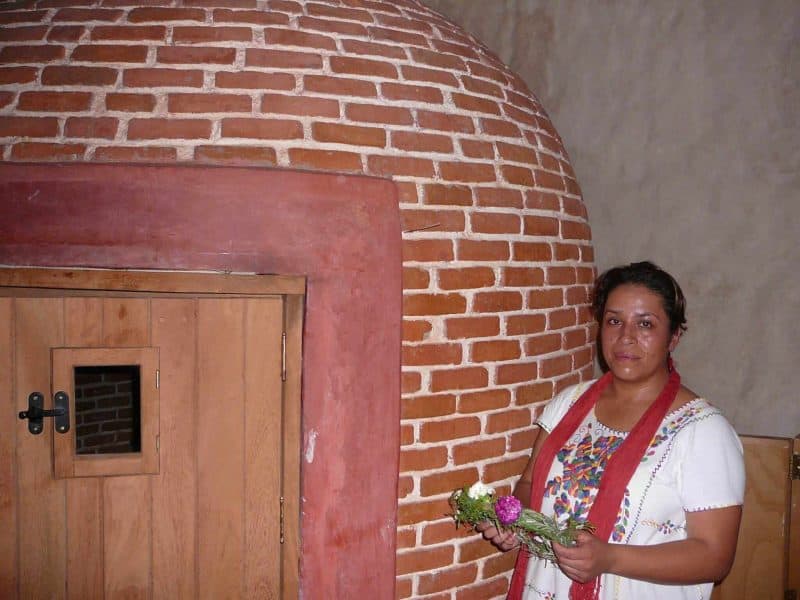 Following several more dousings with herbal water, I was left alone to meditate. I took a look around. Although small in circumference, the chamber felt spacious. Skylights made from glass bottles pierced the domed roof like a constellation of stars. The fragrant humid air wasn't cloying but fresh as rainfall. Then, the heat began to build and walls seemed to draw closer. I mopped my face with more herbal water.
Temperature of a Temazcal
Cruz peeked inside the temazcal like a baker checking a batch of cookies.
"Not too hot?" she asked.
Note: Temperatures inside a temazcal can be uncomfortable for those not accustomed to high temperatures. It's estimated that a person's body temperature can reach 40C or higher. Dehydration can result from fluid loss while sweating so people with kidney disease, high blood pressure or other conditions should consult a medical professional prior to participating in a temazcal treatment or any other sauna. High temperatures can also lead to dizziness and nausea.
After hearing it had been only 10 minutes out of the recommended 25, I decide to tough it out a little longer, remembering that Cruz mentioned that even newborn babies are welcomed in Oaxaca temazcal rituals.
Rooted in pre-Hispanic traditions, the sacred baths have been used by the Aztecs, Zapotecs, Mixtecs and Nahuatl Mayans since pre-Hispanic times.
Although their popularity is diminishing along with other ancient customs, communal purification ceremonies remain popular in remote valley towns where specially-constructed large adobe chambers can hold up to 30 people.
Traditional Mixteco-Zapotec Massage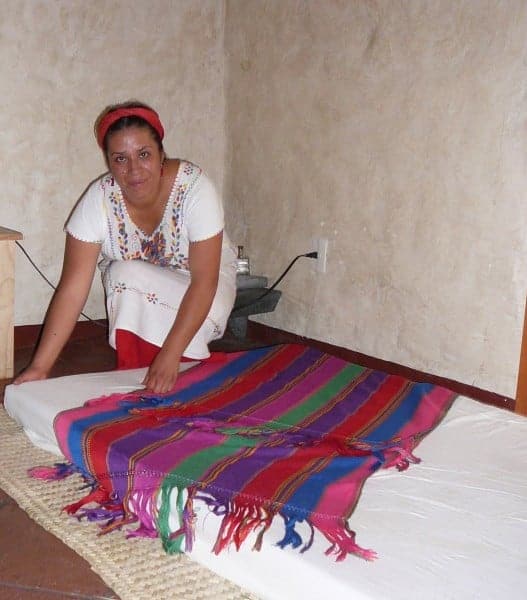 After several more steaming and cleansing sessions, the first stage of my treatment was complete. It was then time for my terapia de rebosa or massage. A mixteco – zapoteco massage is a little like doing yoga while wrapped in a tablecloth.
After a rigorous body massage with oil infused with aromatic fragrances such as camomile, eucalyptus, mint, I was wrapped naked in a tablecloth and slung over Cruz's shoulders. She pulled and pushed the fabric as though working a loom. It seemed the perfect activity for lazy athletes as I emerged feeling supple without having done any work.
"You should have a shot of mescal to complete the experience," advised Cruz, as I showered.
Already feeling energized, I decided to pass on the potent agave-based liquor and instead stepped out onto the cobblestone streets. I immediately felt transported to another era.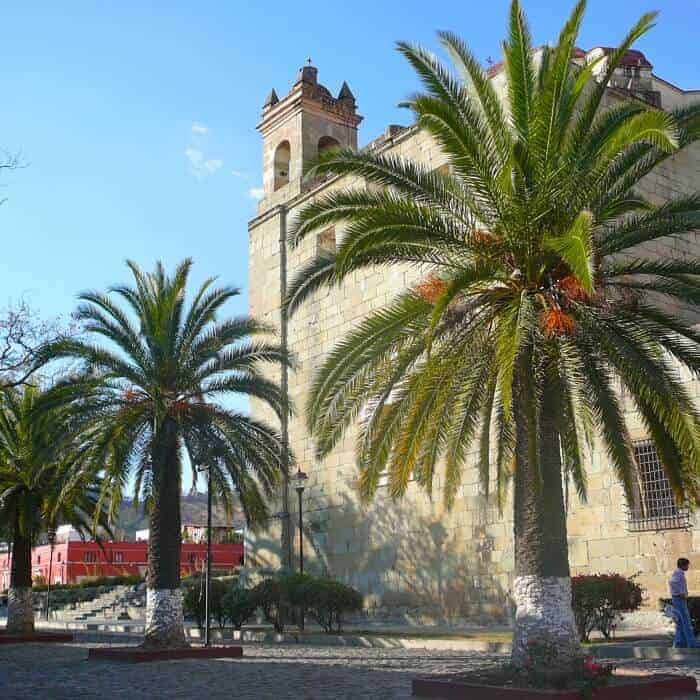 The 16th century Santo Domingo and other architectural gems seemed to glow with a golden hue in the late afternoon sun. Even my head cold was miraculously gone.
Although it rebounded with a vengeance the next day, I had learned an ancient lesson. Next time, have a shot of mezcal.
Travel Planner
Casa Catrina
Garcia Vigil #703, Col. Centro
C.P. 68000
Oaxaca, Mexico
You Might Also Enjoy
Dividing her time between Canada, Guatemala and Mexico (or the nearest tropical beach), Michele Peterson is the founder of A Taste for Travel. Her award-winning travel and food writing has appeared in Lonely Planet's cookbook Mexico: From the Source, National Geographic Traveler, Fodor's and 100+ other publications.
View more posts by Michele Peterson Read more