We may earn income from links in this post. Please read this Disclosure for details.
It's official. I'm in love with One Love restaurant. I'll even admit to eating there five times in the past few weeks. In my defence, it is low season in Puerto Escondido, Mexico which means many of my favourite neighbourhood eateries ( Luna Rosa, El Sultan, Turtle Bay) are closed.
But One Love is one of those rare places that's a magical merger of style, charm and taste so I suspect this love affair will continue for awhile.
One Love Restaurant in La Punta
One Love Restaurant, located in La Punta just steps from the now-closed hot spot Guadua, was created mainly to serve the clients at the hostel of the same name. The architecture at One Love Hostal and restaurant is the creation of a recognized architect from Veracruz. She's combined her keen eye for design with inspiration drawn from music icons of the 1960s and 70s. The result is a fun and modern space.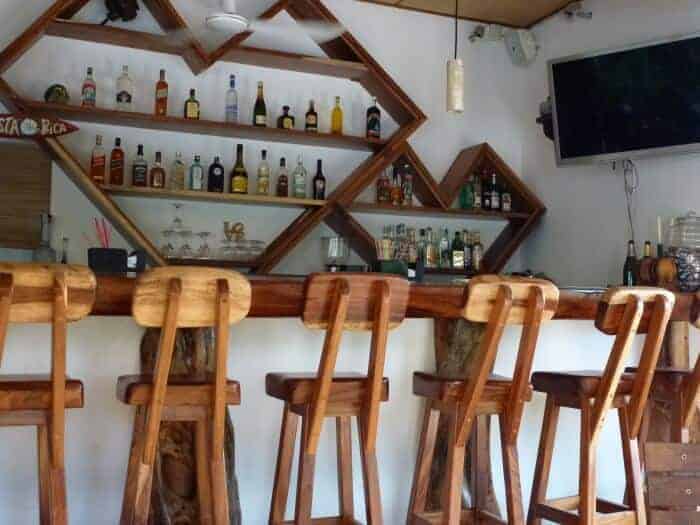 The open air dining room is filled with so many unique architectural and decor touches — the jute ceiling, murals and custom art featuring Frida Kahlo in a VW van are especially cool – you'll want to pull up a hand-crafted chair and stay awhile to soak it all in.
Once you dive into the menu, created by a visiting chef from Mexico City and Veracruz and now overseen by the One Love team who keep a careful eye on the kitchen, you'll want to return for more.

Menu at One Love Restaurant in Puerto Escondido, Oaxaca
Menu items also draw their names from the music world and hippie era, so watch for dishes such as Give Peace a Chance, a fish of the day (usually dorado) breaded in sunflower and pumpkin seeds atop a chile aoili and served with a refreshing tabbouleh salad.
Other top options on the menu include Groovy Chicken ( chicken breast stuffed with creamy cheese), pizzas and pasta. If you're timid when it comes to spiciness, be warned that the pasta dishes tossed with dried chile pack some serious heat.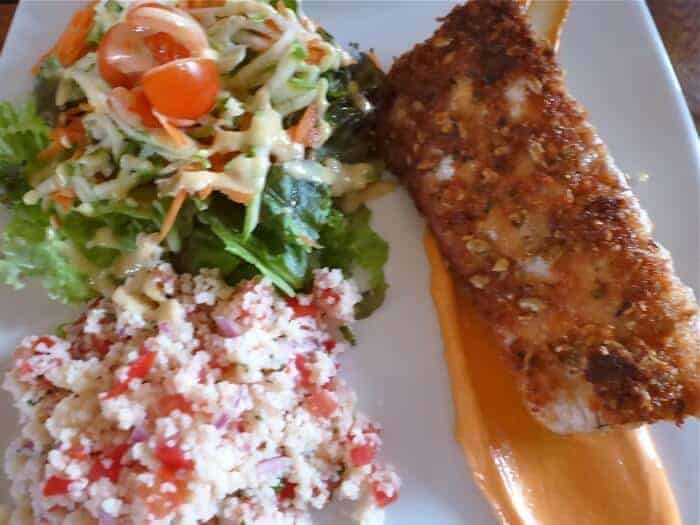 Or, try Woodstock, a grilled tender filet of beef topped with velvety melt-in-your-mouth chipotle goat cheese. It comes with crispy browned baby potatoes and house salad.
Menu items are surpisingly affordable and range from 80 – 120 pesos (less than $10 USD) for a main course.
La Punta is developing a serious reputation for good food. It's filled with amazing food and drink to try — from mezcal to chapulines. Now, if I could just convince One Love to open a satellite restaurant on the Rinconada….
Or how about a shuttle bus?
Travel Planner

Location: On Calle Tamaulipas (Calle Chilpancingo) between Baja California Norte and Baja California Sur in La Punta, in the eastern area of Puerto Escondido
Email: onelovehostal@gmail.com
Phone: 954 129-8582
Open: 8:00 am – 9:30 pm Closed Mondays
Accommodation: The One Love Hostel is a surprisingly good deal — it's more boutique hotel than hostel.
Looking for more great food ideas in Puerto Escondido? Check out these posts:
How to Celebrate Australia Day in Puerto Escondido, Oaxaca Mexico
Salsa Verde ( Green tomatillo salsa) by the Mexykan Cooking Class
Chowing Down on huauzontle in Puerto Escondido, Mexico
Dividing her time between Canada, Guatemala and Mexico (or the nearest tropical beach), Michele Peterson is the founder of A Taste for Travel. Her award-winning travel and food writing has appeared in Lonely Planet's cookbook Mexico: From the Source, National Geographic Traveler, Fodor's and 100+ other publications.
View more posts by Michele Peterson Read more